PORTUGAL
WINTER 2011
Part One | Part Two | Part Three
LISBON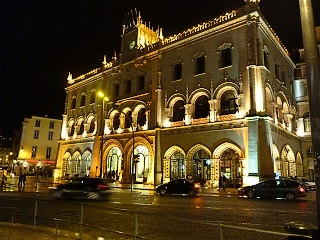 There isn't one aspect of a long, cold winter that appeals to us. We love our city, Toronto, but our bodies are at a stage that the lure of warmer climates is not just appealing but necessary.
After spending the past three winters in Buenos Aires, it was time for a change. We decided we could be quite comfortable in moderately cool temps with some sunshine. The 14.5 hour flight to Buenos Aires was rough so a shorter flying distance would be welcome.
Since we would be renting an apartment for several months our preference was a large city with charm, character and a welcoming spirit.
This is the essence of trip planning. Establish your criteria and everything else falls into place.
Lisboa (Lisbon), Portugal was a perfect choice, with 7 hours flying time and just 5 hours time difference from Toronto.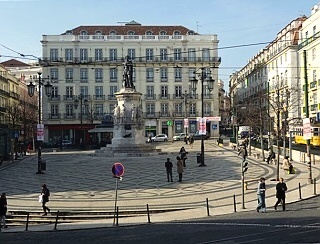 SATA Airlines flies non-stop from Toronto, Canada to Lisbon (also non-stop to Lisbon from Boston, MA, USA).
Under the best of circumstances flying is a chore mentally and physically. We have flown SATA many times and as usual the staff on the ground and in the air made our trip as carefree and relaxing as possible. Check-in and boarding were prompt, efficient and carried out in a friendly and courteous manner. Without being prompted, onboard staff helped passengers who required assistance getting their luggage into the overhead bins.
As you know we are "carry-on only" travelers (yup - even for 2Ż months away) so we found the dedicated check-in counters for carry-on clients very convenient.
We flew "SATA PLUS" service on the longest segment Toronto to Lisbon, which includes use of an airport lounge (in Toronto SATA has arrangements with the KLM lounge, which is directly across from the SATA departure gate).
On board it was delightful sinking into our wide comfortable seats, stretching our legs and being served an excellent Ribatejo Cabernet by the personable, attentive staff. After dinner (a choice of Portuguese style baked cod or roasted chicken breast), it wasn't long before we were nodding off.
SATA originated in the Azores and has incorporated the spirit and soul of the Azorean people in the culture of their organization. After our visits to the islands we have a fondness for the Azorean way of life and have already made plans to spend our entire winter 2012 in Ponta Delgada.
[Back to Top]
Getting back to our carry-on style of travel, we were always on the lookout for the ideal luggage; 20", expandable, super-lightweight, water repellent, sturdy compact handle system, outside pockets and good wheels. We found the ideal suitcases and matching tote bags at a CAA shop in Toronto. It is also sold at other retail outlets. The luggage, with a Via Rail logo, is manufactured by Landau Sacamoto. We have used it on four trips now and it still looks brand new. It comes with a 10 year warranty.
Arriving in Lisbon we breezed through immigration and customs and in minutes boarded bus #44 to the city center, Praca Rossio.
There are numerous options for payment for public transportation. We eventually purchased a reduced fare rechargeable smart card "Viva Viagem/7 Colinas" for the Metro, Carris buses and trolleys.
Our apartment was centrally located in Chiado on the main street, Rua Garrett. Praca Rossio is in Baixa, downtown Lisboa. Chiado rises to the west overlooking Baixa. The pedestrian street, Rua Do Carmo, at the western side of the Praca, is the pedestrian way to Chiado, its neighbor Barrio Alto and the entrance to the Armazens Do Chiado Shopping Center. The fact that it is a steady climb up does not deter shoppers, tourists, revelers and baggage wielding visitors such as us.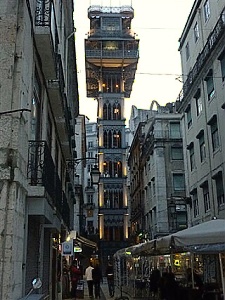 About half way up on the eastern side is the Santa Justa Lift, also known as the Elevador do Carmo. It is a stunner. It was built at the turn of the century to connect downtown to Barrio Alto, the lowest and highest points of the city. The architect was an apprentice of Gustave Eiffel so it is no coincidence that the construction resembles the Eiffel Tower. There is always a long line waiting to ride the two large ancient elevators to the 150 ft high heaven above.
At the crest of the hill the doorway to Armazens Do Chiado is to the left and Rua Garrett is to the right. This is one of the busiest intersections in the City. We were to learn that two elevators and one escalator inside the shopping center lead down to Baixa on Rua do Crucifixo near the entrance to the Chiado-Baixa Metro. It is also the hub of many street demonstrations. The marchers gather along Rua do Carmo and parade along Rua Garrett. We witnessed several political marches from our fifth floor apartment.
[Back to Top]
This central location was convenient for public transportation, walking and a combination of both. The fairly new apartment was spacious with two bedrooms, two bathrooms, living and dining area, a large well equipped kitchen and wooden floors throughout. There was a combination washer-dryer which was a great convenience. There was wifi, lots of closet space, satellite TV, a phone for local use, heat and air conditioning. Cleaning service was also included once per week with linen and towel change.
From this 5th floor corner apartment, the view of the Rio Tejo, the hillside of Alfama and the Castle was spectacular. It was a joy to sip a tinto from the Douro while gazing at this postcard scene. However, the boisterous week-end revelers spilling out from the Barrio Alto clubs during the wee hours of the morning, presented a challenge to restful sleep.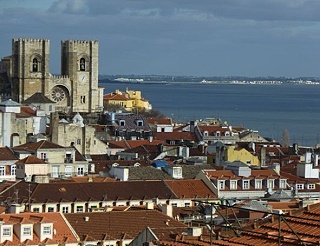 Our previous visits to Lisboa were each short term and our travelogues contain extensive coverage of the districts, sights, insights, history, culture as well as places to eat and sleep. It would be worthwhile reviewing our previous writings for a comprehensive overview of Lisboa and environs.
Now we are living in the city, not visiting. We will ramble on about practical daily life and whatever gems of interest happened along the way. For example, we were able to find 100% pure unsweetened orange juice in only one tiny supermarket. Look for it in Tetra Paks, imported from Greece.
Speaking of supermarkets. The one with the best name is the chain, "Pingo Doce". A smallish branch store, conveniently located within walking distance in Baixa, was good for limited needs. But for serious shopping we headed to the hypermarket chain, "Continente" in the Colombo Shopping Center, above the Colegio Militar Metro station.
On arrival we would go to the second floor in the enormous, circular shopping center to the largest mall restaurant and food complex we have ever seen. There's a huge variety of full service restaurants as well as counters where you fill your tray and find a table. Our version of heaven was an outstanding caldo verde soup from the outside counter of Serra da Estrella, a restaurant offering regional cuisine.
[Back to Top]
Afterwards coffee and our favorite gelato at ICE.IT with its imaginative presentation of spectacular flavors and staff trained to artfully dispense it.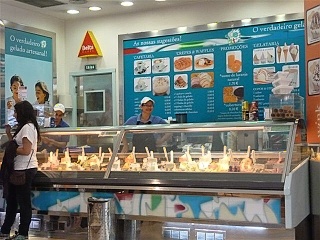 A sweet lady behind the counter offers generous tastes of as many flavors as you like. No matter what size you order, you get a dollop of another flavor on top. The reasonably-priced, excellent coffee comes with a bonus, a spoonful of gelato on the saucer.
There is a cinema complex at Colombo where we attended the opening of the fabulous film, "The Kings Speech". We also saw Natalie Portman's brilliant performance in "Black Swan". Shown exactly as filmed, in English, only the names of the films and the sub-titles were in Portuguese.
Then down at the lower level at Continente, we'd shop for tagliatelle filled with spinach and ricotta, tomato-basil sauce (the private label products are exceptional), freshly baked breads, salad stuff and gorgeous frango (chicken) right off the grill. That's about all we could carry. It was rush hour on the Metro and our hungry fellow-travelers were near tears from the awesome aroma of our frango.
Though we think ICE.IT has the best gelato, the queues, sometimes out the door, at Santini on Rua do Carmo attest to differing opinions. Our complaint is that there is too much sweetness and not enough flavor. The fruit flavors are the best bet. Santini still operates its original location in Cascais.
Invariably, we interrupted our afternoon walk with a coffee and pastry stop. We thought we had found the two best bakery cafes in Baixa; Casa Brasileira at Rua Augusta 24 and Pastelaria Casa Chinesa at Rua do Ouro 274-78. Each day we would stroll by to make our selection from the freshly baked goodies in the window. When all else failed we could rely on a Rocha, a densely-textured mound filled and topped with dried fruit - quite addictive.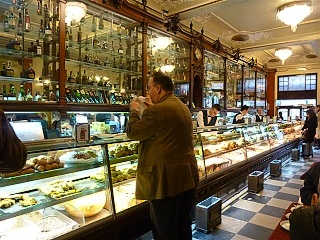 Just when we thought we had found the best our friends Joao and Luisa tipped us off about Cafe Versailles, Avenida Republica 15a, which besides having marvelous pastries was a baroque stunner.
At the Metro Saldanha station just follow the signs to Av. Republica and you will be at the front doorway. The exterior is gorgeous, the interior exquisite. If you can keep your eyes off of the long line of showcases with mouth watering displays you will see crystal chandeliers, engraved wood paneling, mirrors, pillars, and stucco ceilings dating back to its founding in 1922. A sophisticated clientele frequents the Versailles, not only for the ritual coffee and pastry but for the quality mealtime menu. We enjoyed standing at the counter chatting with our neighbors and servers, devouring an apple torte with mounds of chantilly and a Berlin Ball (a giant donut filled with smooth boiled cream). The coffees, garoto (expresso with a dash of milk) and meia leite (1/2 expresso, 1/2 milk) were superb. More trips, more pleasure.
It was a bright sunny day so we walked back to our apartment. Av. Republica south took us to Lisbon's largest park, Parque Eduardo VII. From the belvedere at the top we were able to see down to the imposing statue of Marques de Pombal. The park is neatly landscaped and trimmed with box hedging and patterned walkways. There is a hothouse with exotic plants and a greenhouse filled with tropical plants, palms and cacti. It was a perfect day for a walk in the park.
[Back to Top]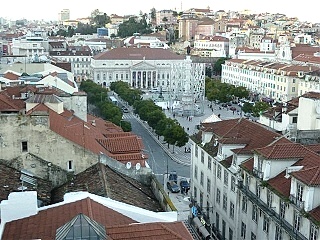 The famous Avenida da Liberdade leads south from Marques de Pombal to Baixa. This wide boulevard with a beautifully landscaped center island is home to prestigious shopping and fine hotels. As in most of the city, many of the buildings have been or are undergoing major renovations.
The south end of Liberdade ends at Restauradores. This square commemorates Portugal's liberation from 60 years of Spanish rule. The awesome neo-manueline Rossio Train Station is located between this square and Rossio square. The lavish design with huge arched doorways gives the appearance of an opera house rather than a train station. It had been completely cleaned up and renovated since our last visit. The trains to Sintra leave from Rossio station.
Rossio Square is the heart of Lisbon. The sidewalk tables are always packed with locals and people-watching visitors. Beautifully decorated with the imposing statue of D.Pedro IV and two baroque fountains, it is paved with stones in a wave pattern. Rossio Square is the venue for major cultural and entertainment events. At the north side is the neoclassical Dona Maria II National Theatre built in the 1840s.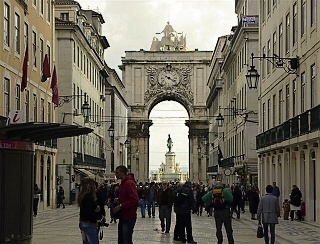 Adjacent to Rossio is Figueira Square. Surrounded by hotels, hostels, apartments, cafes and shops it is a main bus and tram stop. St. George Castle overlooks the square, while the bronze equestrian statue of King Joao I sits in the center.
These two squares form the northern border of Baixa, the main shopping and financial district of Lisbon. After the earthquake of 1755, Baixa was completely rebuilt in a grid pattern. The streets were named after the craftsmen and shopkeepers who worked in the area. The wide pedestrian mall, Rua Augusta, lined with specialty shops, restaurants, banks, etc., is the pulse of Baixa - it beats day and night. The outdoor cafes hum with activity while the street vendors and performers provide entertainment along the way. At the south end is the glorious Triumphal Arch (probably the most photographed monument) leading into the impressive Praca Comercio on the banks of the Tejo river.
[Back to Top]

Part One | Part Two | Part Three
Search TheTravelzine | TheTravelzine Group | Don's Gallery
Packing Hints | Planning Tips | Cities Links

---
All pages on TheTravelzine.comęCopyright 1996-2020 Don & Linda Freedman