BUENOS AIRES
ARGENTINA
WINTER 2009

Part One | Part Two | Part Three
Midnight December 31, 2008, departing Toronto once again heading south to Buenos Aires, Argentina - Happy New Year! Last year we fell in love, now to nurture that feeling. We suggest you read last year's travelogue to better appreciate what you are about to read.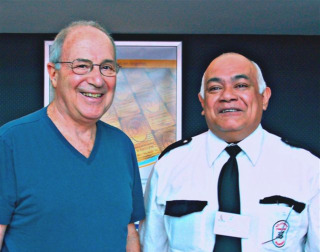 We managed to sleep fairly well in flight and the eleven and one half hours in the air was quite tolerable. With our carry-ons only (yes, for three months) we were quickly through immigration and customs. After leaving the customs area, we went to Banco de la Nación Argentina to buy Argentinean pesos (at 3.42 pesos to the US dollar). The exchange rate went up steadily to about 3.70 when we left BA. We followed the rate changes at Banco Ciudad at the corner of Callao and Juncal. This is our bank of choice because we have found they have the most competitive rate of exchange and more importantly the nicest security guard in the business. We met Alfredo Eduardo Soto last year at his post just inside the doors where he not only keeps vigil but goes out of his way to be friendly and helpful. When we walked in this year he greeted us with hugs and kisses. It was good to be back.
Next stop on arrival at the airport was the Taxi Ezeiza booth (blue and white). The price to the city was 98 pesos up from 78 pesos last year (prices in general increased 20% to 25% since last year). We were led outside to a waiting taxi and cheerful driver. What a joy, clear blue sky, warm sunshine (27C), low humidity. Adios Toronto, buried in snow and freezing temperatures.
Since it was New Years day, the streets were fairly empty. It took about 25 minutes to the city center and our apartment on Av. Ayacucho, in the heart of Recoleta. We had rented the apartment through BYTArgentina. The BYT representative and the apartment owner were on hand to introduce us to the property and to finalize the arrangements.
The location near Av.de Las Heras is convenient for easy walking to shopping and dining, and many bus (colectivos) routes for areas beyond walking distance. The building is fairly new and well kept. The one bedroom apartment was spacious with an open concept dining, living and kitchen area. The bedroom (twin beds together and TV) led to a walk through dressing area (drawers, shelving and hanging) and the ensuite bathroom. A powder room and a computer set-up divide the living area and bedroom (our own laptop connected wirelessly to the network, as at home). The kitchen was equipped with refrigerator/freezer, gas stove, coffee maker, toaster, microwave - the basics for cooking simple meals at home. We were pleased with the shiny wood floors throughout (great for practicing tango). There is a part time security guard in the lobby, an (optional) parking garage, and a small rooftop swimming pool and deck. We were delighted with our Buenos Aires home which made living like Porteños very easy.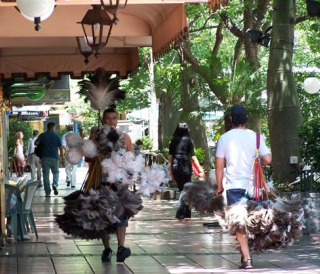 We strolled over to the Vicente Lopez and Rodriquez Pena area to see if any of the specialty food shops were open on New Years Day. As we approached the intersection, the delicious smell of rotisserie chickens filled the air and we knew that Crazy Cheese Pizza at Rodriquez Pena 1643 was open. A gorgeous bird was cut to order, wrapped in wax paper and placed in a cardboard box for our take-out feast. The cold pop and Russian salad was packed separately.
The next day, before hitting the supermarkets to stock up on basics, we stopped for breakfast at Acassuso, Las Heras 1774, a good value neighborhood cafe. We remembered Acassuso from last year for its excellent cafe con leche. Linda had toast with cream cheese and jam and I a toasted crudo (raw ham) and queso (cheese) sandwich, both of which were as good as the coffee.
Within walking distance, we have two Disco supermarkets (the predominant chain in terms of locations) and one Carrefour Express, new this year replacing Norte. Carrefour Express is a smaller version of the big box Carrefour operations and seems to have better pricing than Disco. But when you throw Jumbo, the big box parent of Disco, and Walmart into the equation, Walmart emerges the winner.
How and why did we find Walmart which is a one hour bus ride from our home? It all started with a search for the best prices on drugs. Last year our friend Graciela told us that drugs were much cheaper in Buenos Aires than at home and had directed us to a pharmacy that offered 20% discounts for cash. This year we expanded our search and decided to take the one hour trip to Walmart.
[Back to Top]
When we got off the colectivo at Walmart right in front of us was Cremolatti, Av.De Los Constituyentes 5999. Yes, a place for helado. We deserved a little refreshment after the long trip. Cremolatti's ice cream is spectacular! We were entranced by the thick, creamy texture and intense flavors, at prices about half of what Volta charges in the city center.
The discount on drugs at Walmart is 18% (all farmacia's seem to use the same list prices), but Walmart accepts credit cards. We strolled the store (superstore version) and found it much the same as at home, with lower prices than the competition. We decided we could justify a one-hour trip for helado if we combined it with shopping at Walmart, which we did several times.
A prescription, no older than 30 days, is required for some drugs. Since it is difficult to know which drugs require a prescription, it is best to come prepared. The English speaking pharmacist at Walmart, pointed out that the generic version of Viagra, Sildenafil, requires a prescription. He said it is as effective as the name brand and sells for a fraction of the price back home.
Finally we found "our friend in the drug business", Charlie, at Farmacia Similia, which offers a whopping 25% cash discount from the same list prices used by all the pharmacies.
Time for our first pizza of the new year. On our way to El Cuartito, Talcahuano 937, Linda had her digital ready to capture a few architectural gems. The enormous Department of Education building with its magnificent stone work which runs between M.T. Alvear and Paraguay at Plaza Rodriguez Pena was her first shot. Along Paraguay the Universidad de Cencias is comprised of a series of individual buildings several of which are striking, particularly the one featuring a mural and wrought iron balcony.
Porteños love pizza with chewy crust and loaded with cheese. If this is what it takes to qualify as Porteños, I guess we make the grade. El Cuartito became our pizza place of choice last year. In business since 1934, the original design is still in place. This is a pizza joint with eating counter and tables surrounded by walls of sports photos and soccer games on TV. The waiters are cool and friendly. Sergio greeted us with a hug and kiss, happy to see us return. There's a modest list of pizzas that are available in two sizes and some in slices. Our favorite is the "Atomica", thick mozzarella and spicy calabrese sausage topped with slices of red pepper and green olives with a dash of tabasco (we find the small, Chico, adequate for two). A bottle of Quilmes Imperial beer makes it perfection. Like pizza, empanadas are everywhere, but we have yet to find them as good as at El Cuartito. One other standout here is the exquisite, melt-in-your-mouth budin de pan (bread pudding).
[Back to Top]
In the weeks ahead we decided to be fair and try the other two pizza emporiums, which along with El Cuartito are considered to be the three best in the city. El Palacio de Pizza, Corrientes 751, was jam-packed when we arrived lunch time. A table opened up in front room as we entered and the waiter in the section made sure we became his, having spotted us as visitors to his city.
The environment is more cafeteria than pizza place but don't be fooled, the pizza is excellent as are the empanadas. We shared two slices, espinaca con salsa blanco (spinach with bechamel sauce) and fugazzeta (thick mozzerella topped with onions). The dough was a bit thicker than at El Cuartito. Impressed, we followed up with two empanadas, carne and pollo. The dough was light and flaky and the fillings generous with just the right amount of heat. The prices were comparable to El Cuartito. We prefer the environment at El Cuartito and it is closer to our neighborhood but when in the area, El Palacio de Pizza is a fine choice.
The third contestant is Guerrin, Corrientes 1669. The environment here is pizza parlor in the stand up front and cafeteria in the back room. The pizza menu is the longest, probably in the world. They have separate listings for every food group, multiple toppings, etc. The prices are higher than the other two and if the two slices and empanadas we tried are any indication, the product is inferior and comparatively overpriced. We will keep you posted if we stumble upon another serious contender.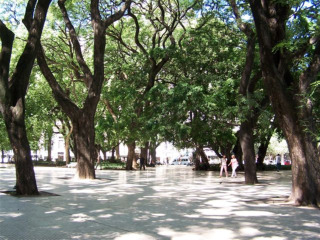 The cracked fingertips courtesy of Toronto's frigid weather are now history as every 27C to 37C degree day is blessed with sunshine and clear blue skies. Staying on the shady sides of the streets makes the walking quite comfortable. Evenings have been 21C to 27C, usually with a breeze.
It's good to see the "cartoneros" are still on the job. They arrive at dusk with their huge canvas sacks and go through the trash bags at the curb to retrieve recyclable materials, which they sell to recycling facilities (a social program created to enable the poor living in the outskirts to earn some income while helping the environment). They are transported into the city on trains (without a/c or heat), which have been stripped of seats to maximize the available space.
Supermarket shopping is always an experience. Protruding bums, squatting torsos, converging buggies create serious traffic problems in the narrow aisles. Extreme patience, shopping cart dexterity and negotiating skills are required. On the plus side you get to meet some nice people.
We were in the process of selecting what we were sure was cream cheese when a lady asked what we were looking for and when we described it to her with sign language she happily took us to the correct section and with the help of another señora recommended a particular brand, which was very good indeed. It must be easy to find a mate in the supermarkets of BA.
Now the challenge, checking out. If you have more items than qualify for the express lane than just choose the shortest line, relax and wait, and wait. Each transaction takes forever. Supermarkets deliver large orders free and there's a slight charge for delivery of smaller orders. Processing of delivery orders requires someone to bag and place the goods in plastic delivery containers, completion of paper work, then the usual transaction time for credit or debit cards, deductions for coupons, etc.
If the transaction is for cash, the cashier invariably does not have enough change in the till and must track down someone to bring funds. The cash registers dispense various coupons for future purchases and the more you spend the more are printed, which takes time.
The process is just beginning, now the customer takes out 3 bills to pay (utilities, credit cards, etc.) and invariably there is some kind of problem which takes time to resolve.
Is the solution to make more frequent trips and buy fewer items to qualify for the express lane? No! The express lane can have 2 to 5 registers open but many of the same slowdown problems exist and the queue usually runs halfway down the store. If you're short on time and/or patience the only solution is to psyche out the times shopping is the lightest and plan your trips accordingly. Of course you could bring a good book.
[Back to Top]
We don't have laundry facilities in our building so we drop our laundry off to be done once a week. For the princely sum of 11 pesos per load, the laundry is washed, dried, folded and ready for pick-up the same afternoon.
In short order we found some excellent restaurants minutes from our front door, which we visited frequently. In fact, directly across the street is Parrilla El Yugo, Ayacucho 1629. The owner and one of the staff are always at the front at the open parrilla (grill) to welcome you to their pampas home where the cows roam. That's the feeling, wood beams, rustic furniture, Latin flags hanging from the ceiling.
This is the place to eat carne, every part of the cow is illustrated in their menu. Our first bife de lomo in 2009 cooked "jugoso" (juicy), crisp outside and warm, red center and the wonderful flavor of pampas grass fed beef we had missed all year. The puree mista, two-tone pureed papas (potatoes) and calabaza (butternut squash), traditional favorites that always please.
We normally share ("compartir") everything. El Yugo has a self-service salad bar available for single or multi-trips, priced accordingly.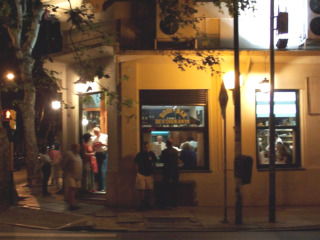 Two minutes up Ayacucho at the corner of Vicente Lopez is the neighborhood traditional favorite eatery, Rodi Bar Restaurant. Do not know why the word Bar is used, it seems Bistro would be more appropriate, judging by its appearance. Even the waiters in casual black and white and attitude seem bistro like. The basic menu has it all, supremas, milanesas, parrilla, pastas, ensaladas, etc. In addition there are daily lunch and dinner specials. The tables are always filled with discerning customers who appreciate the excellent value. We particularly enjoy the conejo al vino blanco con papas puree, meaty rabbit roasted with white wine to a juicy doneness with mashed potatoes, and ensalada completa (a large salad of greens, tomato, beets, hard- cooked egg, onion, celery and green beans), a feast for two.
We were attracted by the menu de mediodia in the window at Junin 1460, Restaurant L'Ecole with its simple colorful green and raspberry interior. The fact that most of the tables were filled with locals was an added plus. There is a lovely patio in the rear for smokers. Our preference is the air conditioned dining room. The mid-day menu is offered with either two or three courses with a small difference in price. There was a nice variety of offerings in each of the courses. Linda chose ensalada de verdes, with croutons, olivas y parmesano con aceto y oliva to start, followed by rodajas de calabaza con mozzarella y fondeau de tomates gratinados. I started with sopa de cebollas and finished with filete de merluza con manteca de hierbas y ensalada verde. Everything was fresh, well prepared and attractively presented. The young staff was pleasant and knowledgeable. The price was very reasonable for the total package, which included either a glass of wine or a bottle of water. The basic menu offered many pastas and risottos along with land and sea choices. We shall return.
[Back to Top]
Still another bright cheerful spot for something quite different is Amaranta, Junin 1559. Humberto has created a North American style menu with a latin flavor. All goodies are made in house, including bagels. The french toast is excellent but the pancakes, as of this writing, need work. Other breakfast offerings include waffles, eggs benedict, bacon or ham with eggs etc.. The salads and sandwiches are all fresh and generously presented. There are daily specials as well as snackables like guacamole and nachos, chicken wings, quesadillas and loaded potatoes. Open for breakfast, lunch and an early dinner (until 20:00) Amaranta is a good choice for a change of pace.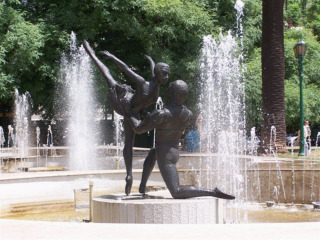 A big advantage of late dinners is that I am wide awake when we return to our apartment to watch the play by play reporting on NBA.com of my Toronto Raptors' games. But it's torture to watch them lose many more than they win.
Plaza Lavalle is bounded by Av.Cordoba, Talcahuano, Lavalle and Libertad. Overlooking the park, the recently cleaned, stunning Palacio de Justicia, with its powerful pillars and tall handsome doorways, was glistening in the sunlight. Opposite the Palacio, a plaque commemorates the 192 dead and 700 injured in the fire that destroyed the fabled Cromañon disco, where the underground alternative culture of Buenos Aires originated. After the tragedy, every disco in the city was closed for months to implement strict new fire and safety measures, seriously impacting the club scene, the social culture of the youth.
The park itself has also undergone renovation and the graceful Monumento al Ballet Nacional can now be seen in all its graceful glory. The monument is in honor of two dancers killed in an accident in 1971.
Standing tall in the center of the park is General Juan Lavalle, an impressive monument to this Argentinian hero who fought the Wars of Independence.
Because of its proximity to the Teatro Colon, the exquisite Escuela Presidente Roca is often thought to be affiliated with the great theatre. It is just a local school with lovely design. As last year, Teatro Colon is surrounded by barriers as the renovation continues.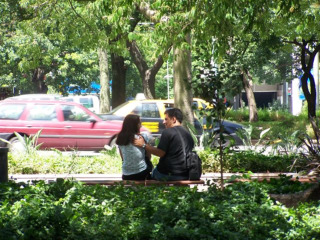 The nearby Teatro Nacional Cervantes (corner of Libertad and Av. Cordoba) is also undergoing work to restore the original beauty of its Spanish design. The city anxiously awaits the opening of the doors of these giants of Buenos Aires culture.
The multi-lane Avenida 9 de Julio has had the island dividers and roadway completely renovated and greened. It was a perfect sunny day with a cool breeze as we enjoyed our walk along Julio, past the frenzy of shoppers along Santa Fe and then north along Uruguay to Las Heras.
We stopped at a green grocer to pick up a melon, which the owner assured us was ready for eating (it's the season). It weighed a ton but Ayacucho and our apartment was only a block and a half away. The guy knows his melons - sweet and juicy!
Buses and subways require payment by coin which has caused a coin shortage in the city. Folks are hoarding and a black market has developed. Good news, the government has announced an electronic ticketing system will be installed, no date yet. We sure hope it happens before our pockets wear out from the weight of the coins we hoard just for own needs.
[Back to Top]

Search TheTravelzine | TheTravelzine Group | Don's Gallery
Packing Hints | Planning Tips | Cities Links

---
All pages on TheTravelzine.com©Copyright 1996-2020 Don & Linda Freedman