PORTUGAL
WINTER 2011
Part One | Part Two | Part Three
SAO MIGUEL, AZORES
We decided to stop in Ponta Delgada, Sao Miguel, Azores for ten days on the way home to Toronto from Lisbon.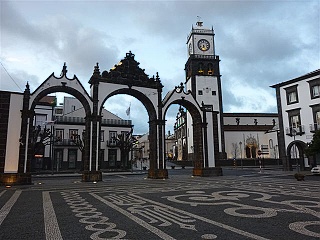 We boarded our non-stop SATA flight on time, with their usual efficent and respectful service, and our departure was right on schedule. The 2¼ hour flight passed quickly, helped by a complimentary light lunch and Sagres beer.
Here we were once again in the middle of Atlantic ocean, 760 miles from Lisbon and 2110 miles from New York. The archipelago of the Azores consists of nine islands; Sao Miguel, Santa Maria, Terceira, Graciosa, Sao Jorge, Pico, Faial, Flores and Corvo. Sao Miguel is the largest of the islands and Ponta Delgada is the seat of the Regional Government and its capital.
Twenty minutes after our flight arrived, our taxi pulled up in front of the Hotel Marina Atlântico, which was cleverly designed to resemble a sailing ship. Beautifully situated on the waterfront, the Hotel Marina Atlântico enjoys a commanding view of the marina and the cruise port. The magnificent ocean views from our room were a never-ending attraction. The Bensaude group has six hotels on Sao Miguel, one on Terceira, one on Faial and one in Lisboa, ranging from 3 to 4 stars.
The interior design of the Hotel Marina Atlântico is clean, crisp, and contemporary, featuring lots of white highlighted by dark woods, marble and stainless steel.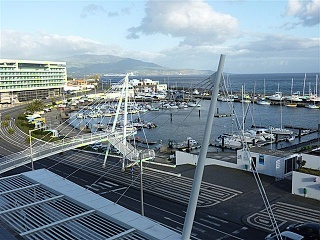 On the lobby level, there are meeting rooms, a business center, a lounge, and a bar and restaurant. A first class health club is situated on the lower level.
The staff was welcoming and helpful during our entire stay. We had the pleasure of meeting the hotel Director, Joao Luis Cogumbreiro and it was easy to see why the staff were well trained to respect and do everything possible to make life comfortable for their guests. In true Azorean style, even the chambermaids were personable and accommodating.
Our good size room was very well furnished with an oversized king bed with a comfortable mattress and excellent quality pillows and bedding. A long desk provided ample room for both of us to use our computers. A small refrigerator was convenient and there was ample closet and drawer space. The white marble bathroom was well equipped. Best of all, there was superb lighting throughout. Fortunately the weather was nice enough to have an occassional glass of wine out on the balcony and watch the boats and ships as they slipped in and out of the marina and port.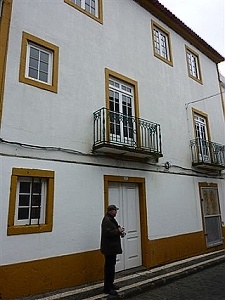 In Lisbon we had a small breakfast in our apartment. Now a buffet breakfast was included in the room rate. Oh my, cereals, fruits, yogurt, cheeses, breads, rolls pastries, eggs, meats, vegetables, juices etc. We did our best to contain ourselves but the quality regional products were too good not to indulge.
During our last visit we went to see the Sahar Hassamain Synagogue and were horrified at what we found which is highlighted in our Portugal 2006 travelogue. At the time, we were accompanied by Dr.Jose de Almeida Mello who represented Ponta Delgada in the synagogue restoration project. He was pleased to meet us again to bring us up to date on the progress, which has been significant due mainly to his efforts.
Getting the cooperation of all the parties involved to solve the legal and financial issues was a monumental task that only the desire and commitment of an individual like Jose Mello could accomplish. He worked tirelessly researching all the elements (history, restoration and conservation) to build his case culminating in his writing and publishing a brilliant, illustrated book entitled. "Sahar Hassamain Synagogue in Ponta Delgada", which became the catalyst for action. If you wish to buy copies of the book, which is available in Portuguese as well as English, you can email, josemello(AT)mpdelgada.pt Proceeds of the book sales will be applied to the building fund.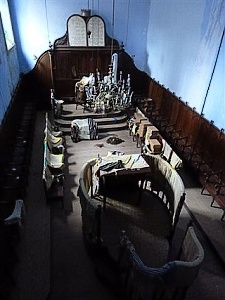 [Back to To]
The obstacles have been overcome. Architectural and building plans are underway and hopefully restoration will begin early in 2012. The plan is to incorporate space for the management and promotion of Jewish Memory in the Azores with a museum, document archive, and a permanent exhibition dedicated to the history of the activities developed by Jewish families in the Azores. There will also be a section for cultural services of the City Hall of Ponta Delgada and leisure space (music, reading, internet) for locals and visitors.
Thank you Dr. Mello. We shall return to celebrate with you.
Ponta Delgada is about three kilometers long, rectangular in shape. The downtown core is flat which, after the hills of Lisbon, was a welcome break. We strolled familiar streets exchanging greetings with fellow walkers and shop keepers: bom dia (good day), boa tarde (good afternoon), boa noite (good evening). Life here is as we like it, slow and easy. More English is spoken than five years ago and those who speak only Portuguese will work with you to communicate effectively.
We stopped by the tourist office on Av. Infante D. Henrique to get information on the city buses. Three mini bus lines cover the city: line A goes west, line B central and line C does the east. One drizzly day, we jumped on the B line just for the experience. We motored through lovely residential streets, passed by the University of the Azores, Jardim Jacome Correira, Palacio Santana (Regional Government), the Santana Chapel, the impressive hospital Divino Espirito Danto, the Parque Atlantico shopping center and the Sidonio Serpa Sports Complex - all in under an hour.
Since we were making plans to hunker down in Ponta Delgada (without a car) next winter, it was good to know that we could get to the shopping center easily, especially since our favorite supermarket, Continente, just opened there. We stopped by the Mercado on Rua do Mercado to invision our daily trips for fresh produce, fish, meats, and cheeses. We were pleased to see it was still operating as we remembered.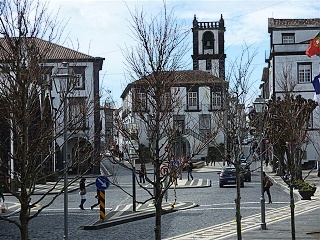 We had fond memories of the steak we had at Alianca, Rua A. Coriano Oriental 23, back in 2006. Often return trips to restaurants are disappointing, not here. The grass fed Azorian beef was as tender and tasty as we recalled. The ample portions of steak, fries and salad were easily shareable. Because the restaurant is small we got there early (7:00pm) expecting to dine alone, within minutes all the tables were full. Locals are dining earlier than we recall.
A Comercial, Rua Machado dos Santos 73, is a restaurant institution that we discovered several trips ago. The interior has been nicely refurbished, bright and cheerful. It's cafeteria style - grab a tray, get in line, choose from the steaming daily specials and join your neighbors at a table. It's home cooking, piled high and very reasonably priced. Arroz de Marisco with salad for Linda and roast chicken with a ton of boiled vegetables for me.
From the picturesque villages along the coast to the lush interior, the beauty and peacefulness of Sao Miguel has dazzled us since we first arrived in 2003. We were anxious to travel along the twisting mountain roadways through forests and grazing land and stop at the lakes, villages and viewpoints along the way.
There is not a public transportation system to support such a tour so we made arrangements with Agencia Acoreana de Viagens to provide a guide with vehicle for a couple of day trips: to Furnas, with its famous hot springs, including lunch at the Terra Nostra Garden Hotel and to Nordeste, on the northeastern coast, with lunch at the Estalagem Dos Clerigos. The agency works with individuals and groups. They can be contacted by email: individuals.aav(AT)bensuade.pt and grupos.aav(AT)bensuade.pt
[Back to To]
Patricia was right on time at 9:00 AM and we were on our way to Furnas. We would work our way east along the southern coastal route and return via the northern route, then head south to Ponte Delgada from the Ribeira Grande area.
Due east along the coast is Sao Roque where there is a fine view over the island from the Sao Roque viewpoint. This stretch of coastline from Sao Roque to Lagoa has appealing homes and lovely beaches.
Lagoa is famous for its ceramic works. Ceramica Viera, Rua das Alminhas 10-12, was founded in the middle of the 19th century and has remained in the same family for five generations. It's fascinating to watch a craftswoman work the traditional potter's wheel turning a mound of clay into a graceful form and another lovingly painting a colorful design. We bought several carry-on size pieces as souvenirs.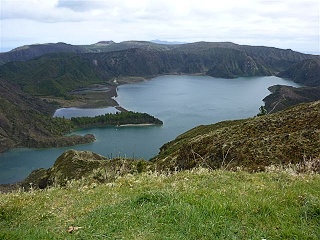 We turned north from Lagoa toward Lagoa do Fogo (Fire Lake). As we twisted and turned up and down the mountain sides we were mesmerized by Mother Nature. Meticulously manicured grazing land, dense mysterious forests and lush vegetation just beginning to sprout their colors were a joy to behold. The sturdy, handsome cows feasting on natural grass give credence to the island's reputation for quality, healthy meat and dairy products.
The zigzag road follows the top of the crator and suddenly Lagoa do Fogo emerged before us. If I had been driving we probably would have gone over the edge of the crater and plummeted onto the inaccessible beaches below. The water is blue, no turquoise, what shade of each? Does it matter, it's breathtaking. As is the green vegetation all around which comes in a myriad of shades and textures. On the northern side of the crator the rocks form a V through which there is a glimpse of the ocean.
The SATA inflight magazine had an article about the Pilgrims of Sao Miguel, a tradition that goes back hundreds of years. "They come from all around the world. They walk the island roads, with humility for 8 days during the months of February and March. They travel clockwise in groups of dozens, from dawn to dusk.They carry a staff and a rosary in their hand, a scarf around their neck, a bag and shawl on their backs. As night falls they are given shelter by families that offer dinner and some hours of sleep. It's through prayer that they free themselves from the burdens of the world. Some have been pilgrims for 2 or 3 decades consecutively. Some are pilgrims once, as if they had done it forever. Faith does not change it's a life commitment."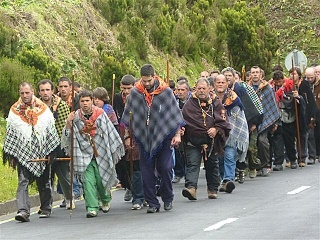 And there they were before us! Patricia stopped so that we could get out to say hello, take photos, and wish them well. They happily stopped to accommodate us and chat about where they and we came from. On our subsequent trip to Nordeste we met other groups of pilgrims including one from Canada.
Back on the south shore we drove through Vila Franca do Campo, the first capital of Sao Miguel, and turned north-east toward Furnas, passing the white pineapple greenhouses of Ribeira das Tainhas.
[Back to To]
The journey upward continues through thick vegetation accentuated by blue hydrangeas with amazing vistas over grassy hills to the sea. There are large beautifully designed and maintained picnic areas along many of the roads with all the essentials for family leisure activities surrounded by nature. Patricia knows the roads well and knew the best spots to stop to capture the glorious digital moments.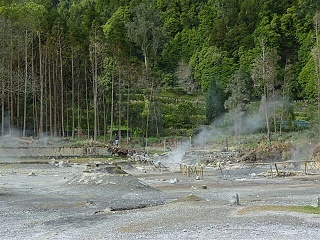 Lagoa das Furnas is the second largest lake on the island. The blue-green waters sparkled from the sun's rays highlighting the reflections of the surrounding beech trees and cryptomerias (large evergreen trees). Volcanic activity formed the island and created the many natural wonders to be found. The smell of sulphur drew us to the nearby barren earth from which rose vapors and bubbling steaming water. First time visitors invision terrestrial forces at work.
These are the "Furnas calderas" where the famous "cozido das Furnas" is prepared. They come early in the morning with huge pots filled with meat and vegetables and wrapped in bags which are buried in the steaming ground. Five to six hours later the pots are removed and a delicious meal is ready. The subterranean heat produces the unique flavor that makes the dish so popular. We arrived well after the cooking had finished so missed the live action.
The Terra Nostra Garden Hotel is situated in the Terra Nostra Botanical Park The pathways are lined by floral collections rich in color and century old trees from around the world. Water flows from the earth cold, warm or naturally carbonated. Guests of the hotel are guests of the garden. It's a great place to relax in the comfort of a fine hotel and wander the trails of all that nature has to offer.
The dining room is done in white with emerald trim, the large windows open to the surrounding gardens. It's bright and cheerful, sitting indoors, feeling outdoors. We started with a delicious vegetable and bean soup followed by fresh grilled cherne served with steamed vegetable and mixed salad. The island of Pico produces wonderful white wine. The Frei Gigance was crisp, clean and fruity, as we like it. The caramel flan and chocolate cake with chantilly finished us off. The service was excellent. We met Carlos Ribeiro Rodrigues, the director of this hotel and Estalagem dos Clerigos where we would be going another day. We noted that his enthusiasm and energy rubbed off on the staff of both hotels.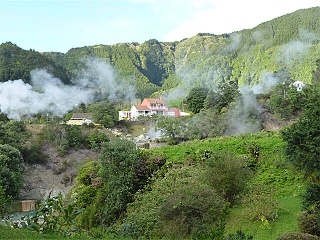 Furnas itself is a beautiful village of modest to palatial homes, parks and gardens. In the center there are rock formations interspersed with bubbling, steaming waters rising from the thermal springs below, day and night. It's a sight to behold.
Along the northern return route we stopped at the Gorreana Tea Factory. Founded in 1883 by the Gago da Camara family it now produces 40 tons of tea annually, 75% is sold within the region and about 20% to Canada. Both the black and green teas are delicious and best of all are free of pesticides or fungicides, since there are no pests or disease in the region. After touring the factory, we sampled various varieties and chose several, in bags and loose, in quantities that would fit into our carry-ons.
Along the way we saw the beginnings of a new highway infrastucture, including towering stanchions for high bridges, that will service the northern west to east route.
[Back to To]
Portas do Mar was opened in July 2008 with a maritime terminal for cruise ships and inter island ferries. It also has a marina, pool, amphitheatre, pavilion for exhibitions and cultural events and underground parking. Facing the inner waters on the back side of the pier is a walkway lined with restaurants, bars, cafes, gift ships, and a wide range of services.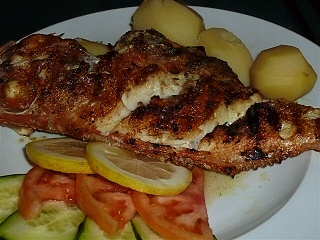 There is a ramp across from our hotel that leads down to Portas do Mar. It was common to see hearty swimmers in the inlet between the ramp and the shops. Tonight we would try one of the restaurants, 100 Espinhas (bones). We had a feeling of comfort and relaxation from the moment we entered this modern, minimalist environment. The young energetic staff who were eager to please certainly enhanced the feeling. A delicious tinto wine from Alentejo along with a meat pate, excellent bread and olives kept us well occupied while we considered the menu. This is a place for fish. Linda selected fried fish filets which were served on a bed of eggplant with boiled potatoes and carrots. I had a whole grilled local fish, cantado, with tender white flesh, served with the traditional boiled potatoes and veggies. Both were outstanding as was the chocolate cake with ice cream. 100 Espinhas is a keeper.
Also along this strip is a very good gelato emporium, Farggi. The modern colorful interior beckons. Not all flavors are created equally, but there are enough to make a trip now and then. The coffees are well prepared and the place is very comfortable.
Another wonderful fish restaurant is Adega Regional, Rua Mello 70-72. Our sweet waitress assured us we would love the two fresh varieties featured that evening and she sure was right. Two nice size beauties, perfectly grilled and tasty. The house tinto was quite good. In general, and this was no exception, the house wines are very good and served in large glasses (terrific value). Adega is our kind of place, low key neighborhood, popular with the locals and tourists - also a keeper.
Today Patricia would take the southern route directly to Povoação and north to Nordeste, returning along the northern coast. She insisted on stopping in the pretty town center of Povoação for "Fofas da Povoação" at Pastelaria Alegre. A dream come true. As a very young fellow I worked in a bakery in my home town creating eclairs by generously filling the perfectly textured shell with a delectable boiled cream and topping them with smooth chocolate. I have never been able to find this perfect combination! This was my day, Fofas are eclairs and the Povoação version is sublime, better than the one I remember so fondly. We hated to leave the bakery because Povoação is so far away we thought we would not be able to have this treat again, but all is not lost. When we got back to Ponta Delgada we found a sign in a cafe that indicated they have Fofas da Povoação available on Wednesday mornings.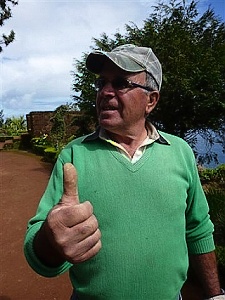 We were impressed with the loving care and maintenance of the sides of the roadways. The grass and shrubs were being trimmed as we drove along. Patricia explained that each region is responsible for their roadside landscaping and that the crews take pride in their work. This devotion was exemplified when we stopped at Miradouro da Ponta do Sossego. This multi-level garden and picnic area is magnificent. Every hedge, blade of grass, plant and tree is perfectly trimmed. The grounds are immaculate. There is a picnic area with grills, and thatch-covered benches and tables. The smell of the hydrangeas and azaleas and ocean mingle in the air. All this and spectacular sea amd coastline views. We met Silveiro, the only one who works this property, every day of the week. He literally has a green thumb which he proudly showed us - devotion and love of work makes Silveiro a happy and proud man.
[Back to To]
Nordeste sits at the northeast corner of Sao Miguel overlooking the ocean. The Estalagem dos Clerigos, Rua dos Clerigos, has a privileged setting overlooking the tranquil village and ocean. The front terrace and balconies look down at the Estalagem's own gardens where they grow herbs, vegetables, bananas and sometimes fresh eggs all for use in their restaurant, which is why we were here.
The staff were amazingly welcoming and caring and after the long drive it was nice to be pampered. We opted for a white wine, Jose de Sousa from Alentejo which was medium dry and fruity. The locally baked bread was outstanding, crusty, full bodied and chewy. The garlic soup was a perfect starter. No rushing here, relax and enjoy the sensational view. We both opted for filet medallions, which were beautifully plated with baked squash, broccoli, fabulous thick fries carefully stacked high and garnished with fresh Azorean pineapple and green olives. The tender beef had a wonderful natural flavor. We concluded with the house made chocolate mousse, which was as good as it gets, sided with thick, creamy chantilly that Linda still raves about.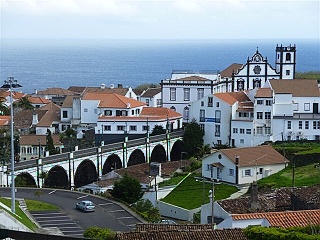 We were so impressed with the staff, food and the environment we asked Alice, the reception manager, to show us around. All the spacious rooms face the village and ocean. They are very well equipped in a rustic style. There are two-level apartments to accommodate families. If we were overnighting in Nordeste, we would be happy to call Estalagem dos Clerigos home. After this long leisurely lunch it was time to head west to Ponta Delgada.
After finishing packing for our departure tomorrow, we opted for a cocktail at the hotel bar and a late dinner in the restaurant. There was an excellent buffet, but we decided to order a la carte. Linda had thick grilled fillets of abrotea (local white fish) on a bed of pureed green beans while I chose pasteis de Bacalhau, salt cod fritters, topped with fresh greens. A white wine from the Dao region was a fine partner. A well prepared traditional island meal to see us on our way (not quite, let's not forget the morning breakfast buffet).
We look forward to next year to further explore the treasures of Ponta Delgada and Mother Nature's surprises...
Please note that our previous Azores travelogues contain additional useful and detailed information for your visit.
[Back to To]
Part One | Part Two | Part Three
Search TheTravelzine | TheTravelzine Group | Don's Gallery
Packing Hints | Planning Tips | Cities Links

---
All pages on TheTravelzine.com©Copyright 1996-2020 Don & Linda Freedman