Kennebunkport
Leaving our friends at about 16:00, we headed north to Route 95 and straight up to the Maine coast, arriving at Kennebunkport at about 18:00 for an overnight stay at the 1802 House B&B, 15 Locke Street, 800-932-5632. The innkeeper, Mary Ellen Mason, greeted us with a cheerful smile, showed us around and led us to our room. She was kind enough to offer and bring us delicious hot coffee, which really hit the spot.
A great reason for visiting the Maine coast is to feast your eyes on the magnificent old homes of various architectural styles that have been lovingly cared for, maintaining their original beauty and charm. This is B&B country, no big chain hotels dotting these picturesque towns and villages.
The 1802 House is a carefully restored 19th century farmhouse in a quiet and peaceful area along the 15th fairway of the Cape Arundel Golf Course, just a short walk from picturesque Dock Square, the center of neat shops and restaurants. The sunny dining room, sitting room and six guest rooms are tastefully decorated with period furnishings that provide charming and relaxing accommodations. Our first floor room, The Camden, had a queen-size four poster bed, propane fireplace and an ensuite bathroom with a stall shower. Comfy robes and slippers were provided, as well as turndown service.
In this part of the country we do not like to seek out fine dining establishments but rather fresh, local seafood at rough and ready eateries. Our first choice was the Clam Shack, just after the bridge entering town, but they were closing as we arrived. The owner was kind enough to suggest the Seafood Center, on Route 1 in Arundel, 207-985-7391, about five minutes away. We zipped over, ordered a fried clams and scallops combo at the counter and when our number was called we sat at a wooden table and benches and thoroughly enjoyed the fresh beauties encrusted in ungreasy, tasty, fried batter.
After an excellent night's sleep, we were greeted in the bright, airy dining room by Mary Ellen and Cedric, chef and server respectively (a great team), and a Happy Fathers' Day poster welcoming the guests by name and providing the breakfast menu of the day, a nice touch. Juice was followed by banana chantilly, peach and pecan muffins (still warm from the oven), poached eggs with spinach and prosciutto on English muffins and delicious coffee.
Walker Point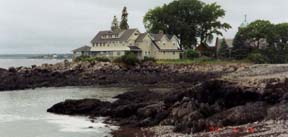 We drove around town admiring the stately homes and headed to Ocean Drive to see George and Barbara Bush' summer residence, which sits gracefully on a low-lying promontory jutting into the sea. Why George W. would prefer his Texas ranch is beyond us! Surely a case of "different strokes"...!
(This photo is of the rectory of St. Anne's Episcopal Church about 1/4 mi. from Walker's Point.)
Brunswick
Back onto Route 95 around Portland to Route 1 at Brunswick. Word was that we must stop for lunch at Red's Eats in Wiscasset for the "best lobster roll in the world". It was not hard to find as we saw the big sign out front and a long lineup at the front window. We spotted an on street parking spot, swooped in and dashed to the end of the line.
Red's is as big as a minute - really just a tiny shack at the end of a bridge. There are a few tables at the sidewalk and some at the rear. Lobster roll is king but lots of folks were ordering the fried stuff and crab rolls. It's a family business that has built a cult following. The "thing" with the lobster roll is that each hot dog roll is supposedly filled with the meat of a whole lobster. It's not the typical "lobster salad" variety, it's the lobster meat only. The lobster was fresh and properly boiled. If it was one lobster, it was the smallest ever caught and at $12 to eat outside in the rough, it was poor value. It was so skimpy that we were starved!
Waldoboro
At random, we decided to stop at Captain's Fresh Idea, further up the road at 3499 Atlantic Highway, Route 1, Waldoboro, where we enjoyed real Maine hospitality along with outstanding steamed clams, a cold Sam Adam's beer and a super hot fudge sundae for much less than our previous stop.
Driving through Rockland and Rockport was a delight and someday with more time, both deserve a longer visit.
Camden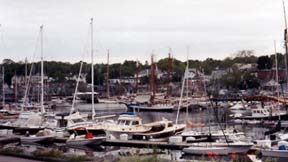 Arriving in Camden, we passed by the scenic harbor and village and glorious 18th and 19th century homes on our way to A Little Dream, at 60 High Street, Route 1, about half a mile past the center, 800-217-0109. Our innkeeper Joanne told us that she and her husband Bill fell in love with Camden while driving through in 1989 and bought this dream Victorian cottage and its pretty carriage house. After we toured, it was easy to understand why they felt that way; this is one sweet town!
The inn sits on two beautifully landscaped, sloping acres, overlooking two small castles with views over Penobscot Bay. Both houses were built in 1888 as part of the Norumbega Estate and are on the National Historic Register. The white "cottage style" Victorian house has a wraparound porch filled with wicker and flowers, beautifully inviting and peaceful. From sitting room to dining room to the individualistic guest rooms, the design, decoration and furnishings are gracious, charming and create that touch of intimacy and romance of that "dream" getaway inn.
Our first floor "blue room" was large and comfortable with a gas fireplace and a cozy sitting area. The bathroom has an old claw foot tub with a shower, lots of space and amenities.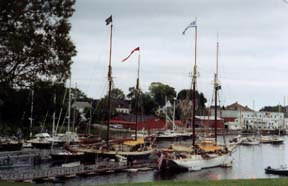 We took Joanne's suggestion to visit Camden Hills State Park and drove up to the top of Mt. Battie while the daylight would enable us to appreciate the views of Penobscot Bay, the harbor and the village of Camden. There are miles of well-trodden trails from the rugged shore to the mountain top. Camden's harbor is small but a scenic delight. In the summer it's chock full of pleasure craft from around the world. A big attraction is the tall ship windjammer cruises or day trips around Penobscot Bay. The appealing streets around the harbor are home to wonderful shops and restaurants. Here the mountains meet the sea, with beauty and serenity in abundance.
We were in the mood for a light dinner with a harbor view so we chose the "Waterfront" on Bayview Street at Camden Harbor, 207-236-3747. It's dockside dining at its casual best and the specialty is fresh seafood. We chose a table at a window in the bar and the bloody Mary and gin and tonic really hit the spot after a day of driving and touring. The clam chowder was filled with clams and potatoes, lots of natural flavor with a touch of thyme and parley. A smoked seafood sampler of local scallops, mussels, baby shrimp, mackerel and salmon with tasting portions of fish salad and dill cucumber salad hit the right chords.
Breakfast was wonderful. A bright, beautiful dining room, gorgeous tableware, hot blueberry muffins, raspberry soufflé, pancakes with fresh raspberry sauce, crisp bacon and fresh fruit. Much attention is paid to quality at this fine inn.
Bar Harbor
Our final stop in Maine would be two terrific days at Bar Harbor, the largest town on Mount Desert Island (fondly called MDI by the locals).
From Camden we followed Route 1 to Route 3 directly to the Mira Monte Inn, 69 Mt. Desert Street, Bar Harbor, 800-553-5109. This B&B with fifteen guest rooms was built in 1864 on two acres of landscaped estate grounds right in the heart of town. In fact, the formal gardens were included in an area garden tour while we were there. The parlor and library are a delightful place to relax and if so inclined guests may make use of the piano in the library. The guest rooms all feature antiques and period furnishings with lace curtains and wallpaper to recreate yesteryear's style.
The Belmont, our large, king-bedded room, had a Franklin fireplace and a modest size bathroom with a stall shower. At breakfast, the dining room offered a full assortment displayed on an 1870 Federal buffet. The large dining table and the rest of the furnishings were equally distinctive. An eclectic collection of china, glassware and silverware graced the table. Breakfast was a treat. Hot oatmeal with dried, sweetened cranberries was special (the cranberries were so good, we asked for the resource, which we visited on the way to Canada; stay tuned). So, too, were the hot blueberry muffins and lemon squares. Make your own waffles was a big hit with many. Eggs, yogurt, mini bagels with cream cheese, fresh fruit and preserves rounded-out the offerings.
Marian Burns is the consummate innkeeper. Born and raised in Bar Harbor, she is a wealth of information, eager to share her knowledge of the best of MDI with her guests. She recently purchased the nearby Atlantean Inn at 11 Atlantic Avenue.
Mount Desert Island, the third largest island on the Eastern Seaboard (appropriately shaped like a lobster claw) is divided by Somes Sound, the only natural fjord on the east coast of the United States. It's unique typography, shaped by the glaciers, is evidenced by the majestic mountains, woodlands and waterways of Acadia National Park, located just minutes from Bar Harbor. Bar Harbor is the largest town and the artistic and social center of Mount Desert Island. It is a picturesque, coastal resort located between mountains and the crystal blue Atlantic Ocean, offering the charm of a New England fishing village along with splendid accommodations, restaurants, shopping and a wide range of activities.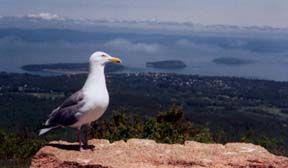 Acadia National Park is a hikers' paradise with breathtaking views along shore routes or through woods and mountains. If you prefer to drive, as we did with such a short stay, the twenty-seven mile scenic Park Loop Road takes you through the park's gardens and natural attractions with easy stops for a further look afoot. The loop ends at Cadillac Mountain, the centerpiece of Acadia's twenty-six mountains and at 1532 feet, it's the highest point on the Eastern Seaboard of the U.S. At the top is a 360 degree panorama of sea, land and lakes.
Fifty-seven miles of motor-free, rustic carriage roads weave throughout the park and the sixteen completely unique stone bridges were built thanks to John D. Rockefeller Jr. and his family. The sixteen foot wide road was built over twenty-seven years, 1913-1940, is considered to be the best examples of a broken stone road in America. By the way, if you don't want to hike or drive, bike rentals and carriage rides are available.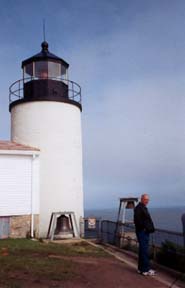 We particularly loved slowly making our way along the southern shores, stopping at all the small coves, harbors and beach fronts. Quite memorable were Northeast and Seal Harbor, filled with boats belonging to the owners of the gorgeous homes around and between the two harbors.
The land-based Bass Harbor Head Lighthouse (the only one accessible by car), built in 1858 is a visitors' favorite along with the pathways to the rocky shores and sea views. Further along Route 102A is Seawall, a long expanse of intriguing rocky beaches with delightful picnic areas.
So much for the wonders and majesty of nature, let's get serious and talk about the real reason to come to Maine from June through September - lobster and steamers! The only way to go is to dine "in the rough" on a working dock. This was our joy, early both evenings with a bright, sunny blue sky over the sparkling water and the smell of the sea and the steaming beauties. Thurston's Lobster Pound on Steamboat Wharf Road in Bernard, 207-244-7600, is open 11:00-20:30 from Memorial Day week-end to Columbus Day.
Was it the lobster traps stacked high on the wharfs or the huge steaming vat on the front deck that got us salivating as we parked the car? This is a family affair from trapping the lobsters to placing them in a net into the vat to be steamed to a tender, succulent finish.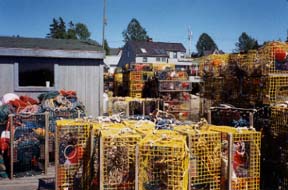 There is a counter as you enter and the prices are listed, depending on the size lobster you wish. This day, it was $9.25 for small (1-1.25 pounds), $9.75 for medium (1.50-2.00 pounds), $10.75 for large (2 pounds and over). All prices are per pound. Steamers were $5.00 per pound. There are other offerings, such as seafood chowder and sandwiches, but it's the two biggies you come for! You place your order (we had two mediums and a pound of steamers), pay the bill, take a number and sit at a table on either the screened upper or lower deck and wait, salivating, for your number to be called. Mrs. Thurston was taking orders and doing the steaming. She recommended the Bar Harbor Cream Ale, brewed not too far away (one must have beer or ale with steamers and lobster) and, as usual, the locally-brewed product was superb. (I would rather drink milk than the well-known national brands!)
The steamers were first out. Big tender bellies, big fresh flavor - the very best ever! With big smiles, we thought it couldn't get better than this, but out came our pound and halves, chock-full of the sweetest, most juicy meat - even the feelers were filled wall-to-wall. Good thing this was a driving trip so we had more changes of clothes than usual - we sure needed them as it wasn't long before we were decorated in squirted water, flakes of lobster and shell shards as we tore the critters apart. These were the best lobsters we have ever eaten!
The next night we found our way to Beal's Lobster Pier, Clark Point Road, overlooking Southwest Harbor (next door to the Coast Guard station), 800-245-7178, summer hours 09:00-20:00. This place is really "in the rough". Same procedure, but the seating is only on the open dock at assorted tables and benches. The price per pound was a bit less and while the steamers and lobsters were wonderful, they did not quite match the ones we had the previous evening, a close second though. We again enjoyed a delicious brew from Bar Harbor Brewing Company, the award-winning Thunder Hole Brown Ale.
It is mandatory to indulge yourself with excellent homemade ice cream after a lobster and steamers feast. So both nights we made our way to famous Ben & Bill's on Main Street, Bar Harbor, for the soothing finish before retiring.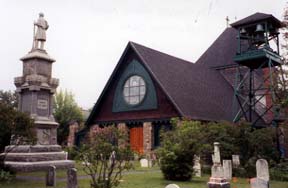 Before hitting the road in the morning, we walked down the street to capture a photo of the historic and colorful St. Savior's Episcopal Church, bell tower and village burying ground.
Now, about those spectacular, plump, juicy, dried cranberries in the oatmeal - Marian was kind enough to call the place she gets them from in Jonesboro, Maine, to make sure that they would be open if we stopped-by on our way to New Brunswick, Canada.
Jonesboro
We took Route 3 to Route 1 to Route 182 back to Route 1 to Jonesboro, where we met Nancy Holmes, who founded her home-based business, Weownit, P.O. Box 31, Jonesboro, ME, 04648, 207-434-7741, toll free 1-866-936-9648. This lady loves cranberries, starting with her own bogs. Her all natural, grade A premium dried cranberries are combined with the freshest, finest ingredients to create chocolate and yogurt-covered cranberries, cranberry fudge, jelly, tea and more. This is really blueberry country; they were growing everywhere. It's a tribute to Nancy's ingenuity that after selling her bogs in Massachusetts and moving to Jonesboro, she was able to establish bogs and to produce such a fine product in a climate that was considered to be too harsh and unforgiving.
We bought a five pound bag of dried, sweetened cranberries, a half pound bag of the chocolate-covered ones (what a mistake - we should have bought a monster size - heavenly!), and a 5 oz. jar of cranberry, nut and honey that we can hardly wait to pour over a glob of rich, thick yogurt. If you're a cranberry lover, this stuff has your name on it!
Machias
We asked about a lunch stop and Nancy recommended Helen's on Route 1 in Machias. It's a down home kind of place. We sat across from the pie display. As Nancy said, "if you eat nothing else, eat the pie". The pies were gorgeous; they had that real homemade look: high, wide and handsome. With our eyes and minds firmly fixed on the pies, we enjoyed fried and broiled haddock sandwiches with thinly sliced, lightly coated, fried onion rings. The pie decision was monumental. Linda chose chocolate cream pie and I, coconut cream. It was tough to pass on the mile high lemon meringue and about a dozen other varieties, including fresh strawberry shortcake. Pie just does not get better; from the filling to the crust, positively awesome, and the down home low price of these treats made for a perfect, lasting memory of our visit to the great state of Maine.



Search TheTravelzine | TheTravelzine Group | Don's Gallery
Packing Hints | Planning Tips | Cities Links

---
All pages on TheTravelzine.com©Copyright 1996-2020 Don & Linda Freedman