SWITZERLAND Fall 1998
We were scheduled to start our Fall 1998 trip to Switzerland and Italy on Tuesday, September 1st. With the Air Canada pilots strike looming, we decided to leave two days earlier. Thank goodness the airline was able to accommodate us. We always fly Air Canada when they're going our way; the service at all levels is excellent and the Aeroplan Frequent Flyer Program works for us.
When we arrived at the airport, we found that the international check-in area had been redesigned since our last trip and we were having trouble finding the "no luggage" check-in. We stopped at the Executive First desk to ask directions and they offered to check us in even though we had economy tickets. We jokingly suggested that as long as we were at the Executive First desk it would be nice to fly that way. Imagine our delight when we were told that due to the pending strike they were oversold in economy and would upgrade us at no charge! From the moment we approached the ticket agent, it was clear that Air Canada appreciated our business which continued in the Maple Leaf Lounge, a divine place where Executive First passengers while away the hours until flight time with free drinks, munchies, newspapers, magazines, TVs, telephones, modem hook-ups, you name it.
Economy service on Air Canada is as good as it gets and we have always been comfortable and well served. However, there is nothing like the huge seat with full-size foot rest and the space to lower the back of your seat without infringing on the comfort of the person behind you. Your personal TV on which you can watch the movie or play games, if you choose, doesn't hurt either. Thank you Air Canada.
With two extra days in Switzerland before our flight to Rome, we decided to go to the Hotel Verenahof in Baden to enjoy some thermal bathing. There isn't a better way to recuperate from jet lag. (We first wrote about this place in our Spring, 1996 travelogue.) Nothing had changed, thank goodness; the same wonderful accommodations and meals. The weather was glorious and the thermal waters pounding our bodies from the jets in the outdoor pool felt awfully good.
The Badener Gold dark beer, which I had been looking forward to, was as delicious as I had remembered. The first night there was a superb, sumptuous buffet with a heavy emphasis on seafood. We sampled all the delicious homemade desserts including mocha ice cream, flan, chocolate mousse and poppy seed and almond cake. The second night we started with chestnut puree soup and a puff pastry filled with chanterelles in a thyme sauce, followed by succulent slices of rare duck breast with raspberries, served with polenta and green beans. As usual, the salad buffet was filled with exceptional greens and vegetables. The delectable dessert was a sensuous chocolate mousse atop a sliced pear on a delicious cookie crust.
The two days flew by and we were off to Italy.
At the end of our visit to Italy, our dear friends Cornelia and Fabio picked us up in Stresa and we drove to their home in Minusio, just outside of Locarno, Switzerland, where we spent a few days getting caught up on each others' lives. The bad news was that Cornelia had to leave the first evening of our visit to go to Zurich. The good news is that we had dinner with her before flying home.
While we were with Fabio, he took us for a wonderful lunch at the Hotel Belvedere in Locarno. This gem of a four star hotel sits high above the lake with glorious views. The lunch room is bright and airy and the service is excellent. Linda had zuppa pavese, a hearty soup of bread, egg and cheese, Fabio had tricolored ravioli filled with cheese and I, a mixed salad (the Swiss do the best salads) and a thick minestrone. We took the opportunity to look at the rooms, which were all very large and well appointed. The reconstructed design is quite contemporary while the historic frescoes have been preserved (it had been the home of a nobleman).
In the evening, Fabio introduced us to another restaurant we would never have found on our own, Al Parco Ristorante, Via San Goitardo 8, in the basement of a residential hotel. This simple, elegant room opens to a lovely garden patio which is used for warm weather dining. We had a delicious aged-in-oak Ticino Merlot - Barriques with a rich, fruity flavor. A wild deer pate with pieces of pistachio resting on a wild berry sauce drove us - wild. The guys had thinly sliced beef carpaccio with Parmigiano-Reggiano and arugula, seasoned at the table with salt, pepper, lemon and olive oil - exceptionally good. Linda loved her fresh tomato cream soup. The agnolloti filled with sausage with a touch of cheese on top and the grilled veal filet, steamed veggies and fried mashed potato balls were enjoyed by all. The service was splendid. Leave it to Fabio to discover this terrific secret!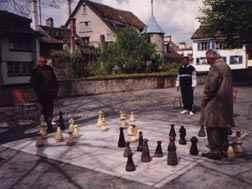 In the morning Fabio drove us to Bellinzona where we caught the train to Zurich. We popped into the cafeteria Zur Munz, a restaurant just off the Bahnhofstrasse, for a quick lunch of mixed salad, two thick slices of wild venison loaf in a red wine sauce with a huge swirl of real mashed potato and red cabbage. I said quick lunch, not small; Swiss portions are never small.
We did shopping for the grandchildren at our favorite department store, Globus, and our usual window shopping along the Bahnhofstrasse.
Dinner with Cornelia was at our favorite restaurant Bierhalle Kropf, Ingassin 16. This is the place for traditional Swiss/German fare and tonight it was seasonal fare, rabbit in cream sauce with apples and berries and roasted saddle of hare, with spaetzle and, of course, mixed salad. Speaking of seasonal, I had to have the chestnut puree, but over two huge scoops of vanilla ice cream on top of which resided three globs of whipped cream? The girls shared stewed plums with vanilla ice cream and whipped cream.


As our Air Canada flight took off for Toronto, we could sum up our thoughts in three little words - We'll diet tomorrow!

Back to:
BADEN | LOCARNO | ZURICH

Search TheTravelzine | TheTravelzine Group | Don's Gallery
Packing Hints | Planning Tips | Cities Links

---
All pages on TheTravelzine.comęCopyright 1996-2020 Don & Linda Freedman