Search TheTravelzine

TheTravelzine Group

Access Your Mail

Don's Gallery

Packing Hints

Planning Tips

Cities Links

Links
LINKS TO OUR TRAVELOGUES
Argentina, Buenos Aires - Jan-Mar 2010
Argentina, Buenos Aires - Jan-Mar 2009
Argentina, Buenos Aires - Jan-Mar 2008
Austria - Fall 2005
Belgium, Brussels - Fall 2000
Canada - Summer 2002
Canada - Summer 2001
Canada - Summer 2000
Czech Republic - Spring 2000
France - Fall 2002
France, Paris - Fall 2000
France, Paris - Spring 1999
France, Lyon - Spring 1999
Germany, Berlin - Fall 2009
Germany - Fall 2002
Germany - Spring 2000
Germany - Fall 1999
Greece - Fall 2012
Greece - Fall 1999
Greece - Fall 1997
Hungary - Spring 2000
Israel - Fall 1999
Italy - Winter 2007
Italy - Winter 2006
Italy - Winter 2005
Italy - Winter 2004
Italy - Winter 2003
Italy - Winter 2001
Italy - Fall 1998
Italy - Fall 1996
Netherlands - Spring 2000
Portugal, Azores - 2019
Portugal, Azores - 2018
Portugal, Sao Miguel & Lisbon - 2017
Portugal, Azores - 2017
Portugal, Azores - 2016
Portugal, Azores - 2015
Portugal, Azores - 2014
Portugal, Azores - 2013
Portugal, Azores - 2012
Portugal, Azores - 2011
Portugal, Lisbon - 2011
Portugal - Fall 2006
Portugal - Fall 2004
Portugal - Fall 2003
Portugal - Fall 2001
Portugal - Spring 1999
Portugal - Spring 1997
Slovakia - Spring 2000
Slovenia - Spring 1999
Slovenia - Fall 1996
Spain, Barcelona - Winter 2006
Switzerland - Fall 2002
Switzerland - Spring 2000
Switzerland - Spring 1999
Switzerland - Fall 1998
Switzerland - Fall 1997
Switzerland - Spring 1996
U.S. Florida, Key West - Fall 2006
U.S. Florida - Spring 2001
U.S. Maine - Summer 2002
U.S. Massachusetts - Summer 2003
U.S. Massachusetts - Summer 2002
U.S. Massachusetts - Summer 2001
U.S. New York State - Fall 2005
U.S. New York State - Summer 2004
U.S. New York State - Summer 2003
U.S. New York State - Summer 2001
U.S. Washington,DC - Spring 2000

GREECE Fall 1997 (1)
Athens (1)
A cab ride in Athens is always an adventure. This one was no exception as the driver slowed down and swerved into every bus stop on the way from the airport trying to pick up an additional fare into the city.
Upon arrival at the Athenian Inn in the Kolonaki district, he did not have the necessary change from the 10,000 dr. we offered for the 2,000 dr. fare and the desk clerk at our hotel didn't have change either. With a line-up of cars honking behind us on the narrow street, I finally found a nearby shopkeeper who cheerfully helped out.
Kolonaki is the center of social and shopping activity for trendy Athenians and a splendid place to people-watch from a ringside seat at one of the numerous cafes or for enjoying some of the best shopping in the city.
The Athenian Inn is a clean basic three-star hotel with pleasant and helpful front desk personnel. Our room was small with tacky furnishings; the bathroom was adequate; the breakfast, poor. All things considered, the price we paid did not constitute good value for Athens unless staying in the Kolonaki area would cause one to forgive the other shortcomings. For us, it didn't and we were grateful it was a one night stand.
This Tuesday evening was to be a marvelous treat. We had been emailing to Costas for about a year and had developed a special relationship and we were both anxious to discover if our intuition would prove to be correct. Costas and his fiancee, Angeliki, arrived at our hotel promptly at 21:00. The hugs and kisses came easily and we departed for an evening of getting to know one another.
Costas started to drive out of the city to Glyfada but we almost immediately encountered the traffic turmoil caused by the construction of the new metro and decided to park the car and head to Gerofinikas at Pindarou 18, a long time local favorite in Kolonaki. We leisurely shared an array of mezedes (appetizers) and main dishes: marinated octopus, stuffed grape leaves, eggplant salad, horiatiki salata (tomato wedges, cucumbers, onions, peppers, olives and feta cheese in an olive oil and vinegar dressing with oregano, a must at every meal), lamb with eggplant, lamb casserole with lettuce, grilled salmon, roast veal and, of course, retsina. We do love the cuisine in this country and once again were off to a good start.
As we headed back to the hotel at 23:30, we found the Kolonaki streets alive with action, cafes packed, people lounging everywhere, lines at the telephones - folks just don't sleep here! It never ceases to amaze us. We hated saying goodnight to our new friends but we were to be back in Athens October 3-6 and made plans to see them then.
We had been planning to fly to Skiathos but discovered that the Ceres Flying Dolphins had less expensive and more flexible connections. After arranging our schedule and the ticketing at the Filelinon St. office, we walked over to the Olympic Airways city ticket office a block away and canceled our flights. The Ceres bus would leave Athens at 16:00 and take us to Aghios Constantinos to catch the 19:00 hydrofoil, arriving in Skiathos at 21:15.
The extremely helpful and pleasant staff at Ceres were happy to hold our luggage until the bus departed and we were hands free to enjoy the bright, sunny early afternoon in Athens. And of course, what better way to enjoy oneself than at a very favorite restaurant! Delphi on Nikis Street is popular with Athenians and tourists alike, and deservedly so. We have been dining here for as long as we have been coming to Greece. We chose our table and headed for the open kitchen area at the rear for inspiration. We were greeted by the same friendly faces and the fresh and plentiful display of the day's offerings. This place is consistently superb and for lovers of classic Greek cooking, it is sheer heaven. We shared (we always share in Greece - the idea is to enjoy the variety) gigantes (giant lima beans baked in a tomato sauce with olive oil and herbs), tomato and cucumber salad (this is the time of year for the wonderful produce), fresh beets with their greens attached with skordalia (garlic mashed potatoes with olive oil, best when served fresh at room temperature) and a sensuous dish of rabbit stifado (rabbit and onion stew in a garlic and wine sauce). Real dense Greek bread is a delight and Delphi always serves the best. We would be back!
Contrary to popular belief, we found the air in Athens to be clean, the sun bright, the sky blue and it was a nice temperature for strolling around until our Ceres bus departure time. This is a busy, bustling city. It is alive with shoppers, business people and tourists (mostly Americans on this particular day). We stopped at the Matina hat store, a small store, at Mitropoleos 48, loaded with a fine selection of headgear for men and women and bought a brimmed cotton hat from a nice gentleman. At Ermou 63 we found Spiliopoulos, a discount shoe store selling better footwear at very attractive prices. I purchased a pair of excellent quality leather Italian loafers for 15,000 dr. On our return trip to Athens, Linda found a similar quality pair for the same price.
The bus left Athens promptly at 16:00 and we arrived at Agios Constantinos precisely at 19:00 and immediately boarded the hydrofoil to Skiathos.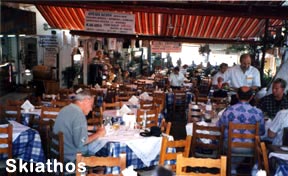 The airline-style seats were comfortable and the rest rooms clean. We were whisked across the blackened nighttime seas and arrived in Skiathos, one of the Sporades Islands, an hour and a half later. We took a cab, 2000 dr., to the island's top hotel, Skiathos Palace. We knew that it was low season and that rates would be drastically reduced. Our friendly cab driver and his adorable son assured us that we had selected the best hotel and at the best possible time since the prices were half what they had been the week before. Most of the hotels and beaches are due west from town along the southern coast.
The Skiathos Palace is at the end of the line and across the road from the famous Koukounaries Beach named for the stone-pine trees that separate the beach from a fresh water lake. We were greeted at the reception desk by the very personable Kostas. Indeed all the accommodations were half price, which made a nice size suite with a very large balcony overlooking Koukounaries Beach a real bargain. The reception area and public rooms are huge and probably quite full in season as there are 244 rooms and 10 suites all of which offer sea view, private bathroom, private balcony, air conditioning and mini-bar. Television with Greek programming is available in the main lounge. We fell asleep every night listening to Greek love songs on the radio. Adjacent to the huge swimming pool and beautifully landscaped sun deck is the main dining room with indoor and outdoor seating and an al fresco cocktail bar. There are also fitness and beauty facilities, saunas and tennis. It misses being true luxury because all the facilities are in their original state and need a face-lift. Our suite was quite comfortable. The good size foyer led to a small, windowed sitting area as well as the bathroom which had a bidet and a curtained shower/tub. The bedroom was very large and best of all - that huge balcony.

We dropped our bags and hurried upstairs to the dining room as it was now 21:30 and the kitchen closes at 22:00. It was a pleasant evening and we opted to sit outside and enjoy the salt air and the sweet scents from the garden. We were warmly greeted by the restaurant manager. His enthusiasm translated to his staff and the service was friendly and caring. A bottle of Chateau Lazaridi 1996 was the best white Greek wine we had enjoyed to date. We had been informed by friends that Greek wine making had significantly improved and we found this to be quite true. The starter of a fresh tomato soup was simple and quite tasty. Next we shared spaghetti bolognese and a fried fish filet; both were excellent. Off to the salad buffet to compose our own Greek village salads. Let me tell you, it's worth coming to Greece this time of year if only for the vegetables! An ordinary pork roast and sautéed veal with potted vegetables were our main dishes. The puff pastry filled with boiled cream, the cylindrical crushed nut and chocolate delight and, would you believe, orange Jello finished us off. (We had opted for half board for this one night and it was great value).
After a mediocre buffet breakfast, we enjoyed the sunshine on our balcony and watched the first tourist boat of the day dock and the long line of passengers disembark and proceed in a line to the beach. The hotel has a free shuttle into town in the morning and evening and one to the beach starting at noon. The public bus, which runs every ten to twenty minutes depending upon the season, costs 280 dr. for the half hour ride to the west end of the town. The bus makes frequent stops and it is easy to get to any spot at any time no matter where along the stretch you are staying. There are numerous hotels along the seaside and across the road offering wonderful vistas of this lovely, green island. In town, the beautiful waterfront is lined with tavernas, cafes, shops and hotels. Toward the east end and around the bend, is the picturesque old harbor filled with places to eat, drink, shop and relax. Narrow shopping and residential streets run north from the harbor and are home to many more tavernas and cafes. It may have been off season, but the prime outdoor tables were filled with folks enjoying the last of the fine weather.
The air was crisp and clean and it didn't take us long to whip up an appetite. We selected Taverna Stamatis at the old harbor and it was a great choice. Sitting outdoors we feasted on fresh beets, ripe tomatoes and crisp cukes in olive oil, kopanisti (feta cheese whipped with hot peppers), gigantes (you know, those large luscious lima beans), and Skiathos meatball, a mini meat loaf, with rice and tomato sauce and roasted potatoes. Retsina and fresh, grainy bread completed the fine lunch which was served to us by happy waiters.
We spent four nice days relaxing, walking and enjoying the serenity of island life. We inspected many of the restaurants and tried a small one called Mistral which was dismal. We skipped some meals and switched to fruits and nuts for a change of pace. On our last day, we arrived at Stamatis at 17:20 for a leisurely early dinner. The excellent Retsina, Mixali Georgiadi, from Thessaloniki warmed us up and we started with a fish soup, chock full of fresh fish, shrimps, vegetables and fish stock flavored with fresh dill. The grilled octopus was as good as it gets. The offerings here are numerous. Just match your selections to your budget and your appetite and you'll do fine. A traditional favorite is pan fried red mullet and it was perfect. So too were the pan fried zucchini and eggplant with skordalia. What better way to end a stay?


or JUMP to any city on the trip:

Search TheTravelzine | TheTravelzine Group | Don's Gallery
Packing Hints | Planning Tips | Cities Links

---
All pages on TheTravelzine.com©Copyright 1996-2020 Don & Linda Freedman