GREECE Fall 1997 (5)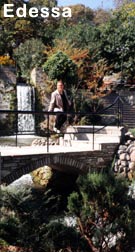 We fell in love with Thessaloniki about twenty years ago. We've made friends there and have returned every two or three years ever since. Over the years we have seen sophisticated growth in all areas of society but fortunately enough of the traditional style and customs have been maintained to provide a perfect blend.
Historically, Macedonia is the land of King Philip (the city owes its name to his daughter) and Alexander the Great, his son. Thessaloniki boasts many Byzantine and Roman monuments, the White Tower being the best known, countless churches and an old town.
The city made its debut on the world stage with a splash; the world was introduced to Thessaloniki when the European Union selected it as the Cultural Capital of Europe for 1997. With the largest port and exhibition center in the area, it is the commercial crossroads of the Balkans.
Strolling along Tsimiski, Mitropoleos and the cross streets, you will find the finest shops, boutiques, restaurants, cafes, sweet shops and department stores with world class offerings. West of Aristotelous street, centered around the indoor Modiano market, is an entirely different shopping experience. Here one will find acres of the freshest meats, fish and produce and narrow streets filled with shops and vendors with the finest food stuffs one can find anywhere. Macedonia, the largest grain growing area of Greece, bakes magnificent breads of wheat, corn and rye. For lovers of halvah, almonds, pistachios, pumpkin seeds and figs - this is nosh (snack) heaven!
In this outdoor market area one can find clothing, footwear, giftware, household goods - you name it! - all piled high and being hawked by veteran sellers. And then there's the flower market - an experience unto itself. Ouzeries, tavernas, bakeries, pastry shops - it's old time street shopping and buying at its best.
Aristotelous Square, at the southern end of the street of the same name and facing onto the sea, is the virtual heart of the city. This is the place where political demonstrations, rallies and special events are an everyday occurrence. Lined with restaurants and outdoor cafes, Thessaloniki takes its pulse at this place - stops to relax hours on end over a cup of coffee under a colorful umbrella or enjoys a meal with friends after the stores close for the afternoon, usually around two o'clock. This is the place to come to relax, to people watch, to enjoy the Aegean breezes and views whenever doing not much at all sounds like an appealing option.
Connecting Aristotelous Square with the White Tower, Thessaloniki's most famous landmark, is the seaside boulevard called Leoforos Nikis which is home to a long line-up of cafes which attract throngs of young people day and night. From 21:00 to 02:00, this stretch along with the side streets, is packed and a perfect place to feel and experience the pace of the night life.
Our hotel of choice is the Electra Palace, with its perfect positioning right on Aristotelous Square. Lucky enough to get a front room, we could sit on our balcony and watch the goings-on in the square or just relax as the colors of the setting sun reflected upon the sea.
Walking west from the square toward the port area, one finds the newly restored Ladadika quarter. This previously run-down warehouse area has been rediscovered and its metamorphosis gave the city the kick-start it needed to rejuvenate street upon street of aging, decaying real estate. Ladadika today is a charming, contemporary entertainment and dining district where narrow, cobblestone streets are filled with outdoor seating for the many restaurants, cafes and clubs at this fun-filled destination.
Heading north toward the summit of the old city, the contemporary style of the city center gives way to the traditional feeling of the past. Passing through various neighborhoods one is at first gently then more forcefully pressed to ascend to the Ano Polis (high city), the former Turkish quarter during Ottoman times. Recently the government financed the renovation of many of the old homes and streets of this area, where remnants of its ancient walls still stand, with the goal of preserving its past and its historical sites. The unique ambiance of this area, also accessible by bus #23 from Eleftherias Square, should not be missed.
Eleven years ago, we took a week-end bus tour from Thessaloniki to Istanbul. The tour group, comprised mostly of middle-aged Greeks, was definitely unilingual and Linda and I expected that we'd see the sights and rely upon our own research for the descriptions. Along came Sotiris, whose scant knowledge of English was no barrier to communication. Here was a guy so anxious for us to enjoy the tour, he used his handful of words, Linda's meager Greek vocabulary and his great way with charades to keep us up to speed on the guide's explanations. Along with his wife, Eleni, who spoke no English at all, he communicated one salient message. We want to be your friends. Please let us show you what Greek hospitality is all about. These people, their mothers and their sons became our Greek family and over the years we have shared many memorable experiences along with the good and sad the times in each other's lives.
After checking in at the Electra Palace Hotel and leaving our bags in our lovely and large fifth floor room, we headed up to Ano Polis to our friends' home. The boys, Stavros and Nikos, have studied English for many years and are excellent translators. Eleni is a superb cook and loves to feed us, superb eaters that we are!
After plying us with cakes, cookies, candies, nuts and homemade mandarin liqueur she let us rest a bit before dinner. Thank goodness! Thick tzatziki, stuffed bell peppers, roasted red peppers, marinated hot peppers, delicately fried zucchini, marinated small fish, feta, yellow cheese, eggplant salad with that special smoked flavor, mixed village salad, gorgeous bread and home made tsiporou to sip throughout the meal. The tiramisu she made for dessert was awesome - as was the whole meal. No wonder we keep coming back! We walked back to the hotel via a different route later in the evening, enjoying the sights and sounds and noticing the changes since our last visit.
The next morning, after the usual excellent breakfast, we headed out to exchange some money and, as always, found that the National Bank on Tsimiski had the best rates.


One of the main events of the Cultural Capital program was a display of relics, artifacts and treasures from the monastic state of Mount Athos - a first-ever exhibition of the possessions of the Byzantine monasteries located in the lush, fertile valleys and on the rocky coast of the most Eastern peninsula of Halkidiki. As Mount Athos is always off-limits to women, Eleni was happy to accompany us to this fascinating presentation. Afterwards Eleni joined us on our balcony for some fresh fruit, an aperitif and the lovely view before she headed for home.
We decided to have a light dinner in our room and stopped by Spata, 28 Aristotelous, to pick-up some rotisserie chicken and salads. It's handy to the hotel and the chicken is quite good.
Eleni and Sotiris always enjoy showing us new places, so after breakfast the next day we were off to Edessa and Naussa. Edessa is the capital of the prefecture of Pella. Built on the foot of Mt. Vermio, the views of the fertile, lush valley and the colorful gardens is spectacular which, combined with the deafening, gushing waterfalls for which Edessa is famous, makes for a breathtaking and enjoyable visit.
Sotiris guided us to a taverna in the middle of a beautiful park and we sat at an outdoor table beside the cascading water enjoying a coffee break and a photo op. The walkways through the park offer superb views of the falls and the water races downstream seemingly everywhere. Edessa, known as the town of love and lovers, is truly a nature-lover's dream. In winter, it is a popular base for trips to the newly built ski center on Kaimaktsalan, one of Greece's tallest peaks. Both traditional and modern lodgings are available.
On the mountain above Naussa is Aghios Nicola, a heavily-wooded area with several tavernas and a clear, sparkling brook running through it. It was a lovely, warm clear day with birds chirping above the sound of the rushing waters while music played and the taverna patrons spontaneously began doing their traditional dances.
Sotiris led the way to Taverna Nisi which has its own trout farm. We watched as our fish were retrieved from their fresh water habitat after we placed our orders. Each of us had a fabulous, grilled trout with fries, salad, tirosalata (whipped cheese dip), bread and ice cold beer. Leave it to Sotiris and Eleni to know where to get trout that practically swims onto your plate!
Every day from Monday through Saturday, the Laiki Agora (popular market) also called the Moving Market, can be found at one location or another around the city. The newspapers list the day-by-day schedule. This day it was in the 25th of March District, which is reached by bus #3 from Aristotelous Square. Just follow the multitudes to what is a huge area in the middle of a residential neighborhood. It starts in a large parking lot and spills out through the surrounding streets. You have to push your way through and bargain your head-off if you want to buy something (if you want to retain your self-respect). There is a huge assortment of every day needs. We thought it was interesting to see, but found nothing to buy.
From the market, we took a bus heading south out past the airport to Nea Mixaniona, a neat fishing village with many tavernas frequented by folks from all over for the fresh catch. There is a nice bathing beach and lovely homes on the streets leading inland from the sea. At the far end of town is the central fish market which supplies Thessaloniki. Yup, serious fishing is done here! Bus #72 took us through the coastal villages back to the city.
We stopped to visit the luxurious Makedonia Palace Hotel. After extensive renovations, it re-opened in September, 1995. The setting on the Thermaic Gulf close to the White Tower is spectacular and the interior of marble, stone, wood, wall-frescoes, paintings and antiques is very impressive. The rooms and suites are sumptuous and technically advanced with fully automated systems including internet access. There are excellent conference facilities, three swimming pools and six bars and restaurants. All-in-all, a great place to stay when luxury, not price, is the primary consideration. The reno was beautifully done.
Back at the Electra Palace, we got ready to meet Joanna and her friends, Melanie and Achilleas. We met at our hotel and Achilleas drove us to the Taverna Kioska in Hortiatis, near Panorama. Both of these are beautiful, suburban towns high in the hills east of the city. The company was bright and gregarious and the taverna was full of regular customers enjoying the wonderful food and friendly ambiance. All of us were in the mood for an assortment of mezedes which included fresh beets, a cabbage and pepper cole slaw, fried potatoes, eggplant salad, eggplant battered and deep fried, domades (stuffed grape leaves) cheese pie and lamb liver stuffed with rice and herbs. Some old, some new - all good.


Of course, you can't pass through Panorama without visiting Janni for its famous homemade ice cream. It's verrry rich and verrry sweet! Joanna and Melanie were staying at a hotel in Panorama so we said our good-byes in front of their hotel and enjoyed a pleasant ride back to the city with Achilleas who lives near the University of Thessaloniki. He was kind enough to take us to our hotel, even though we passed his house on our way.
Eleni fed us so often and so well while we were there, that we didn't even have time to get to one of our favorite tavernas, a place that's so off the beaten track, that it's a bit tricky to find. It's in the area behind Aghia Sofia, down a little lane called Kapetan Patriki, 18, which is off a street named Svolou. The place is called To Stenaki, and this is an ouzeri that's a real find! The food is great and the prices are too. If you can find it, you'll be glad you did.
A favorite lunch spot of ours is Loutros, next to the flower market. There are a few tables inside but the place to sit is on the wide sidewalk outside watching the shoppers plodding along with their bundles full from the market area. We are always welcomed into the kitchen to pick out our seafood. Today it would be fried calamari and mussels in a tomato sauce. Both are favorites here as well as in the other local ouzeries and tavernas. Don't eat in this place without having the hand cut fried potatoes. You'll see the lady peeling and slicing the fresh potatoes adjacent to the kitchen. And the retsina from the barrel is excellent.
Our stay wound down and we were faced with the difficult task of saying good-bye, once again, to our dear friends. Today to Sotiris, who was heading out-of-town on business, to Nikos who, as usual, was up-to-his-eyeballs in studying, and to Yaya Despina, Eleni's dear, fun-loving mother. The next day we would have a last coffee with Eleni and Stavros - until next time, dear friends. Euxaristo parapoli! Thank you very much.
Bus #78 from Aristotelous Square took us to the airport (115 dr.). We always hate to leave, but looking forward to reunions with our old and new friends, keeps the travel juices flowing.

JUMP to any city on the trip:
Search TheTravelzine | TheTravelzine Group | Don's Gallery
Packing Hints | Planning Tips | Cities Links

---
All pages on TheTravelzine.comęCopyright 1996-2020 Don & Linda Freedman