PORTUGAL
WINTER 2012
Part One | Part Two | Part Three
SAO MIGUEL, AZORES

It's mid-March, 2012 and we are standing on our sun filled balcony high above the port and marina of Ponta Delgada, Sao Miguel, Azores, Portugal watching the pleasure craft, fishing and commercial boats bobbing in the sparkling dark blue, emerald and turquoise waters of the North Atlantic Ocean. We are immersed in fond thoughts of our delicious two months stay. We will be returning to Toronto later today.
The Azores archipelago is located 1500km from the European Coast and 3900km from the North American Coast. In 1976 Portugal declared it an Autonomous Region of Portugal. We came for short visits in 2003, 2006 and 2011 visiting the islands of Terceira, Faial, Pico and Sao Miguel, each of which has a special charm and character. Most of our time was spent on Sao Miguel which we came to love.
During our 10 day stay last year we realized that this would be an ideal place to hunker down for a few winter months and we rented an apartment in the Solmar Avenida Tower on Avenida Infante D. Henrique, the main boulevard along the ocean front called "Avenida". There is a two level shopping center featuring a long line of cafes on the ground level facing the marina across the way. The comfortable covered patios are a great place to people watch, enjoy reasonably priced lunches and to our delight a large variety of soups daily.
Sata Airlines, also on Facebook, based in Ponta Delgada, has direct flights from Toronto to Ponta Delgada that take five and one half hours. The time difference is only four hours. Easy on the body, a very good reason to come here any time of the year.
Sata also has direct flights from Boston. There are scheduled flights between the islands, to Madeira, mainland Portugal, and key European destinations. They also have links with Westjet Airlines in Canada as well as tour operations in Canada (Sata Express) and the United States (Azores Express). It's easy to combine a trip to the Azores and other destinations. We have flown Sata many times, have always been on time and enjoyed excellent, friendly service on the ground and in the air. Their Airbus aircraft are nicely appointed and well kept. The food, wine and beer as well as non-alcoholic beverages are complimentary.
We do not like the cold Canadian Winter nor do we like the extreme heat of the southern hemisphere. The year round temperate climate of the Azores is ideal. The median temperatures range from 16C in the winter to 24C in the summer. We enjoyed sunshine and blue skies with temperatures at 15C to 17C every day. It was glorious.
Our attitude is that this is our home and we will live our normal life and adapt to the local lifestyle and culture. What makes it really work for us is the kindness and caring of the islanders. We have been fortunate to have made friendships with some remarkable people who have generously shared their lives, traditions and the secrets of their island with us. Thank you Joao and Helena, Joao and Iva, Beatriz, Fatima, Ana and our old friends Joao and Luisa from Lisbon, who came to spend a week-end with us.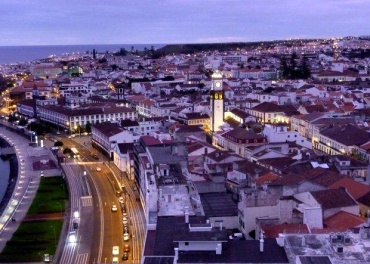 You will note that all the men are "Joao", the most popular male name in Portugal. Lucky for us the ladies are not all named "Maria", the most popular female name...
The city of Ponta Delgada is level and almost rectanglar and about 3km long. Its five centuries of history developed along the bay it overlooks and reflects the diversity of the city where tradition lives harmoniously with modernity.
The old industrial oceanfront has been converted to a space of leisure welcoming visitors and islanders. "Portas do Mar" was inaugurated on July 5, 2008 with a maritime terminal for cruise ships and inter islands ferries. We saw four cruisers, including the maiden voyage of the newest in the Disney Line. The morning arrivals and evening departures are always a draw. Some passengers are whisked away for island tours while others elect to roam the city.
Portas do Mar also has a recreational marina with an overall capacity of 440 boats, with its respective support areas (changing rooms, reception, storage, etc.), a pool and its support building, an underground car park for 200 vehicles, a large amphitheatre, a pavilion (Pavilhão do Mar), about four thousand square feet, for exhibitions and cultural events, as well as a garden along the seaside promenade.
This new development is physically connected to the old marina of Ponta Delgada and its respective services. There is a broad range of shops that exist in the commercial galleries, such as the diverse restaurants, bars, a bank, Azorean crafts and gift shops, travel agency, rental car, beauty center, pharmacy, cosmetics and fragrance shop, sporting goods, whale watching, and other activities.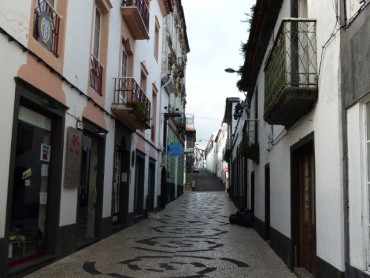 All of our daily needs were in easy walking distance and we never tired of wandering the handsome sidewalks and narrow streets of the old city center. (If the legs give out, there are three mini-bus lines, A,B,C that service the city center.) The churches, monasteries and manor houses that were built in the 17th and 18th centuries define the essence of the historic center. New highrise apartment buildings and hotels have risen to the east and west of the center. The old and new enjoying life together.
[Back to To]
We did the bulk of our household shopping at Continente Supermercado located in the Parque Atlantico Shopping Center a fifteen minute walk from our apartment. The assortment is huge, the prices are right and the service is incredible. The shopping center is on two levels and has a nice array of fashion stores. The gelato at "Ice Dream" near the food court is pretty darn good. But for the habit forming variety run, do not walk to the kiosk "Puiosque Tome" located on Avenida in front of the far west end of the Portugal Telecom building. The soft ice cream here is made with real milk and intense flavors. There is always vanilla and chocolate, fruit flavors change daily. We would never have found our way there or had interest in this style without Helena's recommendation.
In front of the center is the Sao Joaquim Cemetery. The impressive monuments and grounds are beautifully kept. Photos of the deceased are encased in protective frames with a visor to prevent fading. There is a small church in the middle and a cremetorium at the north end.
In contrast to the modern shopping center we loved our almost daily trips to the "Old Mercado", minutes from home. There is nothing like the aroma of freshness and the shopping tumult to stimulate the senses. The fisherman drop off their catch early in the morning. The farmers refresh their stands daily and the cheese shop has the best choices by far. They encourage tastings and we usually opted for one of the famous cheeses from the island of Sao Jorge which are delicious. Toward the end of our stay we decided to try one from, Sao Miguel, which was sensational - a bit like an aged Canadian Cheddar. The island-grown pineapples and bananas are always piled high. (There are two pineapple plantations in Ponta Delgada that welcome visitors; Coop. Profrutos and the family-owned Plantacao de Ananas A. Arruda.). The pineapples are grown in greenhouses in three stages in "warm beds" without relying on fertilizers and pesticides. The small sweet bananas grow everywhere, from large producers to private gardens.
[Back to To]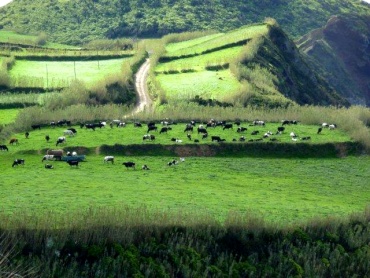 Speaking of local products, because of the orange crises in the second half of the 19th century, growers looked for alternative crops. One of those was tea which was introduced in the 1870s. Today there are two tea plantations, both of which welcome visitors. Cha Porto Formoso sits on a spectacular site overlooking the coastline. Lovely gardens lead to a comfy patio. Just inside we were shown a video about the history of the company followed by a tour of the factory. The equipment is new, state of the art. We finished with a sampling in a picturesque dining room. The other is Gorreana which we have visited and written about previously.
Cows are everywhere. They wander freely in the manicured lush natural grazing pastures that dominate the land. They produce outstanding dairy and meat products, both major industries for the island, which we enjoyed in one form or another on a daily basis.
Another major product is canned tuna. Greenpeace has proclaimed the tuna caught in the archipelago waters to be the greenest in the world. Filets are offered in a variety of ways, the most common being with olive oil. The "Santa Catarina" brand from the island of Sao Jorge is famous for canning them with unusual ingrediants such as sweet potatoes and oregano. After reading about these two in the Sata Magazine we were intriqued. The only place we could find that had them was the wonderful wine shop "A Vinha" at Av. Infante D. Henrique, 49 just a few steps from our home. Fresh grilled tuna (albacore) is available in most restaurants and not to be missed.
Every bar and restaurant has locally-brewed Melo Abreu Cervejaria on tap which was our beverage of choice. The local red house wines are cheap, cheerful and a fine choice when not in a beer mood. The whites from the island of Pico are excellent and quite reasonably priced.
[Back to To]
Fresh white cheese with a hot red sauce and crusty dense bread is a basic to start every meal, at home or out. We were told the cheese is easy to make. The first step was to find a round "form", the right diameter and sturdy. The few we found did not meet our criteria. We were walking along Rua Dos Mercadores and passed a large open doorway and caught a glimpse of shiny metal objects. We discovered, "Metalatoaria Acoreana". They craft steel products, from oil lamps, lanterns, milk jugs (tiny to large), sauce dishes to fittings for home and industrial needs. Question; do you have forms for making fresh cheese? Answer; what size? Yes they had the perfect one! we also bought tiny milk jugs for the gang back home. We walk this street every day and Rui is usually there waving hello.
Another serious contributor to the island's economy is Perola da Ilha. Our snack food of choice was shell peanuts, favorite brand, Perola da Ilha. When possible, they source locally, and also import all kinds of nuts and snack goodies that they process, package and distribute. In recent years they have developed a line of frozen foods that has become quite popular. Do we know how to pick a winner?
When our hair became shaggy we made salon shopping an important part of our daily walks. It's a challenging roll of the dice. Our problem was solved over coffee one morning with our friend Beatriz whose judgement we always found to be right on. She recommended the salon "Visos" which was just around the corner at Largo de S.Joao, 6A. Manuela and Patricia are sweet, talented and fun - we were happy campers with great cuts and professional hair coloring.
Feeling pretty good about ourselves we headed over to Hotel Marina Atlantico for lunch in the bright, airy dining room overlooking the marina. We had a very comfortable 10-day stay here last year and enjoyed the outrageous buffet breakfast and on one occasion a delightful late lunch. We started with smoked salmon on toasts, creamed crab in a pastry shell and local ham and melon. Our main course was abrotea, a delicate white fish often battered and fried, this version was lightly roasted and served on a bed of freshly steamed vegetables - wonderful! We shared chocolate cake and apple pie with ice cream for dessert. Garotos (espressos with hot milk) to finish. Obviously we skipped dinner that night.
Tradition binds all together. We were fortunate to be around for Festival, Carnival and the visit of the Romeiros of Sao Miguel. Festival is a celebration of men, women and children, each separately. The guys and gals each make the restaurant and bar owners very happy. The children dress in colorful costumes and gather in Praca Goncalo Velho Cabral (the center of the city) and in front of the adjacent Parish Church of Sao Sebastiao. It's party time with music, dancing, fun and games and it doesn't take long to spread along all the side streets. The clean up crews worked late to remove the confetti and litter. This city and this island are immaculate, a credit to the pride of the people.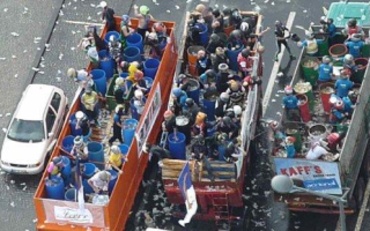 The highlight of Carnival is the water fight along Avenida. We were warned not to go to the street so we stayed on our balcony high above the action and were very happy we paid attention to the warning. Open trucks filled with young people drove back and forth and when they passed threw plastic bags of water at each other which exploded on contact. People on the sidewalks also threw bags at those on the trucks who responded in kind. Lots of very wet participants and streets. It was hilarious. The video Linda took from our balcony is on Facebook.
We saw the Romeiros of Sao Miguel last year. The tradition goes back hundreds of years. The pilgrims come from all around the world. They walk the island roads for 8 days, with humility, during the months of February and March. They travel clockwise in groups of dozens, from dawn to dusk.They carry a staff and a rosary, a scarf around their neck, a bag and shawl on their backs. As night falls they are given shelter by families that offer dinner and some hours of sleep. It's through prayer that they free themselves from the burdens of the world. Some have been pilgrims for 2 or 3 decades consecutively. Some are pilgrims once, as if they had done it forever. Faith does not change it's a life commitment. We first saw them this year from our balcony arriving at the Church of Sao Pedro and then many times around the city and on the roads of the island.
Valentines Day is very special here. Lots of love and faith. They even have flashing hearts imbedded in the traffic lights for the day.
[Back to To]
Part One | Part Two | Part Three
Search TheTravelzine | TheTravelzine Group | Don's Gallery
Packing Hints | Planning Tips | Cities Links

---
All pages on TheTravelzine.com©Copyright 1996-2020 Don & Linda Freedman