WASHINGTON, D.C. Spring 2000 (1)
A car trip from Toronto via Pennsylvania
With return via New York State

Until now, we've written about our travels to Europe. We have frequently agreed that we wanted to include some North American content for our readers and the opportunity presented itself shortly after arriving in Florida to spend the winter months. We received an invitation to a family wedding on Long Island in New York. Destiny! A visit to Washington, D.C. was high on our list and here was our chance!
We called the local office of C.W. Bill Young, Congressman for the 10th Congressional District of Florida, to inquire as to what help was available to make our visit to D.C. as productive as possible. We were told what could and couldn't be done and within a few days received a follow-up letter from the Congressman confirming what we had been told along with a package containing many helpful brochures, leaflets and maps.
The three major tours which members of Congress can arrange are the White House, The Capitol and The Kennedy Center plus passes to the visitors galleries of the House of Representatives and the Senate. As we later discovered, these passes can save hours of waiting in line.
The President and his staff schedule White House tours and members of Congress, who may submit tour requests no further than a month in advance, are allotted a limited number of tickets per week. Arrangements for tours of the Capitol follow a similar procedure.
Passes for visitors' galleries can only be obtained in person from your Congressman's office. Congressman Young invited us to come to his office when we arrived, which we did, and we were warmly greeted by Jane Porter, who had previously bent over backwards to be sure we had our tour passes in time.
It was neat walking through the corridors of the Rayburn Building, nodding to the familiar faces. Best was discovering the lower level and taking a small subway car from the congressional offices to The Capitol, the very way that the Congressmen go to and fro for easy access when it's time for a vote.
The President, Congress and all branches of the Federal government work diligently to make a visit to the nation's capital an enjoyable and memorable experience. As a White House guide told us, "This place belongs to you".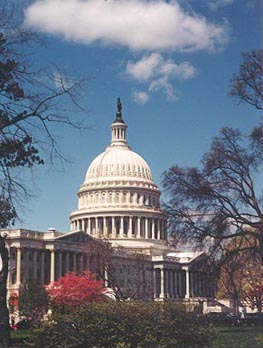 We planned that our drive to Washington from Toronto would be a very comfortable and enjoyable one, quite different from the let's-get-this-over-with attitude of our drives to and from Florida. The first night we stayed in Greensburg, Pennsylvania, about thirty miles east of Pittsburgh, at the Mountain View Inn. This is a classic American inn built in 1924, a busy place frequented by locals and tourists with large, comfortable public areas for lounging, enjoying a drink, dining or having a meeting.
Our room was in the newest addition, The Loyalhanna Wing, an updated version of the traditional inn. The room was spacious with good quality furnishings and accessories along with a coffee maker, mineral water and chocolates. The large bathroom was well equipped with a nice selection of bath amenities. As you would expect, the grounds are beautifully landscaped with Victorian gazebos and a swimming pool.
Since we arrived late on Sunday, the dining room was getting ready to close. The staff recommended the Sunset Cafe at 302 S. Urania Avenue and they called to check that it was open. An obvious favorite of the locals, this busting place is simply designed, the walls adorned with scenes of Italy. The menu consists of reasonably priced pasta and pizza.
The house salad was quite good with crisp greens, radicchio, salami, provolone and beets dressed with balsamic vinegar and olive oil. The pasta was cooked just right and the Alfredo and marinara sauces were excellent. The service was very good and the experience was pleasant after a day on the road.

The queen-size bed was firm, as we like it, and before we knew it, it was time for a splendid continental breakfast buffet. If you're in the vicinity, we recommend the Mountain View Inn as a comfortable, good value choice.
Our next stop was Frederick, Maryland, about an hour from D.C. The drive along Route 30 to 711 to the Pennsylvania Turnpike was lovely with farms, forests, rolling hills, which were turning green. Picturesque historical sites and parks invited a return visit some day.
Exit 31B off I-270 took us to the Fairfield Inn, Frederick, always a good value choice with excellent service and standards from good size rooms, recreational and health facilities to an excellent continental breakfast, everything clean and well-maintained.
Getting back to the morning of our arrival, we settled into our room and after brief stops for a light lunch and some shopping, headed into the historic district of Frederick. The original town was laid out by an Irishman and was first settled by Germans and then the English arrived (thus the "Germans meet English" description in the guides). The streets are lined with wonderful old buildings and homes of both influences that have been very well maintained and restored. The area is an antique-lover's dream and Civil War history abounds. There are museums, galleries, theater and art and after taking it all in, there are plenty of restaurants and bed and breakfast places and lovely inns in which to stay. The Visitor's Center on Church Street offers free walking tours.
On our drive from the shopping area to downtown Frederick, Linda spotted a little restaurant called May's at 5640 Urbana Pike that she declared looked like a winner. While chatting with the Director of the Visitor's Center, he confirmed that May's is a favorite of the locals so we headed back there for an early dinner. It is not a pretty place outside or in, a few tables up front and a large bar in the rear. But the magic word was crab cakes, which Linda adores, and she confirmed that these, of 100% fresh lump crabmeat with secret seasonings, were superb. My sirloin steak was very good and the waitress was very helpful in guiding us and making suggestions. The loud chorus of guys at the bar shouting the praises of their favorite football team and players added a touch of local culture in this down-to-earth eatery.


Search TheTravelzine | TheTravelzine Group | Don's Gallery
Packing Hints | Planning Tips | Cities Links

---
All pages on TheTravelzine.comęCopyright 1996-2020 Don & Linda Freedman