ZURICH, SWITZERLAND Spring 1999
Our flight home to Toronto from Zurich was planned so that we could spend some time with our dear friends, Cornelia and Fabio. We had a typical Swiss meal at Gastube Zur Haue, Limmatquai 52, where the preparation of each dish was outstanding. Linda had homemade wide noodles in chanterelle mushroom cream sauce and I had my favorite boiled beef and vegetables.
Our last day was spent enjoying the sights and sounds of this delightful city, just wandering the streets, as we love to do. We spent most of the latter part of the day in the old town, whose narrow streets and alleys were filled with folks just like us enjoying the perfect weather while peering in shop windows and inspecting each other.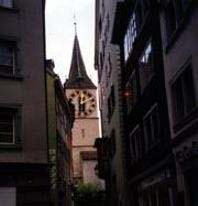 A coffee at a sidewalk cafe on the Limmatquai made for a nice break. One of our favorite pastimes while walking around is to check out restaurants we have heard about. Cornelia and Fabio, of course, had several to look at. After considerable study, we chose Kantorei, Neumarkt 2, in the heart of medieval Zurich. The restaurant had operated for thirty some years, serving traditional Swiss cuisine. A reincarnation took place in late 1997 and it reopened totally restored, refurbished and with a contemporary menu.
The dining room is shallow and wide with a lively cocktail bar at one side. The yellow walls give a sunny glow and magnificent chandeliers radiate warm light. Crisp, white linens on the tables and attentive staff create a friendly and charming ambiance. The menu is brief - less is more. There are eight different daily specials, between 18:00-20:00 hours, of seasonal selections using only daily fresh-market produce.
Our selections were from the regular menu because the descriptions were tremendously appealing. In actuality, words didn't do justice to these culinary creations. The appetizers were beautifully presented. Zucchini carpaccio of thinly sliced crisp zucchini and fungi garnished with greens, carrot strands and radishes and drizzled with olive oil and balsamic was lovely to look at and eat, as was the tomato and mozzarella salad. There is schnitzel and there is schnitzel, and when it consists of fine quality, tender veal with a light, delicious breading and accompanied by the comfort of tasty noodles, Linda is quite happy. If, like me, you are a Cornish hen freak, then come to Kantorei. I was served a plump, free-range beauty cooked to juicy perfection with roast garlic buds, which kept me entranced for quite a while. My hen was accompanied by yummy, not too buttery, mashed potatoes seasoned with a variety of herbs and a sliced and diced selection of market vegetables beautifully seasoned and cooked to an ideal doneness. A memorable meal with good friends was a fine finish to our spring trip of 1999.



Search TheTravelzine | TheTravelzine Group | Don's Gallery
Packing Hints | Planning Tips | Cities Links

---
All pages on TheTravelzine.comęCopyright 1996-2020 Don & Linda Freedman