Search TheTravelzine

TheTravelzine Group

Access Your Mail

Don's Gallery

Packing Hints

Planning Tips

Cities Links

Links
LINKS TO OUR TRAVELOGUES
Argentina, Buenos Aires - Jan-Mar 2010
Argentina, Buenos Aires - Jan-Mar 2009
Argentina, Buenos Aires - Jan-Mar 2008
Austria - Fall 2005
Belgium, Brussels - Fall 2000
Canada - Summer 2002
Canada - Summer 2001
Canada - Summer 2000
Czech Republic - Spring 2000
France - Fall 2002
France, Paris - Fall 2000
France, Paris - Spring 1999
France, Lyon - Spring 1999
Germany, Berlin - Fall 2009
Germany - Fall 2002
Germany - Spring 2000
Germany - Fall 1999
Greece - Fall 2012
Greece - Fall 1999
Greece - Fall 1997
Hungary - Spring 2000
Israel - Fall 1999
Italy - Winter 2007
Italy - Winter 2006
Italy - Winter 2005
Italy - Winter 2004
Italy - Winter 2003
Italy - Winter 2001
Italy - Fall 1998
Italy - Fall 1996
Netherlands - Spring 2000
Portugal, Azores - 2019
Portugal, Azores - 2018
Portugal, Sao Miguel & Lisbon - 2017
Portugal, Azores - 2017
Portugal, Azores - 2016
Portugal, Azores - 2015
Portugal, Azores - 2014
Portugal, Azores - 2013
Portugal, Azores - 2012
Portugal, Azores - 2011
Portugal, Lisbon - 2011
Portugal - Fall 2006
Portugal - Fall 2004
Portugal - Fall 2003
Portugal - Fall 2001
Portugal - Spring 1999
Portugal - Spring 1997
Slovakia - Spring 2000
Slovenia - Spring 1999
Slovenia - Fall 1996
Spain, Barcelona - Winter 2006
Switzerland - Fall 2002
Switzerland - Spring 2000
Switzerland - Spring 1999
Switzerland - Fall 1998
Switzerland - Fall 1997
Switzerland - Spring 1996
U.S. Florida, Key West - Fall 2006
U.S. Florida - Spring 2001
U.S. Maine - Summer 2002
U.S. Massachusetts - Summer 2003
U.S. Massachusetts - Summer 2002
U.S. Massachusetts - Summer 2001
U.S. New York State - Fall 2005
U.S. New York State - Summer 2004
U.S. New York State - Summer 2003
U.S. New York State - Summer 2001
U.S. Washington,DC - Spring 2000

How To Travel with a
Carry-On Size Bag for 12˝ weeks!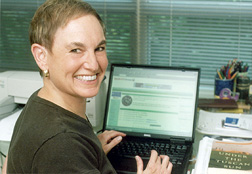 If you're a tried-and-true traveler, I'm probably preaching to the converted, but here goes: When packing, remember: less is more! Cut down on how much you pack and you also cut down on aching arms, packing time, and inconvenience. Convinced? Here are some suggestions that have worked for me:

pack washable, comfortable clothes in colors that mix and match (non-wrinkle is best)
ask the experienced travelers you know how much they pack, and learn from them
pack clothes you can wear in layers, for warmth
pack your suitcase, then carry it around the block with you. Still want to take all those clothes?
| | |
| --- | --- |
| | For our January-March trip to Buenos Aires, I traveled in black casual pants, long sleeve jersey top, short jacket, rain coat and comfortable walking shoes. |
The following items were packed in my carry-on size suitcase:
2 pairs of nice jeans (black, tan)
1 pair of belted (beige) casual pants
smart casual tops in a variety of sleeve lengths
8 changes of socks and undies
a nightgown
terry slippers
1 pair of comfortable walking shoes (tan)
meds and vitamins
mini umbrella
fold-up bags for souvenirs
toiletries (liquids in small quantities, according to the rules)
Once each week, we dropped the laundry off in the morning and picked it up later the same day - washed, dried and folded, at a very reasonable cost.
Packed separately:
laptop computer, power cord, headset
digital camera, recharger, extra battery, memory cards, USB connector
Happy Travels! Linda

Search TheTravelzine | TheTravelzine Group | Don's Gallery
Packing Hints | Planning Tips | Cities Links

---
All pages on TheTravelzine.com©Copyright 1996-2020 Don & Linda Freedman