SWITZERLAND Fall 1997
Why spend a few tiresome hours at the Zürich airport awaiting our connecting flight to Greece, if we can celebrate our anniversary and our birthdays at a thermal bath resort while spending some quality time with our dear Swiss friends, Cornelia and Fabio? Our Air Canada frequent flyer awards would permit the extended stopover, so nothing was standing in our way. What a great way to conquer jet lag!
We chose Bad Ragaz because it is just an hour and a quarter by train from Zürich and an easy drive from Minusio, where Cornelia and Fabio live. We knew we could count on them for another get-together. Since we first met in Locarno, after making contact via the Internet, our meetings have been more frequent and enjoyable than we ever would have thought possible.
Bad Ragaz is located in the Rhine Valley between Chur and Vaduz. These are the thermal waters that were immortalized in the story of Heidi. It was here that Heidi's crippled friend, Clara, came to take a cure. The thermal springs gush at a temperature of 36.5 degrees C. (97.7 degrees F.) from the cliffs deep in the Tamina Gorge and are channelled to the town of Bad Ragaz with its indoor (two) and outdoor (one) public thermal baths.
Our train arrived promptly at 16:45 on a gorgeous, sunny day and fifteen minutes later we were walking up the imposing driveway of the Grand Hotels complex flanked by its sister hotels, the five star Quellenhof, where we would spend the first two nights, and the four star Hof Ragaz, our home for the two nights after that.
This 5000 acre resort with its parks, gardens, restaurants, tennis courts and medical center has its own 18 hole golf course, exclusive access to the public thermal pools, a fabulous private health, beauty and fitness facility including an incredibly beautiful thermal pool, The Helena-Bad, for the exclusive use of hotel guests.
The complex sits on the edge of the charming, old town with its twisting streets, shops, restaurants, hotels, guest houses and cafes. Surrounded by the gentle alpine landscape and lovely mountain views, this is a place to totally relax and enjoy a very mild, fog-free climate.
The Quellenhof is one of the Leading Hotels of the World with its stringent requirements of excellence for membership. After twenty months of restoration and reconstruction, the Quellenhof re-opened in November, 1996. While the exterior maintains the classical style of its previous incarnation, the interior boasts the latest in comfort and technology.
The public rooms are spacious and comfortable and the guest rooms, all suites or junior suites, have balconies with marvelous views. The colors blue and warm yellow dominate throughout. The reception area is understated and elegant. The visitor is immediately struck by the huge, bright lobby area dominated by a magnificent staircase with a stunning wrought iron banister, retained from the original hotel.
Our junior suite on the top (fourth) floor consisted of a large entry foyer with cupboards, mini-bar, security safe and counter space with a coffee and tea set-up. Off the foyer was the most complete and beautiful bathroom we have ever had the opportunity to enjoy. This magnificent, circular suite of marble, tile and glass consisted of a combination w.c./bidet in a separate room, another room for showering, his and hers wash basins, on opposite sides of the main room, were separated by an enormous bath tub with a television set built into the wall. The amenities, including robes and slippers, magnifying makeup mirror, hidden waste baskets and a telephone completed the luxurious picture.
The huge principle room consisted of a sleeping area with a king size bed, a sitting area with a beautifully upholstered sofa and chair, polished wooden furniture, a television, reading material and off to the side there was a desk and chair near the door to the balcony which was shaded by awnings operated by remote controlled wall switches. A basket of fresh fruit, chocolates and mineral water awaited us. Dragging ourselves away from the balcony with its panoramic views was a struggle, but the thermal waters beckoned.
The incomparable health and relaxation facilities are called To B. This imaginatively-designed fitness centre consists of training and relaxation rooms, a sports pool, saunas, whirlpools, steam and vapor baths, relaxaria, the Tamina Kneipp Gorge (a replica of the actual gorge where the waters cascade upon you as you navigate through) and of course the hotels' own thermal Helena-Bad and Roman-Irish Bath.
After the long flight and train ride we just collapsed in the Helena-Bad. Roman in design, it is breathtaking! The clear hot waters with bubble jets and whirlpools did their thing and before long we were revived and relaxed and feeling fabulous. After an hour, we showered and dressed for dinner (ties and jackets requested for the gentlemen). We had opted for half board except for Saturday night when we would join our friends, who would be staying at another hotel, for dinner at a restaurant in town. More about that later.
A glass of Swiss Merlot from the Ticino area was delicate, fruity and delicious. The first course was a tasty, fresh lobster cocktail. The salad buffet had a superb selection of fresh, grilled and marinated vegetables plus lots more. This was followed by a rich double consommé with fresh asparagus. Then sweetbread morsels were served in a pastry shell with poppy seeds in a light cream sauce with thin slices of root vegetables. Thankfully, all the portions were small enough that we eagerly enjoyed our main course selections. Linda had the poached turbot in a natural stock with boiled potatoes, spinach puree and a small, stuffed tomato and I had a favorite - boiled beef with boiled potatoes, sauerkraut and white horseradish. We finished with fresh raspberries with an ice cream garnish. The exceptional service complemented the beautifully prepared and presented cuisine. The royal treatment matched the king size bed - definitely next on the agenda!
At 7:30 we awakened to a perfect day and our fresh, well-prepared breakfast was delivered promptly at 8:30. Edith Nussbaumer, the Director of Marketing, took us on a tour of the complex and gave us helpful tips and insights into the area. She was kind enough to arrange our transportation to the Heidiland cable car which leads to a plateau high in the mountains above Bad Ragaz where what could be Heidi's grandfather, Heini, with his beard and pipe, presides over his log cabin canteen set in a clearing with stupendous views of the mountainous landscape as far as the eye can see.
The cable car ride was great fun - the views were magnificent and we enjoyed the friendly chat we had with a lawyer from Zürich and a marketing executive, a transplanted Swiss gentleman from California, who shared their car with us. On arrival at the plateau, we hiked and took photographs before enjoying a refreshing glass of the local Riesling at a picnic table with our new acquaintances, Richard, Hans and Heini, who explained that in the winter, the cable car is used extensively by skiers who enjoy the excellent skiing in this area.
Back at the hotel, a refreshing visit to the spa, and a rest before dinner which began with fresh, plump, delicious figs in a local red wine with wafer thin slices of a marvelous local ham. A small salad from the buffet kept us going until we were served delicate tortellini with a vegetable filling in a light cream sauce. Next, a sensational spinach quiche with crunchy shrimps. The petite entrecote main was cooked perfectly medium rare and served with fried potato balls and chopped zucchini and peppers. We finished with a bit of ice cream and fresh strawberries. Leaving this place the following day wasn't going to be easy.


On Saturday morning, Cornelia and Fabio arrived on schedule at 9:40. This was to be a treat of a day! Liechtenstein, Germany and Austria are all quite close and Fabio enjoys driving and knows the territory - so away we went! We drove north to Romanshorn, Switzerland and took a 45 minute car ferry ride across the Bodensee/Lake Constance to Friedrichshafen, Germany, a cute town famous for its Zeppelin Museum. It was lunch time and the museum's restaurant on the third floor overlooking the lake seemed like a good idea.
The place was packed, but surely not thanks to the food. Linda did enjoy her tomato soup with gin garnished with whipped cream along with a side order of spaetzle. The rest of us had ordered extremely boring steamed vegetable plates topped with fried eggs. Oh well, can't win them all!
Heading southeast along the lake, we came to the beautiful town of Lindau Island. This was a worthwhile visit. From the moment we parked and walked across the bridge over the railway lines where an old, working steam engine mesmerized Fabio who delighted in watching the men shoveling coal, to seeing the colorful homes in peach, green and pink and the cobblestone streets of the old town lined with wonderful buildings and the main square at the impressive marina with its working lighthouse and numerous hotels and restaurants, we enjoyed all of it!
The main shopping street is Maximilianstrasse, a pedestrians-only wide promenade lined with shops and cafes with planters and trees with seating providing a warm and friendly environment. We'd have loved to stay, but the plan was to go country-hopping and Bregenz, Austria was only nine kilometers away.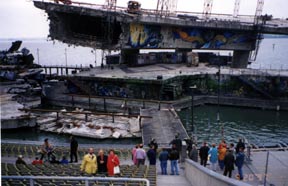 Bregenz is famous for music and theatre and has a huge theatre complex on its waterfront. We parked and as we approached the lake, we saw the viewing stands rising from the water's edge and were awestruck by what confronted us. Here was the set for an updated version of Porgy and Bess; a huge, collapsing elevated highway stood on end, frozen in time, as though it had suffered through an earthquake. There were overturned, smashed cars and shacks and all sorts of rubble was strewn about creating a most realistic and fearsome sight. Staying longer than we'd intended, we decided to save Liechtenstein for the following day.
Back in Bad Ragaz, our bags had been transported to our new accommodations, a standard double room at the Hof Ragaz. After the Quellenhof, most anything would be a letdown. The reception and public areas are good size and comfortable and the place exudes a kind of European charm. Our ample size bedroom was nicely furnished but the bathroom was small and less-generously equipped with amenities. The Quellenhof, though more expensive, is a better value when comparing prices, suite to suite of course.
At dinner time, Cornelia and Fabio picked us up and we went to a friendly Bad Ragaz pension called The Hotel Quelle. We were delighted by the typical Swiss dining room, the warm, friendly service and the caring visit of the owner checking as to our satisfaction. The Swiss mixed salad to start the meal is always a treat - each item presented separately on the plate in its own fresh and tasty preparation. The ladies ordered Hirshpfeffer (deer) in a wine sauce with fresh mushrooms, accompanied by red cabbage with chestnuts, spaetzle and a pear filled with berries. (As recently as this past week-end, they were discussing how much they enjoyed that dish!) And Fabio and I had Pfeffersteak (veal filet with pepper sauce), served with the red cabbage/chestnut delight, carrots, cauliflower and superb rosti. The local red wine was perfect for putting a final glow on the day.
Sunday, Sept. 21st, Happy Birthday my darling Linda!, and we were off to meet Cornelia and Fabio at the public outdoor thermal pool. At 8:00, with the air still slightly chilly and vapors mistily rising from the thermal waters, we decided that this is the best pool in Bad Ragaz because it is outdoors and one bathes surrounded by the lovely mountain scenery. This pool is relaxing - but it's fun as well. There are all kinds of jets, a waterfall and a fine whirlpool. What a splendid way to start the day!
We had an excellent buffet breakfast and especially enjoyed the wonderful breads. Then we were off to Vaduz, the main town of Liechtenstein, with its castle of the Prince and Princess. Vaduz is an adorable place at the base of a mountain. We climbed to the top for a closer look at the castle but weren't even rewarded with a glimpse of the royals. The castle provided a nice backdrop for the photos we took of each other.
Across the way from Bad Ragaz is the tiny town of Maienfeld, with its towers and spires nestled among the vineyards and surrounded by lush, green meadows. There were lots of walkers, hikers, picnickers and even horseback riders enjoying the sights and smells of this serene little place. A drive around the mountainsides revealed gorgeous, continuous vistas of the mountains, valleys and grazing land.
Before our friends got on the road to Minusio, we stopped at the Cafe Huber in Bad Ragaz for a farewell treat. This delightful place invites guests to enjoy friendly and relaxed conversation while sipping cappuccino and savoring first-rate homebaked pastries like fresh plum tart, cream cheese pie with freshly picked berries, banana tart and cream puffs with lots of real whipped cream. Birthdays are fantastic!
Thank you Cornelia and Fabio for making our stay in Bad Ragaz a special and very memorable experience. After saying our good-byes, Linda and I headed for the pools for our last, long soaking while we contemplated with wonder our very special Internet-inspired friendships.
Dinner at the Hof Ragaz was quite good, but the Hof Ragaz is not the Quellenhof. The bouillon with fresh peas was good and the salad buffet was excellent but the spinach quiche that followed was only fair. The main course was a fine, grilled salmon filet with boiled potato and sliced, steamed cucumber. An incredibly good chocolate mousse with more real whipped cream finished us off. The service was nothing special.
Monday, September 22, Happy Birthday to me!, and we were off to Zürich for the day before our flight to Greece the next day. From the bahnhof, we took tram number 10 to the second stop, Haldenegge, which is right across the street from the Hotel Leoneck. If bovine decor is your thing, this place is for you! Graphics of cows and cow-related memorabilia is everywhere. This typical three star hotel is basic and very clean. Unfortunately, due to it's location on a busy street, it can be quite noisy especially in warmer weather when one would be inclined to keep the windows open.
We spent the day walking the city, noticing the changes since our last visit including a new Daily Planet on the Bahnhofstrasse. Instead of real food for lunch, we feasted on Luxembourgli from Sprungli. These succulent little treasures are to die for. The puffy, mini pastry rounds sandwich champagne or chocolate mousse in melt-in-your-mouth one-bite heaven.
It took hours of walking to ready our appetites for dinner. We headed over to the Bierhalle Kropf, at Ingassen 16, and ordered our favorites. Linda had wiener schnitzel with rosti and I, a mixed salad along with boiled beef with potatoes and vegetables in natural juices. With the excellent, crusty rolls and a glass of beer, it was a real Swiss delight.
We spent three weeks in Greece after leaving Switzerland and invite you to read all about it in our Greece travelogue.
Returning from Greece we were once again in Zürich because the connecting flight to Toronto is timed perfectly to make an overnight in Zürich a necessity! Fortunately for us, Cornelia and Fabio were working not too far away and were able to arrange to meet us once again. We left it to Fabio to suggest the venue for dinner and he responded that the Kropf was his favorite, which for us is always a welcome treat. We enjoyed another wonderful evening with our friends and discussed our next meeting - their visit to our winter home in Florida - which is now, already, history. Time flies when you're having fun!


Jump to:
BAD RAGAZ | FRIEDRICHSHAFEN, GERMANY | LINDAU ISLAND |
BREGENZ | VADUZ, LIECHTENSTEIN | MAIENFELD | ZURICH

Search TheTravelzine | TheTravelzine Group | Don's Gallery
Packing Hints | Planning Tips | Cities Links

---
All pages on TheTravelzine.comİCopyright 1996-2020 Don & Linda Freedman