PORTUGAL
Fall 2004
Vila do Conde | Guimaraes | Amarante | Porto | Aveiro
Coimbra | Sintra | Cascais | Ericeira | Lisboa
Last year, as we were writing the travelogue of our Portugal trip to the Azores, Madeira, the Algarve and Lisbon and reliving each precious moment we decided to return in the fall of 2004 to the mainland. We formulated an itinerary that would start in the north and end in the Lisboa area. An added incentive was that we would be able to attend the 60th anniversary celebration of the Hotel Britania of the Heritage Hotels in Lisbon. Hotel guests are invited to attend, and last year we had to leave the day before the 59th anniversary cocktail party.
Our itinerary was planned to take advantage of Portugal's excellent train and bus service. We were able to get most schedules online and to verify them when we arrived either at the train or bus station or at our hotels. Portugal rail passes from Rail Europe for 4 days of travel within 15 days worked perfectly for us.
This was our 5th trip to Portugal since 1997. We love traveling in this country because it enriches us with an amazing diversity of experiences and because the warmth, kindness and generosity of its people never cease to amaze us. We think of our Portuguese friends as our extended family.
We flew the Portuguese airline, SATA Internacional, between the islands and Lisboa last fall and were very impressed with their efficiency, service and comfort. We are fortunate that they fly roundtrip directly to Portugal from Toronto. The ground staff and the flight attendants were courteous, friendly, attentive and seemingly happy in their work. Flying can be stressful these days and this kind of attitude is welcome. The Airbus A310-300 economy section was configured with comfortably wide seats providing excellent support and ample leg room. This may come as a shock - the meal was quite good! Hot wipes first to refresh and then we were served tasty roast turkey and potatoes, steamed vegetables and a marinated vegetable salad. Dessert was a delicious dense, moist chocolate cake. We chose the Portuguese red wine from the Beiras region which was light and fruity, perfect with the meal. Coffee and tea service followed. Beverage service continued throughout the flight. A nut loaf, juice and coffee were served in the morning. We had left Toronto at 21:00 (15 minutes late) and arrived on time in Porto at 11:00 after a brief stop in Faro. There is only five hours time difference to mainland Portugal.
On our first trip to Portugal we met a wonderful family in Coimbra and we have sort of adopted each other. Paula moved to Porto a while ago and together with her sister Maria met us at the airport in Porto to drive us to Vila do Conde, a spectacular beach town just north of Porto. (You may be interested in knowing that in the near future Porto's airport will be linked to Vila do Conde via a new metro line.) En route, we stopped at the coastal town of Leca da Palmeira for coffee and pastry. It was a joy sitting outside in the warm sunshine, watching the waves crashing on shore with our dear friends.
Vila do Conde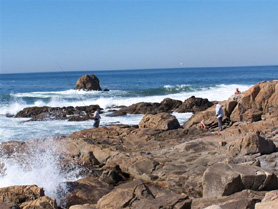 Paula and Maria had arranged for their lovely daughters Joanna and Marta and a friend to join us for lunch in Vila do Conde. They had made reservations at Caximar, Av.Brasil, Tel. 64 24 92. The deep, pristine sandy beach of this coastline is glorious and this restaurante-marisqueira is located right on the beach surrounded by sand, rocks and the sparkling ocean.
Even with reservations we had a short wait as this popular spot was filled with families not eager to leave the comfort of the environment. We would soon be similarly affected. The fried fish balls and crusty rolls that arrived as we sat down were welcome starters. It was going to take a lot to equal this first ultra fresh (this is a fishing village) fish lunch. Spargo and rodovalho were simply grilled with olive oil, butter and garlic and served with boiled potatoes, carrots and cabbage. Our waiter recommended a crisp, fruity medium body Monte Velho white from Alentejo, which was delightful with the fish. We lingered over baked apples and coffee enjoying the company of our friends. The waiters and owner were very accommodating. The prices were very fair for this quality of dining. Be sure to reserve.
Our friends took us to our hotel, Forte S. Joao, Av. Brasil, just north of Caximar. This is a very unique property. First you must visualize a river running into the ocean and a deep sandy shoreline as far as the eye can see. Then see a walled fort sitting at that junction of the waters and the sand. The imposing solid granite battlement of the fort gives no clue that this is indeed a hotel. This is a 17th century military structure with a pentagonal design, five bulwarks and small, squared, stone sentry boxes. We entered the ancient wooden doors into a large courtyard. To the left side are seven suites built into the massive walls. To the rear and right are the restaurant-bar O.Forte and the restaurant Bartholomeo. The suites' designs capture the era of the fort while the restaurants and bar are quite contemporary.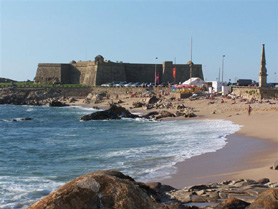 The key to our suite was quite ancient and we had to beckon the jovial receptionist to show us how to make it work. There is a notch on the top which must be aligned as it goes into the hole in the door and then by turning the key and pulling mightily on the handle the latch will move. Authentic eh? The first floor is for living with a desk and chair plus a sunken area beyond with chairs, TV and fireplace. There is also a mini bar, coffee and tea, CD player and data port. The bedroom is up a flight of stairs. The queen bed is graced by a comfy duvet and goose feather pillows. The ample size bathroom was stocked with high quality toiletries, hairdryer and bathrobes. The two floors of stone, wood and tile created a rustic feeling that suited the fort environment.
It had been a heartwarming day with Paula and Maria and we hated to say goodbye at 18:00. At 20:00 we were sound asleep.
We awoke to a bright, sunny, warm day. The buffet breakfast is served in the restaurant Bartholomeo. The fresh squeezed orange juice and good coffee were appreciated.
The attraction of the ocean and sandy beaches is reason enough to come to Vila do Conde. We found another good reason in the old town which is rich in tradition and charm. The Santa Clara Convent and the monumental aqueduct dominate the architectural heritage. The convent was founded in 1318 and was restored and enlarged in the 18th century. The aqueduct (the second largest in the country) was built to supply the convent. A group of 16th century monuments such as the ancient town hall, Igreja Martriz, Igreja Martriz of Azurara, Misericordia Church and several from the 11th to 14th centuries add to the heritage.
The narrow stone-paved streets were sparkling clean and lined with attractive well-maintained homes and shops offering everything from wonderful things to eat to smart fashion. There are many restaurants to enjoy the fresh fish and seafood, traditional meat dishes and a bit more updated traditional cooking. It was late lunch time and we spotted a bright and cheerful restaurant of stucco, wood and tile that was quite busy, a good sign. A Barca do Conde, Av. Dr Joao Canavotto, 191 has seating on the first floor and on a small balcony. The service was very slow but it was worth waiting for. A half order of grilled dourada (one whole grilled medium size fish) was served with boiled potatoes. The fish was fresh and tender and grilled perfectly. A half order of fresh fried fillets of fish (two sweet, thick filets) was served with delicious fried potatoes and rice. The fried items were crisp and dry and the bread was great. The prices were very reasonable for this quality and quantity. We were to have many more excellent value lunches and dinners as we continued our trip.
Following the river bank to the open ocean we stopped at an outcrop on which is situated the white domed, 17th century Chapel of Nossa Senhora do Socorro. From the balcony of the Capela there are wonderful river views. The nearby marinas and docking areas were filled with small and medium size crafts of all types and colors, a picturesque scene Linda was happy to capture.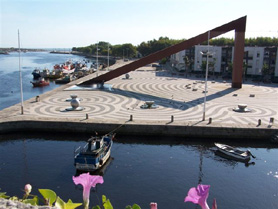 The adorable Chapel of Nossa Senhora da Guia is situated at the mouth of the river surrounded by beaches, rocks and waters coming together. It was founded during the 11th century with tiles inside dating to the 12th and l3th centuries. The paintings on the entirely paneled ceiling are striking. It was late afternoon and the sun was still shining brightly. The white-capped waves were splashing on the rocks and the beaches were filled with sun worshippers and bathers. We settled in at a beach cafe near the Fort for a cold drink and some serious relaxation after a long day of walking.
We had passed the restaurant Sao Joao on Av. Brasil earlier in the day and since it was within easy walking distance we headed there for dinner. Our favorite way to start a meal in Portugal is with a bowl of vegetable soup. Tonight's version was very good, a typical puree containing pieces of kale and turnip. Grilled dourada was again our choice (don't fight a good thing), which was served with boiled potato and carrots. A mixed salad and excellent dark grain bread rounded out our meal. A tart, fruity vinho verde with a bit of fizz was a solid choice. The atmosphere is that of a simple beach side restaurant and again the prices were right. The downside was that the two waiters spent all their time watching two televisions with two different programs each of which was blasting away. It is quite normal to find televisions on all the time in many eating and/or drinking establishments - this is an integral part of the culture. There is always a soccer game or soap opera that cannot be missed.
The sun gods were still smiling in the morning after a good night's sleep. After a late breakfast we took a taxi to the central bus station in the next town of Povoa de Varzim (also a very popular beach resort destination) to make the 12:15 to Guimaraes (3.15 euro each) which would arrive right on time at 13:55.

Vila do Conde | Guimaraes | Amarante | Porto | Aveiro
Coimbra | Sintra | Cascais | Ericeira | Lisboa
Search TheTravelzine | TheTravelzine Group | Don's Gallery
Packing Hints | Planning Tips | Cities Links

---
All pages on TheTravelzine.comęCopyright 1996-2020 Don & Linda Freedman