Our Driving Trip - Summer 2003
Central New York and Boston's North Shore
Herkimer, NY
It's early June and time to leave Toronto on beautiful Lake Ontario, heading to the North Shore of Boston and the glorious Atlantic Ocean. In spite of the terrorism threat, the overblown and unfair SARS scare and Canada's proposed marijuana and gay marriage legislation, there was no probing-interrogation nor line-ups, and we breezed right across the border.
It is about eleven hours driving time traveling the New York Thruway to the Massachusetts Turnpike to Routes 128/95 North to the North Shore area. We like to break the drive with an overnight stop about halfway in the Central New York Region of the Mohawk Valley, Adirondack Foothills and Leatherstocking areas. This is gorgeous, green country with special natural attractions, such as the Adirondack Mountains, Oriskany Falls, Howe Caverns, Herkimer Diamond Mines, Erie Canal and Moss Island. There are a multitude of historic sites, museums, colleges and universities and if you want culture, art, fairs and festivals, this area is a great destination.
We stayed in Herkimer two years ago and were so delighted with the natural warmth and friendliness of everyone we met, that it was a no-brainer to choose this village again.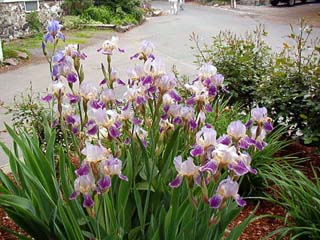 This year we chose the Portobello Inn, which is easy to reach off the Thruway traveling from either the west or the east. After leaving the Thruway on our way to the inn, we spotted Woody's Ice Cream Place on So. Caroline St. Of course we swooped right in and were we glad we did! This is a classic ice cream shack featuring Mercer's ice cream (a local maker), served by two happy young women who are trained to serve "ample" portions of superb quality at extremely reasonable prices. If you do visit this area you will find that all food served will meet this standard.
The Portobello Inn is owned by Roland, Steven and Ralph, Roland serving as resident innkeeper. Steve was on duty to greet us with a big smile and handshake in a manner that made us feel we had known this man forever.
They purchased this 1840's classic Italianate-style home about five years ago. The owner had planned to tear it down but fortunately these three gentlemen had the creativity and vision to restore it to its present beauty. Since they also are antique dealers and are familiar with interior design they have done a brilliant restoration and have furnished and decorated in exquisite taste.
The views from the wraparound veranda are reminiscent of the Tuscan Hills. Off the large entryway is a special occasion room, an inviting living room and a bright and airy breakfast room that opens to the porch. In the rear, is a marvelously-equipped kitchen where the sumptuous breakfasts and special occasion meals are prepared. On the second floor are five elegant bedrooms (2 queen, 2 full and 1 twin) each with private bath, cable TV/HBO, air conditioning and ceiling fan. Computer access, VCR and movies are available.
Steve was disappointed we did not eat the homemade cookies he offered, which were gorgeous, but after those portions of ice cream, just the coffee, from freshly ground beans, was perfect.
[Back to Top]
We had enjoyed wonderful meals in the area previously and asked Steve to suggest different places. Steve and associates love food and he had our mouths watering with descriptions of the offerings of various restaurants in the area. We settled on Acropolis, 621 James St. in Utica, a Greek restaurant where the owner, Spiros, prepares authentic Greek fare. Following Steve's directions we were there in 25 minutes.
The Acropolis restaurant is located in a converted home on a corner in a nice, residential area. Both exterior and interior are unpretentious. Most of tables were filled when we arrived and our waitress assured us we had plenty of time to relax and enjoy. We decided to share a horiatiki salad, fried calamari, and a broiled shrimp dinner. The traditional salad of tomato, cuke, pepper, onions, olives and feta cheese was perfection, composed of fresh veggies and rich, creamy feta laced with delicious olive oil. We are always concerned that the calamari might be frozen, chewy rings in a greasy batter. Steve had said everything here would be fresh and beautifully prepared. Steve knows. Tender sweet morsels of squid were pan fried in a thin, dry, deliciously-seasoned batter. The shrimp dinner consisted of five large beauties, dressed with olive oil, garlic and oregano, broiled to the perfect degree of doneness. The rice, tzatziki and pita that accompanied the shrimp were, as usual, a fine marriage. A chilled bottle of Boutari Retsina and homemade rice pudding completed the wonderful Greek meal. The service was excellent and the prices very fair - a top notch value.
Back home to the cozy comfort of the Arlington room for a deep sleep on our exceptional, firm, queen mattress. The bedrooms and bathrooms are designed in such good taste that we were lulled into a feeling of total relaxation.
Breakfast was a special treat. The table was beautifully set with an array of fresh fruits, homemade jams, fresh breads, a pitcher of orange juice and steaming coffee. Roland gave us a bit of time to tease the appetite and then presented us with a platter of outrageous french toast with crisp, lean bacon accompanied by local maple syrup. It was not necessary to stop for lunch. As we pulled out of the driveway we were already anticipating returning on our way home to Toronto.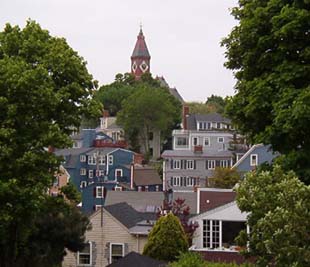 [Back to Top]
Marblehead, MA
Once again we made our way to the Harbor Light Inn in Marblehead, MA, where we had stayed last year.
We were here to visit with my mom, relatives, and old friends. Mary, as usual, was full of energy and vitality. She lives on her own, drives, participates in numerous activities, and serves as a role model for enjoying life at any age for all who know her.
It is always a joy for us to be back by the sea, to hear the sounds of waves crashing on rocks, to smell the ocean when driving and walking the magnificent coastline of Swampscott and Marblehead. We never tire of the sight of boats in the harbor, nor the beaches, the coves, the motion of the ocean as far as the eye can see with the captivating Boston skyline in the distance.
Fresh seafood prepared in the New England style is among the good reasons to love it here. And so it was that we picked up Mom and headed for the venerable Barnacle Restaurant on Front Street in Marblehead. The Barnacle sits on the rocks above the harbor serving perfectly-prepared, fresh seafood from local waters. Although it was a bit cool we were happy to be seated on the outside deck with grand harbor views and the sound of the waters engaging the rocks below us.
We love eating in Toronto, but there is nothing like a platter of fried shrimp, scallops, clams, haddock and french fries prepared by North Shore experts. We had been dreaming of a perfect steamed lobster and were not disappointed. The seafood chowder was amazing, a hearty cream and seafood broth packed with chunks of haddock and clams. Even the tossed salad was fresh and crisp and special as was the cole slaw that accompanied the feast. The prices at Robyn Sahagian's Barnacle are as excellent as the service. By the way, my mother had no problem eating her share of all that was presented, which was to be the case at every meal - how else to be so robust at 92! Happy birthday, Mom!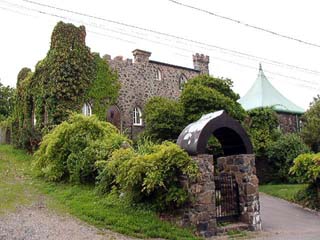 We spent most of our time with family and friends but managed to work off our meals with long walks around the old town of Marblehead. We revisited Burial Hill, Fountain Park and Gingerbread Lane and spent a bit of time enjoying the beauty, peacefulness and harbor views of Crocker Park, located between the Boston Yacht Club and the State St. Wharf just off of Front St. There is a magnificent very old stone home as you enter the park, which is a private residence. Linda was intrigued enough to give her new digital camera a good workout.

We were bored with the same breakfast our inn served everyday so several mornings we walked up Washington St. to The Muffin House, not only to enjoy incredibly wonderful muffins but to invariably meet friends and relatives who stop by most mornings. This is another of Marblehead's local institutions for good eating and socializing.
Thanks to our friends and relatives' suggestions, we enjoyed some memorable eating experiences. Cafe Salerno in nearby Beverly is quite unique and lots of fun. Do not go here for decor and smart environment, this is a place for large portions of good food at very fair prices and lots of fun conversation. The brothers and sister who own the place do it their way, opening only for lunch and early dinner, which means they like you out by 8-8:30pm. Plan on arriving no later than 7pm and everybody will be happy. Five of us were served and entertained by brother Todd while sister Kristin did her thing in the cucina. She did emerge occasionally to contribute to the buzz. We shared a stuffed pizza (pepperoni, mushroom, peppers, onion). The dough was homemade and the tomato sauce the real stuff. We had veal parmeggiano or meatballs and or sausage with pasta. As at many restaurants in the area, you bring your own wine.
[Back to Top]
Another evening seven of us had a good seafood meal at The Lobster Pond (31 Smith Street in Marblehead, in a small strip shopping center), which has a casual, nautical environment. We shared a few orders of steamers (steamed clams) to start which were plump, sweet and tasted of the sea. Most had lobster salads as mains except for two of us who had to-die-for big bellied fried clams. The fried onion rings that adorned the clam platters were excellent as was the cole slaw. Again, it was bring your own wine. The service was great and the prices quite reasonable.
For lunch one day we were lead to Popo's old fashioned hot dogs, 168 Humphrey Street in Swampscott. The hotdogs are steamed or grilled, priced according to the large variety of toppings from which to choose. A veggie dog and a few side dishes are also offered. It is takeout only but perfect for a picnic with the ocean across the way. Just find a bench or lean on a railing.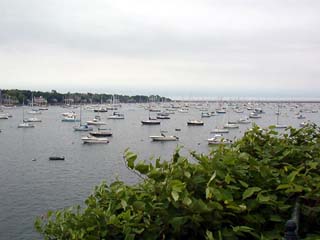 Our final meal was at Maddie's Sail Loft, 15 State St. in old Marblehead. State Street runs from Washington St. to Front St. at the wharf. The first floor is a very popular bar where locals gather to savor large size drinks and socialize. The dining room is upstairs with a bar and lounge area for relaxing while waiting to be seated. The service was neighborhood friendly and the menu offered fresh renditions of all the local favorites. The five of us had either superb baked stuffed shrimp or thick cuts of honey and almond baked halibut. The house corn bread was the real thing and we did it proper justice. Once again, very fair prices.
A get-together luncheon of members of TheTravelzine discussion group had been arranged for the next day. It was held in Ristorante Marino in Cambridge, MA. The design and decor of this Italian eatery is bright, cheerful and attractive. It doesn't hurt that you enter to the aroma of an open kitchen and prepared food and bakery counters.
On our way to a large round table (perfect for our group of 8 to easily communicate) we passed the lunch buffet, which offered a varied selection of well-prepared hot and cold delights. There is an excellent lunch menu, but everyone opted for the buffet and was quite pleased. Our small group had representatives from the Boston area, Providence, RI and Eugene, Oregon. It was a marvelous few hours of renewing old friendships, for some an opportunity to meet face-to-face for the first time. More and more of these GTG'S are happening around the world and it is a thrill for us that so many people are meeting and becoming friends, the fulfillment of our vision.
[Back to Top]
Herkimer, NY
As they say, all good things must come to an end and so it was as we hit the road for our overnight at the Portobello Inn, in Herkimer, NY. In 2001, we thought we had found pretty fantastic pizza in Herkimer. Leave it to Steve to to point us to a place where it was even better. Brian's Deli is located across the street from last year's winner at 122 N. Main St. This is not a pretty place but it is clean and has genuine small town neighborhood ambience, clientele and staff. The menu has everything you would expect from a deli plus pizza. This is not pizza for the whimpy thin crust crowd, this is homemade dough rolled out thick, topped with the finest ingredients (lean, thin-sliced pepperoni, fresh mushrooms and top quality cheese) then baked to perfection. The size small was enormous but we managed to handle it. The folks across from us had ordered burgers that looked outrageous. Our waitress, Deena, was delightful and the prices were extremely reasonable for the quality, quantity and preparation.
Our night at the Portobello Inn was as comfortable and enjoyable as the last, this time in the larger, also beautiful, Darius Small room. The breakfast table was set with platters of fresh fruits and Steve's fabulous homemade grape jam plus wonderful, freshly made muffins, followed by a platter of fluffy scrambled eggs and crisp bacon. We do love it here! Thank you, Steve, for your gift; the jar will not have to be washed when the jam is all gone. It is fabulous!
Steve recommended we stop at Heidelberg Bakery on Rt.28 just off of State Rt. 5 a few miles away, a tiny detour on our way to the Thruway. We bought 6 loaves of bread: various ryes, pumpernickle, and cracked wheat. The breads are made from all natural ingredients and are deliciously dense. They are housed in our freezer to be savored and enjoyed along with the memories of this year's summer trip, which was short but very sweet to the end when Canada customs and immigration welcomed us home with swift passage across the border.
[Back to Top]
Search TheTravelzine | TheTravelzine Group | Don's Gallery
Packing Hints | Planning Tips | Cities Links

---
All pages on TheTravelzine.comęCopyright 1996-2020 Don & Linda Freedman