NEW YORK and MASSACHUSETTS - Summer 2001 (1)
Herkimer | Salem | Boston Area | Cape Cod | Niagara Falls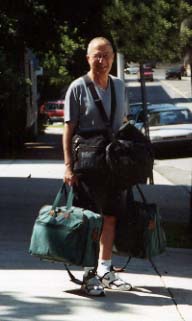 My active and vital mom, Mary, turned 90 in June and we were off to celebrate. The family was gathering in Salem, MA, so we decided to drive from our home in Toronto. Those of you who know how we pride ourselves on our ability to get everything we need for a three or four-week trip into a single carry-on, will appreciate this picture Linda took of me unloading some of the contents of the trunk of our car! Do some people really go abroad with all this stuff? We didn't wear half of what we packed and what a nuisance! Luckily we had packed an overnighter for our first and last stops in Herkimer, New York, the halfway point in the eleven-hour drive.
HERKIMER
In searching the Internet, we found many wonderful sounding bed-and-breakfasts but one jumped out at us with a very compelling amenity. The owner is a massage therapist and operates Christyl Touch Massage on the property. What better way to end a day of driving!
Leaving the New York State Thruway at Exit 30, Herkimer, we followed the easy directions we had printed from the web site and pulled into the driveway of the Bellinger Rose Bed and Breakfast at four in the afternoon. Our charming hosts, Chris and Leon Frost, were on hand to greet us.
Located in a lovely neighborhood, this historic, Victorian style home was built in 1865 by Christopher Bellinger. Lovely antiques accessorize every room in the house. We relaxed in the main floor sitting room furnished with comfortable sofas and chairs and perused the collection of local restaurant menus. Across the hall, a large den with TV and DVD miraculously transforms into massage heaven as required. The adjacent dining room, where we would have our breakfasts (more about that later), leads to the enclosed porch with hot tub and the soon-to-be-completed outdoor patio for breakfast and lounging, weather permitting.
One flight up, the two air-conditioned guest bedrooms with private baths are delightfully decorated with queen beds, antique furnishings, televisions and thoughtful extras including terry robes.
All guests receive a complimentary professional chair massage but we opted for a body massage. Linda eagerly donned her robe and raced downstairs to Chris' magical hands. She returned an hour later with a big, happy smile and I was on my way. It was wonderful! Chris is a licensed massage therapist, a registered nurse, a fabulous breakfast cook and best of all a gracious and helpful host.
The combination of minimal eating on the road and the massage had us ready for a hearty meal. We asked Chris for recommendations of good value restaurants where the locals dine and we decided upon the East End Steakhouse at 624-630 E. Main St. in nearby Little Falls. This casual, rustic steakhouse exceeded our expectations. The busy, friendly bar and full dining rooms were a good sign. Our smiling waiter suggested we visit the soup and salad bar, which is complimentary with all meals. It was a beautifully presented and maintained array of fresh vegetables, salads, breads and extras like sunflower seeds, raisins, crumbled Roquefort and grated Parmesan. There were three soups but we passed as it would have been just too much.
After gorging ourselves, we decided to look at the menu. In addition to the grilled meats, there were basic pasta, veal and chicken offerings. I ordered the center cut pork chops and Linda the Delmonico rib eye steak. Everything served was of excellent quality and perfectly prepared. The chops were double thick and served with a humongous baked potato and cinnamon apple sauce. Linda's thick steak covered most of the plate and her bowl of real mashed potatoes would serve four. We ate as much as we could and decided that if there's ever a next time, we will share a main course. So good was the value that even after converting the bill into Canadian funds, we had a lot of good food for not very much money - no small feat considering the current exchange rate!
Back at Bellinger Rose, Chris presented us with the breakfast menu and told us to feel free to order as much as we desired and we agreed upon a time, hoping that by then our fullness from dinner would subside.
After a perfect night's sleep, we were looking forward to the quintessential bed-and-breakfast experience - breakfast. Soft music was playing as we descended the stairs and entered the elegant dining room. Chris was lighting the candles on the beautifully set table and encouraged us to serve ourselves from the pitcher of orange juice and the bowl of freshly cut fruit salad.
The delightful aromas from the kitchen indicated that the preparation of our menu selections was well underway. Everything was wonderful - poached eggs on toast, grilled sausages and oatmeal and French toast with crisp bacon for my love. Even Chris' coffee was special!
We hit the road happy we'd be returning to the Bellinger Rose on the way home. Near Albany, we left the New York State Thruway and picked-up the Massachusetts Turnpike, in the particularly lovely western part of the state. Near Boston, we took Rt. 128 toward Gloucester and exited at Rt. 114 into Salem.

Salem | Boston Area | Cape Cod | Niagara Falls

Search TheTravelzine | TheTravelzine Group | Don's Gallery
Packing Hints | Planning Tips | Cities Links

---
All pages on TheTravelzine.comęCopyright 1996-2020 Don & Linda Freedman