NEW YORK and MASSACHUSETTS - Summer 2001 (3)
Herkimer | Salem | Boston Area | Cape Cod | Niagara Falls
BOSTON AREA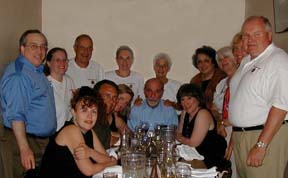 We had another treat in store. We would finally meet Susie and Fred, with whom we've been Internetting for some time. In fact we would be staying at their home in Newton for two nights. We met Susie in our travel discussion group and she arranged a group get-together at Stellina in nearby Watertown to coincide with our visit. Our group of fourteen from Massachusetts, Connecticut, Virginia and Rhode Island enjoyed a memorable evening getting to know one another, sharing travel experiences and delicious food.
The next day Susie joined us as we explored the south shore. For lunch we had salads at Christos in Brockton, unchanged after all these years and still an excellent value by any measure. We drove through Sharon to show Susie a couple of the homes we owned for the brief time that we returned to Massachusetts when our kids were little and we checked out the ice cream at Crescent Ridge Dairy Bar, an old favorite that was still good.
Susie joined us for dinner on the second night but Fred, a dedicated cardiologist, was unable to attend. We chose Legal Seafood in Chestnut Hill, a household name in the Boston market (now with many locations in other states). We have been patronizing Legal since they opened their first restaurant and when we want fresh seafood, this has always been our first choice. Perhaps it's the shortage of fish, maybe it's their expansion. Legal has always been great but this night it was just very ordinary. Linda's baked stuffed lobster was served lukewarm with cold mashed potatoes and green beans. Susie's mahi mahi was a bit overcooked, as was my tasteless swordfish. The homemade ice cream and desserts were quite good - so our two days with Susie ended on an upbeat note.

Search TheTravelzine | TheTravelzine Group | Don's Gallery
Packing Hints | Planning Tips | Cities Links

---
All pages on TheTravelzine.comęCopyright 1996-2020 Don & Linda Freedman