PORTUGAL
WINTER 2014
SÃO MIGUEL, AZORES
Sata Airlines' innovative Branded Fares have ignited a firestorm of excitement amongst Portuguese and non-Portuguese folks who travel light (just one 8 kg carry-on). From the moment we checked-in for our Sata flight from Toronto to Ponta Delgada, it was obvious from the conversation around us that we would be sharing our winter getaway with many more first time visitors than in the past. In Ponta Delgada there were visitors from Canada, the U.S. and northern Europe, more than ever before.
As usual the Sata experience was excellent. Staff on the ground and in flight was extremely friendly and helpful. Economy seating is comfortable. Meal and beverage service is good and best of all, from Toronto, it is only about 5½ hours flying time, even less from Boston. Another advantage, the time difference is only 4 hours. In business class on the way home, we stretched out and watched a couple of movies on the provided iPads. Also appreciated was use of the convenient Sata lounge and priority handling of our checked luggage.
The really good news is that Sata has expanded its flight schedules and relationships with other airlines, which makes it easier than ever to fly to the Azores, mainland Portugal and Madeira.
Before we left Ponta Delgada last year, we were lucky to meet the charming owners of ideally-located rental apartments right in Ponta Delgada city center. From the moment we met Eleuterio and Maria Valido, we knew we would be in good hands.
Eleuterio was at the airport when we arrived (an included service) and whisked us to our chosen apartment, a large one bedroom suite with terrace views north (rooftops and mountains) and south (rooftops and the sea). All three of their apartments in that building are newly renovated with quality furnishings and fully-equipped kitchens for preparing meals at home. There is WIFI and Cable TV with plenty of English channels, all the goodies to keep us connected and entertained for our 10 week stay. They are focused on offering their guests the best possible experience. They exceeded our expectations; we've already booked our apartment for next winter. Eleuterio and Maria also have a studio apartment, overlooking a beautiful park, nearby our building.
Our building, on Rua Machado dos Santos, the major shopping street in the city, is just steps away from our favorite "go-to" casual eatery, A Comercial. Rui, his father, João, and their team: Claudia, Sonja, Carla and Elisa (Rui's sister), treat everyone with special care and a big smile. Pick up your tray and cutlery, get in line and choose from the daily specials. Will it be grilled fish, roast rabbit or chicken, a fabulous bacalhau dish, soups, salads, sandwiches, pastries, fresh fruit salad? Lunch time is a symphony of sights, smells and sounds; heaping plates of food, people watching, friends chattering away, cell phone music, staff serving and clearing tables. The familiarity is contagious. It's one big happy family of locals, regulars and lucky readers of TheTravelzine.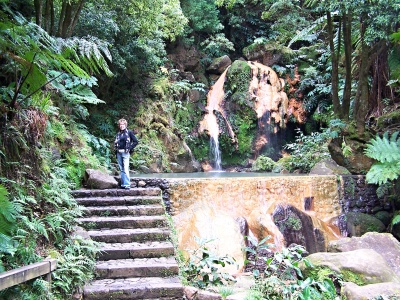 Nature is revered in São Miguel (and the other 8 islands that comprise the Azorean archipelago). In this paradise, spectacular lush greenery and exquisite plantings are pampered. Volcanic mountains topped by luscious lakes, thermal waters and waterfalls, lovely beaches, natural coastal pools and surging white-capped surfs are a treat to the senses and spectacular venues for outdoor activities (hiking, walking, biking, diving, surfing, canyoning, kayaking, fishing, golfing, thermal bathing and bird watching).
We know that most people have no knowledge about the Azores, so here are a few facts to get you started on your journey. The Azores are a part of Portugal. Nine islands comprise the archipelago. São Miguel is the largest and along with Santa Maria (the first discovered in 1427 by Portuguese explorers) form the eastern group. Terceira, Graciosa, Sao Jorge, Faial and Pico are the central group and the western group is made up of Flores and Corvo. The archipelago is located in the Atlantic Ocean, 1408 km from Lisbon and 3910 km from New York. It's no wonder the fish is fresh out of the water on to your plate. The mild maritime climate is affected by the east coast gulf stream, no great changes. The day time temperatures average 23 C in the summer and 15 C in the winter, ideal weather to visit comfortably any time of year. The population of the archipelago is about 246,000, 138,000 of which live on São Miguel. 138,000 cows (one for each person) graze freely making the dairy and meat as wholesome as possible. WHOLESOME, the perfect way to describe life on the islands.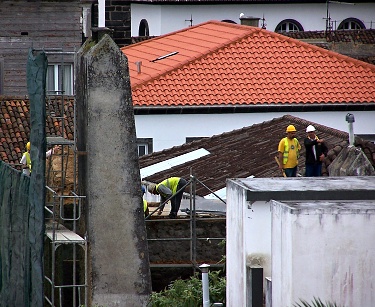 We have written about the deplorable condition of the abandoned and neglected Sahar Hassamain Synagogue in Ponta Delgada. Thanks to the herculean efforts of historian and chief librarian of the Ponta Delgada municipal library, Jose de Almeida Mello, the restoration has begun. We were there for the official announcement and witnessed the start of the renewal. Before we departed, we could see the roof being rebuilt from the vantage point of our front terrace.
In 2003 the Israeli Community of Lisbon invited Dr. Mello to coordinate the restoration project. In 2009 Dr. Mello published his book, Sahar Hassamain Synagogue which tells the story of the synagogue and its relevance in preserving the Jewish legacy in the Azores.
The synagogue (built in 1856), the only one surviving on the islands, is the oldest of the ones that remain in Portugal. The sanctuary was established in 1820 by a group of Jewish entrepreneurs from Morocco.
Finally a marriage of the non-profit interfaith group, the Azorean Jewish Heritage Foundation from Massachusetts, the city of Ponta Delgada and the financial support of EU historical preservation groups made it happen.
Located on Rua do Brum the restored building housing the synagogue will include a museum and library which will be a welcome resource for those wishing to understand the history and culture of the Jewish people in the Azores.
Ponta Delgada is the cleanest city you will ever visit. There are green rubbish containers attached to practically every building. Cheerful, uniformed men, with their special carts, clean them out regularly. Another group is armed with street vacuums to pick up anything not deposited in the containers. In addition, property owners are always sweeping and washing their sidewalks and gutters. There are large recycling bins strategically placed and regularly used.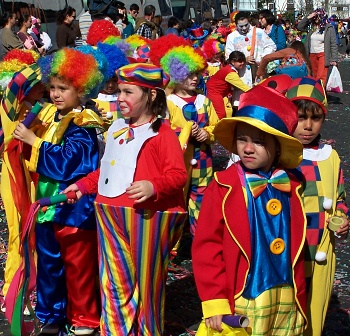 The Children's Carnaval is an annual affair. Groups from schools all over the island come dressed in themed costumes and parade through the city center to the constant beat of the music. Sidewalks and streets are packed with onlookers (we among them - fun time). Tons of colorful streamers are thrown. Two minutes after the area clears, an army of cleaners swoop in and in no time, pristine cleanliness is restored.
Linda's sister Jill from New York, who has never been to the Azores, visited us for a week. She booked an apartment in the same building and was so thrilled with Eleuterio and Maria, the accommodations and São Miguel, she plans to return next year.
We wanted Jill to see and learn as much as possible about the island so we booked two tours with the most experienced tour operators, UTC: http:/www.utcazores.com/901 Since we never tire of the beauty of the island, we tagged along with Jill to share her excitement.
UTC operates tour services throughout Europe, including Portugal (in the Azores, São Miguel and Flores) and Morocco. Children 2 or under travel free and 3-11 year olds pay 50%. If you book two tours there is complimentary service from the airport to and from your hotel or place of residence. You can also book airport transfers for 5 euro round trip, per person: UTC Round Trip Shuttles
On São Miguel UTC has a large fleet of various size vans to comfortably accommodate all their guests. The staff at the airport, in the city center, and on-board drivers and guides are professional, knowledgeable, personable and try hard to fulfill all special requests.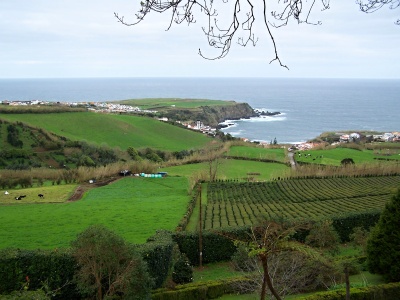 Our first tour was to Furnas. UTC was happy to accommodate our request to include stops at local producers of specialty items found in the area. We headed to the north coast in the direction of Ribeira Grande, the second largest city, and turned east to the lookout point Santa Iria which offers spectacular vistas of the rocky coast topped by thick green pastures.
The only tea produced in Europe is here on the north coast of São Miguel. Today we visited Cha Porto Formoso, one of two plantations. As you walk through the gates into the garden you are struck by the awesome views of the tea fields tumbling down to the sea. All guests are taken on a tour of the factory by a guide and who describes the process of growing and making tea. There is a lovely, rustic tea room and patio for enjoying a complimentary, delicious cup of tea.
From Cha Porto Formoso we drove south appreciating the beauty of the evolving landscape. Crews were out along the roads cutting, trimming, and priming for spring growth. The manicured, clean roads are a tribute to the overall commitment to a clean and attractive environment. All along the highways and byways there are picnic areas with barbecues and restroom facilities. At the Pico do Ferro lookout, we enjoyed the stunning view of Lagoa Furnas and the town of Furnas.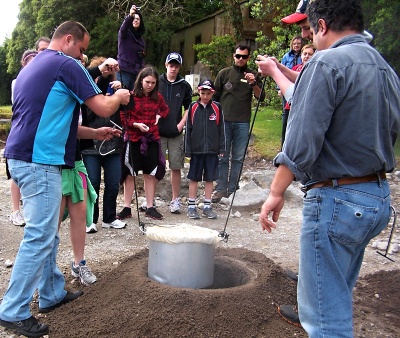 Furnas is famous for its steaming, bubbling thermal waters which can be appreciated up close in the town center. Next to the lake is the Caldeiras da Lagoa das Furnas, which is well known as the place for cozido (boiled meats, pork, chicken, vegetables cooked in a huge pot buried in the ground). The government controls the area and allows free use of the caldeira. There is a separate section for restaurant use.
Bolo lêvedo (a cross between an English muffin and a thick pancake), a specialty of Furnas, is a delicious treat to be eaten any time of day. We are told the secret to making them is in the hands of the ladies who knead and shape the dough before the rounds are cooked on a flat grill. You can find them in food stores of all types all over the island.
We visited two of the largest producers; Bolos Levedos Rosa Quental and Maria da Gloria Moniz. We were too late to watch the ladies, dressed in white, do their thing, but not too late to buy a few for home.
Fofas (éclairs) are to Povoação (near Furnas) what Bolos Levedos are to Furnas and they too are delivered to cafes and restaurants all over the island . There are many producers in town, the differences being in the pastry shell and the texture and taste of the filling. Today we visited Pastelaria Guida, a bright teal building located in Povoação center, next to the zoo.
The bakery is located in the rear of the cafe. We arrived just as the shells were coming out of the oven. After cooling, the tops were cut with a scissors and the cream filling was liberally squeezed in and chocolate laced across the top along the seam. Although lunch was our next stop, we had no problem devouring these beauties.
Our tour included lunch at Vale das Furnas restaurant, where cozido das caldeiras is featured. I was the only one in the group who ordered cozido, the others opted for the fried abrotea (a delicate white fish). Chocolate cake, melon and coffee finished us off.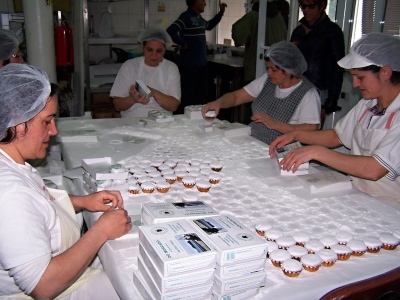 The picturesque ride south to Vila Franca do Campo offers marvelous vistas of the southern coast. This charming old town was the first capital of the archipelago until it was destroyed by an earthquake in 1522.
Another famous treat is Queijadas da Vila which originated with the nuns of Saint Andre's Convent. The secret recipe was eventually revealed to the Eduino Morgado family which keeps the tradition alive and authentic to this day. These powdered sugar topped cakes are made from 100% natural island ingredients. Queijadas da Vila, produced in Vila Franca do Campo, are sold throughout Portugal and the USA.
Our guide was able to make arrangements for us to visit with Mr. Morgado (Rua do Penedo n20) and view the production. We found six white clad ladies sitting around a table sifting powdered sugar on top of the cakes, then wrapping them individually in paper and placing them in boxes, a happy crew proud of their cakes.
Another special stop in Vila Franca was at Rainha & Sousa, Lda., Monte Felix 18, where they make a local port, aguardente, and vinho de cheiro (a light tart wine made from skins). They were quite happy to explain how they make the beverages. At a separate location a few blocks away João Rainha is a distributor of various branded beverage products and sells locally grown bananas. We selected a large green hand which would ripen slowly and take us through a couple of weeks.
High above Vila Franca do Campo is the Chapel of Nossa Senhora da Paz. The landings of the steps leading up to the chapel are decorated with ceramic tiles depicting religious themes. Take your camera to capture the magnificent views of the town, coastline, and Isle Vila Franca (the crater of an ancient volcano with natural swimming pools, accessible by boat from June to September with the number of visitors limited and monitored).
Lagoa do Fogo / Sete Cidades was the second tour. First stop at Ceramica Viera, a family business founded in the middle of the 19th century, producing traditional ceramics and pottery. Leaving Lagoa we headed up the scenic winding roads of the central mountains to the crater of the 1563 volcanic eruption to be greeted by the majestic Lagoa do Fogo (Fire Lake). Blue waters with changing hues surrounded by thick green foliage in a myriad of shades, a sandy beach way below and a small peninsula covered in trees create a dramatic setting. When you lift your sightline to the horizon you see a glimpse of the sea that frames the outline of the crater.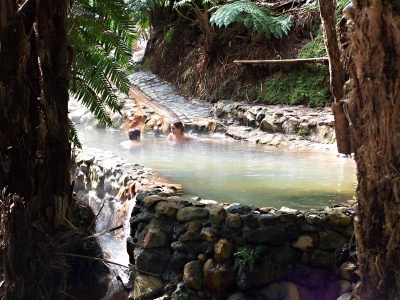 Twisting down the mountain you soon come to Caldeira Velha, a thermal tropical delight. Heading down the path you are struck by the diverse and dense tropical plantings from which vibrant aromas thrill the senses. Bring your swimsuit and towel because a thermal waterfall cascades down into a natural pool surrounded by eye candy. The underground waters bubble to the surface and meet the waterfall overflow to create another smaller pool. Both pools have changing facilities. But you don't have to soak to savour this gift of nature.
Mulher de Capote in Ribeira Grande is well known for its 100% natural liqueurs. Made from fresh fruits grown on the island the flavors are real and rich. The best part of the stop was taste testing, which put us in a grand mood for the included lunch.
Paladares da Quinta is set in the middle of a garden surrounded by their own farmland and woods. The elegant modern design evokes a feeling of total relaxation which is welcome after a half day of touring. We started with an Alentejana bread, fresh cheese and fig jam. Grilled tuna steak from Azorean waters is always a good choice particularly when accompanied by a home grown vegetable medley. Blueberry cheese cake and your choice of coffee to finish.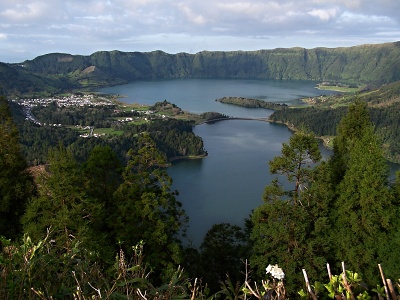 The driver took the old roads west through pretty countryside to Sete Cidades. The Pico do Carvao and Vista do Rei lookouts offered spectacular views of the blue and green lakes. Why two lakes side by side are two different colors we leave to your guide to tell you. We drove down to Sete Cidades Village to visit the Igreja de S. Nicolau with its simple chapel and ceramic figurines adorning the walls. The glorious Lagoa de Santiago is a favorite of ours. Dense green trees create a bowl for the deep blue waters. We always find comfort here. Our last stop was at a pineapple plantation to learn the Azorean art of growing these tasty island treats. We got back late afternoon.
Pedro was our driver and Heidi was our guide on both tours. While being professional and caring they easily adapted to special requests and made the tour very fulfilling. Most important, Jill was dazzled by the beauty and serenity of São Miguel. Welcome to the club.
Our dear friends from Lisbon, João and Luisa, had been hiking around the islands and joined us, while Jill was visiting, to relax after putting many kilometres on their boots. João was very happy with the service and vehicle he rented from Autatlantis, which he picked up and dropped off at the airport. It was an immaculate, comfortable, five passenger car.
We met at A Comercial for a long lunch of chicken soup, seafood stew, coffee, pastry and plenty of catching up. Touring around town we visited the Centro Municipal de Cultura to view the painting exhibition entitled "Reliefs" by Pedro Sousa. This phase of his work is a mixed technique on canvas with paper pulp giving a graceful three dimensional effect of iconic elements. Quite striking. We had previously seen two other exhibitions here; paintings by Antonio Eduardo Soares de Sousa entitled "Memory visions" and sculptures by Alvaro Raposo de Franca, "Horses and Riders". Admission is free.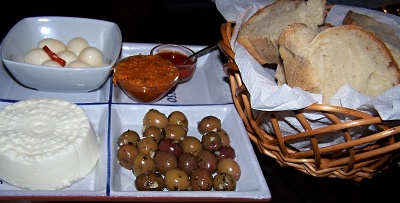 A few weeks previously we discovered a new restaurant, Q'enosso, Rua Tenente Coronel Angelo Albergaria Pacheco #12, Lagoa. It was so good we suggested it for this evening. We were greeted with a warm welcome and a glass of port. The modern glass-enclosed dining room is bright and cheerful. There is also a lovely patio, particularly inviting in warm weather. The design revolves around the 9 islands of the archipelago, with dividers separating the designated areas. On the shelves of the dividers are products native to the island. It's attractive, unique and offers great flexibility.
As you pass the outrageous dessert buffet, available all the time, it is hard to think about the "real food" you are about to order. A full buffet is available on week-ends.
The seating is very comfortable with excellent space between tables. We enjoyed a marvelous red wine from Alentejo, Monte Muyor, with our fresh cheese, olives, pork pate, and addictive, pickled quail eggs. We chose polvo (octopus) roasted with potatoes and garlic veggies, lombo (filet mignon) with a special sauce, served with fries and salad, grilled tuna with migas (corn bread stuffing) and salad. Each of the octopus, lombo and tuna was top quality, fresh, tender and perfectly prepared.
The portions are generous. Fortunately time was on our side before wandering through the dessert presentation. If you love traditional Portuguese pastries and puddings as we do this is a dream indulgence. A divine pineapple cake, chocolate mousse with fresh cream, molotov (egg white flan), and almond torte were particularly appealing. Much later we sipped Kir Royal before calling it an evening.
We were well looked after by Carlos and his staff. If you are not driving, they will be happy to pick you up and take you home. Just call (296 965 117) to make a date. This restaurant was one of several outstanding new finds for us.
The next day was bright and sunny as we headed west along the southern coast. A great stop is Merendario e Miradouro do Caminho Velho. Besides marvelous views of the coastline there is a comfortable barbecue and picnic area. Just pack your chorizo and charcoal. There are areas like this throughout the island, at many viewpoints and along the roads.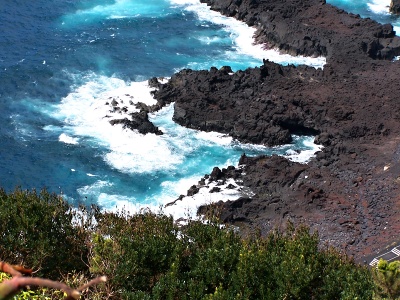 Ponta da Ferraria has a famous lighthouse which was built in 1901 in a traditional modern style with lovely well-kept grounds. Three families live, work and maintain the facility. Down below we could see natural swimming pools carved into the basalt filled with frolicking bathers. We took the winding steep drive down to the thermal bath facility. There is an attractive main building that services patrons along with a restaurant. A large thermal pool is to the rear and a pathway and staircase leads to the natural pools. It's a neat place to soak, relax and heal.
Our next stop was at Miradouro Escalvado, a former lookout for sperm whales which supported the whaling industry of Mosteiros. High above the blue sea, the air is exhilarating. We were overwhelmed, where to look first - the rock formations along the coast, the fertile grazing lands (with cows), the town of Mosteiros in the distance, the volcanic cone of Camarinhas jutting up from the sea? We lingered, absorbing the beauty and serenity.
Mosteiros is an extremely attractive village with its old homes, fishing port and thermal springs. There is a deep bay with four small islands rising up in pointed shapes. The beach opposite and the natural pools formed in the basalt lava make it a summer favorite. We stopped at a cafe for lunch and had very good carrot soup and bitok (grilled pork steak sandwich), a Portuguese favorite.
Back in Ponta Delgada we rested up a bit before heading to the town of Relva, about 20 minutes drive just past the airport. Again, a restaurant we found this year that we had been to several times (once alone by bus and once driving with our friends Ana and Frank) and knew our crew would enjoy.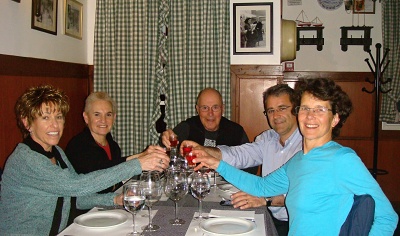 Relva starts out high on a cliff and tumbles down to the sea where you can find Taberna Saca-Rolhas (means corkscrew). The owner, Fernando, embodies the essence of this cozy tavern, warm and cheerful.
After being comfortably seated Fernando brought us a house red wine from Alentejo which went nicely with an array of appetizers; an omelet with alheira ("jewish" sausage-made from chicken), sautéed mushrooms, grilled slices of blood sausage and chorizo. We then shared two typical traditional dishes, succulent portions of grilled octopus and roasted goat, both with roasted potatoes and salad. Fernando was beaming as he saw the pleasure on our faces. Bolo de Bolacha, a layered cookie and coffee cream cake that is light and lovely, finished the meal in grand style.
Saca-Rolhas was another memorable find. Be sure to call (296 716 747) for a reservation. Seating is limited and it's always busy.
João was in the mood for cozido so we were off to Furnas so that he could have the real stuff right out of the ground from the Caldeiras da Lagoa das Furnas, at Tony's, the restaurant famous for the authentic version. We feasted (except Linda who opted for grilled pork chops, fries and salad) on the steamed pork, beef, chicken, sausage, cabbage, carrot, potato, kale, and washed it down with Portuguese beer.
Our mates had not been to Terra Nostra Gardens so after lunch we headed over. Unfortunately it began to rain and our visit was curtailed.
We stopped in Vila Franca on the way home and went to the Queijada de Campo factory so Luisa could pick up a few boxes of the beauties for her friends back home in Lisbon.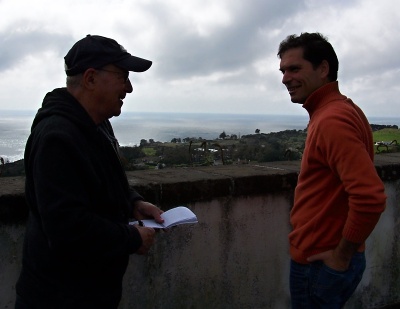 It was time to introduce Jill to some off-the-beaten-track delights. We arranged with Eleuterio in his Azores4Travel "hat" to whisk us away in his colorful van. Eleuterio, an avid outdoorsman, offers private tours for his guests: Azores4Travel He is happy to lead you on a half or full day of hiking, biking, diving (he dives regularly and does spectacular underwater photography), combined with off the beaten track places of interest, as you wish.
Our first stop in Lagoa was at The Capuchin Convent of S. Antonio, built in the 1640s and rebuilt in the mid - 18th century during which time 20 Franciscan Friars lived there. It was closed in 1832 and has served several purposes until the present. This stunning edifice sits high on lovely park grounds overlooking the sea. The attractive Chapel and Cloister occupy the left wing which today is the head office of Lagoa's Charity Holy House.
There is a library and one level down, the small but impactful House of Memories, which preserves the history of the Convent and recalls the presence of its inhabitants. Find your way here and see how the narrative takes place in three distinct periods: the past viewed through the present and that will last as a future memory. And finally view the secret tunnel that ran to the seashore to allow Friars to escape from attacks.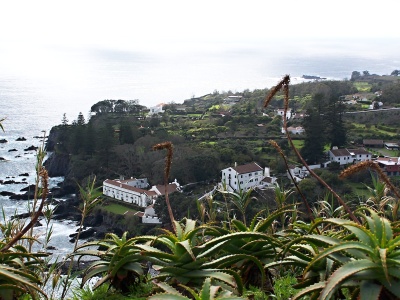 The road east along the sea leads to the secluded town of Caloura. The way in is through tall basalt walls separating vineyards. The striking Convent of Caloura is soon upon you. Built on the rocks by the sea it is an imperative photo stop. Do not put your camera away because as you twist around the bend the broken rocky shore along the bay forms natural pools with bright white foamy waves spilling all over. It was a shiny sunny day so the scene was sparkling with life. At the end of the bay is a small fishing port. Just a bit away the sheltered Caloura Beach is a divine spot for sun and fun lovers. Tree shaded picnic tables, grills, snack bar, restaurant and restrooms provide all the amenities for a day of leisure.
Eleuterio's next treasure was nearby Agua do Pau. This adorable town hosts some wonderful museums that preserve the history, traditions and culture of the past to ensure its legacy to future generations.
Nuclei Museological, Rua da Riberia,27 has displays dedicated to trades and occupations; tailor, seamstress, barber, carpenter, shoe making, wine making, and cornmeal making (with water powered crusher). Neat to see the old tools and equipment. Upstairs is a typical kitchen and bedroom.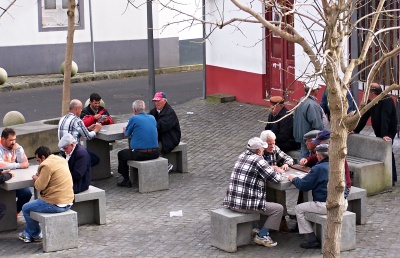 The Mercearia Casa Central Traditional, Praca da Republica, is part of the Nuclei Museological. Its mission is to preserve the history of the life of small local commerce. To this end a traditional grocery store and adjacent tavern were acquired. The grocery store with its counters, shelves and equipment display the typical products sold. Upstairs is the beautifully preserved, living quarters of the owners.
Praca da Republica is a center of activity, this time of day the fisherman were resting, playing cards as they would be heading out in the early morning to catch chicharros (or so we were told).
The Fisherman's House museum (Casa do Pescador) is also supported by local government. We were fortunate the cheerful Carmen was available to show us around (perhaps Eleuterio had a hand in it) and bring it all to life. Everything in the house is authentic and a serious look at how a fisherman and his family lived in tiny rooms. The ground floor was the kitchen, eating and living area. Upstairs was for sleeping.
We found it inspirational that this parish has devoted such resources to preserving its history, tradition and culture.
Heading east along the coast toward Vila Franca we passed one of the largest, most beautiful beaches on the island, Agua D'Alta, usually quite busy in the summer months. Our last stop was at a high point in Vila Franca as close to Ilheu de Vila as you can get for an up close view. This is the sea where Eleuterio does his diving. We were delighted with our half day customized tour.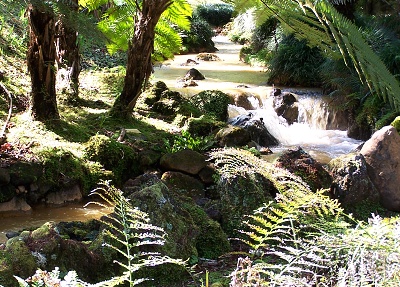 We were in the mood for a romantic getaway and had heard that the already lovely Terra Nostra Garden Hotel in Furnas had been completely renovated. Nestled in the exotic environs of the Terra Nostra Botanical Park this is a compelling destination. Guests of the hotel have complimentary access to the gardens.
The hotel has two environments; the Art Deco Wing, built in the 1930s and the Garden Wing, built in the 1990s. We have been here in the past and so when we walked in it was an OMG moment. The largely glass-enclosed reception area was ablaze in light with garden views. Cozy furnishings and a welcoming staff made us feel right at home. A cheerful young man led us to our Garden View room detailing all the new amenities along the way, including a graphical display which documents and preserves the evolution of the hotel.
Our room opened to a large deck facing the gardens with chairs, tables and lounges for total outdoor comfort. The room was consistent with the hotel's decorating theme of rich earth tones. We had all the amenities you would expect at a 4 star hotel, including a king bed with bedside reading lamps, and a bathroom with bathtub, stall shower, and bidet.
It was tea time so we headed to the lounge. Island tea, scones, jams, small sandwiches and pastries were beautifully presented and served. We were off to a good start.
The large lounge area was quite busy and why not. The smart furnishings are arranged in intimate settings for quiet comfort and conversation. The adjacent patio is serviced by a bar with up close garden views.
The Wellness Place is well done with a personable crew. You know, facial treatments, body therapies, massage and holistic therapies, and the list goes on. I managed to drag Linda away before damaging my wallet.
An attractive oval indoor pool surrounded by white pillars provides an updated Grecian ambiance. Together with a whirlpool, sauna and comfy lounges it makes for an invigorating and relaxing experience. There is a substantial corporate conference area replete with a library and extensive lounge area.
In the past we have stopped here for lunch while touring. The menu had featured traditional cuisine. This evening we were in for a surprise. The dining room is surrounded by the garden and its new design creates a casual intimacy. In keeping with our mood, our window table overlooking the lighted garden was quite a romantic setting.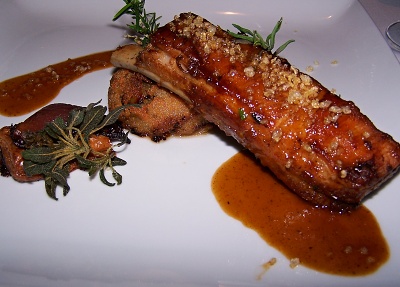 The menu has undergone as big a change as the hotel - quite fitting. To appreciate the talent in the kitchen, we chose the Discovery Menu, which changes seasonally and consists of products produced on the islands and from the sea. The house made breads and herbed olive oil sparked the appetite. The culinary tour de force unfolded, as follows: Prawns graced with cashews, black beans and red pepper; Ceviche of local cherne and liria was marinated in lemon with pepper and arugula; Alcatra (stewed beef and potato made famous on the island of Terceira) was the robust filling in the delicate tortellini; Risotto seasoned with garlic, pepper and balsamic vinegar was topped with strands of squid; Braised pork rib with sautéed onions, mushrooms and mashed potatoes. White and red wines from the island of Pico were perfect. We finished with three cheeses and a tantalizing lemon mousse. The presentation and service were superb. This was an extraordinary experience. Kudos to the chef! And kudos to management for fostering the dedicated, warm hospitality of all the staff. We bumped into the General Manager, Carlos Rodrigues, and congratulated him on a job well done.
Terra Nostra Garden Hotel is a marvelous choice on its own but Terra Nostra Garden puts it over the top. Started in 1775 it has grown from 2 to 12.5 hectares. It has been lovingly designed with trees, plantings and flora from around the world. The pathways lead through exotic beauty and rapturous scents. Besides small lakes and thermal waterways there are specialty collections of annual flowers, ferns, cycads, etc. The large oval geothermal water pool is popular with folks of all ages. There are many sitting areas for appreciating the works of nature surrounding you.
We stopped downtown at the casual Summer Breeze restaurant, Avenida Conselheiro Pereira Ataíde 18, well known for good food at reasonable prices and for terrific burgers. The perfectly grilled burgers were topped with their special sauce, sautéed onions, lettuce and tomato on a big bun, capable of keeping it all under control. What's a burger without fries (excellent at that)!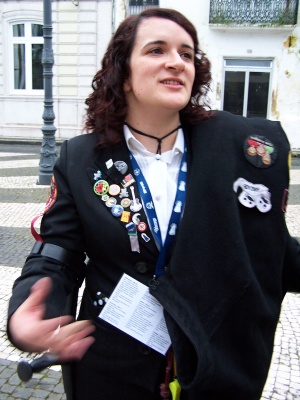 We were walking past the city gates toward the Camara Municipal on our way to dinner when musicians and performers in the square in front of the town hall captured our attention. A group of city officials stood atop the graceful staircase applauding the performance. These were PortugalTunas, performing groups from universities all around the country. This group from Lisbon, with their black capes adorned with colorful badges, were here to pay homage to Ponta Delgada. They would be performing on stage this evening at the Coliseu Micaelense. The music and choreography was compelling and enthusiastically performed.
Uplifted by this entertainment, we proceeded to our favorite city center restaurant, Alianca, Rua Acoreano Oriental 19/23, a few steps from the City Hall. Nuno and his happy, friendly staff consistently deliver fresh, quality traditional offerings, perfectly prepared. Besides the basic menu there is always a daily menu reflecting the house recommendations. We always opt for one of the fresh fish choices except when we are in the mood for the Bife Alianca, a luscious sirloin with a traditional sauce featuring sautéed garlic.
The dense, crusty bread is always good, particularly with the fresh cheese, piri-piri sauce and cold local Melo Abreu beer. There were several fish choices tonight but since cherne (in the grouper family) was listed, it was a no brainer. This fish tops our list and is not always available. The serving of two thick slices with potatoes and salad was enough for two. So good.
Besides being a homey kind of place with great food and kind people they are one of the few restaurants open Sundays where you will invariably find us enjoying a late lunch.
Dr. Mello invited us to an exposition at the Biblioteca Municipal Ernesto do Canto dedicated to Teofilo Braga (1843-1924), the second President of the Republic, a prolific writer, poet, critic, statesman, and an intriguing and complicated man.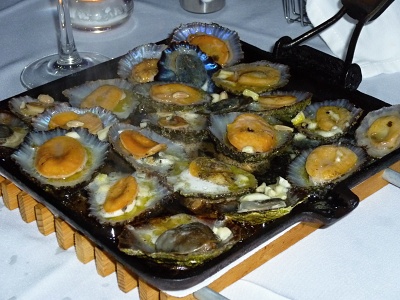 Just up the street from the library is the Restaurante Sao Pedro, popular with locals and visitors alike. Photos and videos of the islands adorn the walls of the dining room. The menu offers many mouth-watering preparations of fish, seafood and meats.
The house offers a delicious aperitif from the island of Pico, which calmed the mind after being exposed to Teofilo Braga. The Sao Jorge cheese was served with a house made pineapple/cinnamon preserve and beef pate. Perfection. We followed this with an island delight, grilled lapas or limpets (clam like) always heavy on the garlic. The white wine from Pico, Frei Gigante-2011, was heavenly with this and the caldeirada a pescador (fish stew) that followed. A lovely meal like this should conclude with a light treat like crunchy pineapple ice cream and almond studded vanilla ice cream (both house made). This was our first time here, but will not be our last.
Our friends Ana and Frank were back and as usual we had some wonderful dining experiences with them. We returned to O Rabaca in Lagoa on a Saturday for roast cabrito which was as yummy as we remembered.
Of course we had to introduce them to Taberna Saca Rolhas in Relva, where we feasted on incredible fresh grilled octopus.
We had heard that the best meat on the island was served at Restaurante da Associacao Agricola de São Miguel, their slogan, "The Best Meat can only give us the Best Steak", the 200gram tenderloin we each had can attest to that. Grilled perfectly medium rare, the flavor was to savour. The menu also offers many traditional dishes. They are moving to a new location across the way in the near future. Head on up to Rabo de Peixe for a meat treat.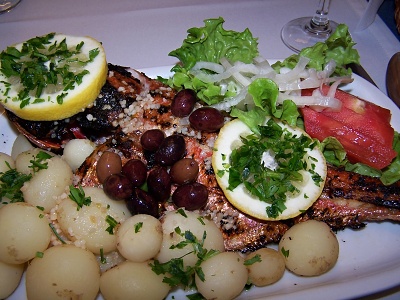 Lastly was Cozinha d'Arlete, restaurante & take away, at Rua Professor Machado Macedo, #12. The take out line is always long, a testament to the quality product offered. The menu changes daily. The owners are very accommodating and led us to the hot table for a viewing. Back to the table to decide while sipping a delicious Alentejo red and nibbling on crusty rolls. Linda chose a grilled whole Alfonsim with boiled potatoes and vegetables and I, grilled pork chops with fries and rice with beans. Delicious and very reasonably priced. Visitors don't find this place. Be the first.
Right around the corner from our apartment is O Corisco, Rua Manuel da Ponte, #28. This restaurant is deservedly very popular for its comfy environment and caring staff. Luis, the owner, is always around to welcome regulars and visitors with a smile and friendly words.
The lovely bar and lounge are perfect for a leisurely cocktail before being seated or an island liqueur after dinner.
We had not had chicharros yet and when we were passing by saw they were featured for lunch. These small fried mackerel are an everyday item in any eatery (served with boiled potato, beans, salad) so to have them in the fine atmosphere of O Corisco was a treat.
Another visit we started with São Miguel cheese and crusty rolls, followed by grilled albacora (tuna) and a whole cantaro (a superb firm white fish) served with delicious yams. Melo Abreu beer of course. Dessert was a delicious pineapple mousse and a slice of molotov.
We went with a group of friends to Mariserra Restaurante for the first time. It's at Rua Praia dos Santos #61, S. Rogue, a 10 minute drive east of the city center along the coast. We were served family style for sharing. Fresh cheeses and olives to start. This was to be a seafood feast; hot and cold boiled shrimps, fried filets of abrotea, tamboril kebabs (monk fish/pepper/onion) grilled and served vertically, hot rice and vegetables cooked and served in a stone pot and grilled lapas topped with garlic plus. A crisp fruity white wine was a fine choice. Chocolate mousse and coffee finished the meal, but an assortment of liqueurs and splashes (white port wine with tonic water) kept the lunch alive.
We were joined by local celebrity chef, teacher, author Antonio Cavaco who was kind enough to offer us a signed copy of his book "Sabores das Ilhas" (Flavors of the Islands). He told us he lives in Ponta Delgada, loves the island and loves being here.
At last we visited the Bell Tower of the Town Hall. We've walked by a zillion times and passed, but this time the friendly attendant got our attention and up we went. The 360 degree views are well worth the climb and since we were heading over to the Marina Atlántico Hotel for our annual seaside lunch we appreciated the added appetite from the workout.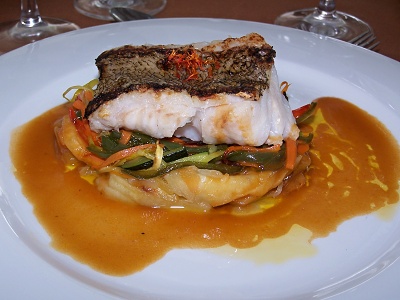 The Marina Atlántico dining room was quite busy catering to a host of business clients, but there was ample quiet seating for the two of us. It was a sunny day so the marina's waters were glistening.
Mini pastry shells were filled with blood sausage, one with pineapple, one with apple, a delightful start. We ordered a white wine from Alentejo which turned out to be a fine choice with the Codfish Volcano (a flakey pastry filled with codfish on a bed of pureed onions) and grilled abrotea with a wonderful array of vegetables. A sampling of passion fruit ice cream, baklava, vanilla ice cream topped with chocolate and vanilla & chocolate mousse and garoto, espresso with steamed milk, was leisurely savoured.
Along the waterfront is the Clube Naval de Ponta Delgada. Inside is a bar-cafe O Garajau. The large room overlooks the marina. The view and the 4 course daily lunch special is reason to go. We had a splendid regional beef and potato stew with good crusty bread for dipping complete with beer, chocolate mousse or rice pudding (one each) and coffee. It's a deal.
A new hot spot in town is A Tasca, Rua do Aljube 16. The translation of tasca is "cheap eating place". This tasca is not cheap but very reasonable, considering the quality. Located in what appears to be an old warehouse it has been renovated maintaining the old stone walls, wood floors, beams and a first floor - totally laid back and casual. The menu features small portions of traditional foods (hams, cheeses, sausages, prawns, octopus salad, etc.) which you can order separately or as assorted platters. Very good bread is a must and A Tasca meets the challenge. We had a platter of salpicao de lombo de porco, presunto de porco preto, Queijo da ilho São Miguel velho, green olives, and a side of octopus salad and steamed clams. A Monte Mayur red from Alentejo was a fine choice. We were there for lunch and it was hopping. There is music in the evenings when things really get rolling.
Let's get practical and leave you with some excellent choices for food shopping and service.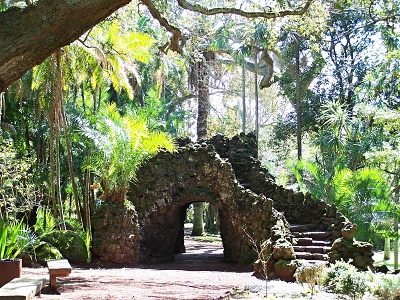 Food:
Continente superstore in the Parque Atlântico shopping center for all your needs, selection and good prices.
The Mercado (Farmers' Market) on Rua do Mercado for fresh local produce, fish and meat.
Adjacent to the Mercado is O Rei dos Queijos for the freshest and best cheese selection.
Novicol, Rua da Cruz 24 for the best butcher in town. The personable Arthur will handle your order with love and care. He also grills for take-out. We often had delicious chicken and spare ribs at home.
Fruitaria, Machada dos Santos 54, the freshest fruit and produce in the center of town.
Services:
"Wash Now" a clean, modern facility in the Solmar Avenida Center is the go-to place for your laundry. The pleasant staff will take 2 hours to wash, dry, fold and package your clean clothing. You can relax in the cafes, restaurants or do some shopping. Free WIFI in the shopping center. It couldn't be more convenient.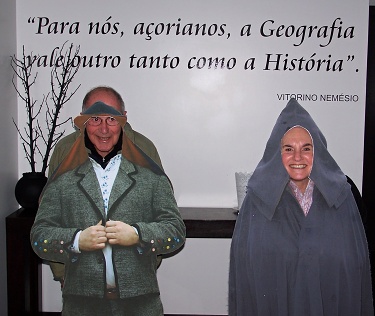 Need a facial, pedicure, manicure, massage or electrolysis - head to "Our World" on Rua Misericordia. The shop is sparkling clean. Helena, the owner, and Sonia are professional, super sweet and accommodating. This kind of special treatment and care is rare to come by.
Manuela and her staff at Visos, Largo de S. João 6A know hair. Cut, coloring, styling, you're in good hands.
If you need some tailoring done look no further than Atellier Glamour on the 1st floor of Machado dos Santos 96. The lovely and talented Natacia Medeiros is a whiz with her scissors, sewing machine and nimble hands.
Between this and our previous São Miguel travelogues you have enough practical guidance to serve you well from a week to a year-long stay. No excuses, book your flights on Sata or whatever airline is convenient for you and be on your way. If it's during the winter you will find us wandering the streets or hanging out at A Comercio, our home away from our second home.

Search TheTravelzine | TheTravelzine Group | Don's Gallery
Packing Hints | Planning Tips | Cities Links

---
All pages on TheTravelzine.com©Copyright 1996-2020 Don & Linda Freedman