Search TheTravelzine

TheTravelzine Group

Access Your Mail

Don's Gallery

Packing Hints

Planning Tips

Cities Links

Links
LINKS TO OUR TRAVELOGUES
Argentina, Buenos Aires - Jan-Mar 2010
Argentina, Buenos Aires - Jan-Mar 2009
Argentina, Buenos Aires - Jan-Mar 2008
Austria - Fall 2005
Belgium, Brussels - Fall 2000
Canada - Summer 2002
Canada - Summer 2001
Canada - Summer 2000
Czech Republic - Spring 2000
France - Fall 2002
France, Paris - Fall 2000
France, Paris - Spring 1999
France, Lyon - Spring 1999
Germany, Berlin - Fall 2009
Germany - Fall 2002
Germany - Spring 2000
Germany - Fall 1999
Greece - Fall 2012
Greece - Fall 1999
Greece - Fall 1997
Hungary - Spring 2000
Israel - Fall 1999
Italy - Winter 2007
Italy - Winter 2006
Italy - Winter 2005
Italy - Winter 2004
Italy - Winter 2003
Italy - Winter 2001
Italy - Fall 1998
Italy - Fall 1996
Netherlands - Spring 2000
Portugal, Azores - 2019
Portugal, Azores - 2018
Portugal, Sao Miguel & Lisbon - 2017
Portugal, Azores - 2017
Portugal, Azores - 2016
Portugal, Azores - 2015
Portugal, Azores - 2014
Portugal, Azores - 2013
Portugal, Azores - 2012
Portugal, Azores - 2011
Portugal, Lisbon - 2011
Portugal - Fall 2006
Portugal - Fall 2004
Portugal - Fall 2003
Portugal - Fall 2001
Portugal - Spring 1999
Portugal - Spring 1997
Slovakia - Spring 2000
Slovenia - Spring 1999
Slovenia - Fall 1996
Spain, Barcelona - Winter 2006
Switzerland - Fall 2002
Switzerland - Spring 2000
Switzerland - Spring 1999
Switzerland - Fall 1998
Switzerland - Fall 1997
Switzerland - Spring 1996
U.S. Florida, Key West - Fall 2006
U.S. Florida - Spring 2001
U.S. Maine - Summer 2002
U.S. Massachusetts - Summer 2003
U.S. Massachusetts - Summer 2002
U.S. Massachusetts - Summer 2001
U.S. New York State - Fall 2005
U.S. New York State - Summer 2004
U.S. New York State - Summer 2003
U.S. New York State - Summer 2001
U.S. Washington,DC - Spring 2000

SLOVENIA Fall 1996 (1)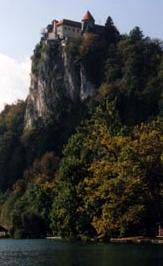 "Why Slovenia?" "Don't you mean Slovakia?" "Where is it anyway?" These are the responses we got when we first considered Slovenia as a destination. There were, however, three wonderful, positive responses from internet pals that got us excited and reconfirmed our choice. We are grateful to Ginger, Ray and Chloe - who were so accurate and so right! Ginger Brusca summed-up her two week hiking trip with "Bottom line, I loved Slovenia and would go back in a minute". Ray Randall has been a frequent visitor to Slovenia and knows the country well. He started out his "two cents worth" with "How fortunate you are to have a whole two weeks to spend in Slovenia". And lucky Chloe who lived and worked in Ljubljana for a period of time who finished her superb briefing with "I am getting nostalgic just thinking about it".
Our decision made, we contacted the Slovenian Tourist Office via email. We received an immediate response from Rok V. Klancnik, who provided our first exposure to the kindness and friendliness of the Slovenian people. (Thank you so much Rok for your help, advice, hospitality and care.) Rok sent us brochures, maps, hotel listings, transportation information and worked with us to plan an itinerary that enabled us to experience the diversity of this "green piece of Europe".
Slovenia is not Slovakia. Slovakia became independent from the Czech Republic (together they were the former Czechoslovakia) in 1993. Slovenia became independent from the former Yugoslavia in 1991. Slovenia is bordered by Austria, Hungary, Croatia, Italy and the Adriatic Sea. It never was part of the war of its neighboring former siblings. Always a favorite vacation destination of Europeans, it is a safe and peaceful country. It has shed the communist regime and is swiftly developing a free-market economy. The second free elections under its parliamentary system were held on November 10, 1996. Boasting a well-educated, industrious populace, Slovenia, a country of two million, is a very westernized part of Europe.
As the information from all sources indicated that the public transportation (trains and buses) was convenient, dependable, clean, safe and reasonably-priced, we opted to depend upon it.
Rok and Ray both encouraged us to go without hotel reservations. As it was low season this would allow us more flexibility in changing our schedule and negotiating room rates.
The local currency is the tolar (SIT). For our trip the exchange rate was 100 SIT = .73 US, or $1.00 Canadian. All prices in this travelogue will be expressed in SIT. All costs for transportation are per person.
We stayed and dined at three and four star establishments. Our hotels averaged 11,200 SIT per night and our dinners averaged 3,800 SIT for two. The quality of accommodation and food is excellent. Slovenia represents superb value!
The best routing from Toronto to Slovenia is Air Canada to Zurich and Crossair to Ljubljana. We arrived at Ljubljana Brnik at 14:25, a pretty little airport surrounded by lovely countryside and mountains in the distance. We changed money at the airport branch of the Ljubljanska Banka and got a very good exchange rate.
Our first destination was Bled - long a favorite of European vacationers thanks to its crystal clear lake and magnificent surroundings. We decided it would be a perfect place to stop for the first four nights to unwind, adjust to the time change and explore this lake and mountain region of the country. We caught the 15:00 bus to Ljubljana and arrived there at 15:55 (270 SIT) after a pleasant ride through mostly farm country, just in time to catch the bus to Bled (620 SIT). We traveled through lovely countryside - lots of farms, green hills, mountains flaunting their autumnal grandeur, passing well-kept modest homes, each with its own vegetable plot and flower gardens.
Immediately obvious was the fact that the Slovenians care about their country and their property and work hard at keeping everything clean and well-maintained. Throughout the entire trip we saw people sweeping, washing and cleaning-up and we never saw litter on the streets. Crazy clean - just like Toronto - we love it!
By the way, practically everybody speaks some English and most everybody speaks German and/or Italian in addition to Slovenian. No problem communicating.
We arrived in Bled at about 17:15 and proceeded to the Park Hotel. This contemporary hotel is across the street from the lake and half the rooms face the lake with comfortable balconies. To be in Bled is to enjoy the lake - pay the few extra bucks! In the nice large lobby, with lounges and a bar, we were greeted by a friendly and smiling young woman who made us feel welcome and at home - nice start! Our room was wonderful - in the section that had recently been renovated. Plenty of space, lovely furnishings and built-ins, king bed, light, cozy duvets and comfortable pillows. Nice size tile bathroom with all the amenities. Welcome to Slovenia! The room however pales when you open the door, step onto the balcony and see Lake Bled for the first time. Sparkling, shimmering - a tiny island with a church, the castle high on a mountain at lake's edge, trees, shrubs and bushes all around with majestic mountains in the background - Wow!
After many hours of traveling we were tired and hungry. Marinka, the receptionist (more about her later), suggested the restaurant Gostilna Pri Planincu, Grajska Cesta 8, as a local favorite. It became our favorite as well. Its casual, homey ambiance, with lots of wood, exposed beams and checkered tablecloths felt like a big kitchen and was typical of so many of the Slovenian restaurants we enjoyed. It had a small bar area and only nine tables in the rear, with additional outdoor seating available in the still-pleasant weather. The lone waitress approached us with a big smile and a happy greeting and made us feel like we `belonged'.
The food in Slovenia is influenced by its neighbors Italy, Austria and Hungary. Soups are rich and hearty - salads large and diverse - agriculture is a large part of the economy and the produce is varied and fresh (no plastic tomatoes!). Breads to die for - dense and grainy - chewy and tasty. Fish and seafood are on all menus with trout from their lakes and salt water varieties from their seaside. There are all kinds of fowl plus beef, pork, veal and sausages simply grilled to heavily sauced, cheesy or gravied preparations. Pasta and pizza abound. Desserts are awesome. Wine and beer is home-brewed and excellent. And the sparkling Radenska mineral water is the most delicious we've ever tasted - it even feels healthy (more about that later).


Our waitress was candid - she warned us that the portions were large and could easily be shared. As most Slovenian menus are in Slovenian, German, Italian and English, ordering was easy. We both love soup and Slovenia is famous for its soups. Linda had fresh mushroom soup with a dollop of fresh whipped cream (wouldn't even spare a taste for me!) and I had a rich, savory garlic soup. Together with fabulous bread, this was a meal. Fortunately, though, we didn't stop there, we shared a huge half of the best grilled chicken ever - crisp skin (it killed us to discard it - oh what we do for our arteries!) sweet, tender and juicy with a touch of garlic and herbs - chicken does not get better. Also shared perfect roast potatoes and a mixed salad in a light vinaigrette dressing. We shared a local Union dark beer which was delicious and our first Radenska natural gas mineral water. The quality of ingredients and preparation was excellent. The portions were very large - real value with comfortable atmosphere and fine service.
A first for us, we slept through the included breakfast and well into the morning. We walked up the road to the Mozart Slacicarna, in back of the Hotel Velovica, Cesta Svobode 8, for a cappuccino and pastry. Shops selling wonderful sweets and coffees and pastries are in abundance throughout the country. We had apple strudel (perfect blend of apples and raisins in a light, flaky crust) and cream cake (this favorite is a thick layer of boiled cream, topped by a thick layer of real whipped cream with a flaky crust both top and bottom). With perfect cappuccino - strong, hot espresso topped with a nice light, but thick, milky foam - this was a lunch, with various pastry selections, we were to repeat many times - and it was equally good, if not better, wherever we had it.
The weather was clear and crisp. We walked the 6 km around the lake, so serene and peaceful. The air was fresh and delicious-smelling. We watched the trout swimming in the emerald waters and enjoyed seeing the ducks frolicking everywhere. The path runs through the trees and shrubs along the shore and the walking is easy. Bled Island in the middle of the lake is the only true island in Slovenia and it can be reached by man-powered gondolas or by renting a boat. We ambled along, our senses feasting, as we realized a return visit will one day surely be necessary.
Restaurants go by many names. Most that we went to are called gostisce or gostilna - rustic inns usually offering regional or national dishes. Many of these places also offer accommodation. The other prevalent name is restravracija, indicating a top-notch restaurant. A samopostfrezna restravracija is a self-service type where you order at the counter and eat either standing or sitting.
In the evening, we dined at Gostisce Okarina, Riklijeva 9, a woodsy, homey guesthouse with stucco walls, beamed ceiling and tiled floors with oriental rugs. A collection of small, cosy rooms, we chose to sit in the one dedicated to non-smokers, an option which was available many times throughout our trip. The owner is a very pleasant fellow - we found the place while out walking and stopped in to make a reservation for the evening and chatted with him. His chefs are East Indian and there are many tandoori items on the menu, in addition to the regional dishes. There is a 300 SIT cover charge for which you are served a plate of crudites along with a Thousand Island type dip and a basket of wonderful fresh breads. The local Merlot was excellent. Beware of the salad bar trap. After taking our order the waiter said, "You can help yourselves to the salad bar", not mentioning that there was a charge for it.
Linda had a vegetable soup which was a simple broth with pieces of vegetable - healthy but a bit dull. Her roast duck was served in a flavorful tomato-based sauce with onion and pepper, but the duck was not very meaty and what there was, was stringy - disappointing. The salty roasted potatoes did little to help out. I had a nice thick lentil soup and trout Trieste, grilled with olive oil and fresh garlic - crispy on the outside, moist and flavorful inside. The accompanying spinach with garlic, carrots and mashed potatoes were quite good. Trout Trieste is on many Slovenian menus - it's a local favorite. With trout fresh, plentiful and reasonably priced, I had lots of it in the days ahead.
At the Park Hotel the buffet breakfast is served in a very large dining room with views onto the lake - the room is divided into smaller seating areas. The buffet is quite good - everything one might want: cereals, yogurt, eggs, bacon, breads, rolls, smoked meats, cheeses, juices - waitresses serve coffee and are very helpful. As we had covered most of the town the previous day, we decided to go to Bohinj for the day. We checked with Marinka at the front desk for a bus schedule (the buses run quite frequently) and she told us that she lives in Bohinj and since she was free at noon she would be happy to drive us there, show us around and then arrange a meeting place for later to take us back to the hotel when she was scheduled to return at 18:00. We were delighted with her offer and spent the time until noon visiting a supermarket (we found the prices much higher than in Canada) and then we went to the lake to feed the ducks and enjoy the clean, fresh air and the beauty of the snow-capped mountain peaks in the background.


Bohinj is not a town; it is a region. It's in the heart of the Julian Alps - a corner of the Triglav National Park. Lake Bohinj is the destination. Like Bled, a tourist favorite, but for different reasons. The lake itself is larger but not as picturesque - no island, no castle. It's a bit more rugged and natural. Surrounded by mountains, it has great appeal for outdoor enthusiasts with activities such as winter skiing, mountain climbing, hiking, biking, canoeing, archery, etc. The wonderful rustic villages, waterfalls, forests and mountain streams make this a magnificent place to commune with nature and to totally relax. Bled/Bohinj - a great team!
We got into Marinka's Yugo promptly at noon and within 20 minutes we had covered the 30 km to Lake Bohinj. Marinka insisted on taking us on a tour of the three main villages. The way of life there is tied to traditions that stretch back hundreds of years. We visited Marinka's aunt in the village of Studor and saw her "black kitchen" where the cooking is done on the same wood-burning stove that supplies the heat for the entire house. The architecture for the most part is Alpine, with balconies and shingle roofs. The traditional village plan is preserved with the houses huddled together. Another interesting feature is the rows of unique racks for drying the hay in the meadow below the village.
Marinka's village is Srednja Vas. We visited her house (newly built) which is quite attractive and comfortable and situated right in the center of the village.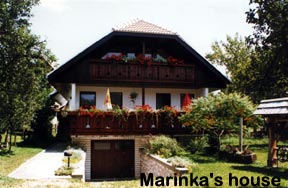 These villages are surrounded by farming and grazing land (dairy farming is important) with hills and mountains all around and the lake nearby. Like many of her neighbors and her parents, who live just about next door, Marinka offers "bed and breakfast" in her home. Marinka lives on the main level and has rental accommodation available both upstairs and downstairs - with private bathrooms and cooking facilities at fantastically reasonable rates. On our next visit to Slovenia, we plan to stay here and enjoy the lifestyle and activities of the region.
Next we visited the village of Stara Fuzina and went to the Gostilna Mihov to have coffee and see and hear a still-working, beautiful wind-up "player organ" said to have been built in 932 A.D. This is the local gathering-spot for drinks and light snacks. Marinka knows everybody in the three villages and was a terrific tour guide. She dropped us off in Ribcev Laz, the hub (hotels, restaurants, shopping, bus stop, etc.) at the southeastern tip of the lake - and we agreed upon the time and place where she'd be back to pick us up on her way back to work. We had been hoping to catch a bus to the famous Savica Waterfalls but were disappointed to find that since high season was over, the buses were no longer running. We took a lovely walk along a portion of the lake and through the woods enjoying the delicious and invigorating mountain air.
When Marinka picked us up, she insisted on taking us to meet her parents. They were delightful - welcomed us with open arms. As is true with most we met of their generation, they did not speak English but Marinka bridged the gap. They served us slivovitz, the local home brew which her parents make with apples, pears and plums. Don't plan on driving after indulging!
Mrs. Hodnik offered lots to eat - we settled on some delicious cookies. It was a very memorable visit. On the way back to the hotel, Marinka explained that no houses can be built outside of the designated village boundaries - thereby ensuring the preservation of the open spaces. Thanks to the kindness and friendliness of a Slovenian national, Marinka, we were fortunate to have an experience we will always remember and which we look forward to repeating (and we hope to reciprocate) in the future.
That slivovitz and the walking sure gave us an appetite and off we went to another recommendation of Marinka's - Gostisce Mayer, Zaleska 7. This gostisce does have guest rooms. It's a cute Alpine-style building with nice landscaping. You enter a charming bar area and then into a country-comfortable dining room. There is a wood plank ceiling with beams which matches the wood paneled walls and furniture - and a tile floor. Had our waiter smiled just once, it would have been perfect.
We both started with the fresh mushroom soup (on every menu) which was just fair. The one we had the first night was a hard act to follow. Again, an excellent selection of breads. Linda had a superb vegetable plate. Along with the usual vegetables, there was a delicious potato croquette and a noodle roulade with cottage cheese filling. I ordered trout again - done just right - garlic sauce was served on the side as were nice boiled potatoes, fresh cooked carrot slices and peas. I finished with palachinka, blini stuffed with fruit preserves with a dollop of fresh whipped cream on the side.


On the way to Bled from Ljubljana we had passed through the town of Radovljica - so in the morning we decided to zip over and check it out. We caught the 10:20 bus and arrived there 10 minutes later (80 SIT). We stopped at the tourist office next to the bus station and obtained a map of the city. We walked through a lovely park to Linhartov Trg., where historic buildings and painted houses, sixteenth century, line the street. The frescoes and colors are beautiful and provided a superb photo op for Linda, our official photographer. The Bee Museum is a major attraction and this day it was filled with school children.
The Gostilna Lectar in the center of the square is a well-known eating establishment; built in 1822, the restaurant offers a homey, cosy ambiance. We were sorry we had eaten such a huge breakfast and really had no appetite for a big lunch - the menu and the place were extremely inviting - so we plan to dine there on our next visit. We wandered through the well-kept side streets and found ourselves back at the bus station just past noon.
It was a gorgeous day and back at Lake Bled the sun was glistening on the water. We decided to walk up to Bled Castle, 100 metres above the lake. Of course, for a trek like this, one does require some fuel. Slasciclana Smon on Grajska Cesta 3, on the way to the castle, has a wonderful selection of pastries, ice cream and coffee to provide the energy required. We shared a kind of noodle pudding and a cream slice (can't get enough of this wonderful stuff) with delicious cappuccino. We chose to sit outdoors on the patio to enjoy the perfect weather. The price was 700 SIT - unbelievable!
Not a bad walk up - nicely graded - it takes 15-20 minutes from the bus station, near the pastry place. Adult admission is 300 SIT - admission for children is 200 SIT. The view is spectacular - with the lake, island, town and countryside dressed in newly-acquired fall colors. The castle, complete with ramparts, towers and moat, has a beautiful terrace with a restaurant. You can visit the interior, furnished as it might have been in the middle ages. The main attraction is a large display of armor and weapons. But best is that view!
Returning to our room and balcony for the late afternoon sunset we watched the ducks fluttering, swans gliding and enjoyed the peace and quiet and the fresh, clean smell. That's the Bled experience.
For dinner the last night, we returned to Gostilna Pri Planincu, where we had dinner our first night in Bled. We were greeted by the same waitress who remembered us from the first time. We threw her portion-size caution to the wind, and went nuts. We started with goulash soup - huge portions of hearty, beautifully seasoned traditional Hungarian goulash, with nice pieces of meat, carrots and small, fluffy dumplings. All with just the right touch of hot paprika seasoning. Linda had the grilled chicken, a carbon copy of last time served with delicious roasted potatoes. For the third night running, I had trout Trieste - this was the best of the three - served with luscious boiled, herbed potatoes. We did do some sharing - a mixed salad comprised of assorted leaf lettuces, real tomatoes, cucumbers, carrots, cole slaw and beans. The dense, beautifully crusted white bread was a bread-lover's joy. The waitress just may remember us when we return - and we will return.


to Ljubljana


Search TheTravelzine | TheTravelzine Group | Don's Gallery
Packing Hints | Planning Tips | Cities Links

---
All pages on TheTravelzine.comęCopyright 1996-2020 Don & Linda Freedman