PORTUGAL Spring 1997 (1)
Linda and I had Portugal on the back burner for many years. A mistake! Had we not procrastinated, this would have been a return trip.
Portugal is booming. With a strong economy and funds from the EU, the transportation and telecommunications infrastructure is being upgraded at a record rate. Restoration of old and historic buildings and homes as well as new construction can be seen everywhere.
Portugal is a country on the move while at the same time preserving its old-world culture, traditions and lifestyle - its heritage.
Language is not a barrier. In addition to Portuguese, the younger generations speak English and at least one other language. There is always someone nearby who is more than willing to help you if you are having trouble communicating.
Accommodation, food and drink are excellent value at all levels. A word of caution about restaurant cover charges. These vary from one place to the next. Sometimes they are indicated on the menu, and sometimes they are not. Restaurants with tablecloths and cloth napkins have higher cover charges than those with paper table coverings and napkins.
Once you are seated, the offerings begin to arrive. Bread, butter and pates are followed by a selection of other offerings which might include cheese, smoked ham, olives, shellfish, beans with tuna salad, etc. You will pay for what you accept - there are no free offerings. You can say no to what you don't want and you won't be charged but if you do want to consume any of them and you're watching your budget, don't be shy about asking the prices. It's your money.
Food portions are large and while many restaurants routinely offer half portions all are more than happy to have you share. Thus, it's easy to keep the cost down while still allowing you to sample the wonderful variety of available offerings.
The tourist information system is superb. From the Portuguese Trade and Tourism Commission (ICEP) in Toronto to the national (ICEP), regional and local offices, we were warmly welcomed and helped with the answers to any questions we had. The dedicated personnel knew their areas and represented their country, region or localities admirably and with warmth and a genuine desire to have us like their land. They will make you feel welcome, as will the wonderful people throughout Portugal.
As is our custom, we set out to visit as many of the major cities and towns as was comfortably possible traveling by our preferred means of transportation, public buses and trains. Contrary to popular belief, the public transportation system is efficient, clean, safe, reliable and extremely reasonably priced. With just three weeks, we knew we wouldn't be able to cover all of Portugal so we eliminated the heavily touristed Algarve and the Mountain region from the start.
The Adventure Begins
We booked and paid for a TAP charter flight from Toronto to Lisboa last December in order to get the lowest possible fare and a connecting TAP flight to Porto on the Costa Verde. We would work our way back to Lisboa.
With a nice tail wind from Toronto, our flight arrived in Lisboa just six hours after departure. Since Portugal is the most western point in Europe, just five hours ahead of the eastern time zone, our jet lag was minimal. We arrived in Porto at 8:20 with a full day ahead of us.
The Costa Verde is in the northwestern corner of Portugal. It is known as the cradle of the Portuguese nation. Along its western coast lies the Atlantic ocean, rivers run through it, pine forests abound. It is famous for its Port Wine and Vinho Verde and its spectacular wine country in the valley of the Douro River. If you like Baroque architecture, bring plenty of film.
Porto is the second largest city in Portugal. The bus from the airport dropped us off several blocks from our hotel. We hadn't walked 50 meters when Linda stopped dead in her tracks and pressed her nose against the window of Padaria Solar, a typical food shop, and announced that she would be having one of those bolinhos de bacalhau (codfish cakes). The aroma was wonderful and it didn't take long before we each had two. They were fresh, lightly fried and wonderfully seasoned and at just 75$00 escudos each, we enjoyed a magnificent fast food delight, available everywhere.
On to Praca D. Filipa De Lencastre, in the heart of the historical city, and the 5 star Hotel Infante De Sagres which is sheer majesty from the moment you enter. Built in 1951 and recently renovated, the reception area has high, wood-carved ceilings, arches and pillars leading to the marble steps to the main lobby with an 18th century Italian table inlaid with marble and mother-of-pearl which sits on a gorgeous Tabriz rug. Immediately to the rear is a striking carved fireplace. The floors are tiled and ceiling is beamed. Detailed wrought iron trims the doorways to a classic British style dining room and a lovely courtyard. A large, luxurious lounge, bar, game room and salon complete the public areas. A circular marble staircase with wrought iron railings and stained glass windows leads to the first floor.


We were greeted warmly at the reception and housekeeping was called to immediately prepare our room to accommodate our early arrival. Our large, beautifully furnished room looked out on the courtyard. With high ceilings, a king-size bed and cable T.V., plus a generous size bathroom with all the amenities, we were ready to spend a comfortable four nights. Headquartering in Porto, we took daily trips and visited Braga, Guimaraes, Barcelos and Viana do Castelo.
Since it was just 13:00, we decided to hop a bus to Braga in order to save the following day for an in-depth look at Porto. Luckily the bus stop for Braga was directly across the street from the hotel. The bus was clean and up-to-date. The passengers, typical of what we found throughout our trip, were people of all ages with a ready smile and a friendly "bom dia" (good day). They knew we were tourists and were always quick to help whenever we had a question or appeared to be uncertain.
A sweet lady directed us toward the old city from the bus station. Braga is considered to be the largest center of religious study in Portugal. There is a profusion of Baroque churches throughout the city.
Here we had our first experience viewing the traditional art of Portugal:
Baroque, decorated with gold and framed with tiles and marble
Manueline, related to the sea mixing elements of shells, ropes - aquatic shapes, crowned with heraldic or religious symbology
Azulejos, painted tiles.
As we traveled throughout the country, our appreciation of these styles grew significantly.
Unfortunately the magnificent cathedral, Se' of Braga, was closed for repairs. It is stunning from the outside. The town hall, with its 18th c. Baroque facade is quite attractive. There are nice pedestrian streets lined with shops and cafes/pastelaria. We have never seen so many places for coffee and pastries as in Portugal. They are literally side-by-side and across the way. The coffee is to love - strong, smooth and full of flavor. Served any way you please, straight short (bica) or long (carioca) or a in variety of ways with milk in cups or glasses.
The Portuguese love their sweets. There are just too many to describe, but our favorite, after a great deal of research (!) was pasteis de nata, a filo-like pastry cup filled with a creamy custard, which originated in Belem.
We had our first coffee and pastry break here in Braga. We shared a large slice of a delightful chocolate creation - and we were hooked! Restaurants abound and we wasted no time reading menus and becoming familiar with the basic and daily offerings and the pricing. The local handicrafts of wicker and straw, woven quilts, bedspreads, rag floormats, woodwork and pottery are quite attractive and the impulse to buy began. This city of 160,000 was an ideal way of getting a first taste of the country. The easy walking gave us ample opportunity to view the people, the architecture, the leisurely pace of life and to smell the goodies.
We had intended to go a bit east of the city to visit the religious sanctuary, Bom Jesus do Monte, which sits 400 meters above sea level with a spectacular Baroque stairway leading to it (funicular available). The grounds with hotels, restaurants, a lake and a panoramic view are said to be splendid, but it began to rain in torrents so we decided to skip it.
On the way back to Porto, we decided to go to Matosinhos (5 km. north of Porto), a former fishing village, to a restaurant a friend had recommended. A lady on the bus overheard us discussing the possibility and hustled us off the bus at the next stop and told us which bus we should wait for. In fact, she put another lady who was headed that way in charge of making sure that we got on and off the next bus at the right spots. By the time we got to the stop where we had to make the next transfer, the driver was fully aware and pointed us in the right direction.
We were standing in an open area with absolutely no shelter when we were struck by a freak weather event. Down came as heavy a rain as we've ever encountered, driven by very powerful winds. Our umbrellas were quickly rendered useless and we were getting drenched to the skin. A bus appeared, which was not the right one, and the driver urged us aboard. We told him where we were headed and he confirmed the number bus we needed. He then proceeded to wait for our bus to arrive while his passengers scrutinized the two water-logged creatures before them.
The show continued, at our expense, when the right bus arrived and we squished aboard. The passengers on board laughed and applauded! It seems a once in a lifetime tornado had hit not far away and we caught the fringe of it. The bus driver took pity on us and detoured to get us as close to the restaurant as possible. The street was completely dug up for major work, so it meant sloshing though muck and mire to arrive at Mar Na Brasa, Avenida Serpa Pinto, 464, Matosinhos with our dripping clothing, wet bodies and muddy shoes.
Nevertheless, we were warmly greeted by the owners, Lurdes and Albino, and made to feel that this was a perfectly normal way to arrive for dinner. The dining room was a charming and comfortable place - bistro ambiance - with light wood cabinets, tile floor, wood ceiling, bright yellow tablecloths under red and white checked ones. It is really surprising how wet and chilled bodies can become quite bearable when wonderful food and wine arrive at the table. This was to be our first meal in Portugal and if this was typical, we were in for a delightful 22 days!


With olive trees and grapevines everywhere, a history of having introduced herbs and exotic spices to Europe, fish and crustaceans up and down the coast, plentiful beef, pork, lamb, game, fowl, produce and a reverence for quality ingredients and careful preparation, it is no wonder that the food and wine in and of themselves are a compelling reason to visit Portugal.
Back to our table. We started with presunto (ham) and delicate codfish cakes. Next a hearty fish soup with a rich fish stock, shrimps, pieces of fish and croutons. Now a bottle of tinto (red) wine from the Alentejo region, Monte Velho, medium-dry, fruity - quite good. We shared sweet and tender lulas (calamari) sauteed with small potatoes and cabrito (kid) roasted with herbs and garlic and served with French fries, spinach and rice. After two and a half hours of eating and drinking, we were 75% dry and feeling 100% better.
We slept well and, true to form, had no problem enjoying the superb buffet breakfast in the hotel's Dona Filipa restaurant. The abundant selection of offerings and the regal dining room combined to provide an energetic start to the day. Linda still savours the memory of the luscious baked apples she enjoyed every morning of our stay there.
Porto is a big city, but a small city; it is a new city, yet an old city; it's a place of hustle and bustle and a place of leisure and tranquillity. It sits on a river and on an ocean. It is proud to be known as the city of hard work. And of course, it is famous for Port Wine. All this became quite clear as we walked the streets, alleys, squares, stairs, lanes and gardens. Porto's sidewalks, streets and pracas (squares) are paved with white tiles with black tiles forming symbolic designs and patterns adding something special to the environment.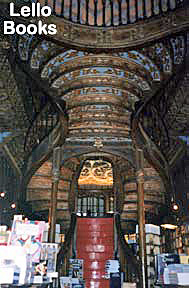 The areas around our hotel had many cafes and book stores, the king of which is Lello. You are first taken by the neo-gothic facade and from the moment you enter you are thunderstruck. A grand carved wooden staircase turns and twists its way upward with magnificent railings and decorated steps. Words cannot do it justice, you must be sure to see this for yourself! Book shelves go continuously from the main floor to high above the balcony. The ceiling is stained glass and there is a bar and tables as part of the balcony. The place invites you to linger, relax, have a drink, read a few chapters and possibly even buy.
The two-level Bolhao Market was full of morning shoppers. There's nothing like the smell and excitement of a busy market! Throughout Portugal, we noticed that in the markets women seemed to operate all the stands with the exception of the fresh meat sellers, which were men. This is a country of hard working women in every segment of the working world.
The Avenida Dos Aliados is a wide, beautiful avenue in the center of the city with the Town Hall at the north end and the Praca Liberdade, the largest square in the city, to the south. Rua de Santa Caterina is the main shopping street with beautiful, well-kept buildings with typical balconies and tile facades. There is a terrific assortment of shops, the highlight of which is the Majestic Cafe. You can't miss the impact of the marble pillars and the wood-framed glass doors which lead into a place where you simply want to stay. It is THE gathering spot for intellectuals and artists. There is a gallery and piano room downstairs for exhibitions. It just oozes charm and comfort.
The cathedral's exterior looks like a fortress. Inside, it is breathtaking. Leaving the cathedral, we walked down narrow granite stairs and streets with bright-coloured walls through the town's oldest quarters, Ribeira and Barredo, which cling to the steep riverside. This is the most colourful part of town, where life is little-changed from years gone by. We enjoyed the aroma of good home cooking and saw numerous small restaurants.
Crossing the Eiffel-inspired Ponte D. Luis I you arrive on the southern bank of the Douro River in Vila Nova De Gaia, home of the Port Wine lodges, for which it is justly famous. No trip to Porto is complete without visiting one of these lodges. We chose to visit the Sandeman lodge with its Port Wine museum.
We must admit, that prior to our visit, Port was completely foreign to us. At Sandeman, tours are normally conducted by a charming guide in a black cape and sombrero (just like the Sandeman Don, the corporate symbol). It was an off hour and as they did not want to disappoint us Ligia Marques, the public relations manager, took us on the tour.
We went through the museum and learned the history of Port and Sandeman. When Ligia speaks, you listen, because her enthusiasm for her product is very real and quite contagious! The Sandeman history can be followed via its advertising/marketing campaigns. As an ex-advertising professional, I was blown away by campaigns dating back to 1927 and the ingenuity and vigor of all their marketing.
As we went through the lodge viewing the casks and vats, Ligia explained the various styles of Port: Ruby, Tawny, White, Founder's Reserve, Late Bottled Vintage, Vintage and Single Quinta Vintage. The tour finished with a brief, slick audio/visual and display presentation. Not quite finished, fortunately, because the best was yet to come! We sampled a chilled White and a Ruby Port which sealed our commitment. You might say we have become Port devotees. I can attest to the fact that travelogues are easier to write with a glass of Port just to the right of my notebook. Thank you, Ligia. Thank you, Sandeman. And readers, the tour and the tasting are free of charge. Cheers!


The Douro River runs into the Atlantic; along the beaches in the lovely residential area of Foz do Douro (mouth of the Douro) are terraces which house restaurants and beach clubs. We had lunch at Praia da Luz, located right on the beach with the gorgeous blue ocean and huge white-capped waves rushing at us. Lin enjoyed a grilled steak with small roasted potatoes and a green vegetable and I was pleased with my grilled codfish accompanied by boiled potatoes and onions. We lingered over hot fudge sundaes and bica and hated to leave.
Nearby is the Serralves Foundation whose purpose is to stimulate interest in contemporary art and environmental issues. It's housed in a 1930's mansion and is surrounded by gardens, woods and farmland.
Back to the city proper and the S. Francisco Church which is justifiably renowned for its Baroque gilt carvings. You will find this art throughout the country but this is really spectacular.
The Stock Exchange Palace is a national monument. It is currently the head office of the Porto Commercial Association. The exquisite architecture and interior design have been lovingly maintained and many of the old boardrooms, trading rooms and offices can be rented for special meetings or events. The elaborately ornate Arab room is frequently the venue of choice for weddings.
Even the S. Bento railway station is an event. The main hall is covered with 20,000 tiles illustrating historical events. While we were there, a school class on a field trip arrived to view the azulejos on the station walls.
We had dinner with new internet friends Branca and Manuel who suggested a small place in the Ribeira area, Restaurante Farol da Boa Nova, at Muro dos Bacalhoeiros 115. The house specialty is the acorda de bacalhau com ovo. This is a very common preparation throughout Portugal, although acorda was originally a regional dish from Alentejo. This preparation made with dried codfish, and another version with assorted shellfish, is made with bread, egg and wonderful coriander and parsley seasonings. The texture would best be described as similar to porridge. Lin and I had actually enjoyed acorda at a Portuguese restaurant in Toronto before our trip to Portugal. We were delighted to find that the one we had at home was quite a respectable recipe. The Murca Adega white wine Manuel selected was a perfect match. It is impossible to say no to homemade desserts and the bolo de bolacha, a layer cake alternating cream and nuts with a rich, dark chocolate frosting, did not disappoint. The lovely evening was a perfect finish to a busy day.
A nice treat at breakfast today was meeting Franklyn and Sandra from California. We chatted a while, sharing travel stories, and agreed to have dinner together in the evening.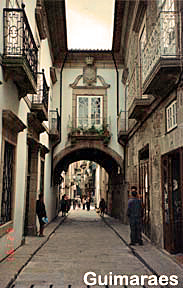 The 10:30 bus from Porto arrived promptly at 11:30 in the Guimaraes terminal under a modern shopping mall within easy walking distance of the historical center. On our way to the old town, we passed a public clothes washing facility and the ladies stopped scrubbing long enough to smile for Linda's ever-ready camera.
Lying in a tree-studded valley surrounded by mountains, this beautiful medieval town was the birthplace and first capital of Portugal. Due to its historical and cultural significance, it has received funding from the EU to restore the public buildings, homes and streets to their original state. Much has been finished but the work goes on.
Portions of the old walls surrounding the city have been preserved as much as possible - some parts of which can be seen in existing buildings. The only problem with the restoration so far is that there is only one man who is capable of crafting the replacement wrought iron railings for the balconies which so dominate the architecture.
As we wandered through the narrow flagstone streets and admired the distinctive buildings, charming balconies, verandas of chestnut wood topped with spheres, sculpted grotesque figures, jutting granite cornices, carved corbels and gargoyles we knew we were in a unique place.
Each square within the historical center has an individual style and each in its own way invites you to linger and observe its unique character. The rehabilitation program includes a design to link the squares through a medieval framework of narrow streets and alleyways. It's really neat - you stroll the streets and always find your way back to an oasis of activity and relaxation.
At the highest point in the town, The Holy Mount, you find the Ducal palace, the home of the President of Portugal when he is in the north, and the castle. It is one of the most visited palaces in the country. The castle is a majestic medieval fortress with walkways all around the top of the ancient walls offering vistas of the city and the surrounding countryside.


As no research would be complete without an investigation of the local cuisine, we followed our noses through the long, narrow, contemporary entranceway of the Restaurante Val de Donas, Rua Val de Donas 4, past a large, sparkling kitchen into the simple, refined and inviting dining room.
The appetizers of pataniscas (cod fish pancakes) and croquetes (fried meat balls) were marvelous. We shared a thick and tender veal steak, imbedded with garlic and grilled to a perfect medium rare, which was served with caramelized potatoes and steamed rice and the daily special of tender, lightly breaded and fried slices of veal served with rice and peapods. The meals were accompanied by a perfect mixed salad and typically delicious Portuguese bread all served by an attentive and friendly waiter.
We departed this city of rich history and beauty appreciating the fine job being done to preserve the heritage of the city while at the same time developing a prosperous, modern economy.
Back in Porto, we had a delightful dinner with Franklyn and Sandra at Restaurante Taverna do Bebobos, Cais de Ribeira. It's a small two-story seafood oriented establishment down by the riverside which is home to many similar eating places. We started with small tuna salad sandwiches on delicious corn bread and grilled sardines with chickpeas and capers. We ordered a white Vinho Verde, a perfect accompaniment to the seafood meal.
Vinho verde, both red and white, has a low alcohol content and is slightly sparkling. It is drunk young (green) within two years of bottling and is crisp and tart.
Our main course selections were fritada mista peixe con arroz tomate, assorted fried fish with rice and tomato, and caldeirada de peixe, fish stew with calamari, peppers and potatoes served in a large ceramic pot. We all shared everything, including our favorite travel tales. Franklyn and Sandra were great company - good talkers and like us, good walkers. We returned to our hotel as we had gone - on foot with our new friends.
We left S. Bento station at 10:21 and arrived in Barcelos at 11:30. The conductor on the well-maintained train spoke English and was friendly and polite. Barcelos is famous for its Thursday morning market - and it is a large, sprawling outdoor event under canopies and umbrellas. There is a huge variety of the local, colorful handicrafts for which they are famous dominated by the rooster, the legend of which is too long to include here. Apparel, produce and baked goods round off the the major offerings.
Onward to Viana do Castelo, we caught the 12:59 train which deposited us at Viana 45 minutes later. The old town is sensational! Centered around the main square, Praca da Republica, the town is large, friendly, full of life with busy shops, cafes and decorated buildings. Again a city of lively, warm streets filled with people and the ever-present laundry flapping in the breeze. Viana is the capital of Portuguese folklore, it is well-known for its colourful costumes, embroidery, filigree jewellery and ceramics all of which are on display in shops with appealing windows. This is a city of serenity and comfort, like a favorite old shoe, it fits just perfectly.
The 15:45 train had us back to Porto at 18:15 (half an hour late). The countryside along the way was predominently farmland and vineyards. We were in the mood for grilled chicken and found Churrasqueira Moura at Rua do Almada 219-23, a small street running north from our hotel. The frango no churrasco and the French fries were the best we've ever had! A mixed salad with excellent olive oil and vinegar and ice cold beer made it all just perfect.
We were back to our hotel by 19:30 to get organized for our trip to Coimbra. We regret that we didn't get to see more of Costa Verde - especially the Douro Valley - next time!




Jump to:
Porto | Matosinhos | Port Wine | Coimbra | Nazare | Lisboa1
Sintra | Belem | Evora | Setubal | Lisboa2 | Cascais

Search TheTravelzine | TheTravelzine Group | Don's Gallery
Packing Hints | Planning Tips | Cities Links

---
All pages on TheTravelzine.com©Copyright 1996-2020 Don & Linda Freedman