ITALY
WINTER 2007

BELLA ITALIA!
Winter 2007 started so mildly, we wondered if our plan to escape Toronto's cold months in southern Europe was necessary. But we were committed so on January 23, we were on our way to Rome. On arrival, our daughter wrote in an email, "You escaped just in time - it's freezing cold with no relief in sight". We replied, "It's all in the planning"!
We breezed through immigration and customs and we were on our way to the train station at the airport to catch the Leonardo Express to Roma Termini. We just missed a train so we had enough time to recharge our Vodafone SIM card and get our Rail Europe passes validated.
It's a pleasure dealing with Rail Europe. They offer excellent service and advice. We love the ease, comfort and flexibility the train passes offer – a single validation and you're good-to-go.
The minute the train departed Giorgio, the owner of the Hotel Delle Muse in Roma, phoned to check on our safe arrival in Italy and he invited us for lunch. "Thanks Giorgio, we'll take a rain check. See you in three weeks!" Is it any wonder Hotel Delle Muse is our home away from home in Roma?
The train from the airport now arrives in the main terminal instead of in the rear on track 28, as it did last year, so we assumed it would be more convenient for our tight connection to Castagneto Carducci-Donaratico. But sometimes "you can't win for losing" – our connection was leaving from track 28! Thank goodness we had our wheeled carry-ons to make the mad dash easier.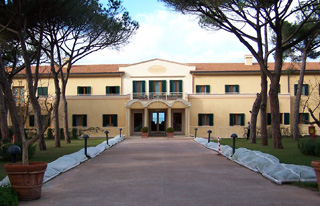 Our destination for jet lag recovery was the Tombolo Talasso Resort at Marina di Castagneto Carducci. Located on the Etruscan coast south of Livorno, it's a perfect spot for visiting the nearby island of Elba or even Corsica by ferry, or the pretty coastal towns, the "Strada del Vino" home of award winning wine estates of "Super Tuscan Wines", picturesque hilltop villages like Bolgheri and Castagneto Carducci or for deep sea fishing and surfing.
The property, surrounded by lush vegetation, is directly across the way from their private beach. The history of the building is quite fascinating. Originally built in the '30s by Mussolini as a children's camp, it was later sold to various private companies and used as a retreat for children of their employees. Restructuring as a hotel took place in the late 1990s.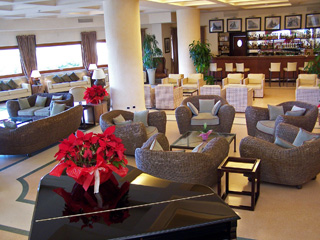 [Back to Top]
The open-concept, contemporary reception, bar and lounge is furnished with comfy sofas and chairs in yellow and soft cream. Sip a glass of wine, relax and enjoy the sea view or an even more spectacular vista from the indoor-outdoor terrace upstairs.
Our generous king bedroom had all the comforts including a sofa, table and chairs, a desk and chair, walk-in closet with a safe, a small refrigerator with complimentary beverages and a flat screen television. The marble bathroom with large stall shower and bidet was loaded with all sizes of thick terry towels and grooming products as well as quality robes and slippers for spa visits. Best of all, the lighting was excellent in all areas. Our balcony overlooked the gardens, pool and we could see the sea.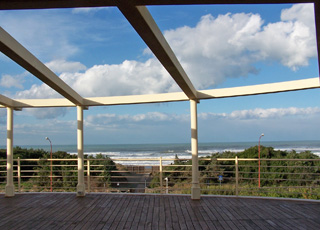 By the time we settled in it was time for dinner. Since we didn't have a car, we opted to stay at half-board. The dining room was undergoing renovation tonight so dinner was served in the cozy main floor bar. We sipped a medium dry cherry-flavored red from Morellino di Scansano il Grillesino, 2005 while awaiting our primi. Linda had fish soup loaded with mussels, clams, lobster, octopus and shrimp in spicy tomato broth and I, spaghetti and exquisite "Venus" clams. Our secondi were equally wonderful. Grilled fish filets and lobster for me and herb crusted lamb loin for Linda, both served with spinach, fries and pumpkin mousse. We could not resist dessert of assorted pastries and gelato.
The staff throughout the hotel was welcoming and friendly, even at breakfast, which is a treat. There's a nice assortment of quality meats, cheese, fruits, breads, rolls, pastries and our eggs arrived piping hot and exactly as ordered.
Wireless Internet is available with the purchase of a 3-hour network card for 12€. We were told that the card could be used throughout Italy but our laptop didn't find that particular network elsewhere in either Tuscany or Umbria.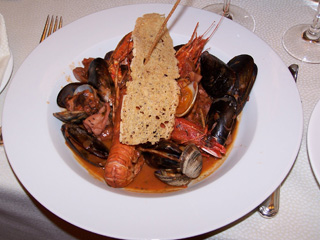 Located next to the sea, Tombolo is positioned to exploit its health benefits. Thalassotherapy, known for centuries to be an effective method of relaxation, utilizes the combined elements of the marine environment. The seawater has revitalizing, cleansing and antibacterial qualities; the marine climate has positive effects on metabolism and respiration; the seaweed moisturizes the skin and is helpful against cellulite; the mud is good for joints and muscles. A wide assortment of treatments is offered including hydro-massages with salt or seaweed.
[Back to Top]
We opted for the Talasso in Grotto circuit. There are five pools containing seawater, taken 900 meters off the coast and heated to enhance its properties, in the enchanting atmosphere of a grotto. We followed a specific itinerary that was designed for the maximum beneficial results.
The main pool is for relaxation and light exercise. The hydro-massage and waterfall pool is good for the vascular system. The Kneipp pool is a hydro-vascular circuit alternating through hot and cold waters. The cross-current pool exercises stomach and buttocks and the emotional pool guarantees total relaxation.
There are many types of massages and beauty treatments offered. I opted for a body massage and Linda had a facial. Linda was happy with the results and I was in heaven. The woman who worked on me found every sore muscle in my body and gently kneaded them all into compliance. You may wish to extend your wellness routine to include the gym, saunas, Roman or Turkish baths, the relaxation room, etc.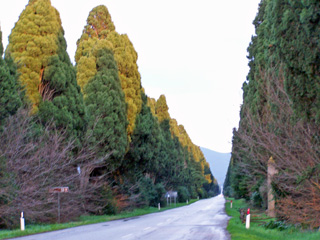 The hotel arranged for a driver to take us on a guided tour of the Bolgheri DOC wine route. This route along with two others, Montescudaio and Val di Cornia, make up the "Etruscan Coast Wine Routes". The Bolgheri route begins from the chapel on the via Aurelia dedicated to San Guido della Gherardesca and leads east to Bolgheri itself along a road lined with cypress trees, a stunning canopy of green, and then south to Castagneto-Carducci and on to Sassetta. The route winds through vineyards, olive trees, oak, pine and Mediterranean vegetation with occasional glimpses of the sea.
[Back to Top]
We passed the Super Tuscan Wine Estates of Ornellaia, Sassicaia and Antinori's Guada al Tasso, where reservations have to be made well in advance but our driver took us to a smaller farm that produces excellent wines and olive oil: Villa Caprareccia, Via Bolgherese, 4, Bibbona. Emilio and Maria Galli settled here in 1933 and started with a few thousand plants. Today it has grown to 15 hectares of old and new varieties such as Sangiovese, Cannaiolo, Trebbiano, Colorino, Giacomino and Malvasia (red and white) and the newer Cabernet-Frank, Merlot, Syrah, Petit Verdot and Vermentino.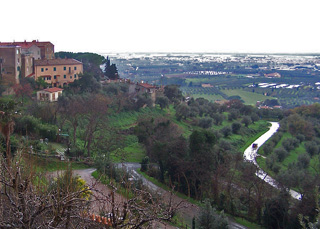 In 1992 the family became interested in the agriturismo concept and Villa Caprareccia was born. It has become a sought-after haven for visitors from around the world. There are only 6 rooms so make your reservations early. The real story here is that the children and grandchildren of the founders all live and work together in harmony.
Both Bolgheri and Castagneto-Carducci are charming Tuscan hilltop villages with spectacular views of the patchwork landscape of vineyards and olive groves with the blue sea in the distance.
Always on the hunt for the perfect gelato, we found a pretty darn great one at Gelateria Casalini, Via Vittorio Emanuelle II, 48, in Castagneto-Carducci.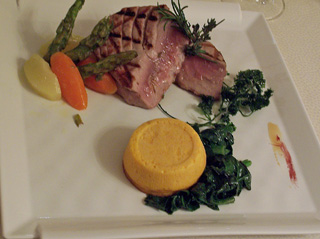 Tuscany produces the wine, olives and fresh, homegrown ingredients of the legendary traditional recipes. Here at Tombolo, we started our culinary adventure with favorites like stewed wild boar with polenta, ravioli filled with ricotta cheese in butter and sage sauce, ribollita (vegetable and bread soup), tender beef filet, and fresh caught tuna steak, everything always accompanied by fresh, seasonal vegetables.
We left Tombolo Talasso Resort refreshed, relaxed and invigorated and headed north to Pisa.
[Back to Top]

MARINA DI CASTAGNETO CARDUCCI | PISA | FIRENZE | AREZZO

CORTONA | PERUGIA | FOLIGNO | TERNI

ORVIETO | ROMA
Search TheTravelzine | TheTravelzine Group | Don's Gallery
Packing Hints | Planning Tips | Cities Links

---
All pages on TheTravelzine.comęCopyright 1996-2020 Don & Linda Freedman