Forty Days Celebrating Forty Years!
Fall 2002
On September 8, 2002, we would be married for forty years. What better way to celebrate than with a forty-day trip, which immediately begged the question, where to go?
Berlin was high on our list of new destinations. Our old friend Pierrette was living and working in Dresden, another hot spot on our radar, and it would be an opportunity to meet Johannes, our volunteer Zine webmaster, with whom we had built a warm email friendship. We would start our voyage in Germany.
Marseille was right up there with Berlin, along with Avignon and Aix-en-Provence for first visits. An old favorite that we had not visited for many years was Strasbourg - yes, France made the list.
To bridge the two countries a stop in Zurich to celebrate our birthdays (September is our month!) with good friends Cornelia and Fabio was perfect. The itinerary was done; we'd fly into Frankfurt and return to Toronto from Paris.
To be sure we would make it to forty-one years, we would travel entirely by rail. Seriously, we really enjoy train travel! Our packing habit of a single wheeled carry-on for each of us makes traveling by rail very easy. After considerable calculation of fare options, our decision was to get first class Eurail flexi passes good for fifteen days of travel within two months. As always, Rail Europe was particularly helpful. The only extra charge was for mandatory reservations on the high speed TGV service in France, 2.60 EUR per person, which we purchased at our leisure in Germany. We have commented previously about the advantages of a Eurail first class pass - no anxious waiting in line to buy tickets, no language stress, large seats, comfortable environment and some of the newer trains are quite luxurious. Most travel days we would pick up goodies after breakfast and enjoy an on board picnic, captivated by the ever-changing scenery.
Fortunately we had sufficient points with Air Canada for two economy seats. We do love Air Canada; when we told them we were celebrating forty years of marriage, they generously upgraded us to business class. An added bonus was an excellent in-flight meal and good-natured, professional service.
[Back to Top]
Frankfurt, Haltern and Muenster
The beginning of our trip was so perfectly described in a message Johannes sent to TheTravelzine moderators, that we asked and were given his permission to reprint his comments here:
"Linda and Don arrived by plane in Frankfurt/Main on Thursday morning at 7 AM and I picked them up by car at 7:45. Markus, our 15 year old son, accompanied me to Frankfurt. It was the first time he met native English speakers and so he could test his five years of school training of English language; Linda and Don were amazed by his language skills, until he fell asleep: we got up very early in the morning and Markus had an overnight computer game network session the night before.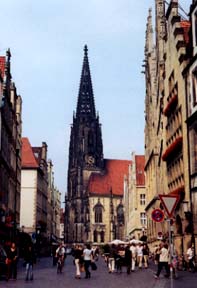 "Weather was foggy but became better when we arrived three hours later at our home in Haltern. We had lunch together and there was a lot to talk about the group, travel and politics. This was Sonja's and my second get-together, after the amazing get-together with Marco De Angeli in Varenna/Lago di Como, and it was fun again to meet two wonderful persons. It is really amazing to meet people you know from the Internet only; the written mail communication tells you a lot about the personality of the writer and our get-together felt as if we knew each other for quite some time!
"In the early afternoon we went to Muenster where Don and Linda could get their train to Bremen. Before they left we had a little walk through the sunny, historic center of Muenster with Prinzipalmarkt, Rathaus (where the Westfalian peace was negotiated in 1648), Lambertikirche and Dome (with astronomical clock). It was amazing to watch Linda's and Don's intensity of absorbing the maximum from the place they visited in that short time with Don taking written notes and Linda taking pictures. We ended at the ice cafe Firenze in Koenigsstrasse. And the ice cream turned out to be very good.
"The train which Don and Linda took to Bremen was 5 minutes late, everything else was perfect. Now Sonja and I are looking forward to next week-end when we are going to Dresden, where we will get-together with Linda and Don again."
[Back to Top]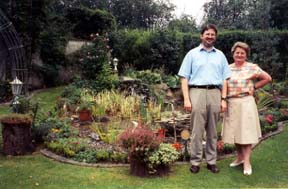 Just to add my own thoughts to the above: The wonderful lunch we thoroughly enjoyed, homemade by Sonja, included delicious regional fish soup, assorted salads, roasted chicken and blueberry cake. During our tour of Muenster, we were not at all surprised at the depth of Johannes' knowledge, as we had already become familiar with his uncommon intellect during our email conversations. We felt extremely lucky to have met Sonja and Johannes and looked forward to being together again in Dresden.
In Muenster, we got our first taste of the popularity of bicycling, which we'd encounter throughout northern and eastern Germany.
Bremen
We got the 16:55 train from Muenster, arriving in Bremen at 18:12. It was a ten minute walk to the Hotel Lichtsinn on Rembertistrasse, a nice, residential street within easy walking distance of all the main attractions. The owner, Ralf Lichtsinn, greeted us with happy enthusiasm, which brought a bit of life to our weary bones.
We were immediately impressed by the cleanliness and tasteful design and decoration of the reception/bar, sitting room and breakfast room. The shiny wooden floors with area rugs throughout the stairways and corridors reinforced that impression. We had ascended to the third floor via a gleaming, glass elevator, which had cleverly been added to the front of the building. Ralf explained that the hotel had started in the basement and ground floor and over the years had grown up and out. Today's multi-level sprawling incarnation reflects the care and attention to detail of the founding family. Our large room was furnished with fine-quality hand-painted pieces, the highlight being a large canopy bed with incredibly cozy down pillows and comforter, which looked really good right now.
Buffet breakfasts in Germany are usually included in the price of the room and are exceptional in quality and variety. This was our first this trip and the standard was now set at a very high level. As a rule, you don't find white tablecloths and Villeroy and Boch dishes! The extremely fresh salads, fruits and vegetables, meats, scrambled eggs, breads, plus, plus, were all beautifully presented, the buffet neatly maintained and refreshed frequently. We were particularly thrilled with the delicious coffee and no wonder why! It was in Bremen that Germany's first coffee shop was opened in 1673 and it is Bremen's coffee roasters that process the beans for one in every two cups of coffee drunk each day in the whole of Germany.
[Back to Top]
In our one day visit, we were to learn that there's a lot more to Bremen than coffee. The Free Hanseatic City of Bremen and Bremerhaven, located in northeast Germany, comprise the smallest Federal state in Germany. It's the center and heart of the region where history and the modern world blend harmoniously together to create a uniquely exciting atmosphere but yet we found it to be totally relaxed and charming.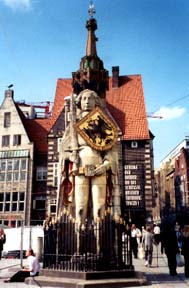 We crossed a small bridge at the south end of Rembertistrasse over the Wallanlagen, the greenbelt that runs along the north shore of the tributary bordering the old town. Bikes galore - more bikers than pedestrians! It was a bright, warm day and folks were strolling along the shore or sitting on benches and on the grass, relaxing and enjoying the water views.
We passed through a pedestrian underpass into the center of the old town, The Market Place, an impressive site bearing witness to Bremen's past. Unfortunately the magnificent Rathaus was covered with scaffolding and cloth undergoing reconstruction and offered only glimpses of its Renaissance facade. However, the Schutting, the majestic seat of Bremen's merchants for over four centuries, and the stunning St. Peter's cathedral, built with stones from the old city walls with ninety-eight meters high towers, gave us plenty of eye candy.
In the center, facing the cathedral, is the sandstone statue of Knight Roland, which has been a symbol of Bremen's civil rights and privileges since 1404, replacing an earlier wooden one, burned down by the archbishop's troops in a fight for Bremen's emerging independence in 1366.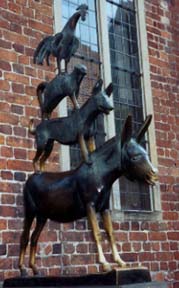 At the west end of the town hall, immortalized in bronze, is the sculpture of the Bremen Town Musicians. Legend has it that those four farm animals were ready for slaughter by the their masters but escaped to go to Bremen to become the town musicians.
A walk down the long, steep steps of the Ratskeller, brought us to the famous vaults under the town hall, where over six hundred different wines from all parts of Germany are stored in an area equal to two kilometers. Locals come at all times of the day and evening to meet and enjoy their choices from the huge selection.
Around the corner of Market Square's western end, the Stadtwaage, the former weighing house with its ornate Renaissance facade, is an imposing sight.
Bottcherstrasse is a one hundred ten meter pedestrian walkway that stretches between Market Square and the River Weser, which runs along the south border of the old town. The gilded relief over the entranceway caught our attention, just as intended. The mixture of traditional red brick architecture and modern design offer an exciting and interest contrast. This alleyway was home to the town's coopers and barrel makers.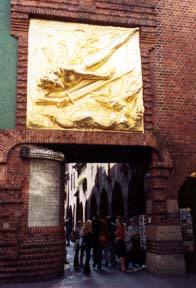 Local merchant Ludwig Roselius transformed it between 1923 and 1931. It's a fun walk of tiny boutiques, craft workshops, a museum, Bremen's casino and about two-thirds of the way to the river, the carillon with Meissen porcelain bells displaying ten carved wooden panels in a revolving tower tell the story of transatlantic aviators. We were fortunate enough to be passing at the precise moment when the bells began to toll and watch the figures revolve high above, to the delight of those assembled below.
Bremen's oldest surviving area is the Schnoor Quarter. Fifteenth and sixteenth century adorable little houses are crowded together along the narrow streets, alleyways, crooked lanes and backyards. Many of the houses are home to artisans, goldsmiths and galleries. There is no shortage of inviting cafes, restaurants and boutiques as well as a few theatres, a toy museum, Christmas shop and a wedding house, arguably the world's smallest hotel. Here's a good area to check how quickly your credit card transactions are approved.
[Back to Top]
Besides being a major North Sea port, Bremen is home to many brand name manufacturers who export beer and luxury automobiles worldwide. It is also the center of the aerospace industry in Germany.
Communication was no problem. Many people speak English and in the German-only situations, either a helpful English speaker offered assistance or we managed to work it out with a bit of patience on both sides. The locals were wonderful - friendly, helpful and considerate.
Ralf had recommended a lunch and dinner place, both of which were excellent introductions to local cuisine at very reasonable prices, as was his hotel - great value.
It was late morning as we walked on Fedelhoren passing the windows of #11. We stopped short to gaze at the gorgeous array of pastries and prepared food. A lady inside smiled at us and beckoned us in. We explained that we were just looking but all that changed when we smelled the fresh coffee. Before long we were seated on stools, at one of a few high tables, enjoying slices of cheese cake and apple-plum cake along with delicious coffee - perusing all the gifts and merchandise displayed on the shelves around us. The name of the place is Die Blochliger. They have another location at Hinterm Sielhof 31. Their real specialty is catering - they can cater for us anytime!
One must be flexible - when you start with dessert, you have lunch a little later than usual. F.L. Bodes on Bishofsnadel is a seafood store with a stand-up eating counter, Fresh and smoked fish, shellfish, herrings, salads, prepared seafood dishes are beautifully presented for takeout. From the large variety of lunch items, Linda ordered fish soup (1.75 EUR), a natural broth with pieces of fish and vegetables, and I had two large filets of heavenly herring with boiled potatoes and green beans (5.00 EUR). What a deal!
[Back to Top]
Much later in the evening we dragged our worn bodies to Hinter Dem Schutting 11, home of the Kleiner Ratskeller, all wood, beams and locals. How is it they always know we're tourists before we open our mouths? Knowing smiles and nods from the regulars, we were lead to a table already occupied by a gentleman alone, who was busy working with his papers spread all over the table. There was seating available for five more people. He graciously made room for us to sit at the end of the table near him. It didn't take long for another couple to arrive and end his intentions to work completely. Lucky for us! Axel is his name and being kind and considerate is his fame. Axel is a local businessman who speaks English and with whom we shared a delightful couple of hours enjoying a memorable meal.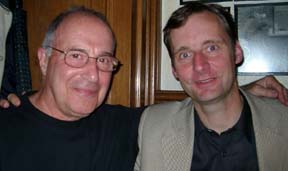 This is _the_ beer country - just look at the tables around us! We liked the look of the beer our neighbors had ordered and asked for the same. What a choice! The brand was Haake-Beck, the type was Kraeusen. It is smoky and is called the champagne of beers. Once again we were off to a good start. With Axel's help we navigated the menu, which was comprised mainly of traditional local dishes. We shared two wonderful pork specialties - cubes of pork with fresh mushrooms and white asparagus in mustard cream sauce with sides of noodles and green salad, and a supreme schnitzel, a lightly breaded pork steak, served with fabulous sliced, fried potatoes and heaps of garden fresh vegetables. The pork was top-quality, tasty and tender, and at 8 and 8.50 EUR, our meals were an outstanding value.
By the time we said good night to Axel, our new friend we hope to see again someday, we hugged and kissed goodbye. We had packed a lot into our one full day but we just scratched the surface of Bremen. We look forward to a longer stay to learn more about this special place and its people.
Breakfast the next morning offered a few new highlights, halves of boiled eggs topped with thin, folded slices of smoked salmon, and herring with beets and sour cream, a fish-lover's delight. We could have lingered until lunch but we wanted to be on the 10:14 to Hamburg so we headed to Bremen's train station, which is first class with excellent shopping and eating facilities.
[Back to Top]

Bremen | Hamburg | Berlin
Potsdam | Dresden, Bautzen and Gorlitz
Nürnberg | Karlsruhe | Zürich | Strasbourg | Bern
Annecy | Avignon | Marseille | Aix-en-Provence | Paris
Search TheTravelzine | TheTravelzine Group | Don's Gallery
Packing Hints | Planning Tips | Cities Links

---
All pages on TheTravelzine.comİCopyright 1996-2020 Don & Linda Freedman