Forty Days Celebrating Forty Years!
Fall 2002
Avignon
The 19:20 train got us to Valence at 12:29, where we transferred to the TGV to Avignon at 12:50, arriving at 13:21. The TGV was very comfortable and had large, attractive washrooms. There is a new TGV station outside of Avignon so it is necessary to take a bus (or taxi) to Porte de la Republique, across from the regular train station in Avignon. The buses run frequently and the ten-minute ride costs 1 EUR, which you pay to the driver.
It is easy to see why UNESCO has ranked the architectural setting in Avignon as Heritage For Humanity and why it was the European City of Culture in 2000. Our first clue was when we spotted the ramparts that surround the city.
We rolled our suitcases north on the tree-lined Cours Jean Jacques which becomes rue de la Republique, ending at the large and impressive Place de l'Horloge, behind which rises the Popes' Palace. The moment we began our walk, we both had the feeling that this was a special place - a place that has character and soul, and so we found it.
Avignon was the capital of the Christian world before it moved back to Rome. The Popes of Avignon welcomed and protected the Jewish communities expelled from the Languedoc and Provence areas. Perhaps it was Avignon's cultural and architectural heritage that smiled down on us.
Our lodging, La Banastière, is on the street of the same name, which runs along the east base of the Popes' Palace. At Place de l'Horloge, we turned right through pedestrian streets to Place St. Pierre and neighboring Place des Chataignes onto Rue Banastière.
Rue Banastière is famous for its preserved old residences and this bed and breakfast is one of them. The home is built around an open atrium with a small garden at ground level. Each guest room is named after a different variety of chocolate, since the owners are chocolate lovers. We had booked the Quetzalcoatl suite, on the top floor reached by two sets of narrow, winding staircases. Not to worry, Jean-Michel was on hand to greet us and carry our bags up for us. There is a lovely parlor on entering with a small sitting room behind and kitchen. At the second floor landing is the breakfast area and our suite was one flight above that. It appears that the original rooms have been adapted to create ensuite facilities, thus each is a different size and shape - quite unique and charming.
The furnishings throughout the house are vintage and quite eclectic. The decor, unusual in design and color, shows imagination in its unique blitheness. The highlight of the breakfast room is the assortment of unique off-the-wall lighting fixtures. This, however, didn't interfere with our enjoyment of fresh orange juice, good breads and jams, yogurt, cheese and coffee or hot chocolate every morning.
Our suite was huge. The bedroom had a king bed and space to wander with an adjoining small room with a single bed leading to a private terrace in the atrium. The large, ensuite bathroom included a dressing room with seating, closets and storage. Fortunately or unfortunately our toilet ceased working the first morning and since there was no way of knowing when the plumber would come to fix the problem, we moved down a flight to the Guanaja room, a totally different experience. This lovely room was tastefully decorated and furnished, with stone walls and floor enhancing the ambiance. Two stone steps led down to a good size, well-equipped bathroom. Everything worked well and here we stayed for the remainder of our time in Avignon.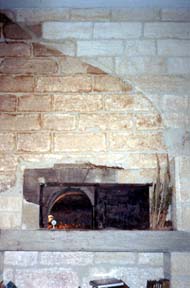 This room lacked the privacy and space of the suite on the top floor but had the advantage of one less stairway to climb, if that's a consideration for you.
The Avignon synagogue was built in the mid-nineteenth century on the site of the 1221 original, on Place de Jerusalem and rue Jacob. We were fortunate that the congenial Rabbi, Moche Amar, was on hand to let us in and show us around. The interior is built in the round with a round pulpit in the center. Seats surround the pulpit and there is a circular balcony as well. Impressive Roman columns are part of the architectural design. In a room behind the chapel is a section of the 1221 synagogue, in which the original Passover matzo (special unleavened bread for the holiday) oven can be seen. There are presently about 3000 Jews living in Avignon, most of them from North Africa.
[Back to Top]
We had stopped earlier for coffee at Restaurant Francoise, mainly a breakfast and lunch spot, at 6 rue du General LeClerc, just off Place Pie, across from Palais de Justice. It is a few steps from the synagogue and we thought we might grab an early dinner just before closing time at 19:00. Francoise welcomed us at 18:30 and assured us that it would be no problem and we need not feel rushed. She is a doll! She cooks, bakes and takes care of her customers in her cute, pleasant establishment. Everything is homemade from the freshest ingredients. We chose her hot special of the day, rabbit stew with bow tie pasta (farfalle), preceded by a bowl of vegetable soup. A smiling, thick wedge of lemon tart got my attention, and I allowed Linda two small forkfuls. Francoise recommended a Domaine de la Solitude Chateauneuf-de-Pape. Each and every thing was delicious and extremely fairly-priced, plus we enjoyed the near-closing-time bonus of the company of the kind proprietress.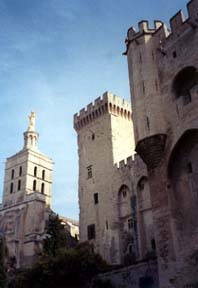 Les Halles, is a large, indoor market in Place Pie, where every kind of food imaginable can be found, beautifully presented in a neat and clean environment. The cafes around the perimeter of the square are wonderful for people-watching and there's an also an Internet cafe for staying abreast of news from home. Rue du Chapeau Rouge runs along the east side of the square where we found a neat laundromat and several ethnic restaurants. In between adventures, we found ourselves settling into one or another venues in Place Pie and feeling just like locals.
The Popes' Palace is a powerful symbol of the church's influence over the Western world during the fourteenth century. Construction was started in 1335 and took about 17 years to complete under Benedict XII and his successor, Clement VI. Today it's the biggest existing Gothic palace in the world with more than twenty-five magnificent spaces, ceremonial rooms, audience halls, chapels and private apartments all with frescoes by famous artists of the era.
[Back to Top]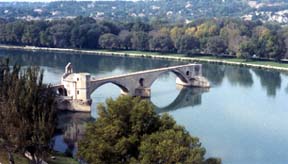 The Pont d'Avignon was built in the twelfth century, linking Avignon with Villeneuve-Lez-Avignon across the Rhone. According to legend, a young shepherd Benezet heard divine voices telling him to build the bridge. This is also known as Pont Saint-Benezet. The bridge repeatedly damaged by raging flood waters was rebuilt in the thirteenth century but finally abandoned in the seventeenth century. Today only four of the twenty-two original arches and a small Romanesque chapel dedicated to the patron saint of the bridge remain.
Thanks to the bridge, Villeneuve became the residential favorite of the members of the pontifical court who built sumptuous palaces. The Chartreuse monastery, Val de Benediction, the largest Chartreuse monastery in Europe, was built in the fourteenth century at the foot of the massive Fort Saint-Andre.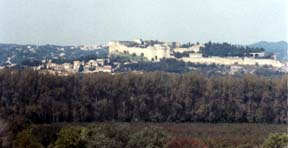 Leaving the bridge, we climbed to the top of the Rocher des Doms, the hill that overlooks the Rhone with views of Villeneuve and the old city of Avignon. It was here that the first inhabitants of Avignon lived some five thousand years ago. In 1830, it was planted with gardens and terraces, which today is a favorite spot for tourists and locals alike.
[Back to Top]
The Calvet Museum, 65 rue Joseph Vernet, in an elegant eighteenth century private mansion with a lovely flagged courtyard, contains masterpieces from the fifteenth to twentieth centuries by Degas, Van Gogh, Cezanne, Picasso and Modigliani. Furniture, art objects, paintings and drawings are displayed in the second floor parlors.
Another fine museum is Angladon, 5 rue Laboureur, in a private donor's home. The works of nineteenth and twentieth century masters such Van Gogh, Cezanne, Daumier, Degas and Picasso are displayed on the ground floor. In the eighteenth century salons a floor above are art objects, paintings and drawings as well as a medieval and renaissance room, seventeenth century room and an original art room.
We discovered restaurant-pizzeria Chez Mimmo at number 19 rue du Chapeau Rouge, Tel: 4-90-82-42-73, while waiting for our laundry to dry. Mimmo and his wife, Domi, own this unpretentious neighborhood Italian eatery. Mimmo's Mom, Maria, is in the kitchen with Mimmo and Domi runs the front. Mimmo and his mom are natives of Napoli and both have the wonderful, good-naturedness friendliness and zest for life that we found when visiting their birthplace. Domi was born in Avignon but her family is from Calabria. She is clever and adorable, with a very sweet personality. It was a delight to visit with this family on two occasions to enjoy their authentic Neapolitan cooking and the friendly-warm ambiance. The fromage ricotta and basil pizza was superb and the green and white fettuccini puttanesca was about the best version of this dish I've ever had. The tomato sauce was awesome and was mixed with plump capers and black olives, a real taste delight. The fresh green salad with cherry tomatoes was just perfect. Maria brought us a glass of her homemade limoncello that was indescribably delicious. The prices are very fair and excellent value. We would be back for a dinner, the real test on our last night in Avignon.
(Editor's Note: Don left out what was, for me, the most poignant part of our visit to Chez Mimmo. By the time we got around to the Limoncello, Domi already knew that I (Linda) am crazy about Andrea Bocelli's music. The Limoncello must have packed a powerful punch, because suddenly there was that heart-wrenching music and as Maria and I exchanged glances, we both had to laugh at the tears that had filled our eyes simultaneously! We share no spoken language but the music was the common denominator and human feelings know no language barrier.)
Dinner that night was at l'Epicerie in the pretty Place Saint-Pierre in the shadow of the Saint-Pierre Church. The square, in the same flamboyant gothic style as the church, can be enjoyed while dining on the outside patio. The evening was chilly, however, so we opted to sit indoors, where the seating is a bit limited but the decor is cute and cozy with red ceilings and walls, which are graced with framed pictures. Two huge, delicious salads got us started (had we known they'd be so large, we'd have shared only one); one was a tomato and goat cheese with roasted peppers and the other slices of rare duck breast and parmesan cheese with assorted vegetables. As main courses we had lamb couscous (nothing special) and rabbit tapenade (a decent rendition). Prices were fair and service was good. All-in-all, good value but not outstanding.
[Back to Top]
Most of all, we loved meandering through the streets and squares of the town. The Place de L'Horloge is home to the town hall and opera and is a very large eating court, constantly filled with visitors and locals taking a break from touring or shopping or just enjoying people-watching. Just north is the Place du Palais and the Palais des Papes, this square is a huge stage for gawking tourists, street performers and organized entertainment. But, best of all, are the tiny squares that kept popping-up in each neighborhood, each with its own character, a place to relax and to enjoy the world passing through.
The pedestrian shopping area just east of rue de la Republic, with its shiny, stone streets, has a wonderful collection of shops from fashion to regional specialties. One of these streets, rue de la Bonneterie, led us to the very pretty, green rue des Teinturiers, where the textile industry thrived during the nineteenth century. A canal runs alongside the old mills and the original water wheels that powered the machinery are still in place. The lively neighborhood is filled with artists' shops, booksellers, theatres and restaurants.
Rue St.-Agricole, which runs west from Place de l'Horloge, is a street filled with shops selling pastries, baked goods, candies, antiques and art. It's fun checking out the galleries and window shopping as we prowl the streets, familiarizing ourselves with all that is available to enjoy.
Rue Joseph Vernet runs west off of Republique and has a tantalizing array of fashion stores, restaurants and lovely buildings. No matter which direction we chose to walk within the walls of Avignon, we found beauty, peace and contentment.
We had a wonderful last meal at Chez Mimmo, starting with ripe tomato and mozzarella salad and anchovies with lemon, olive oil and hot peppers. Linda had spaghetti with shrimp and clams in a zesty tomato sauce and I, filets of fresh fish with the same sauce. A bit more of that limoncello finished us nicely. We bade fond farewells to our hosts and walked slowly back through the streets and squares, savoring the last of Avignon, for this time.
[Back to Top]

Bremen | Hamburg | Berlin
Potsdam | Dresden, Bautzen and Gorlitz
Nürnberg | Karlsruhe | Zürich | Strasbourg | Bern
Annecy | Avignon | Marseille | Aix-en-Provence | Paris
Search TheTravelzine | TheTravelzine Group | Don's Gallery
Packing Hints | Planning Tips | Cities Links

---
All pages on TheTravelzine.comİCopyright 1996-2020 Don & Linda Freedman