Driving Trip - Fall 2005
New York State and Eastern Long Island

On a beautiful day in early October, we were en route from Toronto to The Hamptons to attend the wedding of our oldest nephew, who was five years old when he was a guest at ours. It was clear sailing along the Gardiner Expressway onto the QEW south to the Niagara region and the Lewiston-Queenston Bridge to the U.S. Fortunately there were not long lineups at the border and we were soon on the New York Thruway (I-90) heading east across New York State.
The day was sunny and crisp as we passed Rochester, The Finger Lakes District, Syracuse and Utica, feasting our eyes on the trees dressed in their fall costumes of red, orange and yellow.
We would be spending the night in Sharon Springs, in the Central Leatherstocking Region and the Mohawk Valley Heritage Corridor. This gorgeous area is home to many world famous attractions: Cooperstown and The Baseball Hall of Fame, Glimmerglass Opera, the Erie Canal, Iroquois Museum, Howe Caverns, International Boxing Hall of Fame and the Herkimer Diamond Mines, to name a few. For exercise, there is Vrooman's Nose Hiking Trail and if you like wagering on your favorite ponies, try your luck at Saratoga Racetrack.
We exited the Thruway at #29 and headed south on highway 10 for about 10 miles to Sharon Springs, which was incorporated in 1871. The north Main Street neighborhoods of the village, known as "downstreet", were placed on the National Register of Historic Places in 1995. The main industries are agriculture and tourism.
Sharon Springs is a great place to headquarter, relax and experience all the region has to offer. There are numerous options for sports and recreation (skiing, snowmobiling, ATV trails, golf, hiking, fishing, bird watching) and cultural activities (Boswell Museum, Glimmerglass Opera, Petrified Creatures Museum, Canajoharie Library/Art gallery, Saratoga Performing Arts Center, Procters Theatre), as well as the Historic Main Street Walking Tour and the Sharon Historical Museum.
Folklore has it that Native Americans discovered the healing powers of the "White Sulphur Springs" of Sharon Springs in 1825. The first commercial use of the springs started in the mid 1800s and until the mid 1900s the town thrived as a spa resort. Gorgeous hotels and homes were built and the "Imperial Baths" became the center of spa activity. When the spa boom faded, the town went into decline and the glorious hotels and many of the magnificent mansions were abandoned or burned down.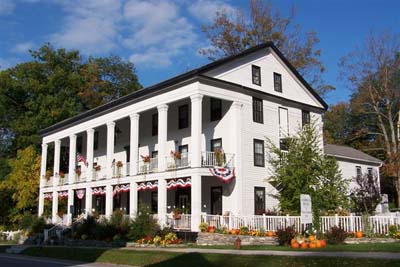 Garth Roberts and Douglas Plummer found their way to this beautiful green hamlet and in 1996 they purchased the American Hotel, which is listed on the National Register of Historic Places, circa 1847. It was built between 1847 and l851 and operated as a hotel until the 1950s and then as a religious retreat until it closed in 1989. After an extensive four year renovation, The American Hotel was reopened on May 23, 2001, breathing new life into the town and the surrounding area.
[Back to Top]
We were impressed by the care and attention given to maintaining the integrity of the original design of the hotel. The high white pillars and porches and meticulously-kept shrubs and flowers along the wide front are a welcoming sight on Main Street. We pulled into the parking area alongside the hotel and appreciated the beauty of the grassy, treed acreage surrounding the property.
The instant we entered the word cozy came to mind. From the reception desk to the pub, outdoor patio and dining room to the upstairs bedrooms, this was a delightful trip back to a time when a hotel was a home. In addition to preserving the architecture and building materials, a deliberate effort was made to furnish the hotel with an eclectic mix of period pieces, furnishings and artifacts.
We were greeted by Scott who cheerfully led us to our corner room on the second floor. The colors were blue and white and we later learned that the lovely antique plates displayed above our bed were from Garth's mother's home in Maine. Our queen size bed was beautifully dressed, as was the entire room and bathroom. This is an old fashioned home with modern conveniences such as air conditioning and wireless high speed internet access.
We had been in the car for seven hours so we decided to take a walk around town. We discovered that Garth and Doug had also purchased and restored two buildings across the way. One houses a cafe and bakery and the other, An American Emporium, is leased to four separate retail establishments. Throughout the town the buildings, homes and hotels are wonderful specimens of historic architecture. Sharon Historical Society posts along Main Street offer descriptions of the history of the town and its buildings.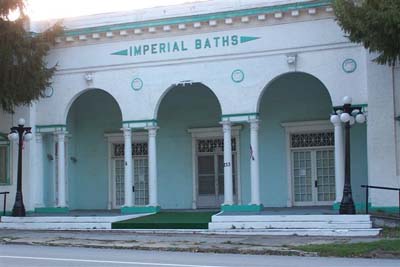 The "Imperial Baths" and four hotel properties were recently purchased by Korean business people who plan to develop a world class health and spa complex. Let the good times roll!
Our evening "good time" started in the comfortable pub where we admired the Sharon Springs memorabilia gracing the walls while sipping well-deserved cocktails. It had been a long day and this was the perfect environment for relaxing before dinner.
[Back to Top]
And what a dinner! Doug and Garth told us they were very proud of their kitchen and rightly so. The low key casual dining room was the perfect venue for enjoying a delightful country dining experience. Doug and Garth are very hands-on. Doug was hosting his guests with his usual good cheer while Garth was making sure the cucina was operating properly.
A house starter of cold marinated yellow cauliflower, onion and baby carrots was a neat way to spark the appetite (as if we needed it). We chose the evening's appetizer for two which consisted of large, cold, crunchy shrimps, crab cakes with a remoulade sauce and beer battered Palatine cheese (a local cheddar from nearby Palatine Bridge). The crab cakes were the perfect texture and the seasoning was amazing. The combination of the tasty beer batter and smooth melted cheddar was a dream.
A choice of three wonderful salads is offered with any entree. Linda had the "steakhouse" with crumbled bacon, marinated red cabbage, fried croutons and a bleu cheese dressing. I chose mixed greens with apples, cranberries and raisins with a creamy cider dressing.
[Back to Top]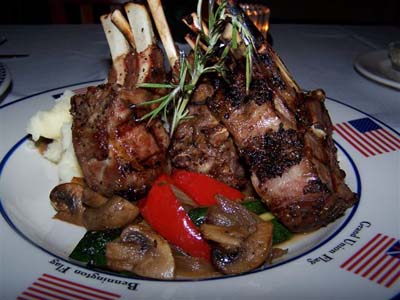 The ample-portioned entrees were of top quality products, prepared to perfection and beautifully presented. Rack of lamb consisted of four double chops served with real mashed potatoes and sautéed veggies. Half of a roasted duck was awesome, with crisp skin and tender moist meat with apricot sauce. This beauty was served with rice and fresh asparagus.
Everything is always fresh and made to order in-house so it was necessary to put the desserts to the test. The maple walnut ice cream with raisins and the apple cheesecake with almonds reaffirmed the skill in the kitchen.
[Back to Top]
After a great sleep we tested the kitchen for breakfast. Doug and Garth were both on duty and after deep consultation we selected pancakes with bacon and raisin sunflower bread French toast with apple/cranberry sauce and warm, real maple syrup. Both passed the test with flying colors.
Our only regret was that we would be at the American Hotel in Sharon Springs for only one night. Oh well - next year. Truly a remarkable American value!
Then we were off to The Hamptons, at the tip of the south fork of Long Island. The highlight of the drive was the colorful roadside stands awash in the colors of autumn with piles of pumpkins, squash and gourds and the quaint famous towns of Easthampton and Southampton.
The wedding parties would be in Sag Harbor and Three Mile Harbor, both of which are just north of Easthampton. After a lengthy internet search we chose Sag Harbor Inn in Sag Harbor for our two nights' stay. The driving directions on the website led us easily to the entrance on West Water Street.
Sag Harbor is a maritime village, best remembered for its history as a whaling port from the early to mid-1800s. Artifacts of its past are preserved at the Customs House and the Whaling and Historical Museum. Southampton, East Hampton, the North Fork and South Fork wine country are close-by. Beaches abound and nightlife is abundant.
Sag Harbor Inn overlooks the harbor and the village, a glorious setting! Sail boats and luxury yachts rise from the harbor and the quaint Main Street shops, restaurants and museums are a short stroll away.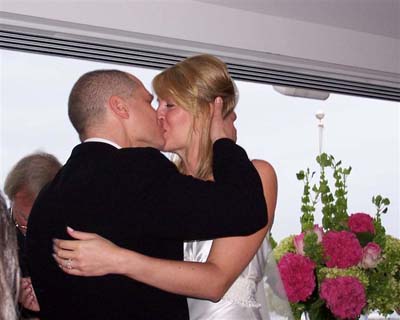 The setting is lovely but unfortunately the Inn is no more than a seaside motel in need of a facelift and change of attitude. The reception was perfunctory and cold. Our first floor room had two double beds, chain motel furnishings and indoor/outdoor carpeting. The small bathroom featured a toilet seat with bubbling, peeling paint. The continental breakfast was highlighted by cold bagels and undrinkable coffee. Sag Harbor Inn claims to be "the most luxurious accommodation in the Hamptons"- we would call it overpriced and mediocre.
[Back to Top]
Fortunately the rehearsal dinner and wedding were smashing events and the only time we spent in the motel, we were sleeping or getting ready to go out.
No trip across the New York State Thruway would be complete without a visit to Herkimer and the Heidelberg Bakery on Rt.28 just off State Rt. 5, a worthwhile detour on our way to Rochester, where we would be spending the night before heading home to Toronto. In preparation, we had emptied our freezer before we left home so that there would be plenty of room for the delicious, dense rye, whole wheat, oat bran, raisin/walnut and raisin breads (all made from natural ingredients) we would be hauling home (21 loaves).
The Strathallan Hotel was the winner of our internet search for a place to overnight on our way home. The only all-suite, full-service hotel in Rochester, the hotel boasts an internationally acclaimed chef, Anthony Harris, who makes the Grill at Strathallan a dining must while in Rochester.
It had been a long driving day and as we exited the thruway at #45 we looked forward to a fine meal and a good night's sleep. Twenty minutes later we were at 550 East Ave., greeted by a valet who took our car to its complimentary overnight parking spot. The reception staff was delightfully friendly and while checking us in informed us about the numerous complimentary services and amenities.
The hotel is situated in the middle of a lovely green residential area boasting some of the finest old homes in Rochester. Our corner room had two balconies affording us a glorious perspective of the surroundings. The suite was very spacious, well-appointed and decorated. The living area contained a long desk, leather chair, convertible sofa and ample seating along with a large screen TV. The kitchenette area had a round table and four chairs and cupboards with dishes, glasses, cutlery plus a microwave oven.
The large bedroom was a dream. The king bed was covered in a light comforter with lots of plump and firm pillows from which to choose. The lacquered furniture style from the living area carried into this room featuring a console containing a TV and four drawers and extra storage space. The bathroom was stocked with quality amenities, a terry robe, magnifying mirror and a hairdryer.
Linda regretted not bringing her laptop to take advantage of the complimentary high speed internet connection. We did, of course, manage to pop into the fully-equipped business center to check our email. We checked out the complimentary fitness and sauna facilities but decided to save our energy for the heavy fork and knife lifting ahead.
[Back to Top]
We had time for a brief walk around the neighborhood to stretch our legs after 9 hours in the car. We loved the huge, wonderful old homes lining the streets of this neighborhood!
A major reason we had chosen this hotel was because of the fine reputation of its restaurant, The Grill at Strathallan. The bar/lounge and restaurant complex designed with dark woods and subdued lighting provides an unpretentious intimate venue either for business or romance. A pretty outdoor patio runs across the front of the building and even on a cool, drizzly evening a few hearty souls chose to sit outside under the awning.
The appealing menu made decision-making difficult and the fact that the wine cellar boasts17,000 bottles definitely required assistance. The amiable staff proved to be experienced, knowledgeable and extremely helpful.
Our menu decided, our waiter suggested two California wines: a 2002 red from St. Francis Winery in California for Linda and a 2001 Cabernet Sauvignon from Beaulieu Vineyards for me. The former was full-bodied with a spicy aroma and the latter medium body with a lovely rich blackberry and cherry flavor.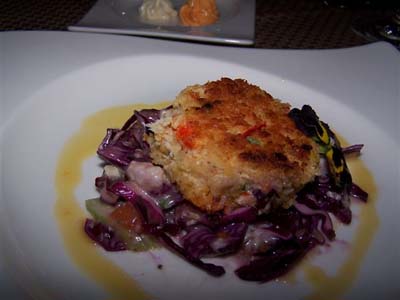 The chef teased us with an amuse bouche of ahi tuna and cucumber salad presented in cylindrical layers of freshness and mouth-tingling flavor. We shared Dungeness crab and Australian lobster cakes seared golden brown accompanied by red cabbage/blue cheese slaw, hot bacon vinaigrette and citrus butter sauce and creamy seafood bisque with pieces of Alaskan halibut, sea bass and shrimp. All breads are made in-house and tonight's cheddar cheese bread was delicious.
[Back to Top]
Linda proclaimed her cranberry tenderloin to be extraordinary. She reluctantly offered me a taste and she was right. Two generous tournedos of beef tenderloin were sautéed and finished with port wine, cream and cranberries, garnished with blue cheese and sautéed asparagus, all of which rested on a bed of exquisite mashed potatoes. The duck man was enthralled with a seared rare breast of duck fanned over a marvelous mushroom duxelles and brilliantly sided with a spiced port-braised pear and baby bok choy.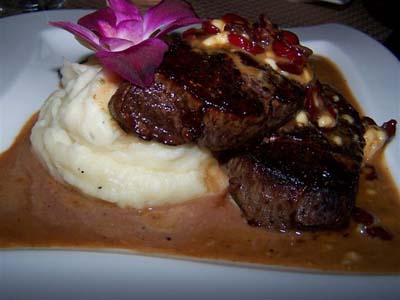 It was time for a bit of cooling off with house made sorbet and ice cream. Scoops of blueberry, strawberry, raspberry and pineapple sorbet delighted Linda. I had a vanilla ice cream sandwich. This beauty was comprised of a layered round stack of pineapple sorbet, the ice cream and mango sorbet resting in a pool of watermelon sauce. A very happy ending!
Executive chef Anthony Harris's superb reputation is well earned.
[Back to Top]
Breakfast in the Grill was another delight. Linda had scrambled eggs with smoked salmon and sautéed onions accompanied by fresh fruit while I had the Travelers' special of eggs, pancakes, bacon, homefries and toast. Our contented stomachs were ready to travel.
Our final night on the road was a delightfully relaxing and invigorating experience, likely to be habit-forming. The Strathallan Hotel and Grill are a quality experience and excellent value.
After our blissfully uneventful border crossing, we were quickly on our way home to re-pack and prepare to leave for Austria, at last!
[Back to Top]

Search TheTravelzine | TheTravelzine Group | Don's Gallery
Packing Hints | Planning Tips | Cities Links

---
All pages on TheTravelzine.com©Copyright 1996-2020 Don & Linda Freedman