Forty Days Celebrating Forty Years!
Fall 2002
Maulbronn
We would overnight in Karlsruhe, Germany, on our way to Zürich. A member of our travel discussion group, Baerbel, suggested we take the train from Nuernberg as far as Stuttgart, where she would pick us up for a tour of the well-known Maulbronn Monastery and then on to Karlsruhe.
Leaving Nuernberg at 09:43, we arrived in Stuttgart at 11:53 to find Baerbel parked in front of the train station rearing to go. It was a pretty drive all the way. In the town of Muhlacher, we spotted a cute ristorante pizzeria, La Grotta, at Loffelstelzweg 2. It was a perfect pasta and pizza lunch stop. The atmosphere was as congenial as our waiter and the food was well-prepared with very fresh, quality ingredients.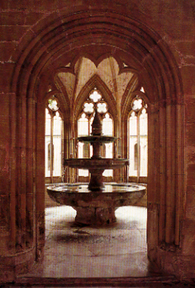 The former Cistercian Monastery at Maulbronn, which is over eight hundred fifty years old, is acknowledged as the best-preserved and impressive medieval monastic complex north of the Alps. The Protestant Monastery School, which was founded at Maulbronn after the reformation, was converted to a Protestant Theological Seminary in 1807, which still exists today. The school and seminary have produced some famous people including Herman Hesse, Nobel prize-winning author, Johannes Kepler, astronomer and Friedrich Holderlin, poet, to name a few. The Monastery at Maulbronn was inscribed as a UNESCO World Heritage Site in 1993. The complex is protected by a fortress-like enclosure of high walls, towers and wards. We highly recommend taking the audio tour guide of the monastery, which can be rented at the office for a reasonable price.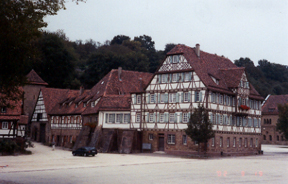 The monastery is a beautiful structure inside and out with many architectural highlights. One of our favorites was the three-bowl fountain with basins from different countries. In the vault are interesting red chalk paintings above the tracery windows. The courtyard, formed by timber-framed buildings contains the administrative offices and residences, some of which originally housed the stables, oats barn, bakers and servants quarters, and administrative offices of the day. It's worth the trip to Maulbronn, particularly if you're in the care of a Ziner as kind and enthusiastic as Baerbel.
[Back to Top]
Karlsruhe
It was a short drive to Karlsruhe where Baerbel dropped us off at the Hotel Kaiserhof, ideally located at the handsome Marktplatz. The Hechler family owns and operates this very excellent value four-star hotel. From the courteous, helpful staff to the well-appointed and maintained property, we had the feeling the management was interested in our comfort. Our large room had a generous sitting area with a sofa and chairs. The furnishings and decor were top notch and the well-equipped bathroom had room to spare. Too bad we were only staying one night, not even time to use the sauna.
We had made plans with another Internet friend who would pick us up to go to dinner. We had an hour or so to peek at the city. On the north end of the busy Marktplatz is the four-kilometers long main shopping street, Kaiserstrasse. Walking east, we came to Kroven Platz, which was hosting a live concert and a gathering of in-line skaters, who soon dominated the city center. Just north of the Marktplatz is the schloss and schloss gardens, fanning out in a circle surrounding the castle. Quite a sight.
This was our day for meeting wonderful people. New "in person" friend, John, picked us up at 18:00 for a short drive north of the city to the small town of Friederichstal to the family-run restaurant Linde. What a delight! The town gentlemen were in their appointed chairs catching up on all that had happened since lunchtime. This was obviously the town hangout, kitchen and bar. We had told John that we like small, family-run neighborhood restaurants with home style cooking, typical of the area, at reasonable prices. John delivered exactly what we requested. The lady of the house brought us the short menu, schnitzel five different ways, choices of spaetzle or fried potatoes with onions (which John warned are habit-forming) and green salad. A soup of the day was also available.
And so we began with soup, a meat broth with maultaschen - square, meat-filled pasta delights and tender balls of semolina, egg and butter - a meal to start the meal. Tender filets of white pork from local, naturally-fed pigs, with a tantalizing, thin breading, pan fried to golden, were sensational. Each portion consisted of two large cutlets accompanied by as much as you want family-style side dishes. Everything was delicious as John had promised and excellent with Moninger Bier before, during and after. This fabulous feast was about 11 EUR per person!
[Back to Top]
Zürich
We took a streetcar (trolley) from Marktplatz in Karlsruhe right to the train station (1.40 EUR). We left at 10:00 and arrived in Zürich at 12:58, changing trains in Basel.
Zürich was our place of choice for our birthday weekend, since we could celebrate with two of our favorite people, Fabio and Cornelia.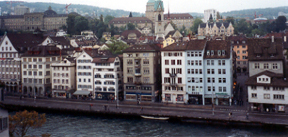 Today we would start with the mandatory grilled bratwurst at the "sausage place' in Bellevue Platz. Crispy on the outside, tender and juicy inside, each bite to savor with wonderful mustard while munching on a crusty, chewy roll. At 5 EUR each, it was a bargain compared to the 3.60 EUR for a single espresso at Starbucks. We have been to and written about Zürich many times. We love it here, patrolling the streets on both sides of the Limmat-Quai, enjoying the pulse of both the old and the new cities.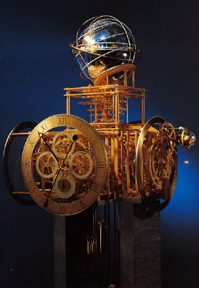 Our friend, Johannes, an amateur astronomer and therefore fascinated by astronomical clocks (he actually understands how they work!), told us that we must visit Türler, Zürich-Paradeplatz, Bahnhofstrasse 28, to see the Türler Clock. Türler is an old, established maker of watches and jewelry who spent a nine-year period of design and creation to complete this horological and astronomical millenary masterpiece. This is the team that realized the dream: Franz Türler, owner of the Türler company, had the vision and is the clock's "spiritual father", Jörg Spöring, master watchmaker and movement designer, and Ludwig Oechslin, science and technology historian and master watchmaker. The clock was conceived and built in Switzerland and will remain forever in the center of Zürich. If you can't get to Zürich and would like detailed information about this stunning mechanical marvel, just contact Türler and they will be happy to send you material.
Tomorrow evening we would have our celebration dinner at Kantorei. Tonight we met Fabio and Cornelia at the King's Cave restaurant in the basement of Hotel Central in Central Square. It's quite an elegant cave and the specialty is steak - very excellent steak. The filet mignon was perfect as were the grilled vegetables, baked potatoes and garden salads. Best of all was being with our friends once again.
September 21, 2002, Happy Birthday Linda! We drove with our friends to Appenzell, due east of Zürich. Today we are charmed - it was sunny! You see, it invariably rains when the four of us are together. Must be Linda's birthday karma.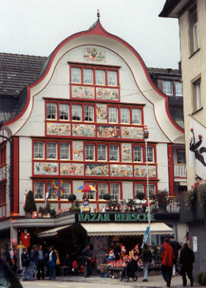 [Back to Top]
Stein and Appenzell
The town of Stein is home to the Appenzell Demonstration Cheese Dairy. We stopped to tour the Appenzeller Schau-Käserei to see how the famous Appenzell cheese is made. It all starts with the brown cows of Appenzell who range freely through lush pastures filled with healthy, natural grazing. This guarantees top-quality milk from contented cows for the production of the cheese. Best of all, we were quickly going to discover that all these contented cows were coming home for the winter from the mountain pastures, a time for festivities galore - coinciding perfectly with our own celebrations. It's all in the planning. ;-)
The Appenzell environs are spectacular visions of Swiss countryside. Lush green mountains and valleys that are not only so pleasing to the eye but provide the nourishment for those contented brown cows.
The town of Appenzell is the epitome of Swiss culture. The beautiful and colorful architecture and design is enhanced by paintings that tell the story of the family to whom the buildings belong. But most significant is the number of pastry shops. There were two seasonal items being featured. One was chunks of herb breads coated with a thin layer of chocolate (the writer totally consumed the small package we bought) and the other is a special bread in a variety of shapes stuffed with marzipan and almonds.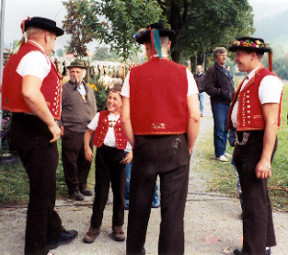 [Back to Top]
Leaving Appenzell we arrived in the small village of Gais just in time to greet the cows returning home. This was a ball! Not only were the villagers dressed in traditional costumes, but there was a cow beauty contest in progress. Stands were set along the sides of the road with sausages grilling, beer flowing, and tables and chairs were filled with merrymaking townspeople enjoying the festivities.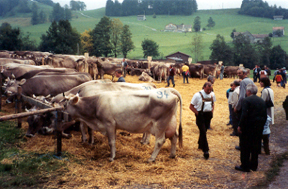 The cows were gathered in a large pasture and there was a ritual by which judgments were made and the losers were led away, monopolizing the country roads in the process. We could not have driven on if we wanted to, but we didn't want to.
[Back to Top]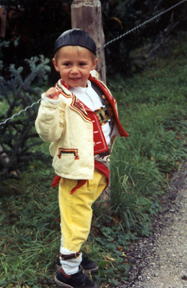 The children were really special. Dressed in their adorable attire, they either played a specific role or just had fun with their friends and families. Observing the children and adults playing their roles, the cows with big bells clanging while being herded down the road made us nostalgically aware that here we were, far removed from terrorism and wars, with people who live their lives as they always have, preserving their traditional and happy ways.
It took us a while to drive back to Zürich because the country roads were a continuous stream of brown cows heading home for the holidays. What a fun day!
[Back to Top]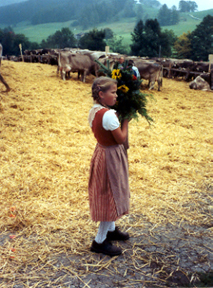 Zürich
Together with our friends, we had discovered the Restaurant Kantorei last time we were in Zürich. We had enjoyed it so much, it was an easy choice for our birthday bash. Thankfully, nothing had changed. Thomas and Beatrice were on hand to greet their guests and to ensure that all ran well. The pale yellow walls, the crystal chandeliers, the shiny clean dark wooden floors - all just as we had left it. Our waitress this evening was different - and what a charmer!
We all selected Campari as an aperitif and nibbled on delicious dark bread. Fortunately, Fabio knows a bit about wine because this restaurant has been acclaimed by Wine Spectator for its fine selection and I would have been overwhelmed. Fabio selected a Spanish red, Conde de Valde Mar Reserva, an excellent choice. Kantorei did not let us down. Each and everything we ordered was lovely to look at and a delight to consume. Sweet corn chowder, served with a hearty corn pancake and pureed gazpacho Andalusia as starters for us and tuna carpaccio with ruccola, limes and grilled shrimp for Fabio and Cornelia. As mains both of them ordered giant ravioli stuffed with ruccola and mushrooms and we shared grilled venison escalope on a ragout of morels with spaetzli, brussels sprouts and red cabbage and rabbit stew with the same accompaniments. Wonderful desserts and coffees to finish - Happy Birthday and many happy returns!
Our last day together took us on another Swiss beauty run, traveling on both sides of Lake Zürich, southeast to Einsiedeln and the amazing Catholic Abbey of Einsiedeln. The baroque design is stunning. The symmetrical painted dome ceilings, grand archways and a black Madonna were particularly impressive. The abbey and adjacent monastery complex is quite large with a school and gymnasium. The Slovenian community had a special event in progress and combined with a triathlon in progress the crowds were enormous. In fact we had to park quite far away and pay the parking police to park at the roadside.
We finished off the day at our sausage stand where Linda had her last bratwurst of the trip and I half of a grilled chicken, which is also fabulous.
[Back to Top]

Bremen | Hamburg | Berlin
Potsdam | Dresden, Bautzen and Gorlitz
Nürnberg | Karlsruhe | Zürich | Strasbourg | Bern
Annecy | Avignon | Marseille | Aix-en-Provence | Paris
Search TheTravelzine | TheTravelzine Group | Don's Gallery
Packing Hints | Planning Tips | Cities Links

---
All pages on TheTravelzine.com©Copyright 1996-2020 Don & Linda Freedman