Forty Days Celebrating Forty Years!
Fall 2002
Annecy
Our trip to Annecy in the French Alps would require a change of trains in Geneva. We had changed many times in the past and automatically headed to the Switzerland-France transfer area that we knew. Alas, after going through immigration we discovered this was not the right place. We had to be at Geneve Gare Eaux at the other end of the city! We were told to turn right outside the station and take tram 16, in front of Hotel Cornavin at the corner, to the Amandaher stop. It cost 1.80 SF, which you can pay on the bus.
We met an extremely nice young couple on the bus who took us under their wing as they were getting off at our stop and would show us to the station. It was a good thing because when we got off in the middle of the street there was no way of knowing how to get to the train station. It's not far; cross the street and ask the next passerby to point you toward Gare Eaux (an ancient, abandoned-looking station). We missed our 13:10 connection to La Roche-Sur-Foron, where you get the train to Annecy. The next little local train arrived at 14:40 and we finally got to Annecy at 15:46.
We walked along rue de la Poste, which became rue de la Republique and as we approached the end and started crossing the canals we ran into hordes of people. It was the last Saturday of the month, antique market day. Republique ends at rue Ste. Claire where we wanted to turn left toward the lake. It was a nightmare, a narrow pedestrian shopping street lined with vendors and wall-to-wall shoppers. It took us forty-five minutes (usually a five-minute walk) to make our way down rue Ste. Claire and rue de l'Isle to Hotel du Palais de l'Isle.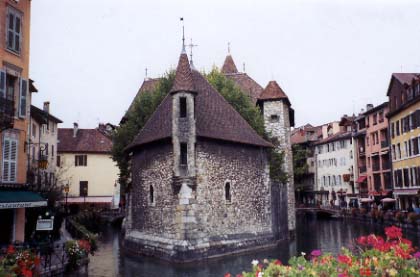 This hotel is very popular due to its perfect, picturesque location in the heart of the old town. The lobby is miniscule but our room was good-sized with contemporary furnishings, but the drapes, carpets and walls were badly in need of updating. The toilet was in a separate room next to the large bathroom. Our three-day stay apparently did not entitle us to a vacuuming nor a change of bed linen. We had a few other misgivings but we are hopeful that things will improve. We met the brand-new owner, Michel Wirth, who is committed to improving the property and knows what has to be done to make it first rate. The view from our room was gorgeous. We looked down on the Palais de l'Isle, which sits in the middle of the canal. Its triangular shape, like a ship's bow, makes it look like a galley anchored in the water. It was a governor's residence in the twelfth century. It then served as an administrative hall, a court of justice, the mint and a prison. It's now classified as a historical monument and is used for exhibitions.
[Back to Top]
A friend of Pierrette's recommended we dine at Saint-Maurice. It was a five-minute walk from the hotel as is most everything. This lovely brasserie is up one flight overlooking a small square. Our table, at a window, in a stone, stucco, pale yellow with gray setting, was esthetically quite pleasing. Our waiter was charming and assured us that we would be pleased with the market-fresh daily menus. We chose the three-course menu for 24 EUR. The local red, Chautagne vin de Savoie, was light, fruity and a bit tart, which was to our liking. After a long train day and crowd-dodging, it was nice to relax in this comfortable environment.
Every course was carefully prepared and artistically presented. Our starter was a fish mousse on tiny pieces of crab dressed in olive oil and lemon with fresh greens and an edible flower. The plate was garnished with tiny morsels of red beet for flavor and color. We love magret de canard in France. Not only do they know how to raise them to be tasty and tender but they have mastered the art of grilling them crispy on the outside and rare within. Saint-Maurice did this perfectly, then presented the perfect duck breasts with creative sides and garnishes. On each plate was a small red potato, coffee sherbet and fruit compote. On the side were pots of peapods and sautéed onions and rice with mushrooms. We could have left right there as pretty happy campers but would have missed out on Delice de Princes. A slice each of dark and white chocolate mousse, sprinkled with cocoa and garnished with blackberries in vanilla sauce and a sprig of berries, was presented on lovely glass plates. This was an incredible meal for an extremely reasonable price.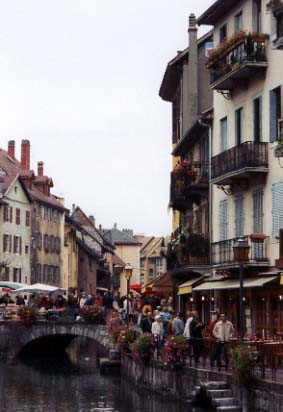 Annecy consists of three distinct areas: the old historic center, the lake environs and the newer part of town where the locals live and work. It is a hub of tourist activity, particularly in the old part and lake areas.
The castle of Annecy sits high above the old town and is the major element of its architectural heritage. Old Annecy is nestled at the foot of the castle and is conserved almost intact with its fortified gates, its winding streets bordered by irregular arcades held up by wide pillars and its flowery quays. Rue Ste. Claire takes the exact shape of the rock base of the castle. This cobblestone pedestrian street is really snuggled into the rock and is the hub of the old town.
The antique market was gone the next day and replaced by a farmers' market. Again, huge crowds intent on buying all the farm-fresh products piled high on tables and stands. The smell of famous Savoyard cheese permeated the air. This is the cheese used for the equally famous local fondue.
[Back to Top]
The Thiou Canal, the lake's natural spillway, flows through the heart of the old town. The colorful sixteenth and seventeenth century buildings along the banks, the cute small bridges, the graceful white swans and the blooming pots of flowers create a scene that artists love to capture on canvas.
We had spotted a group of Chinese tourists going into a Chinese restaurant at 10 bis. rue de la Poste named appropriately, Le Palais d'Orient. Let's do it - time for a change! We sat on the ground floor, which has limited but comfortable seating in a typical Chinese environment. The upstairs is used primarily for larger parties. The service was excellent and the place was very clean. We were very satisfied with a spicy hot and sour soup, shrimps in tomato and onion, salt/pepper spareribs (a bit too fatty), fried noodles with vegetables and baby shrimp, crispy chicken and two bowls of steamed rice. The preparations were authentic, the portions decent size and the prices were reasonable.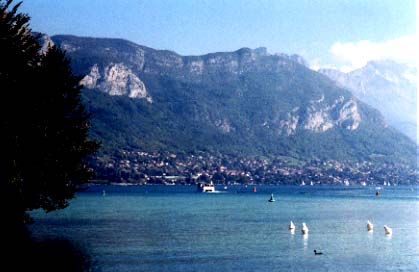 The clear, clean lake with the mountains looming across the way and a lakefront of beauty and activity is a major attraction. It was a sunny, warm day and it was humming with sailboats, pedal boats, cruise boats and motorboats dancing on the water. Bikers, joggers and walkers filled the lakefront pathways and gardens. We met folks from all parts of the world, enjoying the glorious early fall day.
[Back to Top]
After walking the north side of the lakefront and wandering back through pretty residential streets of the new town, we headed to 11 rue du Paquier and Restaurant Garcin, which was recommended by our hotel owner. Rue du Paquier is a pedestrian street that bridges the old and new towns. Its porticoes hide the visibility of some of the signing, but we finally spotted our destination, reached by walking down a short alley and up a flight of stairs. We were greeted by a sweet waitress, stone and stucco, comfortable local ambiance and a pretty kitchen, which we were to discover provided palate and wallet comfort as well.
There is a three-course, 23 EUR menu or you can order a la carte. The carafe of light and fruity Beaujolais went very nicely with the house starter of thin slices of salami and ham with dense bread. We did justice to the pot of Moutarde de Violette de Brive (grape mustard) that was on the table. Linda's entree was too pretty to eat. Cut-up leeks were carefully arranged in a circle with a beet and vinegar sauce (sweet and sour) and garnished with hard-cooked egg and parsley. I had a pot of smoked herring filets with slices of onion and carrot.
Mains were like the entrees, typical of the region, presented beautifully, generous portions and wonderfully delicious. Linda had free-range chicken cooked in red wine with potatoes au gratin and zucchini. I had filet de Fora, a firm white local fish, with white wine sauce topped with sautéed onions and a side of steamed rice. Our dessert course, crème brule with Grand Marnier and an apple tart with vanilla ice cream earned Garcin our endorsement as a superb value place to eat.
Annecy is a pretty place to visit and a great place to eat.
[Back to Top]

Bremen | Hamburg | Berlin
Potsdam | Dresden, Bautzen and Gorlitz
Nürnberg | Karlsruhe | Zürich | Strasbourg | Bern
Annecy | Avignon | Marseille | Aix-en-Provence | Paris
Search TheTravelzine | TheTravelzine Group | Don's Gallery
Packing Hints | Planning Tips | Cities Links

---
All pages on TheTravelzine.comİCopyright 1996-2020 Don & Linda Freedman