PORTUGAL
WINTER 2016
São Miguel, Azores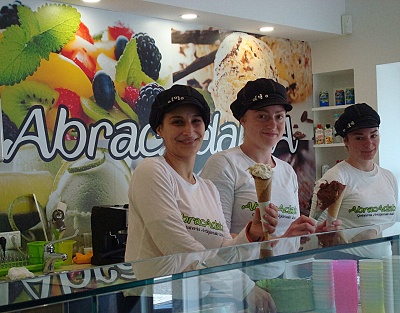 ABRACADABRA - the word evokes magical powers and, historically, healing powers. OMG, ABRACADABRA has come to Ponta Delgada in the form of an authentic Italian Gelateria. Magic flavors and smooth texture do heal the soul any time of day. Pineapple, passion fruit, kiwi, banana, made from local fruits, are addictive. Classics lovers will adore the likes of hazelnut, pistachio, and stracciatella. Chocolate fans will be thrilled with two versions, regular and dark. Vanilla and coffee are no slouches and match well with either chocolate. The shop is bright and cheerful, as is the welcoming staff. Best of all, it's in the city center just across from the Talisman Hotel.
We now have another compelling reason to return to Sao Miguel for our 7th winter in 2017. Long ago we found this haven in the middle of the Atlantic Ocean, 1400km from Lisbon and 3910km from New York. The flying time from Toronto is only five and a half hours with a time difference of just 4 hours. Another practical plus is the temperate climate, median temperatures range from 15C in the winter to 24C in the summer. In the winter, Toronto is too cold for us and it's too hot down south - this weather is perfect.
We are fortunate that there are direct flights from Toronto to Ponta Delgada via Sata, which has recently been rebranded as Azores Airlines. Just look for the blue sperm whales on each side and the green whale on the tail. There are extended flights to mainland Portugal, Cape Verde, the Canaries, and Madeira.
Our flight from Toronto was full and it was interesting to note that there were many more English speaking travelers than in the past. Sata offers very good value in all classes. We have always found the service on the ground and in the air to be helpful and caring.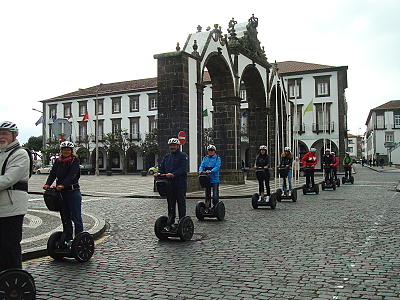 Ryanair and Easy Jet are now flying to Ponta Delgada from locations across Europe. There were many more visitors from mainland Portugal, and northern Europe than we have encountered before. And yes, many more folks from the U.S. and Canada. There are always cruise ships stopping for a day and for the first time there were two at the same time. We are delighted to see this growth in tourism and the beneficial effect it will have on the economy.
Eleutério Valido is our landlord and it's his policy to pick up all his guests on arrival at the airport. The immigration officer greeted us like long lost relatives and our luggage came right along. Our host was waiting to greet us with a smile and hug.
We have been very pleased with our lovely apartment in Ponta Delgada at Rua Machado dos Santos, 90. The location right in the city center is very convenient with all our basic needs in walking distance. When we are lazy, mini-bus connections are minutes away. The bus office is just up the street where we buy a sharable 10-ride ticket for 2 euro (yes, .20 euro per ride for seniors).
The building has three floors with an elevator. There are not many buildings of this size with this convenience. All the necessities were in place: heating/ac unit, washer/dryer combo, electric stove, internet and cable T.V., strong wifi, and a fully equipped kitchen. The generous size queen bedroom has adequate closet space and the living room easily handles our lounging and computer needs. There is a good size bathroom complete with storage cabinets, tub/shower combo and bidet. Cleaning is done once a week.
Eleutério and his wife, Maria, take pride in satisfying their guests. No request goes unanswered. They reflect the good and kind spirit of the Azorean people.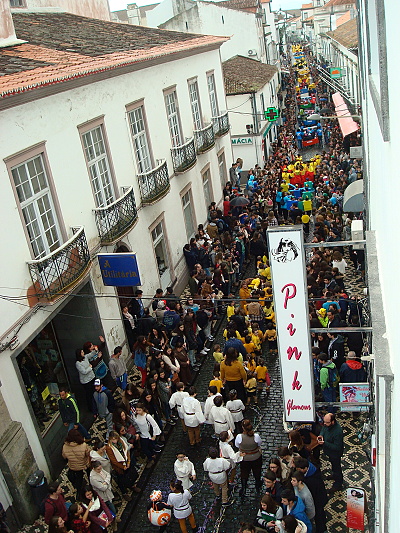 Machado dos Santos is strategically located to host many cultural events. About 10:00am Friday, Feb.5, we heard the happy beat of drums and knew it was Carnaval Corso time here in the city center. For two decades Sao Miguel has celebrated the youth of the island as part of the Carnaval festivities. We looked down at the packed sidewalks of the narrow street as the parade passed through. Each group of children represents a school, institution or sponsor. The colorful costumes reflect the creativity and hard work of the community. The scene below, deep in tradition and filled with joy, gave us a sense of well-being that is not easy to come by in our troubled world. That's why we come here.
On Good Friday evening we heard a steady beat of drums. We rushed to our windows to witness the "Way of the Cross Procession". The participants marched purposefully as the solemn onlookers stood in respectful silence.
The Romeiros' Pilgrimage of Sao Miguel takes place during Lent for six weeks. Groups of men of all ages take to the streets and roads of the island to honor their commitment to their faith. They walk with a scarf around their necks, a cape, a backpack, a rosary and staff in hand. Their chants can be heard from dawn until dusk over hills, in valleys, along village roads and on city streets.
Carnaval wraps up with the Batalha das Limas (water fights). Trucks loaded with young folks laden with small water-filled bags, water guns, and water drums with hoses drive slowly down the Avenida (the main avenue along the waterfront). Others, also well-armed, line the roadway. Let the battles begin! Bags bursting, water splashing, just stay out of the way if you're not participating. There's no safe place on the streets of the city as youths look for innocents to rain upon. The clean-up brigade makes quick work of cleaning up the broken plastic bags, just as they did the confetti-littered streets after the children's parade.
Eleutério also does custom designed tours, the best way to get initiated to the island. You will get a unique mix of the basic sights and hidden treasures. Since Eleutério is originally from Vila Franca do Campo, the first capital of Sao Miguel, we requested that he give us a tour of his town.
He knows we travel on our stomachs so he lead us down by the seaside to the Praia Cafe restaurante, Lugar da Vinha d'Areia, Vila Franca do Campo. It was a little too cool to sit on the deck so the lovely contemporary dining room did nicely. Our sweet waitress recommended the two daily specials; abrotea (delicate white fish) with rice, and stuffed chicharros (small mackerel) on a bed of mashed potatoes. Both were perfect renditions of these regional specialties. The crusty, chewy bread was served with fresh cheese, hot sauce and tomato jam. Fresh fruit cup and coffee concluded a splendid lunch.
The walkway along the waterfront passes the adjacent water park and leads to the marina area. We turned north to visit the Municipal Museum, which is housed in a variety of buildings, the main one being Casa Botelho, clustered together and dedicated to preserving the culture of the region. What a wonderful collection - everything from wheel barrows and carriages to pottery, household furnishings, musical instruments, a barber shop, corn mills, model boats, paintings, and the oldest Azorean chair. Of particular interest were a large wheel of stone made from the minerals from the volcanic explosions that formed the island, and a Jewish tombstone with a carved Star of David.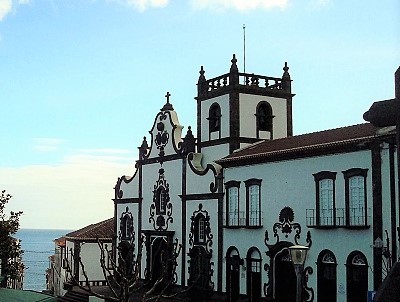 The center of Vila Franca do Campo is built around the lovely public gardens, dominated by the Church of São Miguel Arcanjo and on the opposite side the Misericordia Church and Hospital. Around the corner is an outdoor market with stalls built around a cozy courtyard.
Down to the marina and the Tagarete Dock and the remains of the Tagarete Fort, the best preserved of the five forts that defended the coastline from pirates. As we walked along the shore, the smell and colors of the sea, along with the bright colored fishing boats bobbing in their moorings, was a treat to the senses. About 1km off the coast is the Ilheu da Vila, an island created by a sunken volcano. It is circular in shape and its interior is a natural swimming pool with sparkling clear waters. There is regular ferry service during the summer months. These are the crystal clear waters Eleutério dives in. Did we mention Eleutério does brilliant underwater photography?
There are several excellent museums in Ponta Delgada:
The Museu Carlos Machado, the main one, was created by Dr. Carlos Machado in 1876 and opened June 10, 1888. With the acquisition of the Saint Andrew convent in 1930 came the opportunity to gather in the same building all the collections of the Carlos Machado Museum. Over the years donations and acquisitions contributed to the depth and diversity of its collections; natural history, art, African and regional ethnography. When we visited in 2006 there was a natural history collection of preserved samples of every fish, animal, bird, insect, butterfly, etc. that has ever inhabited the Azores, as well as pictures, graphs, charts and detailed explanations. It's a scientific reflection of nature's impact and influence on the Azores during the 19th century. The museum closed for renovations sometime after our last visit and should reopen this year.
The Sacred Art collection was moved to the nearby Jesuit College Church (The church now operates under the umbrella of the Museo Carlos Machado), where it is now a permanent exhibit. Jesuits College Church came to Ponta Delgada in 1591. It's a glorious baroque creation, with ornamental volcanic stone elements on its facade. The high altar is a dazzling work of intricate wood carving and 18th century blue/white glazed tiles (azulejos). There are several paintings and sculptures from the 17th and 18th centuries in the nave and sacristy.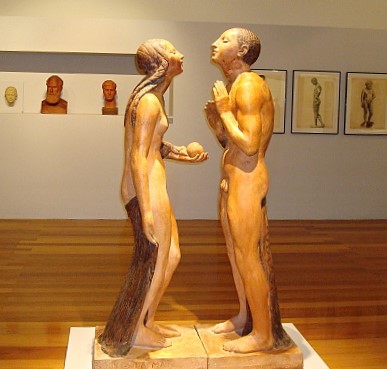 In 2010, the Museum opened a third center, Santa Bárbara, just south of the main building, Saint Andrew convent. This marvelous property houses a permanent exhibition of the extraordinary sculpture of Azorean Canto Da Maya. You will know you are there when you see the solitary figures of Adam and Eve in the courtyard. There are always temporary exhibits which fulfill the Museum's Mission: "To study and preserve heritage and through it unveil and promote Azorean culture and Azorean identities, focusing on educational activities aimed at several publics. It is a place of inclusion, where identities are expressed and diversity is promoted, where ideas are put forward and generations meet, where citizenship is developed and past and present are united."
The Centro Municipal de Cultura has regular exhibitions of Portuguese artists. This year we saw the sculptures and paintings of Jose Carlos Almeida, the photos of Ricardo Chetano and a presentation of the process of painting by Vieira Pereira. The venue is a converted charming villa which itself is worth a visit.
It was music to our ears to hear that The Sahar Hassamain (Gates of Heaven) Synagogue, museum and cultural center on Brum Street was officially rededicated on April 23, 2015 and that the first Friday night service in 50 years was held the next evening. There were 40 people present, including members of the Lisbon Jewish community and supporters from the Boston, MA area.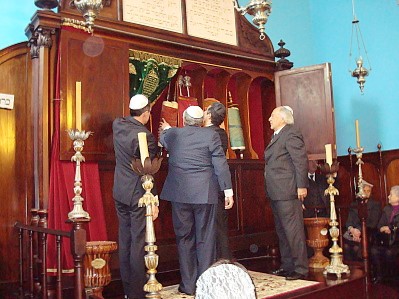 When we arrived this year the very special man who drove the restoration project, Dr. Jose De Almeida Mello, invited us to a special event which was the return of two torahs which had been in the custody of the Lisbon Jewish Community for protection for 20 years. The torahs had originally come to Ponta Delgada with the first Jewish families from Morocco. The synagogue was filled with members of the "Cultural Association of Friends of the Synagogue", of which Dr. Mello is President.
It was heart-warming to see the local non-Jewish community of Ponta Delgada supporting the importance of "preserving the existence of cultural legacies related to Jewish identity in the city of Ponta Delgada". Dr. Mello (historian and writer) has conducted many events welcoming visitors and locals including lectures on the history of the Jewish presence in Ponta Delgada and the Azores. To date, there have been 6,000 visitors comprised mainly of foreigners and local students.
Jewish visitors to the synagogue will be moved to tears (as we have been on more than one occasion). Our gift to the restored synagogue building was several mezuzahs, which we hope will be the start of a collection for display in the museum. If you arrive with a mezuzah to leave as a gift, you'll be thrilled to be able to contribute in some way to this beautiful place. (Like throwing a coin in the Trevy Fountain.)
We love the cleanliness of São Miguel. Here in Ponta Delgada the streets are always immaculate. Those cleaning guys are constantly sweeping and vacuuming. There are waste bins attached to buildings all around the city center. Restaurants, cafes, bars and visitor accommodations maintain the highest standards.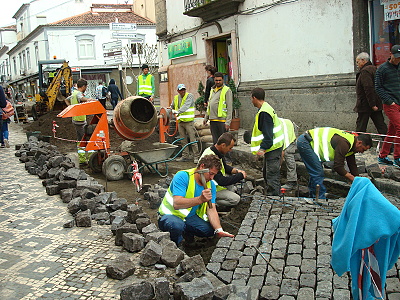 The attractive stone streets and sidewalks are constantly being repaired by skilled stone craftsmen. It was intriguing to watch the crew rebuild our street, reshaping the stones and fitting them into an intricate pattern.
Invariably our daily jaunts take us past the Igreja Matriz (main church) and it is rare that Linda doesn't stop to capture the image from yet another angle. Our walking route covers the stretch from the fort (Forte de São Bras) in the west to the Clube Naval (Nautical Club) in the east. The fishing port is next to the fort. Steps down from Avenida, facing the port is a promontory that has been transformed into a cozy eating and drinking area, Cais de Santiago. Shipping containers have been transformed into a cafe and restaurant. Comfortable tables, chairs, lounges and a picturesque view make it a compelling destination.
Glass enclosed cafe kiosks with outside seating run along the seaside offering beverages, snacks, marina views and fresh, sweet air. Next along is the cruise ship and ferry terminal, which when occupied keeps the waterfront bustling. Portas do Mar with its shops and restaurants fronts the terminal. The adjacent sea and pool swimming area leads to the Club Naval marina. Try to make it for sunrise or sunset for the real deal. Capture those views from the footbridge that links the seaside to the Hotel Marina Atlantico.
We often stop to help visitors looking befuddled with map in hand. Invariably the conversation turns to where to eat. We tell them that frankly you can't go wrong here on the island. All food establishments at all price levels offer excellent value. The menus feature local regional fare. Most of the ingredients are local and of excellent quality. The livestock are fed local grains and grass, which is reflected in the natural flavor and texture of the meat, pork, fowl and dairy. Fish is caught daily (as weather permits) - ocean to plate. When you arrive, check out the mercado (market) on Rua do Mercado and see what's in store.
Since Ponta Delgada is the commercial hub of the island, lunch (12:00 to 14:00) is a busy time. There are many choices of places that are geared to offer a daily menu priced to please the locals and those visitors who are fortunate enough to find them. Let us help you out.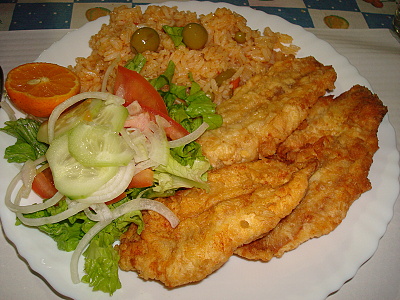 Floresta Lisbonense is located on Rua Dos Combatentes da Gandeguerra, a narrow alleyway, behind the Maritime Police Building on Avenida. You'll usually find a regular standing at the small open window having a whiskey/coffee. The menu of the day is posted to the left of the window with 6-7 offerings. The busy bar leads to two dining areas in the rear. Mom is in the kitchen cooking her version of typical local recipes, such as; fried abrotea filets, grilled or curried chicken, beef stew, chicharros (small fried mackerel), etc. The portions are large, the prices small, even for beverages. Her sons deftly handle the constant stream of regulars, including us, anticipating every need. Floresta Lisbonense is a memorable PDL experience.
Cachapa is located just north of the mercado on Rua Padre Serrao, 36. Dad, Jorge, is in the kitchen and Manuel, his son, handles the front. The daily specials are tempting, but this is our go-to place for grilled lamb chops from the regular menu and the soup of the day (Jorge's is the best!). The locals already know about Cachapa - now you can join them.
Cafe Mascote at Lada Sul de Matriz 62 (the street along the south of the Matriz) is right in the commercial center. The daily list is posted outside. A long bar leads to the dining area in the rear. The patrons here are trying to make the most of their lunch time, eat well, do some errands. The pace is hectic, but once seated you can pace yourself, no one will rush you. The tiny, open kitchen turns out well-priced favorites.
Diálogos com Canela is located next door to our apartment on Machado Dos Santos. This cute cafe/restaurant features a sumptuous salad bar, 3-4 daily hot specials, many sandwich choices, made to order plates, and a nice variety of sweets to go with excellent coffee. This is where we have our daily garotos and fofas (eclairs made exclusively in the town of Povoação). Joao and his crew will happily greet and serve you.
Casa do Pasto Tavares (Tasca Felipe), at the corner of Rua Melo and Rua Bettencourt, is an institution. The outside chalkboard lists the daily offerings but the regulars know it all by heart and just head on in. Many go for the polvo (octopus) dishes and grilled fish. The long list of meats, pork, and chicken are well done and well-priced. Portions are large, consider sharing. They usually have fresh local fruits to finish the meal. We've been coming here for years and have always been pleased.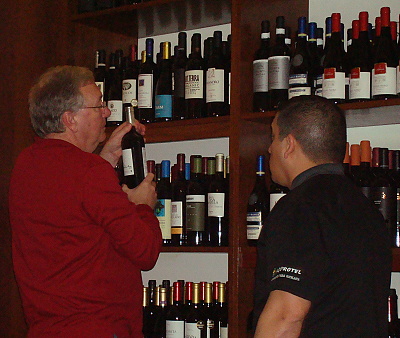 We were introduced to Floresta Lisbonense, Cachapa and Cafe Mascote by our Facebook friend Henrique, lover of fine food and wine. While we were out walking Linda excitingly said, that man at the parking meter is my Facebook friend Henrique. As we approached he looked over and said, Linda. They recognized each other from their posted photos! We agreed that we would have lunch together at Saca-Rolhas Taberna, which is one of the best restaurants on the island. A totally different experience than the three he led us to in town.
Taberna Saca-Rolhas sits across from the sea at Rua da Corujeira 3 in Relva, about a 20 minute drive from town, out past the airport. We were warmly greeted by our host Fernando whose exuberance is contagious. Since our last visit, the intimate dining room had been comfortably enlarged and beautifully redecorated.
Henrique made it clear we were his guests as he and Fernando worked out a menu starting with a meat and cheese platter, and alheira (Jewish chicken sausage) wrapped in filo. Next up, abrotea fillets and polvo done in the oven. Henrique chose a lovely Alentejo red wine as a perfect partner. Each of the desserts was marvellous - coconut cake, mango and passion fruit puddings. Taberna Saca-Rolhas is very special. Fernando presents his menu and works with you to make your selections. The kitchen uses top notch ingredients and the preparation and presentation are inventive. It's worth the trip to Relva. Next year it's our treat!
There are many excellent restaurants in nearby Lagoa, east of Ponta Delgada. Henrique had recommended Ondas do Mar, Largo do Cruzeiro, 14A, practically in the sea. Off we went with our friends Ana and Frank (from Ottawa). After we were seated, our waitress invited us to the artfully displayed selection of fresh fish from which we made our choices. Fresh indeed, well grilled, very reasonably priced. Good reasons to return.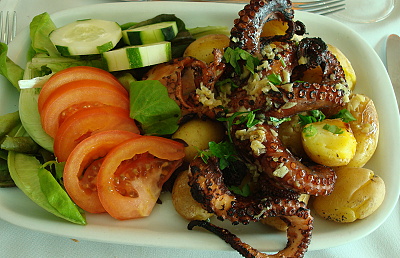 Cozinha d'Arlette, is located in a residential section, northeast of the center, at Rua Professor Machado Macedo, 12. It's only a 30 to 40 minute walk or 15 minutes on either the B or C mini bus. Either way, just go! If you want to eat in, don't wait in the long take-out line; just pass into the bright and cheerful dining area. The offerings change daily. You can view them at the take-out counter. Grilled fish, roast pork, bacalhau preparations, liver, beef, you can't go wrong. The cooking is home style, the portions are large enough to share and the prices are reasonable.
The hottest restaurant in town is A Tasca, situated in a renovated old jail on Rua do Aljube, 16. It's all wood - beams, pillars, floors the works. High ceiling, tall windows, upstairs is for art exhibits and special events. The well-executed, creative menu is presented in the form of a newspaper. Choose from generous sandwiches, such as fresh tuna steak or black Iberian pig or a long list of tantalizing small dishes to share. Move up to shrimp, clams, limpets and fresh fish preparations or hefty beef, pork, chicken or rabbit meals. The helpful staff will work with you to make a wise decision from the extensive wine list. Beer is easy. And oh those desserts - our favorite is the pineapple cake. A Tasca is a fun place for very good food at pretty fair prices. Oh yes, there are daily specials of traditional dishes and the fresh fishes of the day. The service is friendly, cheerful and helpful. Sharing is encouraged.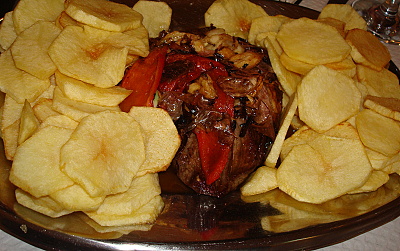 Aliança, Rua Acoreano Oriental 19/23 is our favorite in-town restaurant, as it is for many of the locals. Visitors we have sent there have been delighted. There are two dining rooms, ground and 1st floor. The homey environs and service make it a totally relaxing experience. The regular menu has well-chosen offerings. The daily list is primarily made up of the fresh fish selections and traditional regional specialties. We come here regularly for the fresh fish and the excellent quality regional steak. Both are expertly grilled and seasoned. For total ecstasy be sure to have either the orange or coconut pudding for dessert.
We always enjoy a relaxing, sea view lunch at Hotel Marina Atlântico across from the marina and pools. The steamed, thick filet of abrotea on a bed of julienne vegetables with a glass of Currol Atlantis white from the island of Pico was perfection. We lingered over home grown pineapple, chocolate cream pie and cappuccino - sweet comfort - a memorable meal.
If you find yourself in need of some basic services here are our recommendations:
For pharmaceuticals or if you need advice for an ailment, the highly professional staff at Farmacia Popular, Rua Machado Dos Santos, 34, will take good care of you.
We always arrive in Ponta Delgada ready for hair makeovers. Over the years, Manuela Faria and her team at Visos, Largo de S. Joao, 6a, have won us over with their caring, professional work. Here we were, a few days after arrival, cuts for both, coloring for Linda and a repeat performance was scheduled for before our departure date. When Mindy, a traveler from Toronto, said she was in need of hair coloring and a cut, we directed her to Vizos. She was ecstatic about her new look as we walked with her to the Hotel Marina Atlântico where she was staying.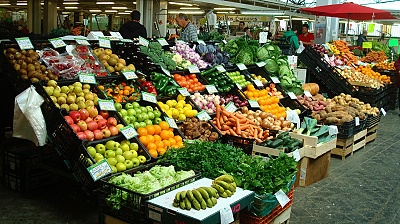 The restaurant patios fronting The Solmar Avenida Center, are a neat spot across from the Marina to relax with a coffee and a sweet or enjoy a meal from a choice of regional specialties. The Solmar Avenida Center is also home to a Solmar Super Market where we do our everyday shopping, and our laundry of choice, Wash & Dry. It takes 2 hours for the friendly staff to wash, dry, fold and package our one load. There is a comfortable free WIFI zone in the shopping center, which enables you to stay in touch while waiting.
If you feel like being pampered with a facial, massage or electrolysis then head to Our World, Rua Misericordia, 47, and have Lena work her magic.
If you do some clothing shopping (good discounts available this time of year) and need alterations, just head to Atellier Glamour on the first floor of Machado dos Santos, 96, where your new things will be in the capable, caring hands of Natercia and Antonieta.
We started this travelogue by introducing a new PDL treat - gelato at ABRACADABRA. Let us not forget an old friend and local favorite as a serious alternative. If you love quality soft ice cream made with real milk and rich flavor head to "Quiosque Tome" located on Avenida in front of the far west end of the Portugal Telecom building. There is always vanilla and chocolate, fruit flavors change daily. We have been known to have both gelato and soft ice cream in the same day, which will come as no surprise to the folks who know us!
Safe travels, friends! See you in Ponta Delgada next winter?

Search TheTravelzine | TheTravelzine Group | Don's Gallery
Packing Hints | Planning Tips | Cities Links

---
All pages on TheTravelzine.com©Copyright 1996-2020 Don & Linda Freedman