NEW YORK and MASSACHUSETTS - Summer 2001 (5)
Herkimer | Salem | Boston Area | Cape Cod | Niagara Falls
Return to HERKIMER
We overnighted again at the Bellinger Rose in Herkimer. Chris had suggested Vinny's at 117 North Main Street if we were in the mood for pizza when we got back to Herkimer. You bet we were! Vinny's is a typical take-out/eat-in joint, an institution in Herkimer and rightly so. We like thick crust pizza so we ordered a cheese and tomato Sicilian (square) pie. The size was frightening - twelve inches by seventeen and two inches high - easily enough for six people! The crust was light, dry and just right chewy. The tomato sauce was outstanding as was the quality and flavor of the cheese. The price of this was just eight dollars and fifty cents, possible only in small town America!
Last time on our way to Little Falls we passed a splendid old bridge, overgrown and neglected, that reminded us of similar structures in Europe.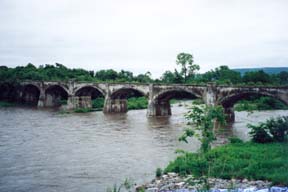 Chris had told us that the bridge would eventually be coming down and Linda was devastated. After another wonderful breakfast and a complimentary chair massage (a great way to start any day!), we scooted over to the bridge so that Linda could try some gentle persuasion. People of Herkimer, please reconsider. Glorify the remnants of your past, don't destroy them! Your area, with its beautiful system of canals and locks and natural beauty, holds so much of interest to tourists. Take a bridge such as this and make it a landmark, not a pile of rubble to be carted away. Think again - please.
We decided to cross into Canada at the Peace Bridge and drive along the Niagara Parkway to Niagara Falls, not our usual approach. We had never driven on this stretch of road and were delighted we finally did. It's a gorgeous drive with beautiful parklands, picnicking, biking and walking paths along the river side and magnificent homes across the way.
A gambling casino opened in Niagara Falls after our last visit and the resulting building boom is evident. We had read excellent reviews about the Sheraton Fallsview expansion and renovation and decided to have an early dinner at the Sunday buffet in their Fallsview dining room. The hotel is perfectly sited high above the falls and the rooms on the newly added upper floors have the best views. They were kind enough to show us some of the rooms and suites, which were all fantastic. It's not just the views that are marvelous; the design and decor is understated elegance with exquisite taste. Niagara Falls has always been a honeymoon destination but now the accommodations are worthy of the beauty that nature bestowed upon the area.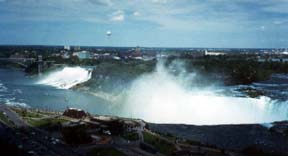 Seated beside the dining room window, it was hard to think about food. The view of the falls with the mist accented by the sunny afternoon rainbow, was nearly too perfect to be real. We enjoyed a glass of wine and relaxed knowing that we were about to overindulge for the last time in the foreseeable future.
We dragged ourselves away from the falls view to view the offerings on display at the buffet. The array of vegetables, salads, smoked salmon with all the appropriate condiments, poached whole salmon, baby shrimps and whole jumbo shrimps in their shells was particularly appealing and we did it justice.
Roast beef is the hot buffet hero here and our first slices were disappointing as they were too well done for our taste. Our waitress was quick to respond when she noticed that we had stopped eating, and she brought us nice, medium rare slices fresh from the kitchen. There were several other hot offerings, pastas, cooked and grilled vegetables, rice and potatoes.
It was impossible to walk by the huge assortment of desserts without partaking. We each took small portions of a variety of these goodies and must admit we only liked the pecan pie. It just might be that even we have a point at which it is time to stop and regroup - get ourselves back in shape before the next onslaught. The party is over and it's back home to Toronto.

Herkimer | Salem | Boston Area | Cape Cod

Search TheTravelzine | TheTravelzine Group | Don's Gallery
Packing Hints | Planning Tips | Cities Links

---
All pages on TheTravelzine.comęCopyright 1996-2020 Don & Linda Freedman