NEW YORK and MASSACHUSETTS - Summer 2001 (4)
Herkimer | Salem | Boston Area | Cape Cod | Niagara Falls
CAPE COD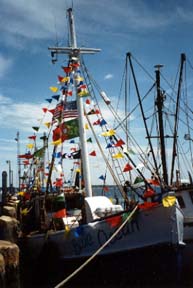 It just kept getting better because we were now off to Eastham on Cape Cod to spend a little time with our dear friends Fabio and Cornelia from Switzerland. They had been touring Boston, the Maine coast and the New Hampshire mountains and had reserved at the Four Points Sheraton on Rt. 6 in Eastham for two nights before flying home from Boston. It was a marvelous coincidence that our timing jibed.
On our way to Eastham, which is way out on the Lower Cape not too far from Provincetown on the tip, we detoured to visit New Seabury, where we spent many summers while our kids were growing up. The real estate values in the area have skyrocketed since we left and growth has continued unabated. We stopped in Centerville at Four Seas for a sandwich and what we always thought was the best ice cream. Centerville is on the south shore of the Cape and if we had time we would have stayed on the touristy Rt. 28 through the coastal towns but we were anxious to meet our friends. We zipped over to Rt. 6, the highway that runs through the center of the Cape.
By now you've guessed that we were determined to pick a winner in the non-gelato ice cream category but we had one more to go before the votes were counted (along with the weight gain we were beginning to notice - small wonder, eh?).
The Four Points Sheraton Eastham is ideally situated for exploring the outer Cape. The hotel is being completely renovated and the displays of fabrics and furnishings posted in the public areas indicate that a seaside New England theme will result. It should be lovely. Our large room, with king size bed, sofa, desk and lots of amenities including a fridge was very comfortable. The hotel has a center atrium with a large indoor swimming pool and there's a lovely outdoor pool as well, making it ideal for families with kids. There's also a terrific smelling Italian restaurant on site and the pizza looked really delicious.
Shortly after settling in, there was a "room service" knock on our door, which turned out to be Cornelia and Fabio. This was the sixth anniversary of our friendship and we were delighted that it was possible to celebrate it together. We hopped into the car to begin exploring the area.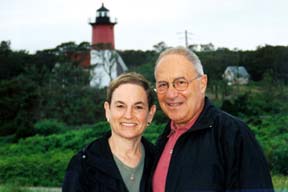 For a quick fix before dinner, we drove south from the hotel to the beautiful Nauset Light Beach, the beginning of the Cape Cod National Seashore, a magnificent seacoast stretching all the way to the tip of the Cape. We took our pictures and were on our way for dinner.
We headed north on Rt. 6 a few miles to the Eastham Lobster Pool, which had been recommended by a Ziner (a member of our travel discussion group, where we always turn for the best information). This restaurant was just the kind of place one would envision for a typical, old-fashioned New England seafood dining experience. We were greeted by tanks of live lobsters awaiting their fate and a friendly Cape Cod welcome from the charming hostess. The large indoor and outdoor dining areas are pure seashore shack, perfect for a relaxing and enjoying long, leisurely home cooked meals. It was perfection for the four of us. The food was fabulous and the ambiance and friendly attention from our waitress couldn't have been better.
We shared clams casino with our drinks and made our selections from the wonderful offerings. My partners all started with New England clam chowder, which Cornelia and Fabio claimed was the best they had had so far on their trip and Linda said it was far better than the famous Legal Seafood version, which has been served at Presidential inaugurations. I had the succulent cherrystone clams of my dreams. Cornelia and Fabio loved their baked stuffed flounder as did Linda her baked stuffed shrimps. Bluefish is my fish of choice when in New England and it was excellent. We had a choice of Caesar salad or cole slaw and we all selected the crisp, tasty Caesar and baked potatoes to accompany our mains. Thanks Paul for the totally wonderful recommendation.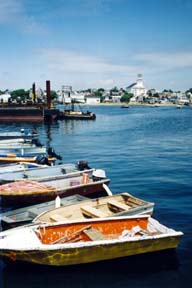 After a light breakfast of bagels and coffee nearby, we were off to Provincetown happy to have a bright, sunny day. A Portuguese festival (The Blessing Of The Fleet) was underway with the promise of kale soup and linguica for lunch under tents in the center of town. The main street through town center, lined with historic buildings, was colorfully decorated with Portuguese flags. Provincetown is best known for its art colony, fishing port and gay community. We parked at the large city lot at the waterfront and walked the gorgeous east end of town along the shore lined with gorgeous homes, inns and bed-and-breakfasts.
A nice photo spot is out on the harbor piers, where you capture not only the old fishing boats but great shots of the historic center and the shoreline. Provincetown is also famous for its outstanding sandy beaches and sand dunes. The depth and soft texture of the sand is a rare treat for your feet and not to be missed. We kicked off our shoes and dug in while Fabio and Cornelia tested the water, which they declared was too cold.
On the way back to the hotel, we stopped in North Eastham at Ben and Jerry's, the last contestant in our ice cream Olympics. Picking a flavor was no easy task and they were all truly delicious. But truth be told, we had already fallen in love and Richardson's gets the gold. If you can't make it to Middleton, don't despair; there's likely a Ben and Jerry's near you.
It was a long, stimulating day in the sun and after a bit of freshening-up we were off to the Old Jailhouse Tavern in Orleans, another of Paul's recommendations. We were seated in the dining room adjacent to the cozy bar. In fact, the whole place, which is constructed of stone and wood, has a cozy feel about it. Our waitress was personality plus and very helpful. The menu was traditional New England fare, with a large variety of offerings from which to choose.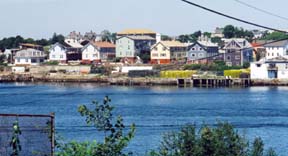 The gang again put the chowder to the test, which they felt was delicious but not quite as good as last night's rendition. I started with steamers the way they should be - a large portion of full-bodied beauties priced lower than the minuscule portion of scrawny creatures I was served in Essex. Cornelia's seafood sampler of baked stuffed shrimp, stuffed flounder and broiled scallops and cod was excellent. Fabio's swordfish was nicely grilled and a lovely cut but the barbecue sauce that was brushed on top masked the flavor of the fish and created an unwanted distraction. Linda and I had marvelous fried clams with a light, tasty breading accompanied by delicious, thick cut, spicy fries, tasty cole slaw and all the tartar sauce you care to eat. The portion was huge and the price for this complete meal with bread and an excellent tossed salad to start was one dollar more than the tasteless pint we were served in Essex. Clams are not in short supply and there has not been huge inflation - except at Woodman's.
After breakfast the next morning we said our good-byes and we started our return trip to Toronto and our friends would soon leave for Boston for their flight back to Switzerland. Short but oh so sweet, we've had many such get-togethers during the past six years and we plan to celebrate many future anniversaries together.
At Wrentham we got off Rt. 495 to find a spot for lunch and were handsomely rewarded. Cafe Florian, 667 South Street, is a small, simple restaurant that does breakfast, lunch and dinner Wednesdays through Saturdays. We both had the best blueberry pancakes ever. The delicious batter with just the right amount of blueberries was lightly grilled and served with real maple syrup. The new contemporary dinner menu looked quite appealing. If you're in the area, this is one not to miss.

Herkimer | Salem | Boston Area

Search TheTravelzine | TheTravelzine Group | Don's Gallery
Packing Hints | Planning Tips | Cities Links

---
All pages on TheTravelzine.comęCopyright 1996-2020 Don & Linda Freedman