ITALY
WINTER 2006

ROMA 1
We have wintered in Italy for four of the last five years. The combination of low season rates, fewer tourists and relatively warmer temperatures than Toronto is a tough combination to beat. When Air Canada had a seat sale to Roma, we grabbed it.
During previous winter visits, we had traveled around Italy for about four weeks. This year we extended the time to eight weeks, the majority of which we would spend in Roma becoming entrenched in everyday life. On our list for short visits by train were Firenze, Genova, Bologna and Rimini and "we'll see"!
Since we would be using the trains in Italy only, we were armed with Trenitalia train passes we obtained from Rail Europe before leaving Canada. We love traveling by train, the convenience of rail passes and the can't-be-beat service from Rail Europe.
The Air Canada flight was as good as it gets in economy. We had an exit row with extra leg room and empty seats in the center section across the aisle where Linda as able to snooze for a while. Service was very good and to top it off, we arrived fifteen minutes early to sunny skies and 15░C.
With just carry-ons and a small shoulder bag we were off, through customs and down the escalator to the Leonardo Express to Roma Termini in short order.
After purchasing bus tickets (1 euro for 75 minutes) we were just in time for the 360 bus to Piazza Delle Muse (Parioli) and our home in Roma, Hotel Delle Muse. We have stayed here for years and when it came time to plan this trip, we decided that there was nowhere else we would rather stay. We enjoy living in Parioli, an upscale neighborhood, close enough to the city center. It's a pleasure to return to quiet Parioli after wandering in the bustling city all day.
If you enjoy walking, it's a leisurely 45-60 minute walk to the city center. Otherwise, the 360 bus stops very close to the hotel and it's just a 20-minute ride to Termini Station, where you can make bus and metro connections to all parts of the city. On the way to Termini, the 360 stops in Piazza Ungheria (10 minutes walk from the hotel), where you can change to buses or trams to other parts of the city.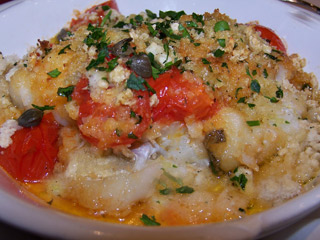 There are many wonderful restaurants within easy walking distance of the hotel. But you don't have to leave the hotel to enjoy an excellent meal. The dining room is an extension of the family spirit, a homey, cozy place to totally relax and enjoy cooked-to-order, well-prepared dishes while sharing as much conversation as you desire with other guests.
Hotel Delle Muse is a three-star hotel with five-star staff. It's truly a home away from home. It is family-owned and the long-serving staff is part of the family, committed to the comfort of the guests. That is why most of the clientele are regulars. We often find ourselves meeting old friends in the dining room and lobby.
[Back to Top]
The hotel is housed in an old villa with a pretty garden for lounging or enjoying a meal in warm weather. The newly renovated rooms come in all sizes, comfortably accommodating singles to families. All the rooms have air conditioning, heating, en suite bathrooms, satellite television, ADSL computer connections, heated towel racks and direct dial phones. Our room also had a large balcony with a table and chairs overlooking the garden.
There are three computers at the Internet point in the lobby. We enjoyed planning our daily walks with the pocket-size guide book with coded area maps and good descriptions of important sites, etc. A separate city center map, with a coded list of most streets on the reverse, is a practical and useful supplement to the guide book. These excellent planning tools are free for guests of the hotel.
After unpacking our bags (doesn't take long to empty two carry-ons), we headed to the dining room for lunch. Fresh mixed salad was followed by two perfect pastas, spaghetti aglio, olio, pepperoncini and tagliolini limone (thin pasta with lemon cream sauce).
Each day starts with a wide assortment of breakfast foods; breads, fruits, vegetables, cheeses, meats, yogurts, cakes, croissants, sweet buns, cereals, juices and, new this year, chafing dishes with scrambled eggs and bacon.
The lunch and dinner menu offers a large selection of Primi pastas and soups and Secondi beef, pork and chicken dishes. If you are in the mood for fresh fish, just give the kitchen 24 hours notice. Rounding out the offerings are salads, pizzas, and a substantial vegetarian buffet. There is a daily menu that includes a primo, secondo, contorno and dolce (first, second, vegetable and dessert) for 15 euro, bread and service included. Dining here is a wholesome, delicious, fun experience and a good value option.
[Back to Top]
A Roman friend called to invite us to join him and his wife for a visit to Orbetelo the next morning. We do not normally like to get up early after a long flight, but heck, we couldn't pass up the opportunity to be with old friends and discover a new place.
Orbetelo is beautifully situated next to the sea in the Maremma Region of Tuscany on a small peninsula surrounded by two salt water lagoons, Levante and Ponente. Nearby is the lovely seaside town of San Stefano and offshore are Isola del Giglio and Isola di Giannutri. This area is a very popular second home destination for Rome residents.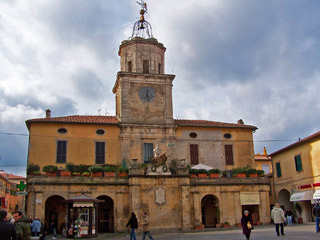 We arrived in time for the open air market set up on the banks of one of the lagoons. It is very popular with the locals because there is a nice assortment of quality offerings at good prices. Our friends found some excellent wicker baskets and I couldn't resist an addition to my hat collection and some underwear at an incredibly low price. Poor Linda could not find a suitable bargain.
Orbetelo has precious old, pleasantly worn, narrow streets and buildings. This area attracts an upscale crowd which is reflected in the fine-quality shops along the main street. The sights and smells of food always attract us and before long we were munching on focaccia fresh from the oven, one topped with shredded potato and the other with basil – both with scrumptious olive oil.
If you love life by the sea this is a marvelous area for spending time in the warmer months with beaches, boating, islands, swimming, fishing and wonderful seafood.
[Back to Top]
We didn't do much advance planning for our time in Roma. Each day we would awake when we felt like it, have a light breakfast and hit the streets. Today was Sunday and we were still recovering from the flight and our hasty trip to Tuscany. We slept late and decided to take a walk around our Parioli neighborhood to see if anything had changed since last year. Everything was just as we remembered it except for an apartment building being renovated around the corner from the hotel, overlooking the park of Villa Ada. We were ready to buy until we realized it would take a multi-million euro lottery win to close the deal.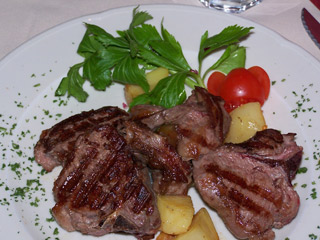 We did manage to find a ristorante we had not tried before and returned later in the evening for dinner. Taverna Rossini is located on Viale G. Rossini 54. There is an outdoor patio at the front weather permitting. The interior is attractive brick and stone on two levels. The menu is extensive and the prices are reasonable. We were seated next to two Americans who are living in Parioli. They are regulars here, as most were. There are never many tourists in this part of the city, so you know that "tourist trap" restaurants won't succeed – they'd never pass muster with the sophisticated Parioli locals.
I started with zuppa di farro e porcini followed by a secondo of tagliata de manzo (sliced beef steak) in wine and herb sauce. The large portion, grilled medium rare, was tender and tasty - a winner. Linda thoroughly enjoyed her grilled lamb chops which she declared had the wonderful natural flavor of fresh young lamb. Good food, delightful dining neighbors and cheerful wait staff made for a lovely dining experience.
[Back to Top]
Last year we purchased a Vodafone rechargeable SIM card and when we left Italy, ran into roaming problems and charges for calls to correct the problem. Today we hit the trail to the Via del Corso location, where we had purchased the SIM, to rectify the problems.
From Hotel Delle Muse it's about a 15-minute walk to the Borghese Gardens where we took Via Pinciana along the gardens to Via Francesco Crispy onto Via Della Mercede which ends at Via del Corso. It had been about 45 minutes of walking when the aromas a tavola calda at 46-47 Via Delle Mercede overcame our senses. The throngs lined up for the homemade foods and pizza al taglio (cut, sold by weight) drew us in. We continued walking, while nibbling – yum!
When we arrived at Vodafone at 14:00 we found that they do not be open until 15:30 so we felt obliged to wander down the street to our favorite gelateria, Giolitti, at Via degli Uffici del Vicario 40, for our first treat of 2006. Chocolate and bacio for Linda and pistacchio and noci for me, both topped with heavenly panna (whipped cream). It's always busy here and particularly so at this hour as shoppers and office staff are finishing off their lunches with dolci.
Back to Vodafone, we found the young woman who took care of us last year. It's such a busy office; we were surprised that she remembered us. She tried to solve our problem and when she took it as far as she could, she turned us over to one of her associates, Giorgia, who worked with us very patiently until she addressed all issues and we were 100% satisfied. She told us that a credit would be issued within 24 hours and we would get a text message to that effect. We got the text message and to our surprise and delight a telephone call from Giorgia to inform us that the credit had shown up on our account. We were very impressed by the level of customer care.
We went back to the Vodafone office on via del Corso before returning to Toronto to recharge the SIM, to protect our telephone number and cash balance until next winter. Giorgia informed us that she had been reassigned to central customer service and this was her last day at the branch. Way to go, Giorgia, they've got your number!
Linda was in the market for a new jacket by her favorite designer, SALDI! We joined the throngs of shoppers who know the value of a euro. In two hours she tried on 177 sale jackets without success.
On Via del Tritone we boarded bus #53 to Piazza Ungheria, a 10-minute walk from Hotel Delle Muse, and went to the supermercato across from the bus stop to pick up some goodies for our room. Rather than walk home with our bundles, we jumped on the 360 (with our still-valid bus tickets), which came along just as we exited the market.
Although our tickets were never checked on the 360, there was fairly regular checking on buses we took in the city center. The cost is so reasonable; it doesn't pay to risk the penalty for being caught without a valid ticket.
[Back to Top]
Back at the hotel, we had delicious fettuccini with porcini mushrooms and some interesting conversation with fellow guests from Norway.
The family environment of the hotel is a reflection of its owner, Giorgio Lazar. He is ever-present in body or spirit making sure that every guest is treated with care and dignity.
Because he knows that we are always looking for interesting places to visit he makes it his business to have a list ready for us, which he deliberately doles out slowly, slowly, so that we won't be confused. :-) Today he suggested two churches which share the same grounds: The Basilica of St. Agnes outside the Walls and the Mausoleum of Santa Costanza. They are located at Via Nomentana 364 although the main entrance to Sant'Agnese is at Sant'Agnese 35.
The day was sunny and bright at about 10C. The walk took 30 minutes from the hotel. At Piazza Ungheria we turned onto Via Panama along the grounds of Villa Ada which becomes a wide boulevard called Via Chiana. We were intrigued by Trieste neighborhood, another desirable residential area with nearby shopping and eating choices and easy access to the city center.
At the end of Via Chiana we turned left and then right onto Viale Gorizia to Via Nomentana and left again to our destination.
When we entered the portico of Sant'Agnese fuori le mura, we met a television production crew from Canada filming a documentary based on the novel "The Geometry of Love" by Margaret Visser which is rooted in this church. It was neat meeting fellow Canadians documenting the work of a Canadian author.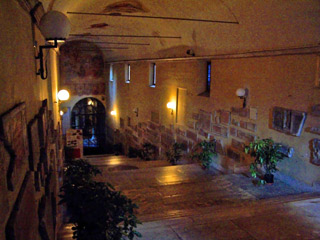 The church, built at the level of the catacombs, is accessed via a dramatic wide marble staircase decorated with sculptures and inscriptions from the catacombs. It's an exquisite church, built on a basilical plan, with three aisles; marble pillars in the nave support the seating for the nuns in a lovely frescoed gallery, below a richly-decorated, wooden ceiling. The apse is marble with a Byzantine-like mosaic in the upper part depicting Sant'Agnese receiving the crown of martyrdom from the hand of God.
[Back to Top]
The Baroque canopy of the high altar is from 1614 and the statue of Sant'Agnese is from the 17th century. The tomb of Sant'Agnese is below the high altar and can be visited with a reservation. The famous Catacombe di Sant'Agnese can be visited as well.
There is a garden and bocce club between the church and the Mausoleum de Costanza. The remains of a large basilica (which may have been a covered cemetery) are in the garden. The mausoleum is the only preserved part.
We stopped in the bocce club for a quick coffee break and enjoyed watching the retired gentlemen sitting around tables playing various card games and smoking, beneath the no smoking signs.
[Back to Top]

ROMA 1 | ROMA 2 | ROMA 3 | ROMA 4

FIRENZE | GENOVA | BOLOGNA | RIMINI
Search TheTravelzine | TheTravelzine Group | Don's Gallery
Packing Hints | Planning Tips | Cities Links

---
All pages on TheTravelzine.comęCopyright 1996-2020 Don & Linda Freedman