St. John
The border crossing at Calais to St. Stephen, New Brunswick, was quick and uneventful. We hadn't realized there is a one hour time change at this point, so we had to forego a planned visit to St. Andrews by-the-Sea in order to get to St. John in time to meet our Swiss friends, Cornelia and Fabio, who had been touring the Maritimes. We continued on Route 1, directly into St. John to the Homeport Historic B&B at 80 Douglas Avenue, 506-672-7255, 1-888-678-7678, which sits on a hill with views of the Bay of Fundy and the historic port and skyline of St. John, Canada's oldest incorporated city.
The innkeepers, Ralph and Karen, were on hand to greet us and advise that our friends had already arrived. We dropped our bags in our room and together with Cornelia and Fabio took a tour of the Homeport. Douglas Avenue is a heritage street with many grand old homes. Ralph and Karen bought two of these mansions, built by two brothers in 1856, and they have restored and joined them to create a distinctive and comfortable environment. Ten rooms and suites are available in four distinct price ranges to match any budget. The heritage style has been preserved from the antique furnishings to the claw foot tubs. Lots of local information, menus and so forth are available in the elegant parlor, where afternoon tea and refreshments are served. In the space created when the two houses were joined together is a stunning dining room and sitting area, with a windowed wall overlooking the harbor, which is used for special occasions. The breakfast room is bright and cheerful and Ralph features a different hot main course every day.
Our Adriana Room, with a partial view of the city and harbor, was quite large with a queen size bed and had an ensuite bathroom, as did all the guest rooms. Air conditioning is available in season.
Ralph and Karen are hard-working, caring innkeepers and did their utmost to make our stay as enjoyable as possible. They recommended Bill's Seafood Company, 49-51 Charlotte Street, in downtown St. John, 506-672-3474, a small bistro style restaurant, which was quite good. Both the fish and clam chowders were up-to-snuff. The crab cakes just okay but the steamed P.E.I. mussels were superb. Cornelia and Fabio loved the house specialty of salmon marinated in maple syrup and herbs and baked on a wooden plank. The large cut of fresh (delivered while we were there) halibut, was nicely broiled and served with tomato coulis, wonderful sautéed vegetable s and basmati rice. The lemon cream cake we shared was delicious.
Fundy National Park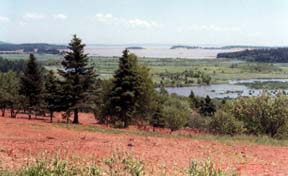 It was a gorgeous day as we left for Fundy National Park and Hopewell Rocks. We don't take good weather for granted! Nine times out of ten, when we meet our dear friends Cornelia and Fabio, it rains! So this was an unexpected treat. As we drove through the 80 sq. mile park, we became aware of the extensive trail system, camping facilities and even a golf course and heated saltwater pool. All this, plus rugged beauty to spare.
We made several stops in the park to walk and enjoy the wonders of nature, and as in Acadia National Park, we were thankful there are still natural, clean spaces that man has not fouled-up.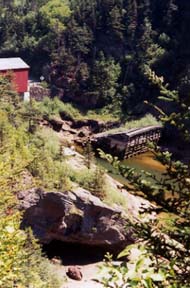 The Point Wolfe area was once a vibrant logging village. At this point the river flows under an ancient covered bridge into the Bay of Fundy. There's a breathtaking view at the mouth of the river and it is easy to imagine the logs floating down to the waiting ships. The Devil's Half Acre was a picturesque 1 KM walk looping through the woods along and above the sea. Wolfe Lake is a sparkling oasis of calm, clean water surrounded by forested parkland.
We managed to work up an appetite and looked into the unpretentious Ramona's Bakery and Restaurant, just off Route 114 at 6 Mill Street in Albert. The bakery was busy but since it was the end of the lunch hour, the five tables in the lunch room were awaiting our choice. The personable waitress welcomed us enthusiastically and assured us that although late, everything on the menu was available. The menu was just right, mainly sandwiches priced from $2.99 to $3.39. Each was quite substantial and made with thick slices of homemade bread. The turkey and roast beef were fresh and tasty and Linda was delighted that the bacon in her BLT was nicely crisp and good quality. My side order of memorable baked beans was made on the premises in the baker's oven. Ramona also knows how to make pie - strawberry rhubarb and lemon meringue heaven, a lunch time winner!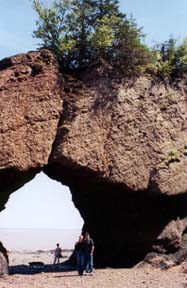 Hopewell Rocks
The Bay of Fundy boasts the world's highest tides and the famous Flower Pot Rocks at Hopewell. The gravitational forces of the moon and the sun combine with the unusual shape of the bay to produce tides which range in height from 10 meters to fourteen meters (32'-46'). To best appreciate the magnitude of these tides, they should be viewed at both high and low tide. We planned to be there for the low tide, so that we could walk on the ocean floor, and we did our best to imagine the high tide.
The tour starts at the interpretive center, which hosts a multimedia exhibit featuring the marine wonders of the Bay of Fundy, a self-service restaurant, gift shop and spotless washrooms. A beautiful trail network connects a series of viewing decks located throughout the site. Each deck location provides a unique vista of the bay. Display panels reveal much of the area's local and natural history. A personal touch is provided by a host of friendly and knowledgeable interpreters.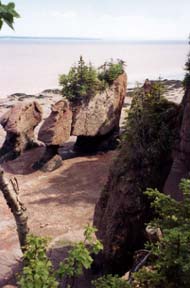 The walk along the trail is invigorating and when you get to the Flower Pot Rocks Deck and descend the seemingly endless staircase to the ocean floor and stand beside and walk among the "Flower Pots", you are blown away. Just think, six hours from now you could be kayaking in very deep water above this same spot.
After walking along the ocean floor for an hour or so, you may not feel like climbing up the stairs to the Flower Pot Rocks Deck so consider using the much easier shorebirds access, just a bit north of the Flower Pot access. Thoughtfully provided at the top is an area designed to facilitate the washing of muddy footwear with running water and brushes available for use.
After breakfast, we drove downtown to visit the Old City Market, since 1876 a meeting place and farmers' market, a National and Provincial historic site. Lots of food and wares to gawk over until it was time to say good-bye to our friends who were headed for the ferry to Nova Scotia.
Grand Falls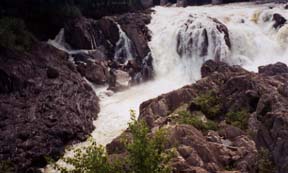 We drove north on Route 7, which took us past Fredericton onto Route 2, along the mighty St. John River, on our way to Grand Falls, New Brunswick. The forested landscape, mountains and lakes and the rushing river captured our imagination. When we arrived in Grand Falls, we immediately went to the famous Grand Falls Gorge to see and hear the St. John River as it plummets down a mile-long rock-sided ravine to the gorge below. The Malabeam Information Center has a wealth of material and helpful staff. There's a network of hiking trails and a walk down 250 steps to the wells in the rocks, one of nature's wonders. (Unfortunately the steps would not be opening until the day after we left.) Also available is a pontoon boat ride through the gorge, which rises higher than 70 meters (229').
On our way to our B&B, we admired the wide Broadway Boulevard. Originally developed by the military in 1840, it is now home to some unique and quaint stores selling handmade crafts from colorful quilts to bulky sweaters.
At 575 Broadway Boulevard West is Cote's B&B Inn, 506-473-1415, 1-877-444-2683. Norma and Noel Cote are New Brunswick at its best - no-nonsense, unpretentious, warm and welcoming. The delightful children and grandchildren all help out and the family made us feel right at home.
Our Plum Room was beautifully decorated with a queen bed, sitting area, fireplace, complete ensuite bathroom, individual air conditioning and ceiling fans. TV and a VCR rounded-out the amenities. There is a meeting room, laundry service and packages are available for meetings, special occasions and romantic candlelight dinners for two.
For a casual dinner, Norma recommended The Little Pizza House, 240 Broadway Boulevard, 506-473-3876, the wooden booths, brick walls and beams were a perfect environment for enjoying a fine Caesar salad and basic cheese and tomato pizza with whole wheat crust.
We enjoyed a great night's sleep and a very special breakfast in the lovely dining room. On the way through the kitchen, we had a nice chat with Noel, Norma and their daughter and decided together on our main course choice, French toast. Now, unlike Linda, I am not a French toast fan but Norma told me (ordered me) to try hers. After orange juice and fresh fruit and yogurt, Norma and her daughter brought us the plates of golden brown heaven. Thick slices of French bread were dipped in fresh New Brunswick eggs and cooked to fluffy perfection. A side of lean, crisp bacon, truly outstanding New Brunswick maple syrup and Norma's homemade rhubarb jam completed the early morning ecstasy.
Norma told us that she and Noel would be going to wash the windows of one of the municipal buildings in town - "their" building, as she put it! It seems that willing citizens are assigned buildings to care for. The people make the town and these nice folks make Grand Falls a neat place to visit.
A glorious day for the continuation of our drive along the St. John River and this magnificent part of New Brunswick to the Quebec border, where Route 2 continued to Route 20, which we took west toward Quebec City. Since we were just overnighting and wanted an early start near the highway, we made reservations in Ste. Foy, just outside of Q.C.



Search TheTravelzine | TheTravelzine Group | Don's Gallery
Packing Hints | Planning Tips | Cities Links

---
All pages on TheTravelzine.com©Copyright 1996-2020 Don & Linda Freedman