Sainte-Foy, Quebec
The Chateau Bonne Entente is a top-notch country inn at 3400 Chemin Sainte-Foy, 418-653-5221, 1-800-463-4390. A large, lovely pond dominates the front of the property. There was always a doorman to greet us as we came and went. Each receptionist was at an individual desk where we were seated, welcomed and handled with care and consideration.
The hotel was just completing a major renovation, redecorating and enlargement. The backyard gardens, pool, outdoor spa and bistro bar were the last to be finished and would open just after we left. In fact the landscaping was underway when we were there; it will be lovely!
The public areas were comfortably designed and furnished including a cigar room and a room for afternoon tea. Our beautifully-furnished room in the cocooning section had a very comfortable king bed, lounge, desk and console for the TV and sound system. The large bathroom was well-supplied with quality products.
After a forgettable lunch at Cosmos on Boulevard Laurier, we drove around looking for a local restaurant for dinner. (The hotel had been trying to book us at a few places in the old city, but all the good ones were fully reserved due to the start of the St. Jean Baptiste celebrations.)
A short block from the hotel, we noticed an interesting sign Arlequin Patissier/Traitteur, at 3344 Chemin Ste. Foy, 418-654-9464. With a little bit of luck, a good piece of pastry might compensate for the disappointing lunch. It wasn't good - it was great! The assortment of pastries and the preparation was as good as the best of Paris. The staff was bright and cheerful and the place as clean as could be. We shared a ring of exquisite dough filled with fresh, real whipped cream, topped with slivers of almond - wonderful! We asked if they had a menu for the adjoining restaurant, which they happily presented. The offerings were traditional French bistro fare at extremely reasonable prices. We made a dinner reservation and retired to the comforts of Chateau Bonne Entente to enjoy a bit of relaxation after the long drive and to prepare for the final two days on the road.
It was a three-minute walk back to Arlequin. The affable waiter sat us in a comfortable booth. The design is smart, clean, contemporary and well-suited to the menu. A small bar at the rear was quite popular with locals before they dined. We would guess that many of the patrons this evening were regulars. We opted for the table d'hote, four courses with coffee or tea. Everything is available a la carte but if your appetite can handle it, the price for all is quite compelling. The preparation, presentation and service of each and every course was superb. The portions were substantial and the quality the finest. We started with feuillete d'escargot au pernod and saumon fume. The snails were out of the shell and served on puff pastry with diced tomato in a delicate pernod cream sauce. My lean, smoked salmon was served with capers, onion and a balsamic, olive oil dressed salad. A steaming bowl of broccoli soup was rich in flavor. Our mains, entrecote au vin rouge and filet mignon au poivre vert were divine, were perfectly medium rare as ordered. The sauces were not the traditional heavy version but much lighter, enhancing the flavor of the meat. A sautéed mixture of julienne rutabaga, carrot, zucchini and celery and layered, sliced potatoes au gratin accompanied the mains along with white rice specked with minced vegetables and herbs. Owner, chef, baker Denis Tannous is a multi-talented, meticulous genius in the kitchen. He does it all with the help of his charming wife Violette, who joined us for the final pastry course, indescribable ecstasy, three types of chocolate layered with chocolate mousse and a delicate raspberry mousse.
Violette recently opened Cafe Myrtina, 1363 Av. Maguire, Sillery, 418-688-2062. Av. Maguire is a charming street filled with interesting shops and restaurants that runs off Boulevard Laurier. It's a bright, cheerful cafe. Cute, colorful paintings adorn the apricot walls and the table settings are done in navy and gold. The menu is mainly Lebanese specialties with a few pasta and salad offerings. We didn't get a chance to sample the food but the aromas were enchanting and we're sure Violette and Denis would do it right.
Brockville
We were on the road early because we wanted to be at Don's Fish & Chips in Brockville, Ontario in time for lunch. We discovered this place a while ago and planned the entire trip around this return visit! ;-)
Anticipating that we wouldn't want to linger over breakfast, we had wisely procured chocolate croissants from Arlequin and stopped at the first Tim Horton's for coffee to go with our treat. The wonderfully delicious pastry was surpassed only by the rich and intense chocolate filling. Fortunately Ste. Foy is much closer than Paris.
We took Route 40 along the north bank of the St. Lawrence River north around Montreal, usually less of a traffic problem than Route 20, the southern route. It worked out fine and we were soon on Highway 401 direct to my namesake.
The owner's son remembered us from last time (not everyone eats in the car out front and then rushes in for another order) but we warned him in advance we'd be having just one order this time. Last time cod was the only fish available but now they were offering halibut which of course we had to try. Again, a thick, fresh filet coated with a luscious batter fried crispy dry and wrapped in newspaper. Like the fish, the world class home-cut fries are handled with care and always fried to order - no matter how long the line.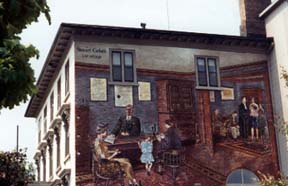 Once again we sat in the car outside, happy to be alive on this sunny day enjoying this once a year treat. We kept our word and did not succumb to a reorder. Guilt was setting-in from a couple of weeks of reckless abandon.
On the way out of Brockville, we spotted a striking mural on the side of a large building depicting the law offices of Stewart Corbett. Linda was out of the car in a flash, snapping away.
Athens and Delta
Our final night away from home was at the Denaut Mansion Country Inn, 5 Mathew Street, Delta, Ontario, 1-877-788-0388. Delta is located northwest of Brockville. Route 29 north from Don's to Route 42 west took us right to Delta Village. On the way, we passed through Athens, where we returned that evening to the local pizza emporium. This tiny town is rightly famous for the impressive murals painted on many of the town's buildings. I followed Linda around as she captured several of them on film. Check them out!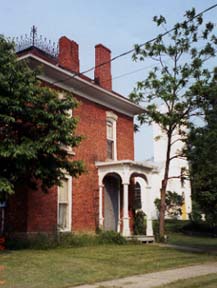 The year 1796 saw the first settlers in Stevenstown, settlers who came from Vermont with Elder Abel Stevens following the Revolutionary War. After several name changes, the community became Delta as it was located on a rich and fertile delta beside Lower Beverly Lake. Delta's reason for being was the dam built on a local creek to power its mill. As a consequence, an artificial lake called Upper Beverly was created. By the early 1800's, it was a flourishing farming and industrial village. Over the decades Delta became the site for pioneer trades and crafts with interesting structures to house them. Many have been lost, but enough remains to get a feel of what once was. The Beverly Lake Township Park has excellent camping facilities, picnicking, swimming and walking trails.
The Walter Denaut House was built in 1849. Old Walt owned the mill, was postmaster, general merchant and politician. Befitting his wealth and status, he built this impressive two-storey mansion of stone with a wing of brick for the servants' quarters, which now house a self-catering two-bedroom apartment and the living quarters of the present owners. Rumor persists that the ghost of Mr. Denaut returns to haunt the halls but you can't prove it by us.
The inn sits on eleven lovely acres with a woodland path that leads to a dock on the lake where two canoes are available without charge for guests to use.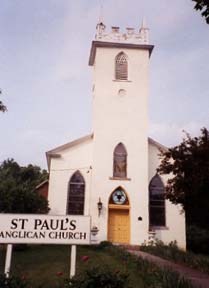 David and Deborah Peets bought the property eight years ago and have transformed the interior into a stunning inn. The two floors of the main house have high ceilings and windows which afford lots of light and cheerfulness. The decorating has been done with impeccable taste. Smart, colorful and contemporary, it was a nice change from the vintage style of the east coast B&B's. The wooden floors are kept clean and shiny and lovely area rugs create a nice warmth. The first floor living room, dining room and rear breakfast room are smashing! The large fireplace in the living room made us wish we were there in winter. There was a wonderful collection of art books to keep me happy while Linda perused the magazines. The dining room is used for dinners, which are available on request. Deborah loves to cook and offers a three course set menu every night. The breakfast room overlooks the lovely swimming pool at the side of the house and the lawn and woods in the rear. The vaulted, wooden ceiling and rustic furnishings create a nice country charm to start the day.
The four bedrooms with ensuite bathrooms located on the second floor are furnished in a minimalist fashion with artful pieces. We did miss having a TV. There is central air conditioning.
Breakfast was fresh, natural and organic, featuring cereals, breads and fresh fruits. A nice, healthy start to the day and we were on our way!
Back to Toronto and our circle was complete.


Search TheTravelzine | TheTravelzine Group | Don's Gallery
Packing Hints | Planning Tips | Cities Links

---
All pages on TheTravelzine.com©Copyright 1996-2020 Don & Linda Freedman