BUENOS AIRES
ARGENTINA
WINTER 2009

Part One | Part Two | Part Three
There are lovely parks throughout the city where families sit in the shade under magnificent trees or on the grass basking in the sun. During January and February, bright yellow umbrellas and chairs were a familiar site in Parque Las Heras (guess they must rent them).
There is a plethora of hair salons from which to choose. Since we will be returning to the same neighborhood next year, we narrowed our search. The unpretentious Quintaesencia, Uriburu 1625 caught our attention. Actually it was the friendly smile of owner Gloria which lured us in. Her right hand man Walter did his magic and we are happy to have our locks in good hands while in BA.
Have I mentioned that Linda makes fabulous spaghetti bolognese? With a cold bottle of Quilmes Stout (a delicious dark beer), it's a splendid dinner at home.
When I reported the sidewalk hazards I failed to mention the other area for caution. There are deep gutters running along the curbs for drainage purposes. This creates a crater as you step from the sidewalk to the roadway which can result in turned ankles if you're not careful. Pay attention!
Buenos Aires is not an ideal city for driving unless one is familiar with the one-way street pattern and is comfortable driving surrounded by buses (who take no prisoners) and taxis that fly, troll or stop abruptly. Public transportation is the best, most inexpensive option.
If you're in the mood for a very good burrito head over to the pedestrian street Lavalle. At number 441 is California Burrito Co. When we arrived there was a long lineup inside so we opted to have our burritos assembled at the front take-out window and then luckily found a table inside. We chose from a good variety of veggies which were generously piled on a large round tortilla and tightly wrapped. These two-handed missles were a joy from top to bottom.
From there it was a short walk to Puerto Madero and stage two of our lunch.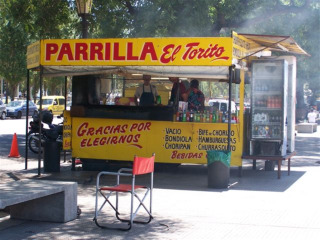 Crossing Puente de la Mujer we found our way to the promenade along Av. Costanera Sur Intendente Hernán Giralt and the lineup of yellow parrilla stands where the taxi drivers go for choripan (grilled chorizo on baguette). Although the burrito was still being digested, the aroma of grilled meats made it impossible for us not to indulge. Those taxi drivers know their choripans!
The world wide economic problems do not seem to have reached Puerto Madero as the construction of high rise apartment buildings, hotels, and businesses continues unabated.
On our way to Sunday lunch in San Telmo we stopped by the magnificent Parque Lezama which borders the 1400 to 1700 blocks of Defensa. Huge magnolia, elm and cedar trees shade the pathways, where well worn benches are available for relaxing.
The Italian family Lezama bought the property in 1858 and built their summer home with observation tower, several patios, and lush gardens. In 1897 it became a museum housing the Museo Historico Nacional. This pinkish red beauty houses 33 elegant rooms and 3 galleries filled with 400 years of Argentinean history. The collection includes military artifacts, clothing, maps, furniture, flags, art, photos, etc. There is enough to see and read to gain a good insight into the history of the country.
It is thought that Pedro Mendoza was the founder of Buenos Aires and that the city was established on this site. A monument of the man is located at the northwest corner of the park. The Iglesia Ortodoxa Rusa overlooks the park across from the monument.
Defensa al Sur, Defensa 1338, a cozy bistro, was just as we remembered it from last year. Our welcoming waiter and the happy kitchen staff are perfect for the warm, friendly environment. Owner chef Mariana Hernandez has a deft hand in running all aspects of her business.
The house made breads, rolls, flatbreads and hummous were fine munchies while we perused the menu, which offered various tempting choices. Linda beat me to the tres cortes de cordero in tre cocciones con risotto de radiccio (lamb prepared 3 different ways with radicchio risotto decorated with berries). Can you see why I was deflated? Not to worry Don, terrina de pato confitado con puree de higos al vino tinto y ensaladita de brotes (carameled duck terrine with figs in a red wine puree) will make you very happy.
Dessert selection was much easier, tarteleta tibia de chocolate, helado de chocolate amargo y ensalada de frutas frescas (thick chocolate mousse in a cookie crust with dark chocolate gelato and a fresh fruit salad), beautifully plated and delicious. Excellent coffee to finish. Defensa al Sur will remain on our repeat list.
After lunch we strolled through the famous antiques fair in Plaza Dorrego (it was Sunday) on our way to the colectivo for our return voyage home. As usual a mob scene of earnest shoppers, locals having fun, tourists and entertainers.
[Back to Top]
Finally Slum Dog Millionaire made its way to BA. We hustled to the 13:00 showing at the Recoleta Cinema. It was a first for us to be able to select our seats in advance. The seats were nicely upholstered, very comfortable with lots of leg room. We expected a big crowd. We had a private showing, with 3 others. Guess it was the time of day. It was in English with Spanish sub titles. The Indian language portions had Spanish subs but no English. Terrific film!
Inflation is slowly creeping in. Our 11 pesos laundry spot now charges 12 pesos, but still less than the usual 14 or 15 in most places.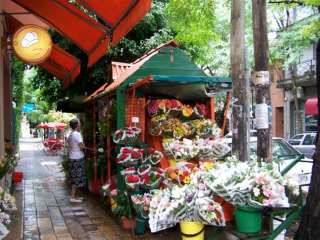 We were joined by our friends Sue and Joe (whom we had met in Rodi Bar) on a visit to the lovely green suburb of San Isidro, about 20 kilometers outside the city. It was raining a bit when we boarded colectivo 60 on Las Heras y Junin for the one hour trip (there are many #60 buses and each has a different route - be sure to give the driver your destination and he will tell you if you are on the right bus). By the time we arrived at our destination the light rain became torrents. Up with the umbrellas, we would not be deterred. Since it was lunch time we hurried to find a restaurant hoping it would clear by the time we finished.
With the help of a few shopkeepers we sloshed our way to Café de la Biblioteca, 25 de Mayo 387, adjacent to the library. The friendly atmosphere and cheerful staff were a welcome respite from the miserable weather. The lunch menu included a main dish, choice of water or wine and dessert. Three of us chose pollo con salsa de verdeo hojas verdes y papas bravas while Joe opted for ensalada de salmon rosado, camarones, palta y hojas verdes. We were all very pleased.
There was a short break in the rain as we headed to Plaza Mitre, the pretty and charming central square. Across from the plaza is the splendid Gothic Cathedral of San Isidro. Just behind the park is a multi-level outdoor shopping center and railway station. The rain inhibited our ability to roam the town other than the lovely narrow boutique shopping streets we passed on our way to the homeward bound bus. We will get back eventually to see the picturesque views of the river and the streets with stately old mansions we've heard so much about.
Off to San Telmo to swap books at Walrus Books and lunch at Manolo, Bolivar 1299. What a find! A family-run neighborhood eatery plying loyal regulars and those of us lucky to find our way here with quality home cooking at very reasonable prices and helpful, friendly service. The restaurant is spotless. The waiters wipe the serving pieces before placing them on the tables. The walls are filled with football memorabilia, photos of guests, awards, and letters of appreciation.
The menu features parrilla naked or with toppings and fillings. There is a long list of pollo and pasta dishes along with popular standards and daily specials. A house offering of marinated eggplant, green peppers and onion was sooo good we ended up taking an order home.
We are addicted to bife de lomo naked, grilled "jugoso" (juicy, medium rare). The two medallions, first cuts of the tenderloin, perfect for sharing, were incredibly tender and delicious. Classic versions of puree de calabaza and Russian salad were perfection. Budin de pan, a favorite dessert of ours, passed with honors. Manolo will see us regularly.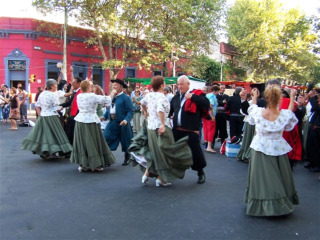 Sue and Joe joined us again, fortunately on a gorgeous sunny day, to visit the Feria de Mataderos. The full version of the fair takes place April to December, weekly on Sundays from 11:00 to early evening. Closed in January, there is a reduced version during February and March (no live performances by Gauchos).
We boarded bus 92 at Las Heras and Pueyrredon and got off at the junction of Av Directorio and Av Le Sandra de La Torre. Ask the colectivo driver to tell you when you arrive at the Feria de Mataderos. Mataderos means "slaughter houses", referring to those in nearby Laniers. The neighborhood has a cultural mix of gauchos, Porteños and migrants. This is one of the city´s poorest neighborhoods.
The streets were filled with handicrafts vendors and food stands. The smell of grilling carne and chorizo filled the air and as the day progressed the costumed dancers and entertainers took to the streets and stage to perform native singing and dancing. A fun day was had by all.
What do Graciela from Florida, Ana Maria from Patagonia, Joe and Sue from Florida, Linda and Don from Canada have in common? Correct, we are all Ziners and we were all visiting Buenos Aires. Time for a "get-together" and what better venue than lunch at Rodi Bar. So over plates of fresh pasta bolognese, brains, grilled salmon, meat ball stew and pork chops we talked travel and shared our BA experiences. Most importantly, we became friends.
We happened to turn on the TV when the President of Argentina, Christina Fernandez de Kirchner, was making a speech to open the new session of the Argentinean legislature. We were significantly impressed with her ability to captivate. She spoke for about an hour without a teleprompter. She referred to notes only when reciting statistics. Quite a performance to keep us glued to the TV without even knowing what she was saying. Exiting the magnificent building after the speech, she exchanged handshakes, hugs, kisses and lively conversation with her adoring fans for quite some time before departing in her limo.
Pippo, Montevideo 341 is celebrating its 71st anniversary this year and it appears nothing has been done to tamper with its formula for success. The pink walls and open large parrilla are the decor for this sprawling eatery. Porteños flock here for parrilla and pasta (especially the vermicelli Pippo) at very reasonable prices. We had bife de chorizo (a very large sirloin steak) and vermicelli (thick spaghetti) with tomato sauce. Very good value.
This block of Montevideo is very interesting. There are many restaurants to choose from and just behind the west side of the street is the cozy Paseo la Plaza. Green lined laneways and multi-level walkways are home to restaurants, cafes, shops and theatres. Shaded patios make for an ideal spot to sip a beverage or have a meal amidst the trees, shrubs and flowers.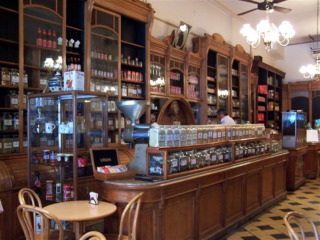 Avenida Corrientes has many interesting attractions, one of which is El Gato Negro at #1669. Beginning life in 1929 as a spice store, this historical beauty has evolved into a cafe featuring coffees, teas and spices from around the world. Walk into another time, a long wooden counter and back shelves laden with jars and cans emitting an exotic blend of aromas. El Gato Negro is the kind of cafe where you can sit for hours reading a newspaper or a book while sipping coffee or tea in a totally laid back atmosphere. There is an upstairs restaurant, which we did not visit. Pop in even if just for a photo.
[Back to Top]
Another San Telmo classic neighborhood parrilla is Gran Parrilla del Plata at the corner of Chile and Peru. The sidewalk tables help create a picturesque setting. Inside is an eclectic mix of green paint, white tile and wood walls, shelves of wine and condiment bottles and black and white tiled floors and seats. The house offered marinated eggplant, red pepper and onion mixture was just okay. We started with the ensalada de la plata, a mixture of spinach, lettuce, hearts of palm and raisins topped with a divine creamy blue cheese dressing.
The bife de lomo was excellent quality, grilled with a crispy exterior, jugoso as ordered. We had batatas fritas (sweet potato fries) which were wonderful even if our clueless waiter failed to order them on time and they arrived too greasy and had to go back to be reworked. He was also guilty of not clearing used serving pieces which caused him problems in setting down the steak and fries. We will return for the food and value, not for the service.
We discovered a panaderia-confiteria that offers home made goodies, Pia Dolce, Av SanteFe 2549, near Ecuador. We filled a bag with delicious potato knishes (light dough around potato and onion mash); ricotta and fresh spinach rolls in heavenly dough, baked golden brown; a couple of meaty onion rolls; classic budin de pan; and a ricotta cheese square topped with strawberries. Eating at home ain't so bad.
On a subsequent stop at Pia Dolce for a sandwich for lunch, a lady customer told us that while this was a good bakery for some things we should go to Confiteria Del Valle, Av Sante Fe 2340 for what we were looking for. It was only a block and one-half away and she was right. There was a substantial appealing selection. We chose a large wrap of chicken, spinach and egg whites. The dough was perfectly baked and the filling was fresh and generous. There is a small park a block away on the north side of Sante Fe where we sat at a table and shared the treat. We now have two outstanding choices for home made goodies fresh out of the oven.
We have failed to mention another good reason to ride the colectivos - entertainment. Drivers allow hawkers on board to sell their wares. Today it was hand held mirrors, the other day it was pens, and we´ve had long winded guys selling religious goods. The entertainment is free with your bus fare (an average of 1.20 pesos).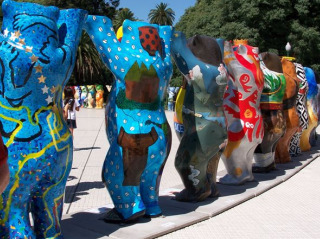 We were on our way to Microcentro on bus #10 when we saw a colorful display in Plaza San Martin that caused us to jump off the bus. This park is gorgeous with magnificent trees, shrubs and walkways, surrounded by some of the best architecture in the city, a perfect venue for this awesome display. The United Buddy Bears have come to Buenos Aires. The bears had their birth in Berlin in June 2001.These colorful boldly designed bears are now traveling around the world together hand in hand in a circle promoting peace and charity. There are 140, each representing a member country of the United Nations.
There was a group promoting this day as "sin carne" (without meat) and here we were heading to our favorite carne restaurant, El Establo, on the corner of Paraguay and San Martin. Those green posters would not stop us from having red meat. El Establo is the model Argentinean steak house. Be greeted by the flaming parrilla, pass the horseshoe shaped bar where some regulars prefer to dine, and enter the non-smoking dining room with lots of wood, wine, hanging hams and cheerful waiters. There is another non-smoking dining room upstairs and an adjacent room for smokers.
The menu is large as are all the portions. Sharing is a good idea. A mixed salad with roquefort cheese got us on our way. We were hungry and ordered the full size bife de lomo backed up by half portions of batatas fritas and papas fritas (sweet potato and regular fries). As usual the carne was exceptional and the fries the very best. They cut the potatoes thick and fry them to perfection; the flavor of the fresh spuds comes through loud and clear. El Establo is a winner.
[Back to Top]
March 24 is the National Day of Memory for Truth and Justice commemorating this day in 1976 when a military junta overthrew the elected government. Thirty thousand innocent citizens dissappeared during this period. The nation has never forgotten them with constant demonstrations in their memory. We were headed for a restaurant near Plaza Los Dos Congresos where the crowds were beginning to form for the march to Plaza de Mayo along Avenida de Mayo. When we left the restaurant the scene was enthralling. Thousands were marching, to the beat of drums, carrying banners and posters. It was well organized and peaceful. The people of Argentina will never forget the atrocities that were committed and will never let it happen again.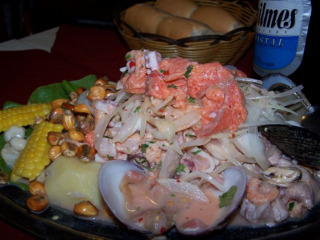 We went to a Peruvian restaurant, Status, at Virey Cavallos 178. It was lunch time on a national holiday and as expected it was quite busy. We got one of the last tables. You come here for fresh, wholesome well prepared Peruvian dishes in a convivial environment, not for fancy decor. Seafood is the hero, but the lamb and rabbit offerings were enticing as well. Since it was our first visit we decided to test it with the cebiche mixto especial. The waiter assured us it would be sufficient for two, it was enough for four. The platter was centered by 3 huge clams covered and surrounded with a succculent variety of shellfish and fish. Boiled potatoes, a slice of sweet corn, and roasted corn kernels and onion slices completed the feast. We had asked for medium heat which worked perfectly with the traditional lemon and cilantro marinating. Quilmes beer was the perfect partner. The pricing is extremely reasonable for this quality and quantity. Status is in our memory bank.
A coffee tip, Cafe La Rosita, Talcahuano 959 has excellent coffee at the best prices in town. We haven´t eaten there yet but the well priced food looks very good. Next year!
Speaking of 2010, we have already reserved an apartment for the same period as this year. Everyday life in Buenos Aires is muy bueno!
Hasta luego and off to the airport. We did web check-in the night before and were able to take advantage of the special counter to obtain our boarding passes and avoid the long line for those who had not. There is a counter in the check-in area to pay the $16US exit fee. To avoid the line- up we went upstairs to the boarding area where there is another counter for the same purpose which is usually not busy.
Air Canada flew us home on schedule and since we had only carry-ons we were through immigration and customs in short order and home an hour after landing.
[Back to Top]
Search TheTravelzine | TheTravelzine Group | Don's Gallery
Packing Hints | Planning Tips | Cities Links

---
All pages on TheTravelzine.com©Copyright 1996-2020 Don & Linda Freedman