BUENOS AIRES
ARGENTINA
WINTER 2010
Part One | Part Two | Part Three
Rodriguez Pena is a long street that runs from Av. del Libertador through Recoleta and Barrio Norte to Av. Rivadavia at Plaza de Los Dos Congresos. We were walking along Rodriguez Pena on our way to a restaurant south of Av. Corrientes and after passing Viamonte we spotted Parrilla Pena at Rodriguez Pena 682 which beckoned us in. It is one of those simple, homey, neighborhood places with a large grill, family seating filled with locals - no tourists here.
By an odd coincidence, our neighbor at the next table was from Toronto. Maria, who was visiting her brother and family who lived around the corner, admitted that they eat at Parrilla Pena three or four times a week! By the time we left, Maria had told us where to buy the best dough for empanadas in Toronto and gave us her phone number to call for her recipe for the meat filling.
The bread basket included delicious round toasts topped with cheese and the house-offered beef empanadas were the best we had on the trip. As usual we ordered one bife de lomo to share, thankfully so. It was the largest, and right up there with the best. The salads and fries were top notch too. When we returned with Jill the three of us shared the same steak and were quite satisfied.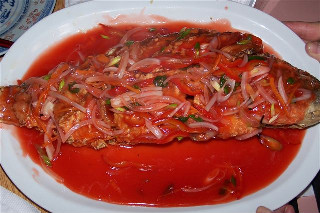 While shopping with Jill on Peru we had lunch at Man-San, Peru 832, San Telmo. While not a pretty spot it makes up for it with extraordinary fusion versions of Chinese/Peruvian/Asian cuisine at very reasonable prices. We started with delicious hot and sour soup that left us waiting in anticipation for the arrival of our pescado frito completo con salsa agridulce (fried sweet and sour fish) with sides of steamed white rice. What a presentation, a large whole merluza (local white fish) covered with vegetables in a marvelous rendition of the sauce that left our taste buds craving more.
Many fine dining establishments offer prix fixe lunch menus that include two or three courses and your choice of beverage, generally including service.
We lunched at Club Social, Av. Caseros 442. This pretty, wide street with a center island is off Defensa at the southern end of San Telmo right near the lovely Parque Lezama.
The restaurant is located in a wonderful, old, well-preserved building with tall front windows and walls adorned with colorful posters and photos. The dark wood cabinets and furniture and long bar create a comfortable bistro environment. The young staff is friendly and helpful.
The lunch menu included a plate of the day, pastry, coffee and choice of beverage. The house bread was served with herbed cream cheese. Linda chose grilled pork chops with fried sweet potatoes while Jill and I had the pan fried fish of the day with fresh vegetables. We all finished with excellent flan served with awesome cream. Our beverage choice was agua con gas. Cafe was cortado chico (small expresso with milk).
[Back to Top]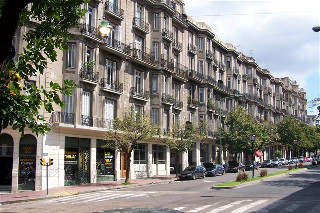 Our restaurant discoveries beyond the ones already mentioned were a mixed bag. Let's start with the good in San Telmo. This Barrio offers the most diverse choices offering excellent food and value pricing. The streets around the previously mentioned Parque Lezama hold a treasure drove of possibilities.
A few doorways from Club Social at Caseros 486 is Restaurante Caseros. The sun shines through the large front windows illuminating the high white walls. Each table is set with a bowl of fresh vegetables or fruit. Attractive stained wood slats decorate a neat bar and the front of the open kitchen. A simple treatment of renovated open space projects a young contemporary feel with an energetic staff to match. It's always packed at lunch time with locals enjoying the value packed two course plus beverage and coffee menu. There are usually two offerings ranging from starters like baked squash and zucchini topped with crumbs and parmesan cheese to mains of cannelloni, grilled carne, pork chops. Oh yes, the homemade breads are a treat.
Another lunch favorite a few streets away is Lezama, Brazil 359, across from the park. This is the opposite of Caseros, a large comfortable traditional restaurant with hanging hams and paneled walls. The two course lunch special offers a long list of mains, pastry, beverage, coffee plus a lemoncello to finish. The old school waiters are quick to bring a large bread basket and the house vegetable torte. On our first visit, Linda chose the eggplant parmesan and I the lamb stew (which was glorious). We both had the budin de pan for dessert, which we rate almost equal to El Quartito (our favorite pizza place which you will read about in previous travelogues). The portions are large, so go prepared to feast.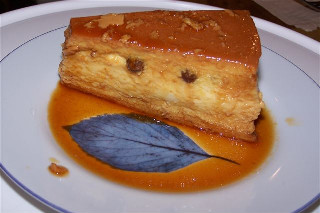 Also on Brazil between Defensa and Bolivar is Rottisserie Torinese (chickens roasting in the window), a small family run operation serving simple traditional dishes since 1930. Pure neighborhood comfort. No prix fixe lunch specials here; all the regular prices are a bargain. The chicken with papas fritas and the fried merluza with puree mixto (mashed potatoes and mashed squash) were as good as it gets. Their version of budin de pan had chocolate chips and the whipped cream that my partner had with hers was declared outrageously delicious.
Of course in San Telmo you will also find the wonderful Manolo which you can evaluate from our previous writings. The bar has been updated but thankfully nothing has changed in the kitchen.
Down the way at Peru 858 is the exceptional Nacional with chef Alejandra doing her magic. It's a beautifully designed property. The restaurant is set back behind an attractive wrought iron fence and comfortable front patio. Large windows and welcoming doorway lead to the airy main floor dining room. The menu reflects the contemporary leanings, offering interesting renditions of seafood, tapas, homemade pastas, meats, gourmet salads, and of course empanadas.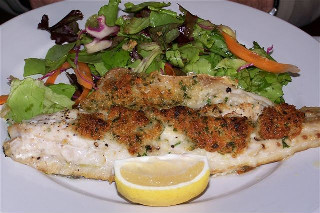 We had a splendid three course lunch, actually four if you count the house breads and cream cheese-scallion spread. This was to be a fish day starting with marinated pejerrey on a slice of warm toast decorated with green onion and carrot. Our main course was corvina (sea bass) lightly breaded with herbs of provence, oven baked and served with a gorgeous mixed green salad. Both the flan and coffee were delicious.
[Back to Top]
Palermo Viejo has a reputation for having the most diverse choice of eateries in the city. Other than La Cabrera we have not found too many that offer the kind of value we appreciate.
We had a very disappointing lunch (last year it was superb) at Social Paradiso Honduras, and were looking for a spot for cafe and a sweet to cheer us up.
Fortunately we turned onto Gurruchaga and at #1630 found La Esquina de las Flores, a fascinating place!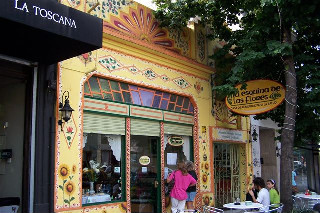 The aroma of fresh-baked breads, pastries, the beautiful salads, tartas, empanadas, pastas and pizza gracing the tables and fresh country environment perfectly reflect the establishment's commitment to producing and selling only the finest quality natural organic foods. Even non-vegetarians like us can find plenty to make us happy. The cafe and budin de pan (made with walnuts and raisins) were outstanding.
Originally (since 1950) this was a community bakery with the staff living upstairs in quarters that are now used for storing donations of clothing for the needy. The owner is committed to giving back to the community. There is a free lending library and piano in the rear. She has also built a home to aid in the adoption of children. The owner is worth supporting not only for her food but for her heroic community involvement.
[Back to Top]
In Recoleta we found several choices just minutes from the apartment. The winner for a light lunch was Post Data, Azcuenaga 1739, a brightly colored multi-level eatery featuring delightful salads, sandwiches and pastries. The owners and staff are eager to please. Just press the buzzer at the front door and join the fun.
Another popular spot to enjoy a coffee and light eating is Gout Cafe, Juncal 2124, at the junction of Junin and Uriburu. We often came here late afternoon for a cafe con leche and a slice of ricotta pie. The friendly staff made us feel at home along with the many regulars.
A new parrilla, La Coquetta, at Uriburu 1680 is a moderate priced no nonsense neighborhood parrilla featuring large portions of very good grilled meats, papas fritas and salads. The sidewalk tables are usually filled and a large grill, long counter with stools and pampas-style wooden tables and chairs beckons you inside. There are no desserts on the menu but luckily that new helado emporium, Faricci, is a few steps away. Talk about a winning combination.
A few blocks south at the corner of Azcuenaga and French is a top notch pasta and pizza restaurante, Quentino. It's an attractive setting with comfortable patio seating and a warm interior of brick and dark wood accentuated by a black and white floor. Our waitress was knowledgeable and helpful. The pasta is made in house. The fresh linguine was al dente and the bolognese sauce was rich and hearty. Our basic cheese and tomato pizza was quite good with perfectly baked chewy dough, tasty sauce and cheese and a touch of pepperoncini.
A similar quality take out/delivery pizza (and empanadas) place is Cesare at Pena 2216.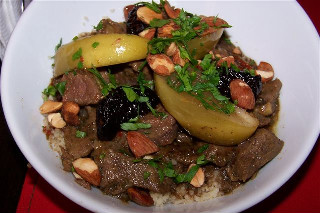 The newly opened Morocco Bistro, Arenelas 1855, was a welcome addition to the Recoleta scene. The colorful decor features photos, tajines and assorted Moroccan artifacts and household goods. There is a shop in the rear with these items and clothing for sale.
The menu features classic Moroccan dishes at reasonable prices. The house offered delicious hummus with olive slivers. We started with eggplant salad, pepper and tomato salad, triangular shaped filo filled with meat, and tabule. All were excellent.
Tajine de pollo con aceitunas verdes y limones confitados and cous cous de carne con manzanas, ciruelas y almendras were very authentic, wonderful renditions of these dishes. The service was very good. Morocco Bistro is a welcome treat when it's time for a break from traditional Argentine fare.
[Back to Top]
Peruvian food is extremely popular in the city. This year we found Solo Pescado, Thomas M. Anchorena 533, directly across from the famous Abasto Shopping Center, which we wrote about in 2008. Our only regret is that we discovered it at the end of our stay. We'd have lunched there once a week!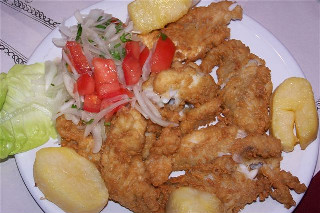 The decor is light blue nautical with showcases of the fresh catch and prepared foods for take-out. There are two menus. One is a basic listing of every fish and seafood item and the various preparations. We ordered from the Peruvian selections on the other menu. Our waitress brought us the house offered breads with spreads of cream cheese & scallions and cream cheese & smoked salmon along with mais calcha (roasted corn), peanuts and bread sticks with a hot sauce. A feast before the feast.
Linda was an extremely happy camper, having chosen cervino, sea bass, from the jalas o chicharrones de pescado list, which was served with salad and vegetables. It was without a doubt the best fried fish ever - in any country. The absolutely fresh delicate moist filets were gently dusted in crumbs and pan fried to perfection.
I can say the same about my ceviche de pescado (mero, grouper) y mariscos. The mero, clams, mussels, calamari and octopus were marinated in the traditional lemon and cilantro, pleasantly picante. The generous portion was topped with sliced onion and decorated with toasted corn.
If you are a fish and seafood lover there is no better spot in Buenos Aires, at down-to-earth prices, with friendly service and environment.
Buenos Aires has been kind to us the past three winters. We have decided to take our winter break next year in Portugal, Lisbon, with a stop in Ponte Delgada, San Miguel, Azores on the way home. The weather will be cooler than summer in Buenos Aires. Packing will be an interesting challenge - 70 days with carry-on size luggage only. Bring it on!
[Back to Top]
Search TheTravelzine | TheTravelzine Group | Don's Gallery
Packing Hints | Planning Tips | Cities Links

---
All pages on TheTravelzine.comęCopyright 1996-2020 Don & Linda Freedman