Search TheTravelzine

TheTravelzine Group

Access Your Mail

Don's Gallery

Packing Hints

Planning Tips

Cities Links

Links
LINKS TO OUR TRAVELOGUES
Argentina, Buenos Aires - Jan-Mar 2010
Argentina, Buenos Aires - Jan-Mar 2009
Argentina, Buenos Aires - Jan-Mar 2008
Austria - Fall 2005
Belgium, Brussels - Fall 2000
Canada - Summer 2002
Canada - Summer 2001
Canada - Summer 2000
Czech Republic - Spring 2000
France - Fall 2002
France, Paris - Fall 2000
France, Paris - Spring 1999
France, Lyon - Spring 1999
Germany, Berlin - Fall 2009
Germany - Fall 2002
Germany - Spring 2000
Germany - Fall 1999
Greece - Fall 2012
Greece - Fall 1999
Greece - Fall 1997
Hungary - Spring 2000
Israel - Fall 1999
Italy - Winter 2007
Italy - Winter 2006
Italy - Winter 2005
Italy - Winter 2004
Italy - Winter 2003
Italy - Winter 2001
Italy - Fall 1998
Italy - Fall 1996
Netherlands - Spring 2000
Portugal, Azores - 2019
Portugal, Azores - 2018
Portugal, Sao Miguel & Lisbon - 2017
Portugal, Azores - 2017
Portugal, Azores - 2016
Portugal, Azores - 2015
Portugal, Azores - 2014
Portugal, Azores - 2013
Portugal, Azores - 2012
Portugal, Azores - 2011
Portugal, Lisbon - 2011
Portugal - Fall 2006
Portugal - Fall 2004
Portugal - Fall 2003
Portugal - Fall 2001
Portugal - Spring 1999
Portugal - Spring 1997
Slovakia - Spring 2000
Slovenia - Spring 1999
Slovenia - Fall 1996
Spain, Barcelona - Winter 2006
Switzerland - Fall 2002
Switzerland - Spring 2000
Switzerland - Spring 1999
Switzerland - Fall 1998
Switzerland - Fall 1997
Switzerland - Spring 1996
U.S. Florida, Key West - Fall 2006
U.S. Florida - Spring 2001
U.S. Maine - Summer 2002
U.S. Massachusetts - Summer 2003
U.S. Massachusetts - Summer 2002
U.S. Massachusetts - Summer 2001
U.S. New York State - Fall 2005
U.S. New York State - Summer 2004
U.S. New York State - Summer 2003
U.S. New York State - Summer 2001
U.S. Washington,DC - Spring 2000

BUENOS AIRES
ARGENTINA
WINTER 2008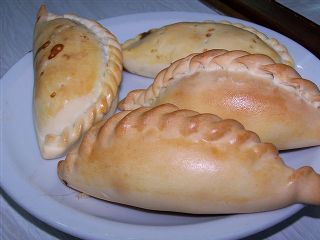 Let's talk food. The staples on every menu include: parrilla (grilled meats, chicken, pork), Milanese (thinly sliced veal or chicken breaded and pan fried), fried fish filets, empanadas, pasta (usually cooked soft), and pizza of some sort. The sweet tooth can be satisfied with a wide range of options: helado (ice cream), cakes and tortes, vigilante (a traditional favorite, a slice of cheese layered with a slice of thick jam, such as quince or sweet potato), flan, budin de pan (bread pudding) and always, fresh fruit. Delicious Argentine wine accompanies meals; there is a wide range of grapes other than the famous Malbec. It was interesting to see many dilute their wine with water (con or sin gas, carbonated or plain) and/or ice.
There has been a recent surge in contemporary and ethnic dining options. The favorable exchange rate of the USD vs. ARS (dollar vs. peso) means awesome value relative to quality, preparation and service in every type of restaurant. Most restaurants have a modest service charge, which always includes at least a basket of rolls and bread. While tipping is not considered mandatory leaving 10% is appreciated.
[Back to Top]
Because Argentina switched to daylight savings time on Jan. 1, our transition to Argentina time was a snap. We were soon eating like "Porte˝os", small breakfast, lunch between 12:30 and 16:00 and dinner 20:00 to 22:00. It's true that many start their evening meal around 22:00, but we always had company at the times we ate. There are many good restaurants that are open lunch through dinner, non-stop. Basically you can find good food any time of day and night. Since we had an apartment it was a welcome treat to eat at home every now and then, sure we did some minor cooking but the availability of wonderful take-out foods was too convenient to ignore (home-cooking doesn't necessarily mean in our home!).
In two months we ate in many places. We will only report on those we would return to. Do not doubt it, beef is king and can be found in practically every type of eatery ranging from cafeterias to the most expensive restaurants in five star hotels. We can attest to the fact that the quality and flavor of Argentine beef is supreme and the technical skill used in grilling is par excellence. The translations of the various cuts of steaks from Spanish to English can vary significantly from place to place. By North American standards we found the following most consistent: Bife de lomo (filet mignon or tenderloin), bife de chorizo (sirloin), ojo de bife (boneless rib), bife de costilla (t-bone) and a popular lower price cut, entrana (skirt steak). There are others, which we suggest you discover for yourself.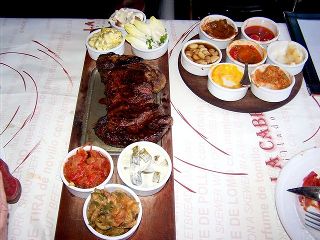 La Cabrera, in Palermo Viejo is very popular, so much so that the original location at J.A. Cabrera 5099 could not handle the crowds. Simple solution, open a second location (La Cabrera Norte) steps away at J.A. Cabrera 5127 (this was our first "parrilla" experience). We opted for the original, a corner location with an inviting sidewalk patio and a homey interior of dark woods and brick. Warm hospitality (professional waiters with personality) started as soon as we entered. Had we known there would be a constant serving of small dishes of salads and vegetables (marinated, mashed, stewed, grilled) we probably would not have ordered a grilled chorizo (sausage) and grilled goat cheese topped with sun-dried tomato and ham to start. Solution: no dinner, which decision was reinforced with the arrival of our bife de chorizo (sirloin). One steak for two was a wise decision. Perfectly grilled crisp exterior, jugoso (juicy) interior, medium rare, with flavor to spare. Welcome to Buenos Aires!
[Back to Top]
El Establo, Paraguay 489, at the corner of San Martin, in Retiro, is easily identified by the blue banner of Pepsi signs above the windows. This is the classic Argentine "parrilla al carbon", where patrons enjoy the finest meats and traditional foods in a cheerful environment. We entered through the side entrance on Paraguay and were confronted by a large grill and to the side a display of various cuts of meat - bife de lomo it would be. This dining room, and one above it, is non-smoking while the entrance at the corner leads to the smoking room. The good-natured old school staff appreciated our attempts to speak Spanish and made us feel right at home. As usual, we shared one filet mignon. It was so tasty and tender we decided this was our favorite cut. We chose batatas fritas (fried sweet potatoes) as a side dish which were delicious. The potatoes were indeed sweet and finished dry, crisp and flavorful.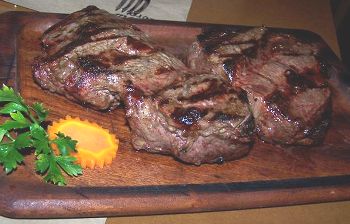 Liborio, Ortega y Gasset, 1895, in Las Canitas, is right in the heart of this lively barrio. The corner location provides plenty of room for patio lovers. The attractive contemporary design works well in the environment. The menu features traditional parrilla items and a selection of homemade pastas and casseroles. Empanadas are hugely popular as a starter. The dough is baked and usually filled with lomo (meat plain or spicy, pollo (chicken), queso (cheese) and queso y jamon (cheese and ham). The house offered us a pair; we chose lomo picante which were very good. We were here for steak and ordered one bife de lomo for two. The waiter misunderstood our order and brought two huge beauties to the table. They were so spectacular we decided to eat as much as we could and take the rest home for sandwiches. We couldn't decide between patates fritas (French fries) and batatas fritas (sweet potato fries); the waiter suggested half and half. Great decision, it would have been criminal to miss either.
[Back to Top]
La Vaca Pampa, Elcano 3243, is a small neighborhood parrilla we tried for lunch while visiting Belgrano R. There are tables out front with wood, brick and stucco adorning the interior. The grill is visible at the rear and the grill master was raring to go. Chorizo is Argentine sausage which had become a favorite so we sliced our way through the crisp exterior of one to further keep us occupied until our bife de chorizo (sirloin), calabaza (a Buenos Aires specialty, mashed butternut squash) and batatas fritas arrived. The quality and portion of the steak was somewhat less than in the others but so was the price, making it a good budget choice. Our waitress was sweet and caring.
Life after meat revolves around pizza. Everyone has his own favorite pizzeria and style. The thin crust versions do not seem much different from what we were accustomed to seeing at home. The thicker crust version (our favorite) was quite different in that whichever one you choose starts with a very thick layer of mozzarella.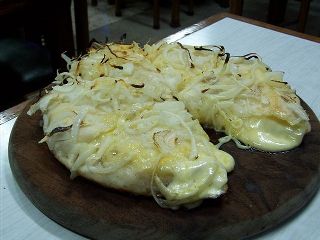 One day while strolling along Av. Sante Fe at lunchtime we decided it was pizza time. We stopped a young couple and asked where we could find good pizza. No hesitation, "the best pizza in Buenos Aires is at El Cuartito (La buena pizza desde 1934), Talcahuano 937, Barrio Norte". They pointed us in the right direction and we never looked back. There is a stand-up counter at the entrance for fast service by the slice and for ordering take-out. Straight ahead is a counter loaded with empanadas and pizzas available by the slice, behind which are the ovens, pizza makers and bakers. The pace is dizzying - the two large dining rooms are jammed day and night. Eating pizza here is not a fast food experience, it is dining. The seasoned pro waiters (our favorite, Sergio!) encourage you to take your time and savor the pizza, empanadas and the local Quilmes beer while enjoying the football constantly in view on strategically placed TVs. The pizzas come in two sizes, we opted for the chica (small); some pizzas are also available in half sizes. The ultimate pizza is the "Fugazzeta": double cream cheese and mozzarella atop the soft dough, is topped with onion and olive oil. Warning, if you care about your cholesterol, do not share more than one of these per month. If you enjoy a bit of heat in your life opt for the "Atomica": mozzarella, spicy tomato sauce, ground red pepper, Calabrese sausage slices, topped with black olives and sweet red pepper slices. Between exotic offerings we were delighted with basic mozzarella and tomato sauce garnished with green olives. We often stopped in just to have empanadas, golden, plump and generously filled. The dough is freshly baked and the fillings are luscious, the best we found in Buenos Aires. El Cuartito became a habit.
[Back to Top]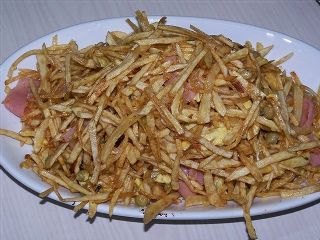 There are many choices for budget home-style cooking of traditional dishes, but there is only one Restaurant y Bar "Norte", Talcahuano 953, next door to El Cuartito and also packed day and night. It's family style all the way, from the seating to the treatment, with the added bonus of chatting with interesting people seated around you. There is a long list of daily specials as well as a basic menu, all of which represent substantial value. Some of our favorites included: dos costilles cerde (2 grilled pork chops), fried merluzza (local fish) filets, suprema (bread fried chicken breast), bife de chorizo, pollo parrilla (grilled chicken) (all of which come with a choice of patatas fritas, calabaza or patatas puree), chicken casserole (stew with peas, carrots, onions, red pepper, wine) surrounded by sliced fried potatoes, lentejas guisadas (a stew of lentils, potatoes, carrots, sausage), and revuelto de gramajo (a scramble of French fries, ham and egg), piled high on the plate. Another favorite is the ensalada completa, a huge assortment of salad vegetables, enough for two to share as a starter or a complete meal for one. We became regulars at Norte, with our own favorite waiter, Walter.
We did need a break from the traditional cuisine every now and then and found our needs more than adequately met by a variety of contemporary and ethnic establishments. We had a superlative lunch at Defensa al Sur, Defensa 1338, San Telmo, on a Sunday when visiting the famous Plaza Dorrego antique fair. This small bistro oozes with charm. The playful kitchen staff waves happily from the open kitchen and the waiters do their best to please. The house made bread, rolls and focaccia were served with a spreadable cheese blended with herbs. Silla de corder Patagonia (rack of Patagonian lamb) was partnered with red cabbage and a mash of corn and pasta while the magret de pato (breast of duck) shared the plate with sun-dried tomatoes, portobello mushrooms topped with fresh spinach bathed in olive oil and balsamic vinegar. Fresh ingredients, perfect preparation, mouth watering presentation, reasonably priced - who could ask for anything more. It's a good idea to make reservations.
[Back to Top]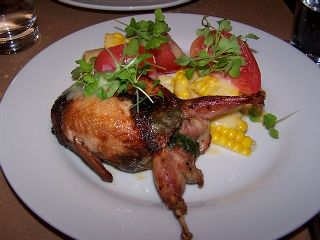 Resto, Montevideo 938, Barrio Norte, is a small bistro located on the ground floor rear of the Central Architect's Society building. At Resto, a young female chef prepares exquisite cuisine from the freshest ingredients with emphasis on flavor and plate presentation. The menu is short and changes daily. Homemade walnut bread and dense white rolls gave us the first clue this was a kitchen to be reckoned with. I have never been a fan of boring platos de verduras (vegetable plates) but I look forward to returning here for a repeat performance. The creativity in the selection of the assortment, the preparation and presentation took it from mundane to very special. We shared this dish (which they happily divided for us in the kitchen) and the roasted quail. The meaty fowl was served with yummy stuffing, corn on the cob slices and fresh tomato. Bread refills did not stop. Our coffees were accompanied by shot glasses of thick cold chocolate topped with a toffee sauce. Resto is open only for lunch except Thursday and Friday evenings by reservation only. Reservations are good idea at any time.
How could we not like a restaurant named Olinda, which is located in Palermo at J.L. Pagano 2697. This pleasant cozy bistro is open 0900 to 2400 everyday but Sunday. We usually found our way there for lunch, perhaps because the daily special lunch menu is such a great deal. The lentil pate (pate changes day to day) and fresh breadbasket got our attention on the first visit. Battered pan fried merluzza (local fish) and awesome puree patatas, mushroom quiche with mixed greens, gnocchi with Bolognese sauce, pesca del dia (fish of the day) a la plancha with calabazas grilladas (grilled butternut squash) and greens were a few of the reasons we kept going back.
While visiting Belgrano we found our way to Don Bar, Arcos 1836, for a very special lunch. Just look for the high light wood slat fence and you will know you're there. Enter a cool modern wood and glass complex designed for casual comfort. An attractive indoor bar and seating area separates the front and rear patios. We sat in the rear patio, which has a movable awning above, surrounded by glass, with white noise provided by running water. Linda had a chicken and grilled vegetable sandwich, while I chose pan-fried corbino (mild white fish) covered with lentils and tomato, served resting on a bed of luscious rice with green beans. Both were excellent as was the coffee.
[Back to Top]
Rabelais, around the corner from our apartment at Liberdad 1319, Recoleta, is a smart, stylish bistro with a French inspired menu. Since this was our first meal in Buenos Aires, I felt compelled to have a glass of Argentina's famous Malbec grape. The suggested Ruca Mallen instantly made me a believer. The dense corn bread made us think we were in a Portuguese restaurant, but the house pate on squares of bread brought us back to reality. We shared a marvelous conejo estofado (rabbit stew on a bed of tagliatelle. Different from in France, the portion was adequate for two. Sharing is good but after tasting the profiteroles filled with smooth vanilla ice cream, topped with dark chocolate sauce, we were longing for more.
We found a Chinese restaurant with the unlikely name 862 at Uruguay 862, Barrio Norte. This brand new modern, sleek eatery, done in peaches and cream, was sparkling bright and clean. The staff was a jovial bunch eager to please. We started with sopa de wonton and moved on to chicken picante, slices of pork sweet and sour, and 2 bowls of steamed rice. The soup was a bit salty and the wontons not very good, but the two main dishes had excellent sauces that were new to us. Much of the Chinese cooking in Buenos Aires is Taiwan inspired.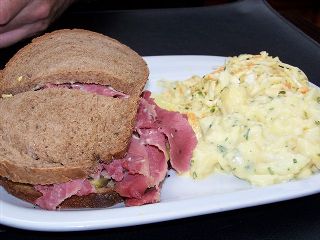 When in Belgrano, Big Mamma at Juramento 2156 next to Museo Sarmiento is an interesting option. Here you will find traditional Argentine offerings as well as Jewish specialties. The large outdoor patio is inviting, as is the glass-enclosed interior. The house offered 3 cream cheese spreads; green onion, pepper and smoked salmon served with thick herbed focaccia. We were intrigued with the "big fressers" hot pastrami on rye with cole slaw and potato salad. The 220 grams of meat made it easily shareable. Of course we did have to finish with classic blintzes filled with cream cheese and raisins. These were excellent representations of traditional Jewish classics. The steaks being served around us looked awfully good. It's a fun place with good food at fair prices.
[Back to Top]
There are many, many panaderia/confiterias across the city. Our favorite was Las Victorias, Talcahuana 921, just up the street from the previously mentioned Norte and El Cuartito - what a block! They make an awesome ricotta cheese pie and their rolls are the best. Everything else looks awfully good. By the way, the most popular offering in these bakeries are the ubiquitous "triples", layered, filled sandwiches on 3 slices of thinly sliced bread. Miraculously, the high piles of triples melt away by day's end.
"Porte˝os" love helado (ice cream or gelato) so much so that ice cream shops offer home delivery by scooter, day and night. Late afternoon to early evening seems to be the critical time as a bridge to the late dinner hour. We became addicted as soon as we experienced the rich (achieved without cream or buttermilk), smooth texture and intense flavors. The base of the ice cream is "dulce de leche", which is created by simmering milk with sugar for hours until it is properly thickened. Dulce de leche is also used in pastries, chocolate, candy and as a spread on bread. The flavors are achieved with the use of natural ingredients. 'It's a tough job' finding the best to recommend to you but after trying independents and chain shops we settled on one of the major chains, Un Altra Volta, as the winner of the ice cream competition. We truly became addicted to "chocolate con almendras", incredible chocolate with oodles of toasted, whole almonds. The "cafe italiano" and "mango con naranja" were favorites too. At Un Altra Volta there are about 60 flavors from which to choose.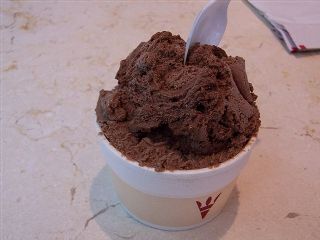 But there is more to Volta than helado. There are excellent coffee preparations, pastries and chocolates. The new location at Av. callao y Melo was our favorite. The bright clean modern design and comfortable seating is conducive to lingering over any of your chosen delights and a wonderful place to meet. When our friend Graciela (a member of TheTravelzine group whose knowledge of Buenos Aires was invaluable to us) was in town, we found our way to Volta for a mini get-together and when we met Sandra of My BA Travel Guide whose tips and recommendations had been tremendously helpful, Volta was the natural venue. Victoria Cream, a smaller chain operation with 4 locations in the city, will suffice in a pinch, when there's no "Volta" nearby.
In a world of real wars we found peace and comfort in Buenos Aires. The only wars here are for the right to claim the best beef, pizza or ice cream, reason enough for us to be planning a return visit.
UPDATE: We did return in 2009 and our travelogue from that visit is just a click away.
[Back to Top]
Search TheTravelzine | TheTravelzine Group | Don's Gallery
Packing Hints | Planning Tips | Cities Links

---
All pages on TheTravelzine.comęCopyright 1996-2020 Don & Linda Freedman