ISRAEL Fall 1999
Haifa, Akko and The North
Moshe arrived right on schedule and as we drove north out of the city, we became acquainted and found we had much in common. Linda and Moshe originally met when she was researching rental properties in Tuscany for a friend. Moshe's site on the Internet called Casaclub offered a huge selection from villas to farmhouses available for weekly and longer rental. Before long, they got to chatting by email and here we were driving off with the guy feeling as though we'd known him forever. Moshe knows his country inside out and we will forever be grateful to him for the three-days he devoted to us.
Just north of Tel-Aviv on the coast is Herzliyya, home of a growing high tech industry and lovely bathing beaches. A bit beyond at Shefayim is the home of the first shopping center to open on Saturday, owned by the Kibbutz Shefayim. The parking lot was loaded with cars. We stopped at another shopping strip at Yaqum for splendid cappuccino at Cafe Buono.
The Baron de Rothschild played a major role in developing the State of Israel, not only via his philanthropy but through his creative and futuristic thinking. He and his wife arranged to be buried in the beautiful flower garden at Ramat Hanadiv (generous one). To this day, Israeli's consider him to be one of their great heroes. Nearby is Zichron Ya'akov, founded by the Baron. It was the prettiest town we visited. The traffic-free Hameyasdim Street has been tastefully restored with stone and the sidewalks are lined with trees and lampposts. Cute homes, shops and historic buildings are on both sides of the street, with neat passageways to gardens and shops. A large, square stone building is named Binyamin Pool after Binyamin Edmund Rothschild, as it was devised by the Baron to supply water in pipes to the farmland and stables. The Old Paper Mill and the House of Leibowitz The Farmer are historic treasures. Although this street is the star, the rest of the town is lovely as well. The local synagogue is painted all blue inside and it has a small town quaintness about it. The prayer book the Baroness traveled with resides here.
We would spend two nights at Moshe's kibbutz, Ramat Hashofet, which has rental accommodations of about 40 rooms in small buildings, usually two rooms to a building. Our very basic room contained four twin beds, a large closet, refrigerator, sink and counter with dishes and cutlery, TV, an air conditioner, a telephone and a bathroom with a shower. Everything was clean and simple.
After we cleaned up, Moshe came to pick us up and took us to his home to have dinner with him and his lovely wife, Talma. We sat on the porch enjoying the sweet smells of the country and enjoyed a delightful, homemade fruit wine. Talma had prepared wonderful vegetable soup, which she served with meat kreplach that we couldn't stop eating plus lots of other delectables. It was the beginning of learning about life on a kibbutz. Linda and I departed feeling so lucky that we had met and would be spending time with such wonderful people.
Work starts early so breakfast is very early on a kibbutz. We were laggards at 07:15 though the huge dining room was still bustling with activity. These folks work hard so the buffet is ample for providing them with enough fuel until lunchtime. There was a non-Jewish tour group from Romania who was staying for a few days. Lots of children were finishing-up and on their way to school.
Now, in the daylight, we could appreciate the wholesome environment. The homes, simple bungalows or cottages, are original and well maintained and renovations are prioritized according to financial feasibility.
Moshe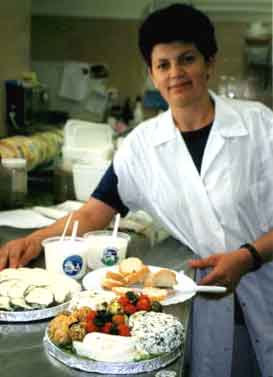 took us on a tour of the dairy area. The breeding of cows for the production of large quantities of quality milk is a scientific process in which Mother Nature plays a very small role. From genetic control to artificial insemination to bottle-feeding of newborns, it's all tightly controlled and monitored with ample use of computer technology. Dairy products are a large part of the economy of the kibbutz, both for internal consumption and external sale. As many other kibbutzim, they also have prosperous wood and plastics factories.
Leaving Ramat Hashofet and driving north, we had great views of Haifa Bay to the west. The pastoral beauty of the hills, mountains and valleys of the Galilee surrounded us. Our first stop was at Moshav Yaad in Misgav, to visit Moshe's friend Shuky Zerach, who creates original jewelry based on old designs. He has started working with iron and stone and also makes his own tools. His work is very impressive. His studio is in a settlement, which started as a cooperative but has since privatized. Perched high above the surrounding area, the views are spectacular with green all around and picturesque villages scattered over the landscape.
It was only a couple of hours since we had breakfast, but Shuky served us dips, olives, salad and pita. Linda and I just could not partake, but Shuky and Moshe ate with relish. We enjoyed the tea that was made with herbs from Shuky's garden.
This is a man who loves his work and his environment. We climbed into his all-terrain vehicle to explore the stony valley below, which is a popular hiking and camping destination. After bouncing along the rough roads, we arrived at an olive grove with very large, ancient trees that belong to the Arab village of Shaab. Continuing on, we came to the architectural remains of an 8th century Phoenician settlement. Old stone remains of oil pressing sites indicate how long olive oil has been a mainstay of the region. Looking back up at Shuky's village, we had another perspective of the new homes which have been built on the west side of the mountain from which the occupants can enjoy views of the sea.

The city of Karmi'el was built within the last ten years. Amazing, to think that a city of the size we saw with modern structures and full-grown trees and shrubs had matured to its present condition in so short a time. Prime Minister Barak was visiting the city that day and we were obliged to detour around the perimeter.
In the Upper Galilee, we stopped at the Marom Galil Winery, which is owned and operated by the kibbutz Amiad M.P. This boutique enterprise specializes in fruit wines. We sampled all the flavors, plus their liqueurs and schnapps. Two delightful young women attended to us. Sigal took us through the processing and Hila presided over the tasting in the shop, which also sells other quality wines from Israel and around the world.
The spectacle of the Sea of Galilee is one of those snapshot memories never to be forgotten. The Golan rises in the background north and east. The surrounding hills are dotted with dwellings, historical sites and nature's allures. Picturesque Tiberius, on the western shore, is rich in culture and religious interest, as well as a year-round vacation resort. As we slowly drove through, we were impressed with the growth that has taken place and remembered the lakeside promenade from our last visit.
As we drove up to the Golan Heights, there was rich agricultural land as far as the eye could see. Moshe pointed out to us that when this land belonged to others, it was barren rock that sat idle. It is very difficult for the Israeli's, who turned these rocky terraces into farmland, to think of giving it up.
We picked Talma up at the kibbutz and were off to Haifa for dinner. The third largest city in Israel, Haifa boasts the country's largest port. It is also a major commercial and educational center as well as a city whose citizens of the Jewish, Christian, Muslim and Bahai faiths enjoy harmonious relationships. Haifa sits at the top of Mt. Carmel. It was dark when Moshe parked the car in the cable car parking area. This famous funicular is glass enclosed and called The Bubble. We walked along the observation deck and the promenade high above downtown. It was a clear night and the lights below lit up the lower and upper city, the port and the coastline - just a breathtaking sight.
Across the street are the Stella Maris Church and the Carmelite Monastery. The church is divided into three sections by two rows of pillars and has an impressive dome. There are frescoes of Elijah the Prophet in a chariot of fire ascending to heaven and King David playing his harp. Just below the promenade is the incredibly beautiful Bahai Temple. It is, in fact, a tomb for the remains of the Bab, founder of the faith. The gardens are exquisite and meticulously maintained. The temple is a place of pilgrimage rather than worship and prayer.
After devouring the sights, it was time to do the same to a wonderful seafood meal at Jacko, 12 Hadkalim Street in the market area in the old city. The friendly staff immediately began serving the imaginative appetizers including cabbage with curry, white cheese with oil, stuffed grape leaves, and carrots with spices. Moshe and Talma shared fried calamari and shrimps and mussels in wine, garlic and herbs. Linda and I both chose Denise, a sea fish, grilled juicy inside, crisp outside with a perfect blend of garlic and spices. It was a nice way to end a very full day.
After breakfast, Moshe took us to meet the charming Nomi who is in charge of creating and making all the dairy products for the Kibbutz. Energetic beyond belief, she produces super quality rich and delicious wholesome cheeses, yogurt, ice cream and butter in this immaculate laboratory.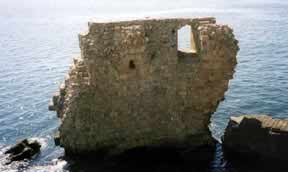 This was the last day of our trip and Moshe suggested that we visit the old city in Akko and a stop in Haifa again before taking the bus from the Haifa bus terminal to Ben Gurion airport. The coastline from Haifa north to Akko is a stretch of gorgeous new apartment buildings on the seaside. What a contrast when you turn left into one of Israel's oldest coastal cities. Steeped in 4000 years of history, it symbolizes the best of Israel. It is a place where all faiths live and work harmoniously together.
It was late morning, the time that people of all faiths are ready to enjoy a bowl of hummus. Moshe had told us to forget what we had in Tel-Aviv. It might be the best hummus in Israel but he was taking us to Hummus Said, in the middle of the old market, for the best hummus in the world!
The old market pedestrian streets wind between ancient buildings and are covered with awnings and cloths of all sizes, shapes and colors for all-weather shopping. Arab and Jewish shopkeepers work side-by-side in this colorful and aromatic atmosphere. The intoxicating smells of spices and coffee, fresh baked goods, and tantalizing grills is heavenly.
Onward to Hummus Said! Cheerful, bright and clean the place was filled mostly with local customers and a few tourists. We had our hummus with chickpeas and Moshe ordered his with ful (beans). The automatic side dishes were onion, olives, tomato, pickles and hot peppers. The pita was excellent and a variety of side sauces were available for the asking. This hummus was truly fabulous and the meal so enjoyable with the friendly, helpful staff in the immaculately clean environment. (Pssst, the hummus in Tel-Aviv was better, but don't tell Moshe!)
Further on, we came to Kurdi and Berit, a shop for Turkish coffee and spices, which is impossible to pass without entering. The displays and aromas just beg for attention. Moshe had a cup of coffee while the owner happily gave Linda and me a lesson in spices and coffee. Sorry, no sale, but he was a sweet man who tried hard.
Graceful archways bridge the old stone buildings. We came to Old Chan, a huge courtyard surrounded by two levels of pillars and archways with the original stonework intact. It looked like a motel and Moshe informed us that it was a place where travelers stopped to feed their horses and sleep.
Akko was originally a fishing village and this was evident when we reached the port and marina with the remains of the nearby fortress. We strolled along the pier enjoying the smells of the sea air and the seascapes. Akko was not only a delight to the senses, it was a history lesson as well.
The old city of Haifa is being nicely restored to retain and preserve its historic value. The Turkish market is loaded with shops both small and large that are packed top to bottom inside and out with furniture and household goods. New, used, antique - it's all here if you have the patience to sort through and haggle. Mosher Antiques is a tiny shop where you have to grease your body to get through the tight spaces between goods piled high, wide and ugly. Actually Mosher Goldenberg has some very nice offerings and he's very nice too. Linda had fun negotiating a purchase after digging through piles of stuff to find just the right thing. If you're in the area, Mosher will make you coffee even if you're just looking.
The beautiful street Sederot Ben Gurion runs from the sea to the steps leading to the Bahai Temple and gardens. This wide boulevard has been rebuilt and the buildings and businesses along the route are being renovated to create a very elegant centerpiece for the city. Along this way was the German colony in Haifa (1878-1898). The Templars were employed in construction of Jewish settlements, wineries, olive oil and soap plants. We spent our last few hours in Israel strolling this street and stopping for a leisurely coffee at one of the numerous sidewalk cafes.
We met a wonderful couple from Germany who were touring Israel. We had a thoughtful discussion with Bernd and Gabi about the attitudes of the Germans regarding the Holocaust. We were very moved when Bernd expressed his own feelings which were not of guilt but of shame. We were very taken by this couple and hope to meet them again some day.
On the way to the bus terminal, Moshe took us to Shawarma Hazan for delicious beef shawarma (gyros), served with pickled cauliflower and carrots and crushed, fresh garlic. The beef was stuffed in a large pita with tomato, cucumber and onion and there were several sauces from which to choose. The side of French fries was too good.
Our 19:15 bus, (29 NIS per person), arrived at the airport at 21:30 and we had plenty of time to do some last minute shopping at the duty free shops before boarding our 00:30 Air Canada flight to Toronto.



Search TheTravelzine | TheTravelzine Group | Don's Gallery
Packing Hints | Planning Tips | Cities Links

---
All pages on TheTravelzine.comęCopyright 1996-2020 Don & Linda Freedman