ITALY!
Winter 2003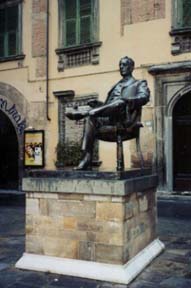 Lucca has been a favorite of ours for many years but our previous two visits had been for only one night so we were looking forward to this three-day visit and hoping, too, to spend some time in the surrounding countryside.
The comfortable one and a half hour train ride from Rome to Florence required an 11 EUR reservation. The connecting train from Firenze to Lucca was waiting for our 12:30 departure and we arrived right on time at 13:43.
The train station in Lucca is located just outside the city walls and it's a five-minute walk to the nearby Porta San Pietro, the closest way into the city. Five minutes later we arrived at Albergo San Martino, via della Dogana 9, our three-star choice, and did we pick a winner! This narrow, short street, has a checkered past, having been a haven for the world's oldest profession. In fact, in its previous incarnation, the Albergo San Martino had been a "house of pleasure". Perhaps that is why the setting is so romantic.
The golden yellow facade oozes charm and is enhanced by the potted shrubs and welcoming small tables and chairs out front. It all came to life when we walked in and were greeted by the smiling and cheerful Simona, who later in the day was relieved by the equally personable Uliana. Even the housekeepers always offered happy, good-natured greetings. This is no accident; the owner, Andrea, encourages the friendly, familial environment.
There are ten rooms, all with bathrooms, six doubles, two suites and two single rooms for handicapped people. Every room is equipped with air-conditioning, heating, satellite TV, fridge and phone. Our twin-bedded double, on the second (top) floor was quite roomy with very nice furnishings. The good-size bathroom had a stall shower, bidet, a heated towel rack and a first, a door to a small balcony.
The breakfast area/bar, just off the lobby, is a cozy spot for enjoying fresh breads, jams, juice and coffee. There is no elevator but the staff will insist on carrying your baggage to your room. If you're as stubborn as we are, you will haul your own. Albergo San Martino is a delight and a really terrific three-star value.
Lucca is located in northwestern Tuscany, 70 KM west of Florence and 20 KM from the sea. It borders on the Province of Pisa and is surrounded by the Appenine mountains and the spur of the Apuan Alps.
The car-free city is surrounded by walls and only by walking on the walls and among the narrow streets and picturesque piazzas of its historical center can you discover its magic. The well-preserved and varied architectural styles create a sense of visual and sensual pleasure. Added treats are the high-quality, reasonably-priced shopping and eating establishments you will encounter along the way.
Today we would walk the 4 KM of walls that surround the city. Lucca is one of a few Italian cities to have preserved its walls, originally built in the fifteenth century. Under the Bourbon rulers, these were transformed into public walkways of tree-lined paths, where in previous years car races actually took place. Today the walls have become a large public park that provides exceptional views over the city and surrounding countryside.
It was a brilliant day to enjoy this picturesque stroll along with runners, walkers and bikers of all ages. There are many pathways leading down from the walls, which make it easy to re-enter the town in any area that strikes your fancy.
[Back to Top]
There are those treasured eating experiences that we look forward to repeating and Da Giulio in Pelleria, via delle Conce 45, is one of them. This simple family trattoria offers local specialties prepared with care, served with a friendly spirit, and priced extremely reasonably.
Last time we were here, a party at a nearby table was served bowl after bowl of various soups. Though not on the menu, locals know that on request they can order a course consisting of each of the three soups on the menu plus a portion of polenta with vegetables. We did, and as I write this, it brings to mind the large, steaming bowls of thick and delicious preparations of farro con fagioli (spelt and beans), farro con lenticchie (spelt and lentils) and zuppa di verdura (vegetable soup). Superb Lucca-region olive oil and fresh ground pepper are served to enhance the wonderful, natural flavors. Soup must be eaten with bread and the crusty, dense version served here is a perfect choice.
Unless you want a particular wine, you are served a large bottle of Chianti and you pay for what you drink. We sipped the red, giving our appetites a chance to recover before ordering our next delight.
Both of us opted for the homemade tagliatelle. Linda had hers alla contadina with fresh tomatoes, basil, oregano and olives and mine was ai moscardini, with baby octopus sauce. Both were heavenly. Bignč di crema con cioccolato caldo, cream puffs with hot chocolate sauce nearly brought us to tears. Delightful food, delightful prices, delightful people - da Giulio will remain on our "must return" list.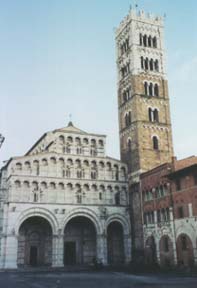 There are eighty-seven churches in the old city. The cathedral of San Martino is a masterpiece of Romanesque art with a 13th century facade decorated with various column styles. Inside the cathedral are Jacopo Tintoretto's Last Supper, the famous tomb of Ilaria del Caretto by Jacopo delle Quercia, The Madonna in Trono by Ghirlandaio and the Chapel of the Volte Santo with the wooden crucifix which, according to legend, was sculpted by the Evangelist, Nicodemus. Nearby in Piazza S. Giovanni is the ancient Church of Saints Giovanni and Reparata. The Church of S. Michele in Foro with its splendid Romanesque-style, white marble facade surmounted by a huge statue of the archangel, stands in the center of the busy and attractive Piazza S. Michele, the crossroads of the city.
The Palazzo Ducale looks onto the large Piazza Napoleone, where many outdoor activities take place. The recently restored reception rooms of the palace are now open to the public. The adjoining Piazza del Giglio is home to the 19th century neoclassical theater of the same name, evidence of Lucca's great musical tradition as represented by Puccini, Catalani, Boccherini and Gemignani.
[Back to Top]
Speaking of Puccini, much has been written about him and where he was born. Giacomo Puccini was a native Lucchese, born on via di Poggio, close to Piazza S. Michele. The house where he was born now houses a museum, a favorite destination of opera lovers. In front is an attractive statue of the composer.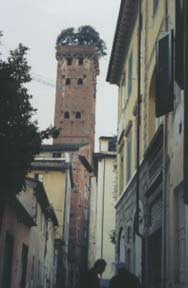 At the beginning of the fourteenth century, when the surrounding wall was much narrower than it is today, Lucca had more than one hundred towers. Just a few have survived and now only two can be visited. The first one to be restored and opened to the public is the Torre Guinci, situated in the northwest corner of the Guinci Palace. It is forty-one meters high and built entirely of brick. A 230 step inner staircase leads to the top where ancient holm oaks are planted and visible from all around the city. We made our way to the top to prove we could do it and to enjoy the beautiful views of the city and the countryside. The second tower, called the Torre del Oro, because of the huge white clock face at the top, was renovated and opened to the public in 1999.
The heart of Lucca is via Fillungo, the shopping, walking and meeting center of the city. The shops are an integral part of the architectural and town planning structure of the street. Hidden behind a row of buildings on Fillungo, opposite Piazza San Frediano, is the Piazza Anfiteatro, built on the site of the original Roman amphitheater, parts of which can be seen on the outside. Over time dwellings, shops and artisans' workshops have been added to the piazza, but its original elliptical shape is intact.
The Lucchese plain is the vast area, enclosed by hill slopes that surround the city on three sides. The landscape is agricultural and is dotted with noble villas that were built as summer residences by merchants from Lucca between the 15th and 19th centuries. This area is home to the famous Lucca olive oil, excellent wine and farro production and not to be overlooked is the fact that most of the toilet paper used in Italy comes from this region.
We were fortunate that a friend of a friend from Lucca was available and quite happy to take us on tours of the plains, Viareggio, Garfagnana and the Serchio Valley. The Lucca plain is an eyeful, gorgeous villas and homes on top of green hills studded with olive trees and vineyards and cute, immaculate villages. We had mentioned that we were interested in azienda agricola (agritourismo) and the accommodating Carlo knew of two we could visit.
[Back to Top]
The first was the Fattoria Villa Maionchi, via di Tofori 81, in the Comune of Capannori (Lucca), owned and operated by Maria Pia Maionchi. We were not able to see any of the apartments because they were either occupied or undergoing renovation. It is no wonder that they were fully booked. This lovely garden and villa sits among rolling hills and its own vineyard and olive grove. The ancient stone and wood dining room was so inviting we wished it was lunch time. There is an attractive adjacent room, in which you can taste the wines and oils and buy as you choose. The wines were splendid and we selected a red, white and vin Santo. The olive oil was incredibly delicious. We were to learn that "Lucca oil" is produced under strict rules and regulations to ensure its unique characteristics are preserved. The oil, pressed from perfectly ripe olives, yields an intense sensation of sweetness with a hint of spice, and a color of golden yellow with green tints. It was impossible to stop dipping pieces of bread, smelling and tasting truly different oil than we had ever had before. Villa Maionchi has a very inviting personality that puts it on a futures list for us.
Our next stop was Collodi, the town where Pinocchio was written by Carlo Collodi (pen name, real name Carlo Lorenzini). There is a Pinocchio amusement park that is a kids' delight. La Taverna dei Miracoli, Piazza Carlo Collodi was not only convenient but a very good spot for lunch. Fabrizio is out front and his wife Sandra is in the kitchen. The pappardelle al ragu' di funghi and gnocchi alla Sorrentina were freshly made with hearty, rich sauces. A mixed salad and excellent bread and olive oil rounded out the meal. The prices were extremely reasonable. The historical town is in the hills above the restaurant and worth a visit.
Following the strada del vino (brown signs), we came on high to the gorgeous town of Montecarlo in the Comune of Montecarlo, the production center of Montecarlo DOC wine. The castle, Fortezza Medicea, and its walls dominate the town. It is possible to visit by calling ahead, but we did not know that until we arrived.
The Fattoria La Torre is located at via Provinciale 7, the main road leading to Montecarlo. Its thirteen hectares of olive groves, vineyards and attractive farm houses sits at the foot of the medieval walls of the quaint hamlet of Montecarlo. The complex oozes relaxation and comfort. There's a large swimming pool with sun terrace, barbecue area and children's playground. The attractive dining room in the main farmhouse and the wine bar were open for business. But the accommodations were closed for the season. Once again, we were invited to taste the wonderful wines and exquisite olive oil.
Off to the sea and Viareggio, a major seashore destination. A very long, wide promenade runs parallel to the expansive beach front. A multitude of shops, dining and drinking establishments line the way. Hotels abound with the four and five star beauties popping up as we walked north. This town is geared for good weather masses with prices for all pocketbooks. The merchants and city workers were busy gearing-up for the three weeks of carnival in February, a major event. So major, in fact, there is a year round production facility that makes the famous costumes for carnival.
[Back to Top]
Another favorite from our last visit was Ristorante Giglio at #2 Piazza del Giglio. The outside seating overlooking the lovely piazza would be very inviting in season. The interior has a low-key, refined elegance where one can feel comfortable in smart casual or dress attire. The entry area has a few tables and to the left, the white frocked kitchen staff can be seen preparing the wonderful delights soon to be enjoyed. We were greeted warmly and ushered to our corner table. The main dining room invites relaxation and intimacy and we were soon enjoying pastry shells filled with anchovy paste and cheese with an assortment of fabulous breads and bubbly champagne, all complimentary.
My farro soup alla Garfagnana was pure comfort. The farro was slow-cooked to a medium bite and the resulting broth was velvety smooth with the right amount of olive oil and fresh pepper for my taste. Linda started with tortelli Lucchesi al sugo, plump pasta squares filled with meat and vegetables with a light coating of meat sauce. We savored the flavors and enjoyed our delicious Montecarlo Rosso from Fattoria del Teso while we enjoyed watching the professional wait staff interacting with the local patrons.
My coniglio winning streak was kept alive by a marvelous preparation of meaty chunks stewed with tomatoes and olives while Linda enjoyed one of her favorites, a lean and tender, perfectly-grilled, center cut pork chop served with chopped turnip tops. We lingered over vin santo and cantuccini thrilled that Giglio was every bit as wonderful as we had remembered and promising that we'd return here on our next visit to Lucca.
[Back to Top]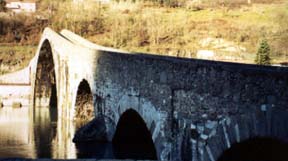 The next morning, we drove north along the Serchio River through the Serchio Valley, across verdant, rolling hills, deep gorges, pinnacles of rocks with ancient villages along the way. In the distance, the snow-capped mountains of the Appenine completed the spectacular vistas surrounding us.
The symbol of the valley of the Serchio is the Ponte della Maddelena, better known as Ponte del Diavolo. According to legend, Guiliano, who became a saint, built the bridge and called upon his friend, the Devil, to help him. The Devil agreed to help on condition that he would possess the soul of the first person to cross the bridge. When the bridge was finished, Guiliano and his dog walked across and the infuriated Devil tried in vain to destroy the bridge, his efforts resulting in the unusual shape we see today. Well, that's how the story goes.
The design of the bridge is quite unique and masterful with its varied arches that create an unusual and unexplained sharp incline. There is no factual history as to when the bridge was originally built and later rebuilt - nor how many times. Anyway that you interpret it, when you see it you have to stop, park and get out of the car and walk across to enjoy the river views and scope out the best angle for your photo.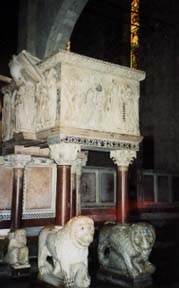 At the center of the Serchio Valley, 410 M high, is the special and immaculate city of Barga, which has preserved its gorgeous, medieval appearance. A complex labyrinth of narrow, twisting streets and stairways guides you up and down, round and round, among lovely homes and buildings. The steep via del Pretorio leads to the cathedral, dedicated to Saints Jacopo and Cristoforo, which dominates the town. Inside is a beautifully-sculpted pulpit, rich with inlaid marble work attributed to Guido Bigarelli. The people we met were as nice as Barga is beautiful. The man in the old grocery store proudly explained that the important products of the area were porcini mushrooms, spelt and chestnuts. In addition, he had ample stock of a variety of other local goodies.
We stopped for coffee at an adorable bar and restaurant, via di Mezzo 1, and were warmly greeted with friendly and welcoming enthusiasm.
[Back to Top]
The Serchio Valley ends a bit further down the road and we entered the Garfagnana region where Carlo knew of a spot for lunch in Castelnuovo Garfagnana. This center is rich in history and characterized by its fortress (Rocca), on which construction was begun in the 11th century, around which fortifications were later developed.
Our destination was Osteria Vecchio Mulino, Tel. 05-83-62192, an enoteca, oleoteca, grappoteca and purveyor of local delicacies like wines, olive oils, hams, sausages, cheeses, olives and homemade breads and pastries to name a few.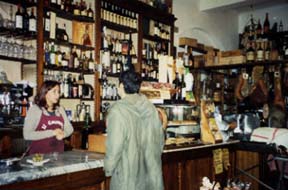 The presentation of the foods and the delicious aroma started our juices flowing as we headed for one of the two wooden tables that were surrounded by these delicacies. The owner, Andrea Bertucci, is a proponent of the Slow Food movement and his osteria is recognized and regularly visited by devotees.
Angela, a family member, proudly brought us servings of both corn and chestnut polenta, several varieties of hams, sausages and beans and incredible potato bread and corn and farro bread, plus mashed radish and mustard butter and a spread of sausage, anchovies, lemon, red wine and orange peel. A carafe of the house red wine was the perfect accompaniment. We ate and ate but had enough room for two exceptional tortes, one of ricotta and spelt and one of vegetables. Enzo Pedreschi, a local celebrity, the regional spokesperson for the Slow Food Movement, just happened to pop in. It was his delicious radish and mustard butter that we were enjoying. He has his own shop at vicolo al Serchio 1, Tel: 0583-65-89-07.
The valley road through Garfagnana offers spectacular scenery. Homes are clustered on the sides of green hills with snow-capped peaks in the background. We stopped to walk up to the Fortressa della Verrucole, built over a relief overhanging the road, which used to run along the left bank of the Serchio, the guardian of the valley. The entire perimeter of the enclosing walls is preserved, along with two bastions, a semicircular tower and a watch tower over the entry door. The views of the countryside are wide and long and it's easy to see why it was an ideal lookout to protect the province of Lucca from harm.
[Back to Top]
We were looking forward to returning to Lucca to meet our old and dear friends from Genoa, Stefano and Nicoletta and their adorable and talented daughter, Shaila. We had last been together in Marseille in October and we felt so lucky that they were able to drive down to Lucca to spend an afternoon and evening with us.
We met them at the children's play area near the Porta San Donato where they had parked their car. Shaila was having a great time swinging, sliding and making friends. We pried her away for a sightseeing tour of Lucca - walked on the walls and then down and through the city, practicing our skills at tour guiding again.
Several of the restaurants we had on our list were closed for seasonal renovation or holidays. Carlo had suggested Gigi Trattoria, a cute, colorful, fun kind of place with a young, energetic staff. Best of all, we were able to share the experience with good friends. Shaila is a real trooper for four years old. She walked for hours with us without a whimper, stopping only for a pastry along the way. Now she sat like a lady - and ate like a MAN! The penne with scampi in tomato cream sauce was a tasty starter. For mains we had roasted pork ribs with olives and roast lamb with steamed artichoke, both very good but the latter a better rendition. The bread and focaccia were excellent. The pies for dessert were wonderful - a vegetable and raisin and a rich chocolate, both with pine nuts sprinkled on top and awfully good crust. Services and prices were very good.
It couldn't have been more perfect, a great town, countryside discoveries, and precious time with Stefano, Nicoletta and Shaila.
Tomorrow we would be off to Florence for a week and then back to Rome for eight days - and the sun is still shining!
[Back to Top]

Rome | Lucca | Florence | Rome
Search TheTravelzine | TheTravelzine Group | Don's Gallery
Packing Hints | Planning Tips | Cities Links

---
All pages on TheTravelzine.com©Copyright 1996-2020 Don & Linda Freedman