ITALY
WINTER 2004
Venezia
We were off to Venice, after changing trains in Bologna. Both trains were on time and we arrived on a bright sunny day, which unfortunately did not last long. Venice is an old friend that we had enjoyed visiting many times in the past. Our plan was to visit the Cannaregio quarter and the Jewish Ghetto, and experience the flavor of Carnevale.
We had reserved at the Hotel Giorgione on SS. Apostoli, in Cannaregio. This hotel is a member of the prestigious Abitare la Storia organization. We were anxious to get into the festive spirit so rather than take a water taxi to the Ca' D'Oro stop closest to the hotel, we rolled our luggage along Rio Terra Di Spagna, thru Campo S Geremia, over the foot bridge of Canale di Cannaregio and continued straight ahead to Campo SS. Apostoli. The Hotel Giorgione is just behind the Campo.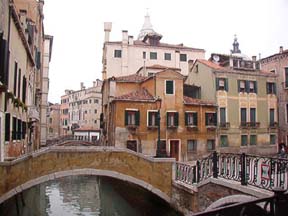 We found more tourists per square meter in this twenty-minute walk than in any other place we had visited on this trip. Hey, this is Venice, with its canals, unique architecture, footbridges, gondolas, a place to love! But with souvenir shops too numerous to count, kiosks and multitudes of tourists, Venice has a lot to overcome.
When we entered the Hotel Giorgione we were greeted by the warm Venetian spirit, of the welcoming staff and the ambiance created by the diverse collection of Venetian furnishings, fabrics and decorations. Before going to our room, we enjoyed the complimentary coffee, tea and cookies offered in the comfortable parlor and took note of the billiard table and internet point in a room just off the lobby next to a small bar.
Our nice-size room was a Venetian symphony of blue and teal, from the fabrics to the painted furniture, to the chandelier and matching wall fixtures. The bathroom tile decoration continued the color theme - nicely done.
[Back to Top]
We were thrilled that our friend (one of the volunteer moderators of TheTravelzine discussion group) Paolo, who lives in Trieste, was able to come and meet us for a brief visit. Unfortunately the weather had changed and when he arrived, it was overcast and cool with rain threatening. When we hit the street in late afternoon the tourist action had died down and the locals had emerged.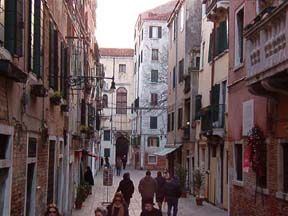 It was clear passage to Campo del Ghetto, the center of the old Jewish quarter. Ghetto means foundry in Venetian dialect and there was once a cannon foundry in this location. This is the oldest Ghetto in the world. There are five synagogues (two of which are still active, the Levantine and the Spanish), a Jewish museum, a kosher restaurant (Gam Gam) and a bakery that makes unleavened bread (matzos). There are several shops selling Jewish religious goods and what looked like a Lubavitcher study center. The Venetian Jewish community is quite small, about 600-700, of Orthodox and Sephardic origin.
It had turned colder and since we still had some time before dinner, we popped into a wine bar that Paolo remembered from a previous visit. It was a typical neighborhood hangout and we had very good wines by the glass for 55 and 65 euro cents each! We sat on stools at a wall counter and enjoyed the chatter and interaction of the locals around us.
[Back to Top]
The Osteria al Bacco is located on the canal just north of the Ghetto on Fondamenta delle Cappuccine, tel. 041-717493. We lingered over spaghetti and clams, branzino (sea bass), orata (sea bream), frito misto, mixed salad and light, tasty Tocai. We enjoyed the osteria ambiance, good home style cooking and, best of all, a great visit with our friend.
We walked Paolo to the train station and on the way back to Hotel Giorgione it began to rain lightly, but steadily, just as the forecast had indicated. Since we wanted to spend the next day in the San Marco area to appreciate Carnevale and since more rain was predicted, we thought it might be a good idea to move to a hotel in that area. We did not want to leave the warm, homey Giorgione, but finally decided to be practical. It's too bad it was drizzling in the morning because it would have been nice to have had breakfast in the lovely courtyard just outside the breakfast room.
We had heard that there was a talented young chef at the Do Leoni Restaurant in the Hotel Londra Palace so we had secured a dinner reservation before we left Toronto. How great it would be to spend the night there as well! We were delighted when they were able to offer us a room for that evening on such short notice.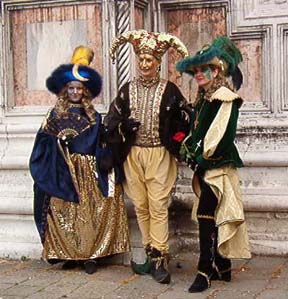 We bade farewell to the Hotel Giorgione and wound our away along the streets, over bridges, through the alleyways, and along the canals. As we got closer to St. Marks Square the Carnevale atmosphere picked up steam, people in face masks and costumes, in particular the spectacularly-dressed characters hired by the city. Singing and laughing visitors of all ages were immersed in the spirit of Carnevale.
[Back to Top]
We found our way to the Hotel Londra Palace on the promenade of the Riva degli Schiavoni, 4171, a fabulous location in the heart of Venice, steps from Piazza S. Marco and on the Bacino di S. Marco. The wide, white facade is comprised of three separate designs, the result of the merger of two hotels with a section built between, to unite them. The result is a stunning landmark on one of the most famous promenades in the world.
Because the word Palace is part of the name, I envisioned walking into a traditional formal environment. That was the case until 2000, when it was redesigned and refurbished. The lobby, bar and lounge are now a bright blend of new and old and a bit of Mediterranean, created by the blending of white walls, columns, pillars, mosaic floors, the soft colors of the Venetian glass decorations, and refined simple classical furniture. It is brilliant, both in execution and ambiance.
The word Palace also invokes great size. In actuality there are 53 rooms and suites, each one different, all of them furnished and decorated for ultimate comfort. The Londra Palace is a stylish boutique hotel. The general manager and his deputy are constantly available, chatting with and getting to know their guests, building lasting relationships. The concierge has been with the hotel for over 25 years and is an expert on everything Venetian. He is also the father of the deputy manager.
[Back to Top]
Our corner room, way up on the fifth floor, was glorious. The wooden-beamed, vaulted ceiling and walls gave a country feeling to the extremely generous proportions. To the right was a small den with a loveseat and a window overlooking the Basin of St. Marks and the island of St. George. (Did I mention that one hundred windows in the hotel have this view?) Next to the den was a huge whirlpool tub with a motorized sliding wooden cover. The rest of that wall had built-in closets and shelves, etc. behind wooden doors.
The king bedroom area had a table and chairs, a desk and a unit for the large television and mini-bar. Windows (three exposures) provide sea views and Venice views that are breathtaking. The furnishings, antiques and paintings are genuine and elegant. The wooden beams continue into the large, windowed, bathroom with a large glass stall shower, attractive sink stand and beautiful antique Venetian mirror. All the fixtures are of superior quality as were the personal care products, towels, robes and slippers. At this point we didn't care how hard it rained outside. This exquisite, romantic oasis would take care of us nicely, thank you very much!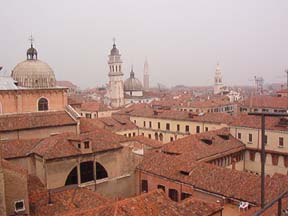 There is a staircase from the 5th floor to a small roof deck with incomparable 360 degree views. Tchaikovsky loved Venice and it was in room 106 at this hotel that he composed his Fourth Symphony in 1877. The decor in that room pays homage to this great composer.
[Back to Top]
For lunch, the concierge recommended the Trattoria alla Rivetta, Pontes Provolo 4625, Tel. 0415-287302, just around the corner from the hotel. This small place on a canal at the foot of a bridge is an institution for Venetians. There were several tables of gondoliers finishing their lunches when we arrived. The front counter was filled with trays of prepared vegetables and sea foods, which tortured us while we stood waiting to be seated while drinking a welcome glass of Prosecco the owner offered. It was organized chaos. Seats emptied and were immediately filled. Waiters on the fly were hurriedly taking orders and dashing in and out of the kitchen. Ah, finally our turn!
We settled on sarde in saor (a Venetian favorite, sardines marinated with onions in a sweet and sour marinade), shrimp and squid marinated in olive oil and parsley, and frito misto (shrimp, squid, tiny fish, fish filets). This was the best meal we had ever had in Venice, out-of-the-water fresh, perfectly prepared. The mixed salad and rolls also met the test. In addition, the place was fun and the cost was very reasonable.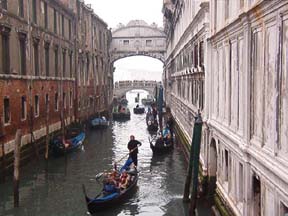 After lunch, we wandered aimlessly doing mindless window shopping and stopped time and again to take pictures of costumed revelers. The body count was not too bad until we reached Ponte di Rialto where hordes of tourists had gathered. The amount of commerce on both sides of the streets and on the bridge seems to have at least tripled since our last visit. It was a scary zoo. It was late afternoon and the rain began in earnest so we headed home to our private aquatic playground.
[Back to Top]
On our way to dinner, we passed through the bar where guests were enjoying the solo saxophone player with their aperitivi. We appreciated being able to hear the lovely music during dinner in the adjoining Do Leoni Restaurant. We were greeted by the amiable maitre'd who showed us to a corner table. The beautiful room offered the same comfortable ambiance with touches of Venetian elegance such as the magnificent sculptured oval Venetian mirror gracing the wall facing me. The tables are well spaced for privacy and there is a full complement of professional staff. Beyond the windowed wall, there is a terrace along the promenade for dining in good weather. At this point it was pouring out there.
The young chef, Stefano Mazzone, has gained a fine reputation for his ability to marry culinary creativity with regional tradition. The maitre'd explained every course of the tasting menu in detail, the wine steward made excellent suggestions, and service was efficient and caring. We were about to enjoy an experience we will long, and fondly, remember.
First to arrive was a plate of assorted house made breads with olive oil and olives followed by an Amuse-Bouche, a small portion of bean soup with stock fish and a cherry tomato. A sweet wine from Friuli was chosen to go with goose foie gras escalope with red chicory in saor and zabaione with traditional balsamic vinegar (75 years old, to die for) from Modena.
The next three courses were accompanied by a delicate, fruity Sauvignon also from Friuli. A clear soup of onions, montasio cheese and bone marrow (The soup was served in a hollowed out half of onion with a slice of cheese and the marrow.) was followed by red chicory tortelli with oxtail and Jerusalem artichoke. The 4th course was Venetian fish soup, poured at table over an assortment of fish and shellfish.
Now, a red Masi Campofiorin to go with the main event, braised veal cheeks (a first for us), served with black salsifies, baby chicory and pumpkin.
Whipped egg white and tangerine sorbet cleansed the palate before the dolci was served, wonderful tiramisu and then fried dough balls filled with chocolate and ginger ice cream in a pool of yogurt.
There was ample time between courses for appreciating this very special three-hour gastronomical experience, one we will not soon forget.
Chef Stefano Mazzone deserves the rave reviews. Each item was innovative and beautifully presented. The flavors were delicate and delicious and the menu very well balanced. The service was not only impeccable but the staff was professional, yet warm, and anxious to please.
Breakfast picked up where dinner left off. Having had such a huge dinner, our plan was to take it easy at breakfast - fat chance! There was a great selection of quality offerings with emphasis on exceptional breads, rolls, croissants, baked goods, and pastries - all house made. We ate it all plus fruit, mozzarella balls, and quite excellent American style coffee.
Our meteorological luck had really run out. It was pouring as we dashed across the way to hop onto the water taxi to the train station. But the weather didn't dampen the new, beautiful memories of Venice we were taking away with us.
[Back to Top]

Como | Florence | Rome | Naples
Reggio Emilia | Venice | Verona | Magenta
Search TheTravelzine | TheTravelzine Group | Don's Gallery
Packing Hints | Planning Tips | Cities Links

---
All pages on TheTravelzine.comęCopyright 1996-2020 Don & Linda Freedman