Search TheTravelzine

TheTravelzine Group

Access Your Mail

Don's Gallery

Packing Hints

Planning Tips

Cities Links

Links
LINKS TO OUR TRAVELOGUES
Argentina, Buenos Aires - Jan-Mar 2010
Argentina, Buenos Aires - Jan-Mar 2009
Argentina, Buenos Aires - Jan-Mar 2008
Austria - Fall 2005
Belgium, Brussels - Fall 2000
Canada - Summer 2002
Canada - Summer 2001
Canada - Summer 2000
Czech Republic - Spring 2000
France - Fall 2002
France, Paris - Fall 2000
France, Paris - Spring 1999
France, Lyon - Spring 1999
Germany, Berlin - Fall 2009
Germany - Fall 2002
Germany - Spring 2000
Germany - Fall 1999
Greece - Fall 2012
Greece - Fall 1999
Greece - Fall 1997
Hungary - Spring 2000
Israel - Fall 1999
Italy - Winter 2007
Italy - Winter 2006
Italy - Winter 2005
Italy - Winter 2004
Italy - Winter 2003
Italy - Winter 2001
Italy - Fall 1998
Italy - Fall 1996
Netherlands - Spring 2000
Portugal, Azores - 2019
Portugal, Azores - 2018
Portugal, Sao Miguel & Lisbon - 2017
Portugal, Azores - 2017
Portugal, Azores - 2016
Portugal, Azores - 2015
Portugal, Azores - 2014
Portugal, Azores - 2013
Portugal, Azores - 2012
Portugal, Azores - 2011
Portugal, Lisbon - 2011
Portugal - Fall 2006
Portugal - Fall 2004
Portugal - Fall 2003
Portugal - Fall 2001
Portugal - Spring 1999
Portugal - Spring 1997
Slovakia - Spring 2000
Slovenia - Spring 1999
Slovenia - Fall 1996
Spain, Barcelona - Winter 2006
Switzerland - Fall 2002
Switzerland - Spring 2000
Switzerland - Spring 1999
Switzerland - Fall 1998
Switzerland - Fall 1997
Switzerland - Spring 1996
U.S. Florida, Key West - Fall 2006
U.S. Florida - Spring 2001
U.S. Maine - Summer 2002
U.S. Massachusetts - Summer 2003
U.S. Massachusetts - Summer 2002
U.S. Massachusetts - Summer 2001
U.S. New York State - Fall 2005
U.S. New York State - Summer 2004
U.S. New York State - Summer 2003
U.S. New York State - Summer 2001
U.S. Washington,DC - Spring 2000

PARIS, FRANCE Fall 2000 (4)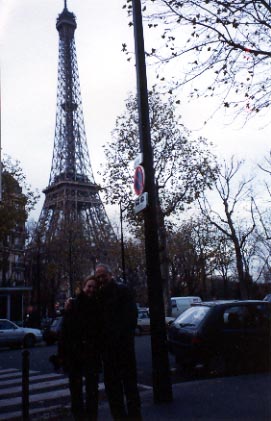 Knowing we had a noon lunch at Le Grand Colbert, 2-4 rue Vivienne, 75002, 01-42-86-87-88, we slept late and skipped breakfast. (Honest, we did.) Walking west across rue Rambuteau from rue Vieille-du-Temple was a challenge. There were long lines at the bakeries, pastry shops, prepared food places, produce stores and the delicious aromas were very stimulating to the senses. It's no wonder we arrived with hearty appetites. The ambiance in this beautiful brasserie is completely conducive to relaxing and enjoying a long, leisurely meal while admiring the surroundings. We settled into a corner of the intimate, leather banquette in a section facing the magnificent wooden bar topped with polished brass. Attractive globes of light are clustered around the slim pillars and tall palm plants line the perimeter on a shelf behind the seating area; the walls are mirrored. The professional, extremely accommodating service is paced for your satisfaction and pleasure.

There are two menus: one for a large variety of shellfish, the other of traditional as well as updated brasserie offerings. The two appetizers we chose were each a wonderful meal but we were hungry and no one was rushing us. Linda's salad Grand Colbert was indeed grand - romaine lettuce, anchovies, sliced hard cooked eggs, pimento, red onion rings and Parmigiano cheese slices with an oil and balsamic dressing. I had a repeat of herring and boiled potatoes that I had so enjoyed at Astier. This rendition was just as good, a huge pot of filets, onions and carrots and a large bowl of potatoes. I will not divulge how many filets I consumed. (At Astir it was two but now I was more experienced.) It was cool making eye contact with our neighbors who nodded and smiled approvingly while we held hands and grasped the romantic moment. The staff encourages this people watching by pacing the service accordingly.

Our main courses arrived in due course. Linda's tagliatelle topped with two poached salmon filets in a tomato, butter, parsley concasse and my thick filet of fresh cod, perfectly grilled and served with mashed potatoes presented in a fanned design with shavings of black olive. This was comfort food to be slowly eaten and thoroughly enjoyed. We were now entering our third hour and thinking we might not have dessert and just finish with coffee. Bad idea - we saw a mound of profiteroles arrive at the next table and our fate was sealed. How could we miss rich vanilla ice cream sandwiched between puff pastry cups and smothered in warm chocolate sauce? Finally we finished with the coffee. This perfect Parisian Sunday lunch was 360FF. We loved it so much, we thought our friends Fabio and Cova would too, so we made reservations for the four of us for the following Sunday, before they would be flying back to Switzerland and Spain.

Needing a good stroll, we wandered north to Boul. Montmartre and proceeded east along Boul. Poisonniere and Boul. de Bonne-Nouvelle. These wide streets were filled with families enjoying the bright, sunny day. We headed south on rue Saint Denis where we had found an Internet cafe with an English keyboard and very helpful staff. It was Sunday but no break for the prostitutes, sex shops, peep shows, etc., which line this colorful, sleazy street. South of rue Rambuteau, the attraction becomes fast food and cafes. The Internet spot is above one of these cafes.


I want to call to your attention two parallel streets, which run north-south through the 3rd and 4th arrondissements. If you are looking for fashionable men's clothing in nice shops at good prices, rue de Turenne is the place. And for women's hats, scarves and accessories, rue du Temple is lined with wholesale/retail shops.

The day that we found these shopping opportunities in the Marais, we also happened upon a pure neighborhood lunch spot at the corner of rue Vieille-du-Temple and rue de la Perle, A Bon La Heur. The place was very busy and through the window we saw most folks eating chicken in a pot, one of the daily specials. There's a long counter for eating standing and tables along the window and in a small area to the side. The environment is manic, lunch hour madness. Our order was quickly delivered and we dove into the pot of boiled chicken (large leg quarter), Savoy cabbage, potato, turnip, carrots, leeks and celery. It was simple, natural, delicious and cheap at 120FF for two.

Our dear friend Barrie, here in Toronto, urged us to try Restaurant Le Soufflé that he had thoroughly enjoyed some years ago. (The treasure hunt never ends!) It is located in the 1st arrondissement at 36 rue du Mont-Thabor, near Place Vendome and Place Concorde, 01-42-60-27-19. After window shopping along the fashionable rue St. Honore and admiring the exquisite Place Vendome, we arrived for lunch. The two front rooms were filled and we were seated in the rear room with a mirrored back wall with paintings and prints adorning the cream colored side walls. Red carpet and upholstery completed the pleasant decor.

Soufflé it is, there are other traditional dishes available but who cares? The soufflé menu offers choices in all three courses. We each chose a main and a dessert. Naturally, the soufflés are made to order, so it's not a place to go when you are in a rush. It's a light, lovely, luscious experience. Linda had Roquefort and nut and mine was mushroom. Our intention was to share but neither of us was interested in changing horses mid-stream. Dessert was chocolate for Linda and pistachio and chocolate bits for me. This was a super lunch idea (260FF).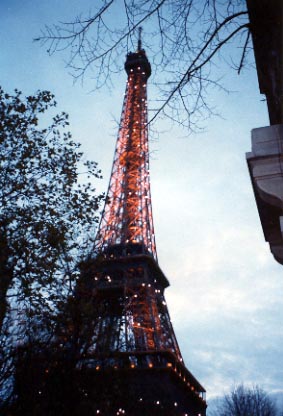 We passed on coffee to go around the corner to 226 rue de Rivoli, 75001, 01-42-60-82-00, to the famous Angelina for the very best hot chocolate we had ever had. This grand, old cafe with marble topped tables, antique chairs and mirrored and muraled walls climbing to a high glass pane ceiling is a total charmer. Fortunately, the line-up was short and we were seated within minutes. It would have been worth it even if the wait had been longer. We were each served a pot of hot, rich, thick chocolate (it's actually made of melted chocolate) and a dish of real, unsweetened whipped cream. A pot contains two cups and at 37FF each is a bargain fare to heaven - thank goodness we didn't share!

Believe it or not, there were times when we were not in the mood for a dining experience but for something very casual, less time consuming and close-by. Of the three we found, the gem was the Little Italy Trattoria, 13 rue Rambuteau, 75004. This tiny place has authentic (meaning as good as you'll find in Italy) prepared dishes, hams, sausages, cheeses, walls filled with wine, olive oil, balsamic, coffee, goodies and tables against the walls at which you can enjoy wondrous pasta dishes and salads. They jam about 30 people at the tables (more in better weather at the tables outside) and from lunch time on, there is a line-up. Once seated, the service moves right along but everything is cooked to order so be patient. We were there twice and had pasta both times. Ravioli filled with cheese and mushrooms in cream sauce and ravioli with cheese in arrabiata sauce the first time and linguini Amalfi, with fresh baby clams and shrimps in fresh tomato/basil sauce, and ravioli Norma, filled with ricotta and eggplant in tomato/cream sauce. Homemade pasta, fresh ingredients, superb sauces, great bread = return engagements. The pastas we had were 70-75FF each.

If you like Middle Eastern food, Chez Marianne, 2 rue des Hospitaliers Saint-Gervais, 75004, is the place. There's a main dining room and an annex next door. Both exude Middle Eastern atmosphere and aroma. The Zakouski (appetizers) are the feature attraction and they can be ordered individually or combine as many varieties as you wish. We had a platter of six with pita and half a bottle of very good house red. The hummus, eggplant salad, Turkish salad, tuna salad, tzaziki and falafel were as good as it gets and a steal at 140FF.

Finally Epices et Delices, 53 rue Vieille-du-Temple, 75004, is a great place for salads, appetizers and light mains. The major influence is Middle Eastern and a few basic French preparations. As in many places, there is year-round outdoor seating with heat lamps. A large, semi-circular bar greets you along with the exuberant staff. Inverted orange lamp shades, dark green walls and huge colorful paper flowers create a lively feeling. As soon as you are comfortably seated, you are presented with a welcoming aperitif, on the house. Linda had a marvelous Greek salad with outstanding feta cheese and garnished with walnuts. I had a daily menu of superb pureed lentil soup and braised chicken leg quarter with tasty hand-cut fries - excellent value at 155FF.


Rain had been a nearly constant companion during our stay but this day the sky was blue and the sun shone brightly. We walked briskly along rue Faubourg St. Honore, admiring the endless designer shops and showrooms. We passed the U.S. and British embassies and the President's Palace and worked our way north in the 8th arrondissement to our first destination of the day, Parc Monceau. Entering from the south, we began to encounter the luxurious private mansions that surround much of this lovely green space. Many seniors were strolling or sitting on benches, taking advantage of the sun's warming rays. Moms and nanny's were watching their toddlers in the kids play areas. Decorating the park is a rotunda built by Ledoux, the oval-shaped basin of Naumachie, attractive statuary and monuments and flower beds that must come beautifully alive in the Spring. Green space, green trucks, green men - there's a lesson to be learned here!

A visit to Paris is not complete without a visit and a photo-op at the largest triumphal arch in the world, Arc de Triomphe, and the historic avenue, Les Champs-Elysées. Rather than challenge the busiest traffic hub in Paris, we arrived from the north via rue Balzac. The Arc de Triomphe is always an awesome sight standing as it does about 160 feet high and 150 feet wide with attractive sculptures and engravings adorning it. We joined the hordes of Parisians and tourists parading down the wide avenue past fast food outlets, automobile showrooms, cinemas, fashion stores, airline offices, cafes and restaurants. Take a detour down the side streets but be sure not to miss the equally famous Place de la Concorde.

We crossed Pont de la Concorde to the Houses of Parliament, which reside in the imposing Bourbon Palace. Just west of Pont de la Concorde is Pont Alexandre III, the most elegant bridge in Paris, which was inaugurated for the 1900 World Exhibition with its unique arch and sculptured decorations.

Due south a few minutes away in the 7th arrondissement is the spectacular Hotel des Invalides with its glowing gold dome and complementing the setting is the expanse of green area at the front affording the viewer the luxury of an unencumbered vantage point.

A few blocks away is the delightful rue Cler, a neighborhood market street with food shops and a few budget hotels, which are quite popular.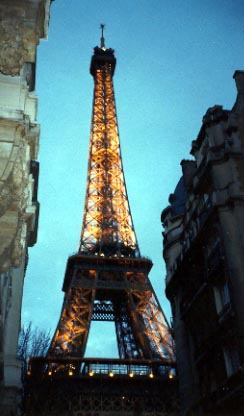 We noted that the wide Avenue de Suffren is lined with exquisite apartment buildings as we made our way towards the Eiffel Tower. By now it was late afternoon and the sky was still blue but dusk would soon be upon us. Night falls quickly here and we were on a mission; our goal was to get a series of photos of the Eiffel Tower in various lighting conditions. As we got into photo range, we noticed a couple taking turns snapping photos of each other with the giant erector set in the background. We offered to take one of the two of them together, which delighted them, and that's how we picked-up Ilene and Neil from Flint, Michigan, who joined us and Cova for dinner that evening. As you can see, we accomplished our mission - just perfectly.

Covadonga is a member of our Internet travel discussion group and a marvelous contributor. She has traveled extensively and, in addition, knows and loves her native Spain. She is always willing to share her experience and knowledge with the other Ziners, as we affectionately call our members. You cannot imagine how delighted we were when she told us that she would come to Paris to do some Christmas shopping during our visit.

We met for dinner at a place Cova suggested after we told her that we had been to the Greek place and would prefer another choice. When she suggested Au Bascou, 38 rue Reaumer, 75003, 01-42-72-69-25, we recognized it as having been on Jack's recommended list so we knew it would be a good choice. Shortly after we arrived at the restaurant with Ilene and Neil, in walked Cova and we recognized her immediately; there was that smile that showed through in her posts to TheTravelzine and in her e-mails.

The tone was set as we entered by the warm welcome of the owner Jean-Guy Loustau and our fabulous waitress for the evening who guided us to our table. The wood beams and warm tones reflect the Basque region of France, and the menu is a tribute to its great cuisine. While we were comfortably getting acquainted over our wine, the aromas wafting from the kitchen were intoxicating. Our waitress spoke English and cheerfully translated the menu with a detailed description of each and every preparation.

Linda started with piperade Basquaise, eggs lightly scrambled with tomato, pimento, ham and served with greens. My pimentos del Piquillo farcis was a red pepper stuffed with cod fish in a light tomato sauce. Both were presented beautifully and were delicate and divine. We both love duck and rabbit and tonight, in keeping with the kitchen offering only the freshest seasonal fare, we chose the baby duck and wild hare. When the dishes were presented, we just wanted to inhale and stare. It was a pity to destroy the precious arrangement of each item on the plate - but somebody had to do it! The baby duck rested in a rich, savory sauce along with a combination of mushrooms and chestnuts in a delicate pastry shell. Linda's hare quarter with mashed potatoes was in a sauce enriched with mushrooms and dotted with tiny croutons. Each item was incredibly tasty on its own but taken together were a symphony of intensely harmonic flavors.

Never leave this place without having dessert! Neil did manage to squeeze in a sheep cheese with cherry marmalade before dessert, which we all sampled and loved. Beret Basque was a chocolate dream in content and presentation. Chocolate mousse is topped with chocolate ice cream wearing a chocolate beret. All the chocolate is made with the finest ingredients and is unforgettable. Duo de gateaux Basque was two slices of typical Basque cake, one with an almond filling and the other with prune. I savored every last crumb. The presentation of these desserts was a work of art. Over coffee we sang the praises of this marvelous meal. The tree courses with wine and coffee was 466FF for two, an exceptional value choice.

Our dear friend Fabio arrived the next morning for a day of heavy rain. It was no problem because we enjoy just being together. The only downside was that his darling, sweet wife Cornelia was unable to come, and we missed her. During 2001 we will get together to celebrate our five years of friendship.

We went to our favorite boulangerie Malineau to pick-up sandwiches, pizza and pastry and dashed over to Columbus cafe to sit and devour our treats with delicious coffee. Later in the afternoon, it was time for high tea at Mariage Freres, where we waited in line for half an hour drying off from the downpour which soaked us despite our umbrellas.


In the evening we joined Cova, Ilene and Neil at Le Colimacon, 44 rue Vielle-du-Temple, 75004, 01-48-87-12-01, which had been recommended by our Ziner-friends, Anne and Kirk from Virginia. The house of this very typical bistro was built in 1732 by the Royal architect Louis LeTellier. The facade of square hewn stones, the old carved work of the courtyard gate, the grimacing face above the central part, the heraldic figure above the central window and the court of paving stones and the open stairs and banisters in wrought iron are a testament to the age of this structure. The front side of the house was restored in 1993. This old wood and stone beauty oozes conviviality and was a perfect place for old and new friends to meet. The first floor has the mandatory bar and several tables and a narrow, circular staircase leads to the cozy dining room upstairs. Reservations are recommended as there is limited seating.

The offerings are basic French bistro available a-la-carte or as three-course menus at 133FF for dinner, which we chose, and 93FF for lunch. The waiter was delightful and the service beautifully paced so that we were quite comfortable dining while sharing travel talk and experiences. Starters of moules a la crème and soupe de poisson maison avec sa rouille were both superb preparations of these traditional favorites. The medium size, tender mussels were in a luscious broth of white wine, cream, onions and the natural juice of the mussels. Garlic mayonnaise, cheese and croutons were served alongside the thick, hearty seafood soup reminding Linda of the first time we enjoyed this particular version when we traveled through the French countryside with Pierrette and Louis so many years ago. As mains, which were served with shoestring potatoes and steamed veggies, Linda had lamb chops and I ordered the loin of pork in honey and vinegar sauce. The desserts, tarte aux fruits and tarte tatin both on vanilla sauce, were perfect. It was a delightful evening of friends meeting, enjoying each other and a very good meal. In fairness, the perfection of dinner the previous night was a hard act to follow.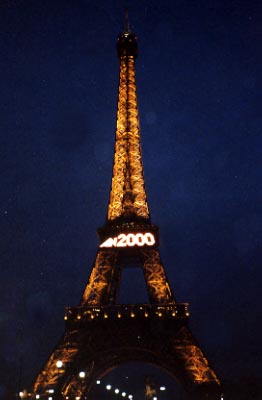 Fabio arrived mid-morning to join us for a walk to Le Grand Colbert where we would meet Cova for a parting lunch. We walked along rue de Bretagne where a Sunday morning antique and flea market was in progress; the street was jumping. It wasn't easy to pass the grilled sausage stands, the chicken rotisseries nor the shops selling cheeses, breads and crepes. In the middle of it all, at the corner of rue Picard is the off-street Petite Marche, an enclosed market with tantalizing offerings including couscous, chocolates, flowers, produce, breads, pastries, seafood, prepared food - get us out of here!

The four of us had a marvelous get-together, enjoying our friendship and the same wonderful environment, food and service that Linda and I enjoyed when we visited Le Grand Colbert the previous week. Cova headed off to Spain and Fabio joined us on our walk back to our hotel along the other side of rue de Bretagne through the market madness. Fabio retrieved the suitcase he had earlier left in our room and he departed for Switzerland. We crashed, all the eating was beginning to catch-up to us.

On the next to last day we did some shopping at BHV, a department store on rue de Rivoli across from Hotel de Ville. We had never heard of this store but wandered in out of curiosity and found it to be one of the best merchandised department stores we had ever seen. Particularly strong in merchandise for the home, the departments offered helpful service, in-depth selection and merchandise presentation that made shopping fun.

It was time to get organized to leave and for our last dinner we decided to try another nearby restaurant we had passed a million times, which was always busy. Les Philosophes, 28 rue Vieille-du-Temple, 75004, 01-48-87-49-64, is on a corner and surrounded by tables and heating lamps, covered by a large awning. Folks are at these outside tables regardless of the weather enjoying a beverage, snack or meal while watching the world go by. It's a pretty basic place inside with a small bar and a stone wall adorned with posters and traditional French bistro fare on the menu.

We both chose to have three-course menus; Linda had the daily special for 128FF and I, a 152FF combination. My wife loved the creamy squash soup to start and was equally pleased with the coq au vin served on noodles with broccoli florets. There was no way she could pass on the "Coupe Yiddish" for dessert, a pear, apple and raisin compote with vanilla ice cream. My starter was a glorious tomato tartin, cooked tomato and herbs on a slice of soft dough served with a crisp green salad, a house specialty, as was the succulent duck leg quarter in honey and pepper sauce with delicious sliced, fried potatoes and more salad. Rice pudding is my ultimate comfort food and this version with cinnamon resting on a lemon and honey sauce was to die for. The house red wine was quite good. Our only regret was not finding this place earlier in our stay - a bargain at 322FF.

It was our last day and we were up bright and early to enjoy breakfast in our room before departing for the airport. There was a knock on the door promptly at 07:00 and we were presented with a large tray of the same wonderful goodies we enjoyed in the breakfast room earlier in our stay along with an International Herald Tribune, which we saved for later.

The morning was clear so we decided to walk to Chatelet Les Halles and take the time to appreciate the early morning life in the city. The directions to the RER are a bit confusing but we got all the help we needed from friendly commuters. In short order we were at Terminal 2A at the Air Canada counter.

As in Toronto, the staff was extremely obliging and before long we were comfortably seated, coats hung in the closet, carry-ons stowed, ready for take-off. The plane was the same one we had coming over - only the crew was different, but no less professional nor caring.

Flying west in daylight is always easier on the body and the senses and before we could refuse yet another beverage offering, we were landing in Toronto ready to plan our next adventure.

beginning of Paris travelogue

Search TheTravelzine | TheTravelzine Group | Don's Gallery
Packing Hints | Planning Tips | Cities Links

---
All pages on TheTravelzine.com©Copyright 1996-2020 Don & Linda Freedman