PORTUGAL
Fall 2003
Lisbon (1) | Lisbon (2)
Our bus arrived a bit late in Lisbon at 15:00. It was a short taxi ride to the Hotel Britania, Rua Rodrigues Sampaio, 17. We would never consider staying anywhere but in one of the Heritage Hotels in Lisbon. We are absolutely in love with this little group of hotels; we feel that their brand of hospitality is a model for the hotel industry. Although each of their hotels has its unique character, they have in common the most comfortable environment. This town house hotel dating from the 1940's, classified as a historic building, is extra special for us. It's on a tree-lined, quiet street parallel to the Avenida da Liberdade, a block away. It's a perfect location with easy access to the metro and bus system and a within a short walk of all parts of the city center. The original Art Deco ambiance greets you as you are welcomed at the entrance and graciously ushered to reception. The cozy bar and adjoining lounge are designed to be enjoyed; they are not just for show. The attractive furnishings, fireplace, reading materials, and always full complimentary decanter of port make it a warm extension of your room.
There are 30 spacious rooms all with stunning marble bathrooms. When we stayed here in 2001 we found that the rooms and bathrooms had been beautifully updated blending contemporary design with the traditional. There are now plans underway to take another evolutionary step. The owners are so committed to ensuring they are meeting their clients' needs that they asked us to critique a sample room with the proposed redesign. It was a no brainer; we made a tentative reservation for next year! The things that won't change or disappear are the double glazed windows, a/c, satellite TV, modem jack (complimentary Internet access is available near the bar), hair dryer, mini bar and thoughtful items like the TV sound piped into the bathroom, thick terry robes and towels, and excellent lighting in both the bedroom and bathroom.
We took a walk south on Liberdade and were pleased to see that the reconstruction and renovation of the old buildings was continuing and new offices, shops, residences and hotels would be opening soon. This dramatic, wide boulevard with an island of green separating the lanes of traffic and lined with wonderful hotels, restaurants, cafes, and shopping runs through the heart of the city center making it an ideal area in which to locate. Our walk took us to the Rossio train station which had been under renovation our last trip. The neo-manueline facade was a glorious sight - beautifully refurbished and glowing in the sun. Rossio square (also known as Praca D. Pedro IV) is the social and geographic focal point, a meeting place for locals and visitors and the gateway to the Biaxa, Alfama, Bairro Alto and Chiado districts. The square too has undergone renovation and been cleaned and, like the station, was all aglow.
It was getting near dinner time so we began to explore the side streets near the hotel for new possibilities. Rua do Salitre (west side of Liberdade) has been good to us in the past so we started there. Two restaurants stood side-by-side and as we studied the menus a lady arrived home at the doorway between the two and told us they were both very good but that the one to our left had better food at better prices. This was all in Portuguese but when it comes to eating we do understand the language.
And so it was that we entered Floresta do Salitre, Rua do Salitre 42-D, Tel. 213 547 605. The owner, wife and son were very nice and welcomed us to their blue, yellow and white tiled, homey establishment. The vegetable soup (again!) with pieces of cabbage was yummy. We both had grilled sargo with the usual boiled potatoes and mixed salad, all of which was perfectly prepared and at village rather than big city prices. The lady upstairs was right.
Back at the Britania sipping a glass of port, I once again read the romantic novel, written by the owner's wife, "The Magic of Places, some romantic nonsense.. to tell you the story of your hotel". The owners do love their hotel and are very serious about their commitment to making your stay unique and enjoyable.
Since we were leaving for home tomorrow we decided to enjoy a very leisurely day starting by sleeping a little later than usual. We arrived for breakfast near the end of the dining period but no problem; there was still an ample presentation of everything we could possibly want. The bountiful breakfast buffet is served in the lounge and bar area. It all looked so good we went a little crazy. I didn't keep track of Linda's consumption but I started with fresh orange juice and fresh fruit, moved to scrambled eggs and bacon, grilled tomato, red pepper, zucchini along with some fresh vegetables. I forget how many rolls I devoured but I do remember enjoying only one nata and a single slice of fruit cake. Of course a delicious cup of coffee helped wash it all down. On the plus side, it was pretty close to lunchtime so it was easy to skip that meal.
The hotel management recommended two nearby museums that we had not visited before. Both of these museums should be on your list when you visit this great city.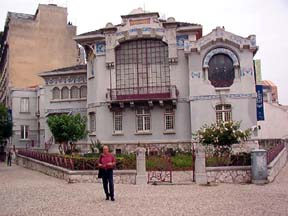 It was a warm, sunny day as we strolled north to Avenida 5 de Outubro 6-8, Casa-Museum Dr. Anastacio Goncalves. The good doctor was a prestigious ophthalmologist and familiar with many in the world of science, literature and the arts. He was a physician to Calouste Gulbenkian and was fascinated by his collection. With all this cultural contact and knowledge it was natural that he became a collector.
The handsome building in which the museum was housed was built by the painter Jose Malhoa in 1904 and was named Casa Malhoa. Dr. Goncalves purchased the property in the early 1930's and left it in his will to the state in 1964, for the creation of a museum. The facade combines neo-romantic elements, traditional materials and techniques of the conventional Portuguese home and art nouveau elements, such as the butterfly-shaped gate in cast wrought iron and the dining room's stained glass. The home was extended to an adjacent house to give room for temporary exhibits, stores, cafeteria and a shop.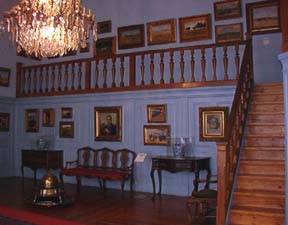 There are about 2000 works of art in the collection, a significant portion of which is Chinese porcelain which includes pieces from the Song dynasty, an extensive collection of blue and white from the Ming dynasty and a large collection of pieces decorated with enameling of the Qing dynasty. There's a large collection of Portuguese paintings, mainly naturalistic and late naturalistic from Silva Porto, Malhoa, Columbano, Joao Vaz, Antonio Ramalho, Carlos Reis and others. There is a marvelous presentation of these works in one of the very large rooms and the balcony above. The collection of Portuguese, English, French, Dutch, and Spanish furniture is particularly interesting. There are also some jewelry pieces, ceramics, foreign paintings, glass pieces, textiles, coins, medals and a small set of Swiss pocket watches. The attendants took pride in the museum and ushered us from room to room delighted by our obvious enjoyment.
The Casa Museu Fundacao Medeiros e Almeida is located at Rua Rosa Araujo 41, west off of Liberdade, not far from the Hotel Britania. This was the private residence of Antonio Medeiros e Almeida, a gorgeous home for the outstanding collection he acquired during about 50 years of his life. He created the foundation bearing his name in 1973 to which he donated all his works of art. The collection of fine European paintings, furniture, tapestries, sculpture, sacred art works, glass and jewelry is displayed in 25 magnificent rooms. A few of our 1st floor favorites were the Sala Luis XIV bedroom and the Queen Catarina de Braganca Corridor, the former for the unique furniture, the latter for the paintings. On the second floor we enjoyed the bathroom which featured a very old exercise machine. Truly, every room is very special.
There are 3 main collections housed in particular rooms. The watch and clock room has about 225 pieces shown in chronological order from the 16th century to the beginning of the 19th. The China porcelain room is also in chronological order from Han dynasty terracotta to Wei, Tang, Song and Ming dynasties. The Silver room has small collections from English and Portuguese silversmiths.
Cervejaria Ribadouro, 155 Avenida da Liberdade is one of Lisbon's great old beer houses. Besides the beer, this one specializes in shellfish and some seafood dishes. To be sure, the draft beer was very good. We thought the prices for most of the shellfish were outrageous and settled for sharing two comparatively reasonably priced dishes, gambas with garlic and Porco Alentejo. The shrimp were excellent, the pork and clams was good but no cigar. The dessert of chocolate-covered chocolate ice cream was a nice prelude to a good nights sleep.
We had to catch an early flight and had to leave just before breakfast officially started in the morning. The staff had assured us the night before that we would not leave hungry. Sure enough the platters were full except for the hot stuff and we left with a smiles on our faces assured that this place is a class act, one we can recommend enthusiastically.
We have now covered all the geographic areas of Portugal and have so many fond memories of each that it will be difficult to decide where to return. It is a nice problem to have and I am sure we will make those decisions in the not too distant future.
Our Air Transat flight to Toronto was as good as it gets. The extra cost of the Club seats once again proved to be worthwhile in saved time, comfort and service. Our flight home was as good as the outbound flight and we arrived in Toronto right on time.
[Back to Top]
Azores | Madeira | Lisbon | Algarve
Search TheTravelzine | TheTravelzine Group | Don's Gallery
Packing Hints | Planning Tips | Cities Links

---
All pages on TheTravelzine.comęCopyright 1996-2020 Don & Linda Freedman