PORTUGAL Spring 1999 (2)
Return to Lamego
The bus was waiting at Regua to take us back to Lamego. There are not many restaurants open on Sunday nights. We settled on another across from the Cathedral, Restaurante Novo, Largo da Se'. Linda had bland vegetable soup and a salad and I opted for bacalhau da casa, which was a traditional preparation of pan-fried dried cod. It was good quality, tasty and served with thin sliced, pan fried potatoes and onions.
Antonio Santos is the Director of the Regional Tourist Office of Douro South. We had contacted him well before our visit and the assistance he provided was extremely helpful in making our trip so memorable. This ex-soccer professional takes great pride in his home, Lamego, and the entire Douro region. When we went to the tourist office to introduce ourselves, he insisted on personally taking us on a tour of Lamego and some of the surrounding area. He obviously cared about making sure that we would convey to you, dear reader, the news that Lamego and the south Douro region is very much worth a visit. He proved his point.
Driving out of Lamego, we went through a very old self-contained neighborhood called Bairro da Ponte. The people here carry on life in the old way. An example was the blacksmith hard at work as we passed by. With a swiftly running waterway and an old stone bridge, it was a charming moment.
About ten minutes out of Lamego, we stopped in the town of Britiande at Polo North, a restaurant and residential, not to sleep but to have a wonderful lunch. We shared roasted cabrito (goat) and a dish new to us, wild pork potted in red wine. The white rice boiled in olive oil and herbs was a perfect partner. Antonio introduced us to a sparkling red wine from Morganheira which was delicious; we would later visit the Morganheira cellars. We later feasted on luscious fresh cherries (deep purple with lots of sweet flesh) for dessert.
As we drove on, wild berry trees with their white flowers dotted the landscape, particularly in the village of Ucanha, which is home to the only fortified bridge in the country, which is currently undergoing restoration. We enjoyed a peaceful moment crossing the beautiful bridge on foot above the running crystal-clear stream, smelling the wild berry trees and listening to the birds chirping. Bring on the sparkling wine! Morganheira, Sede Albadia Velha, Ucanha, 3610 Tarouca claims to be "Portugal's best-hidden secret". Particularly impressive was the visit to the caves (cellars) 65m below grade, kept at a constant temperature of 13 degrees centigrade. Much of the processing is done manually, which gives credence to their stated goal of producing in very limited quantities by following the highest quality methods, which have remained unchanged throughout the years. In the caves, bottles are stored on tilted racks and each day they are given a 1/4 turn, by hand. The sediment goes to the top. It was fun to see a man manually pop each cap and to watch the sediment shoot out, just before the liquor is added for taste and dryness and the cork inserted. As the Morganheira sparkling wines are not available in the U.S. and Canada, be sure to add them to your shopping cart when in Portugal. If you're in the area, visitors are welcome.
Nearby is the S. Joao de Tarouca Monestary, surrounded by terraced, treed mountains. The eclectically designed chapel is very special with its blue and white tiles, stone work, gilded wood carvings and gorgeous Vasco paintings.
In Peso da Regua at Apartado 140 is the Quinta de Sao Domingos whose elegant warehouses are used by Quinta do Castelinho in the process of aging their own Port wines, produced in S. Joao da Pesqueira. Visitors are graciously welcomed. A taste of a chilled white and a 10 year old tawny reaffirmed our love of port.
Driving east from Regua on the north bank of the Douro River, we were beginning to appreciate the true Douro experience of the vineyard-laden mountains lining the river, creating a valley of beauty. We crossed the river at Pinhao and climbed high on the surrounding mountains and just gasped at the beauty surrounding us. When we returned with Ligia, we would spend more time in this perfect place. Driving back on the south side, gave us new vistas on which to feast our eyes.
Antonio recommended Restaurante S. Bernardo, just a few steps from the hotel. It is situated on the first floor of an apartment building. It's a unique combination of serious menu in a casual environment. The service was excellent with a meal to match. We started with a plate of chick peas and beans in olive oil, onions and herbs and a plate of marinated octopus salad along with delicious bread and a bottle of vinho verde from Quinta da Aveleda. Lamego is well known for its smoked ham and the portion served with sweet melon lived up to its reputation. The arroz marisco (rice with shellfish) hit the spot. Since it was a light meal, we opted to share two desserts - a traditional pudding made of eggs, cream and orange and a cake with alternating layers of biscuit and mocha cream. A sweet ending to a lovely stay in Lamego.
We boarded the 11:45 clean, comfortable Empress Guedes bus to Viseu and arrived at 13:40, where we would stay two nights on our way to Coimbra. Due south of Lamego and north east of Coimbra, Viseu is the capital of the Province of Veira Alta and the center of the Dao Lafoes touristic region.
The fifteen minute walk to the bus station took us to the center of town and our hotel Melia Confort Grao Vasco, Rua Gaspar Barreiros. This is a very well equipped four star hotel, very reasonably priced. The reception area is very large and well-appointed. The nearby bar/lounge and dining room are lovely and look out onto a pretty garden area. There are several well-furnished lounge areas. The guest rooms are comfortably sized with all the conveniences and ours had a large balcony overlooking the garden, where there is also an outdoor swimming pool. The only negative was the poor quality of the included breakfast buffet; of course, the good news is that we saved some calories.
Antonio from Lamego was kind enough to call Gaspar da Costa, President of the Regional Tourist Office for Dao Lafoes in Viseu to make an appointment for us. After checking in, we went to the nearby office and met Isabel Marques who offered to take us on a walking tour of the city and to give us a tour of the surrounding area the next day. It is no wonder Portugal is becoming a popular tourist destination. The tourist organization is committed to being as helpful as possible and making your stay as worthwhile and enjoyable as can be.
The home of Almeida Moreira, the first director of the Grao Vasco museum, has become a museum itself with his own collection of art, pottery, furniture and photos.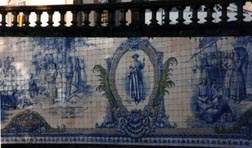 It is right off Praca da Republica (Rossio) with buildings dating back to the Middle Ages, houses of the 17th and 18th century and modern public offices and residences. Heading toward the historic center, in front of the Almeida Moreira home, is a splendid mural of azulejos depicting a regional theme. We entered the old city walls through the Porta da Soar onto an ancient street, Rua Chao do Mestre, which leads to the very large Cathedral and next to it, the Grao Vasco Museum. There is one painting by Raymond Madrazo of a little blonde girl with glorious eyes which seem to be looking right at you from no matter which vantage point you view it. Quite a fine collection though, unfortunately, the three major works of Vasco were not being shown because they were being studied in detail by university art students that particular day.
Behind the Cathedral and the Museum, the narrow streets display the works of early craftsmen in the ornate iron balconies, the intricate stone work and the beautiful street lamps. This was the hub of business activity and was also the home of a large Jewish community. Rua Direita is the picturesque old main street with the major activity. A neat stop is the Casa da Ribeira where you can see and purchase, if you wish, handicrafts from the entire region.
Tipico O Cortico, Rua de Augusto Helario, in the old city was our dinner choice. Housed in an old building retaining most of the original construction, the restaurant's small rooms have stone walls and roof tiles are projected around the perimeter. Our waitress was very helpful and pleasant and proud of her English language ability (we later heard her conversing in several other languages, as well). We started with two superb soups served in huge tureens. The pureed vegetable soup contained pieces of carrot, cabbage and potato and the chicken soup had slivers of chicken and small tubular pasta in a genuine, fresh chicken broth. Unfortunately, the roasted cabrito was overcooked and tasteless. The rabbit, however, stewed in wine and vegetables and served with boiled potatoes and rapini, was quite good. Desserts were excellent; we shared a slice of almond orange cake and a small crock with layers of boiled cream and chocolate mousse.
The preserved, natural beauty of the Dao Lafoes region is refreshing and relaxing with its green fields and woods for hiking and biking, rivers for fishing and swimming with beautiful landscapes capturing one's imagination. Thermal waters for health and well being; ancient, small, picturesque villages are just the beginning. As we drove around, people of all ages were working the fields, growing the food and breeding the animals that provide the products for the regional cuisine. That is why we love the food here. It's freshly grown and prepared from family recipes. We would discover that the wines from this region are excellent; reds and whites from Dao and the vinho verde varieties from Lafoes.
Termas de Sao Pedro do Sul is a sweet little town on a river. There's a treatment and pool center and the old thermal center is being restored. An inviting beach on the river is the final attraction which begged us to return. A delightful ride along narrow, winding country roads brought us to the incredible old village of Campia with great stone houses climbing to the top of a stony mountain surrounded by small active farms. On through forests and deep valleys to Farves, a tiny village where Linda jumped out of the car to photograph a couple who were more than willing to take a break and pose with their tools.
The village of Caramulo sits atop a mountain of the same name and is justly famous for its Museo do Caramulo and the privately owned Arte e Automoveis (antique automobile collection). There are some wonderful paintings, including a Picasso and a Dali and an exquisite collection of ceramics and tapestries. We had never seen so many mint condition antique cars in one place before. The urge to drive away in one of them is overwhelming, especially when the owner drove up outside in a vintage red and black number and left the key in the ignition while he went into the museum.
The other well-known institution is this town is the stress clinic, the only one in Portugal, located ideally atop a mountain surrounded by clean, fresh air.


The cool, crisp air did contribute to the appetite which condition was amply satisfied at O'Nascardo Soc in nearby Pedronhe. Well off the beaten track, this family-run treasure would elude the traveler who had failed to do his research. We had a luscious vegetable soup accompanied by super breads and shared two local specialties - rice cooked with duck and sausage seasoned with herbs and spices which introduced just the right amount of heat to complement the dish and roasted veal and potatoes served with rice. The meats were of exceptionally fine quality. We finished the meal by sharing some local dessert preparations and a fruit salad.
Caldas da Felgueira is mainly a thermal spa village. The famous spa of the same name has been beautifully restored and redesigned as a state-of-the-art health care and relaxation center. We met the dedicated staff of doctors who proudly took us on an in-depth tour of their facilities, focused on promoting wellness through medical, exercise and well-being programs. There are steam treatments for cleansing the respiratory system, thermal pools for therapy and relaxing, steam rooms, exercise rooms, all types of massage therapy including power water sprays, steam cabinets and much, much more. The staff doctors will do a thorough examination and evaluation and recommend an individual program for the patient's particular needs or one is free to select the services on his own, if that is his preference. There are numerous options for accommodation nearby from rooms in guest houses to the three star Grande Hotel das Caldas da Felgueira.
After the rather large lunch we opted for a light dinner of grilled chicken and salad. Isabel has suggested Cacimbo at R. Alexandre Herculano 95, across from the hotel. It's unpretentious and a local favorite for good reason; the garlicky, juicy chicken, thin sliced pan fried potatoes and the white rice cooked in chicken broth were outstanding. The house Dao was superb as was the bread. Wherever you are in Portugal, this meal can be found at very reasonable prices.
The bride and groom to be, Isabel and Paulo, picked us up at the bus station in Coimbra and took us to our hotel, Quinta das Lagrimas, the only Relais and Chateaux property in Portugal. It was wonderful to be with them again and we looked forward to sharing that special moment in their lives.
This four star hotel is a very special place with a rich historical past. It has been in the family of the present owners since 1730. The palace was originally built during the 18th century. Due to a fire in 1879, it was rebuilt in the style of the 19th century. It has undergone recent renovations including a soon to be completed 9-hole golf course. A long tree-lined driveway leads to the front of the estate and the welcoming curved stairways to the entrance. The reception and public rooms have grace and charm as does the staff. The corridors are beautifully decorated and there are several ways out to the famous gardens that rival the best botanical gardens of the country.
Decorated in blue and yellow with wood floors, high ceilings and tasteful furnishings, our standard room opened to a garden area. The divided bathroom had the toilet and bidet in a separate room.
A tour of the hotel revealed a stunning chapel, an elegant dining room surrounded by gardens, a small and intimate bar with a fireplace and a billiard table and a large, outdoor swimming pool. There is a rich, romantic history that the hotel staff is more than happy to share.
We were off to lunch at the charming Pousadinha located in Tentugal, about 15 km from Coimbra. The place was abuzz with regular diners enjoying the food and conviviality in the warmly, traditional surroundings, the room decorated with the now familiar blue and white tile walls. Sharing is usual as the portions are always large and it's an opportunity to taste a variety of offerings. We ordered grilled octopus with roast potatoes, blood sausage served with rice, and migas do mondego, a heavenly mixture of bread, cabbage, beans, olive oil and seasonings, not unlike stuffing. Broa (corn bread) is a fabulous staple in this country and we have had our share of outstanding varieties. The one we had here is in a class all its own. It is worth a visit to this place for the broa alone - but don't stop there! We finished our meal with outstanding fresh melon and mango.
We went to see the refurbished old Convento de Sandelgas, where the wedding reception would be held. A perfect choice, with its stone walls and beamed ceilings just begging to be the venue for such a joyous occasion. The lovely grounds were perfect for a stroll and the play area would be perfect as a diversion for the younger set.
We spent quality time with our friends as they hustled around Coimbra taking care of their last minute shopping and arrangements. As a bonus we got to participate in the everyday life of the city. We got caught-up with the rest of the family at a dinner hosted by Paulo's parents Maria Antonia and Francisco and we met Isabel's parents for the first time.
Isabel and Paulo are a beautiful couple inside and out and it was a joy to be present as they walked down the aisle and sealed their vows with a kiss. It was a precious ceremony; the choir was superb and the custom of kissing your neighbors at the end was a nice finishing touch. Mazel Tov!
The reception was a spectacularly great time. The bride and groom managed to be everywhere, their joy contagious. Linda and I had the good fortune to get to know many dear people whom we look forward to seeing again. Need we say, the array of never-ending foods was fabulous.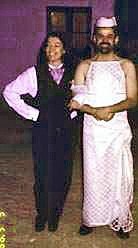 The music was great and Isabel surprised us with her fantastic singing voice, when she became the impromptu vocalist for the band. We knew about her beauty and brilliant mind, but never knew she possessed such a great voice.
When we were saying our good nights, Isabel and Paulo were nowhere to be found until we headed outside to look for them. There they were, he in her wedding gown and she in his suit - a hilarious Kodak moment, one of many, apparently, as the pranks and fun continued throughout the night, true to Portuguese tradition. We were sad to be leaving these wonderful people but happy that we would be with Isabel and Paulo three days later in Paris, where they would be honeymooning, and that Paulo's parents would be in Toronto in mid-July as part of a tour they were taking. It's a big, but small, wonderful world.


to the Douro valley


Search TheTravelzine | TheTravelzine Group | Don's Gallery
Packing Hints | Planning Tips | Cities Links

---
All pages on TheTravelzine.comęCopyright 1996-2020 Don & Linda Freedman