Search TheTravelzine

TheTravelzine Group

Access Your Mail

Don's Gallery

Packing Hints

Planning Tips

Cities Links

Links
LINKS TO OUR TRAVELOGUES
Argentina, Buenos Aires - Jan-Mar 2010
Argentina, Buenos Aires - Jan-Mar 2009
Argentina, Buenos Aires - Jan-Mar 2008
Austria - Fall 2005
Belgium, Brussels - Fall 2000
Canada - Summer 2002
Canada - Summer 2001
Canada - Summer 2000
Czech Republic - Spring 2000
France - Fall 2002
France, Paris - Fall 2000
France, Paris - Spring 1999
France, Lyon - Spring 1999
Germany, Berlin - Fall 2009
Germany - Fall 2002
Germany - Spring 2000
Germany - Fall 1999
Greece - Fall 2012
Greece - Fall 1999
Greece - Fall 1997
Hungary - Spring 2000
Israel - Fall 1999
Italy - Winter 2007
Italy - Winter 2006
Italy - Winter 2005
Italy - Winter 2004
Italy - Winter 2003
Italy - Winter 2001
Italy - Fall 1998
Italy - Fall 1996
Netherlands - Spring 2000
Portugal, Azores - 2019
Portugal, Azores - 2018
Portugal, Sao Miguel & Lisbon - 2017
Portugal, Azores - 2017
Portugal, Azores - 2016
Portugal, Azores - 2015
Portugal, Azores - 2014
Portugal, Azores - 2013
Portugal, Azores - 2012
Portugal, Azores - 2011
Portugal, Lisbon - 2011
Portugal - Fall 2006
Portugal - Fall 2004
Portugal - Fall 2003
Portugal - Fall 2001
Portugal - Spring 1999
Portugal - Spring 1997
Slovakia - Spring 2000
Slovenia - Spring 1999
Slovenia - Fall 1996
Spain, Barcelona - Winter 2006
Switzerland - Fall 2002
Switzerland - Spring 2000
Switzerland - Spring 1999
Switzerland - Fall 1998
Switzerland - Fall 1997
Switzerland - Spring 1996
U.S. Florida, Key West - Fall 2006
U.S. Florida - Spring 2001
U.S. Maine - Summer 2002
U.S. Massachusetts - Summer 2003
U.S. Massachusetts - Summer 2002
U.S. Massachusetts - Summer 2001
U.S. New York State - Fall 2005
U.S. New York State - Summer 2004
U.S. New York State - Summer 2003
U.S. New York State - Summer 2001
U.S. Washington,DC - Spring 2000

SWITZERLAND Spring 1996 (2)

On the 8:43 to Neuchatel - arrived at 10:00 and checked our baggage into a locker at the train station. Went to the train information office and a fine young man gave us a map of the city. It was Saturday, so market day was in full force when we arrived at Place des Halles. This is French Switzerland and mostly French was spoken all around us. People all knew each other - market-day greetings and conversation. The market place, side streets and cafes were busy and lively - a terrific time to visit. Walked up high to the Collegiate Church with its ramparts and cloister and views of the city down to the lake.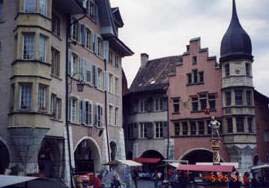 Caught the 12:02 to Biel/Bienne - lake and vineyards all the way. Stopped at the tourist office for a city map and advice. Took the bus to Zentral Pl. (Since we did not reserve a hotel here, we decided to bus to the center of town and start our search while seeing the city.) As we started down the main shopping street, Nidaugasse, we spotted the Hotel Baren where we rented a good-size, bare-bones room, sans T.V., with a decent bathroom, at a fair price and in a super location. We headed for the old city just north of the main shopping area. It was like walking into the past - drop-dead old buildings, well-preserved - at least one roll of film. There were not many shops, several restaurants and street vendors selling mainly handicrafts. Heading back to the shopping area we met a local woman and asked her to recommend a place for dinner. She suggested Bielstube in the old town - we had seen it and we already had a favorable impression - more later. Asked a young couple for a good place for pastry and they sent us to Chez Rufi just off Nidaugasse. We enjoyed fabulous tarts - one rhubarb and one apricot - and splendid coffee. A thriving place with comfortable, friendly ambiance. Fueled-up and ready to go we headed for the lakefront. A great place - pool, gymnasium, park, marina, restaurants - all well-maintained.
Back to the Petite Salon in the hotel to relax with a little T.V. until dinner time. Bielstube is on Rosius 18, a tiny rustic place. Ours was a nice, mature waitress who spoke no English. Fortunately our menu-French and German is good enough to be able to communicate. Linda started with a Vietnamese spring roll on a bed of lettuce with a light mayonnaise dressing. I had a green salad with diced fried potatoes and the same mayo dressing. Both were awesome. Next Linda had a delightful preparation of cannelloni with lots of vegetables and a tomato sauce. I had grilled chicken kebob on a mound of linguini with a lovely morel sauce along with grainy, hearty bread and a rich, smooth cabernet. Perfect slow and easy service for a relaxing meal. Reasonable - excellent value. By the way, we are finding the locals eat early - 18:00 - 19:00. A really nice town, nice lakefront, nice shopping area, nice old city - vineyards all around.
We had a final Bienne breakfast with particularly good breads and coffee. Left 10:38 for Bern to arrive half an hour later. Ten minute walk to the Hotel Continental, Zeughausgasse 27, 3011 Bern, a solid, good value 3 star hotel. Nice size basic room with shower, no tub. Extremely clean and very accommodating staff. It's Sunday and drizzly and you would think the nation's capital would be devoid of people. Quite the contrary, the streets were full of strollers; singles, couples, families, young and old. Tourists and locals alike find Bern a pleasant place to be. We walked it's medieval streets, viewed the sandstone buildings and arcades of the upper city, and the lower city with the River Aare until we got serious about finding someplace open for dinner. Our favorite restaurant, Della Casa, Schauplatzgasse 16, is closed on week-ends and most other restaurants are closed on Sunday.
We discovered an interesting restaurant / wine bar, Verdi Ristoranti, Gerechtigkettgasse 5 and made a reservation for 18:30. After our tour of the city we decided to tour the surrounding area by tram. Took tram #5 from the gare to Ostring - beautiful, well-to-do residential areas. We stayed onboard to the other end of the line at Fischermatteli. This run was through more commercial areas and moderate residential - lots of graffiti. Back at the gare, we jumped on #9 to Guisanplatz another middle-class, suburban area. Back to hotel to clean-up and relax before dinner. The Verdi Restaurant is a stunner. The first level has a long bar at the front and comfortable seating in the rear with wooden floors, contemporary design and furnishings - trendy ambiance. There is a wonderful sunken dining room at the rear with stone walls, wood ceiling, unique wooden tables and chairs, huge fireplace, slate floor - casual, cozy and classy. The service was superb - young people, well-trained and friendly - and the food was fresh, artfully prepared and presented. Lin started with a fresh tomato and bread soup and I had a vegetable soup, primarily stocked with zucchini and onion. Tagliatelli and vongole for Linda, tagliatelli with radicchio and small shrimp in a light cream sauce for me. Delicious olive bread and a very good Chianti. One needn't go to Italy to find authentic Italian cuisine. We ended our day on a high note, savoring the flavors as we strolled and window-shopped our way back to the hotel.
Breakfast was just okay and we were off to Luzern. Our train departed at 9:30 and arrived at 10:46. Nice, farm country all the way. Crossed over the Seebrucke to the right bank to Hotel Zum Weissen Kreuz and were greeted by a surly woman. Another bare-bones 3 star. Landed a nice, bright corner room with an okay bathroom. Location is excellent, in the middle of the right bank. Fair value - could have been better if the staff knew how to smile. We strolled around a bit until the room was ready. We took a 13:00 boat for a round trip to Alpnachstad - back at 16:15. Pretty lake (Vierwaldstättersee), mountains, lovely towns - prefer Thunersee and Brienzersee. We both felt a little tired today so we went back to the hotel for a good rest before dinner. Across the street from the hotel is a Chinese restaurant that we had read had the best Peking duck in the world outside of China. We avoid Chinese food in most European countries because it is usually not good and very expensive. Tonight we were in the mood and ready to splurge. It is not authentic Peking duck. It is braised duck and vegetables in a brown sauce. For what it was, it was okay. Fried crispy short spare ribs were just fair and the fried noodles with vegetables was poor. Tea for Lin, Chinese beer for me. At least the orders were decent size so we filled-up. Poor value.
Up early the next morning for a decent breakfast (lousy coffee). Did some shopping around the right bank for our grandchildren. Met a nice lady in a fabric store and then bumped into her on the street when we were looking for a coffee-break place. She sent us to tea room Dudle. We shared a delicious tuna/tomato/lettuce on French bread while we drank our excellent coffee. They also make their own chocolates so we bought a patty of dark, delicious chocolate generously studded with crunchy hazelnuts and shared it as we strolled. We'd planned to take another boat ride, but we discovered we wouldn't be able to return until too late in the evening so we headed for the suburbs via the urban transit system. We traveled along the north side of the lake on #2, past gorgeous homes and hotels, then the scenery got less exciting so we decided instead to walk through the upscale left bank district, chock-full of expensive shops, restaurants and hotels. This city is a popular tourist destination and for good reason. It has so much diversity and beauty. The Reuss River powers through, separating the right bank from the left. Historic wooden bridges span the river - the lake - the mountains - all the good stuff.
Eventually, we found our way to the Restaurant Rebstock. It is actually three restaurants. On the ground floor there's a bar/restaurant, and a traditional restaurant. The upstairs restaurant has a contemporary design and menu. There are windows all around and plants everywhere. Our waitress was sweet and helpful. Linda had asparagus soup and chicken schnitzel with home fries and spinach. Mixed salad for me followed by lamb chops and rosti. Good beer. Food was just fair. Price was high for this quality. Poor value.
Our last seven days will be at the Hotel Verenahof in Baden (15 minutes by train, northwest of Zurich). This is a thermal bath resort town. We had our first thermal bath experience in Austria last fall while visiting with internet friends and found it most exhilarating and relaxing - and we discovered that it does wonders for the skin. There are many thermal bath resorts in Switzerland. We chose Baden this time because it is possible to take day trips to many cities in the north and, of course, its proximity to Zurich. One can't stay in the pools all day. We took the 10:10 to Zurich and arrived at 10:59. We left Zurich at 11:30 and were in Baden at 11:45. We had had a small breakfast and when we entered the bahnhof and were assailed by the aroma of sausages being grilled - we succumbed rather quickly and shared one! The bahnhof is a transportation center and shopping complex in the center of the city. We walked down Parkstrasse, a tree lined street with a large park and casino and lovely homes.


It took 15 minutes to wind our way down to the thermal bath hotel complex at the bend of the Limmat River. Several hotels are grouped together. The pools are part of the Verenahof Hotel with direct access. The adjoining hotels and the public (people come from all over Switzerland and the world) have use of the pools, therapy and beauty facilities (for fees, of course). We were greeted with fresh orange juice and a smile. The reception area, dining room and other public areas are located in the original structure - Belle Epoque style. We are quartered in the newer building across the way, which is contemporary in style. We had a nice, large, comfortably furnished room. Lots of windows for light and airy feeling. Modern bathroom with all amenities including robes to wear to the pools. Looking good! We unpacked, got into our bathing suits and robes and took the elevator to the lowest level where all the medical, therapeutic, beauty and pool facilities are located. There is a small snack bar, an adjoining restaurant, indoor and outdoor lounging rooms. They gave us a dressing room key and we left our robes locked-up there and headed for the pre-pool showers. There is an indoor and an outdoor pool. It was a beautiful sunny day so you know where we went. As you walk down the steps into the pool, you are engulfed in water that's 32-36 degrees centigrade. You immediately feel wonderful. There is a series of jet sprays along the sides of the pool to the right as you enter. These jets are at different heights as you move along one by one. A bell sounds every minute as a signal to keep moving - enabling all bathers to experience every jet, thereby eliminating monopolization by another bather.
In the center of the pool there's a round section, large enough to be shared by several bathers, with the jets bubbling up from the bottom. It takes about 20 minutes to do the jets. We went around about four times each day and also just soaked for a while afterwards.
We had decided to take a half-board package because it worked-out to be the most reasonable. We were not sorry. The dining room is large, with a very high ceiling and large windows overlooking gardens and The Limmat - old and grand, but informal and comfortable. Dress is completely optional and guests are encouraged to do their own thing - most are comfortably casual. The service is excellent, efficient and friendly. The menu and preparation - very good to excellent. Mr. Hans P. Plas, the Front Office Manager, informed us that positive improvements are in the works and to expect even better food service in the future. We opted for dinner rather than lunch for our meal. The daily menu always offered a choice of two appetizers, a salad buffet, a choice of three mains - usually meat, fish and vegetarian - buffet of sweets and cheeses. Beverages are extra but reasonably priced. The staff went out of its way to satisfy. After very full days, it was nice to come "home" and be pampered in the dining room. Breakfast buffet was also excellent - nice selection, everything fresh - the staff was right there with hot coffee and any help that was required.
We spent the first day exploring Baden. Not many tourists come here, other than for the baths. It's a marvelous little city. The old city center is perfectly preserved - fine historical buildings, picturesque traffic-free streets and alleys, shops, boulevard-pubs, restaurants, galeries, theaters and museums - all surrounded by The Limmat. We walked and explored until 16:00. Back to the pool and some rest before dinner.
Friday we got on a #5 bus to Baldegg - recommended as having a great view of Baden and the surrounding area. The passing scenery was lovely and the air was fresh and sweet. Back to the bahnhof and got on the #2 to Spreitenbach, a big, enclosed shopping mall in the suburbs. The highlight was a fabulous Ferrari display and a delicious pretzel and sausage which we shared.
Back at the bahnhof, we hopped on the 13:46 train to the town of Aarau. Wow! This is one picturesque jewel - a charming old town and a modern center. In the old town many of the late Gothic and Baroque town houses are adorned by ornamental painted designs - a must see. The streets, alleys and squares are filled with shops, cafes and restaurants - people shopping, eating and drinking - alive with activity. A sweet, young woman in a shop sent us to a lovely tree-sheltered park-like area with outdoor seating for three cafe/restaurants for our afternoon break. Lin had a chocolate sundae with plenty of whipped cream and I, a beer. On the 15:33 back to Baden, arriving at 16:13. Off for our soaking!
Here's a sample menu - tonight there's a fish buffet rather than the usual table service:

Smoked Fish
Shrimp Cocktail
Fish Terrine
Salad Buffet
Redfish Filets with sesame
Salmon Escalope with crayfish sauce
Fish Stew with dill sauce
Pork Escalope Wallis style
Boiled Rice
Boiled Potatoes
Vegetables
Buffet of Sweets
Selection of Cheese
We've been drinking the local red wine, which is light and fruity and best is the Baden beer, particularly the dark beer.
Basel
Saturday morning we walked through town to the Kirchplatz (church square) to enjoy the market day, superb stuff - vegetables, flowers and homemade goodies are featured. Caught the 10:16 to Basel, and arrived there at 11:09. Walked to the old town and did a little shopping along the way. Remembered Der Teutelhof Basel from our last visit several years ago. It's a hotel, cafe, restaurant and theatre complex. We enjoyed an exquisite pastry and delicious coffee in the cafe, just as before. The old town is always lively, filled with many university students and others just shopping, browsing, walking, eating and drinking - having a good time. The parks are busy and carnivals abound. The shopping streets start at the Rhine and work their way uphill to splendid old buildings and homes. The highlight is the burgundy and gold Rathaus (town hall) in the Marktplace. It's a must-see. The city life is here on the old town side of the Rhine. The other side is mainly industrial, although there are nice residential areas close to the Rhine. The pedestrian zone was filled with street entertainers - mimes and the like. Basel is a sophisticated, yet fun-filled city.
Schaffhausen
Sunday - off to Schaffhausen on the 9:44 to Zurich, 10:13 to Schaffhausen to arrive 10:51. From the train, we saw amazing waterfalls - we had to go to see them. We immediately got on a bus at the bahnhof to Neuhausen Zentrum/Rheinfall. Off the bus in the center of Neuhausen and followed the clearly-marked path to the Rheinfall - a ten minute walk. What a sight! About 500 feet across and a drop of about 80 feet. There are three drops with a shrub-covered rugged rock in the middle and various jutting rocks all around - pleasurable, roaring water and mists - a delight to all the senses. Sure glad we didn't miss it!
Back to Schaffhausen - empty Sunday streets - has kept its medieval aspect. The cathedral, cloister and grounds dominate. There's a large fortress on high with a watch tower that provides Rhine Valley views. Schaffhausen is worth a quick visit - especially to see the falls.
Got on the 13:48 to Winterthur - snacking on chips and bread because no eating places were open. Winterthur has one long street where all the action occurs. There are a few interesting side streets. It is basically a city to change trains in - we would not recommend it as a worthwhile destination.
Stein-Am-Rhein
We met a very fine lady from Zurich in the thermal pool and she recommended that we visit Stein-Am-Rhein. It's Monday and Stein-Am-Rhein here we come. Left Baden 9:19, changed at Winterthur, and arrived at Stein-Am-Rhein at 10:51. This is a movie-set.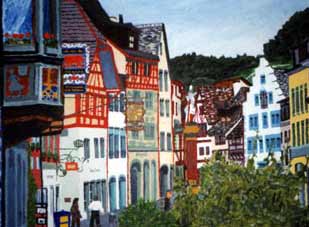 A perfectly preserved medieval village. It was loaded with tourists, cameras blazing away. It's almost too perfect - one gets the feeling that nobody lives there.
On the 12:04 to Winterthur to change for St. Gallen to arrive there at 13:58. Stopped by the tourist office for a city map and off to the old city two blocks away. The old city is like an island in the middle of St. Gallen dominated by the Kathedral and its buildings. It's a typical old city, with its pedestrian shopping area but it seems to lack a special character of its own. It is famous for textiles. Maybe we're getting touring-tired and St.Gallen is paying the price. On the 15:50 to Zurich to change and arrive back in Baden at 16:45. The soothing waters felt wonderful.
Tuesday is the last day. We headed to Zurich to do some shopping. Zurich is one of our favorite cities and the Bahnhofstrasse our favorite shopping street - not for buying, necessarily - for window shopping, people watching, its attitude, with its wide sidewalks, beautiful buildings and shops, street cars quietly rolling down the center, wonderful food and candy shops.....We wandered along the twisting and narrow streets from the Bahnhofstrasse down to The Limmat River drinking in the old and restored buildings housing designer shops, gourmet restaurants and food emporiums, fine hotels, upscale home furnishings shops and galleries. We crossed The Limmat to the old city for a quick walk through before boarding a street car back to the station in time to make the 13:30 back to Baden and, to end on a sweet note, we stopped by Disler, a small shop where Mr. Disler presides over the making of his famous pastries and chocolates. We selected chocolates and truffles for our kids back home and snuck in a couple of bites of our own.
Knowing it was our last chance for a while, we luxuriated in the thermal waters longer than usual. Our final dinner was also special. We enjoyed a hearty tomato-cream soup and a tender and juicy lamb filet along with the usual salad and dessert buffets. And, of course, a last Baden beer.


Chur | Glacier Express | Locarno |
Ascona | Bellinzona | Lugano | Zermatt | Thun |
Interlaken | Gstaad | Montreux | Chillon

Search TheTravelzine | TheTravelzine Group | Don's Gallery
Packing Hints | Planning Tips | Cities Links

---
All pages on TheTravelzine.com©Copyright 1996-2020 Don & Linda Freedman