Linda Frese
is the
Ziner in the Spotlight!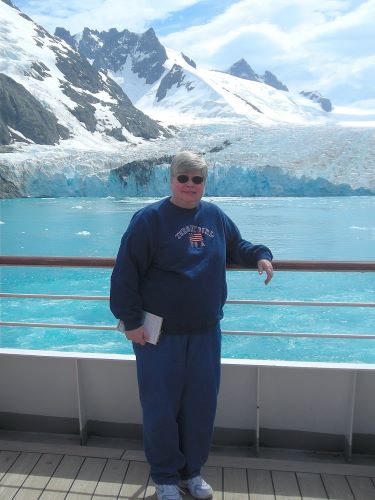 Hello Ziners,
My name is Linda Frese, and I live in Delaware, USA. I'm a retired nurse who loves to travel – I have been to all seven continents, and so far have visited approximately 40 countries.
The photograph of me was taken on my Antarctica trip. As you can see, I only have a sweatshirt on and we were sailing at this point, so it wasn't as cold as people think it is. At least if you go in their summer, our winter. Antarctica is my best vacation ever. If you have the opportunity to go, do it.
My favourite way to travel is by cruising. I prefer small ships as opposed to the ones that carry 3-5,000 passengers. I've done both ocean and river cruises. Being on the water is relaxing, so I enjoy sea days as well as port days. Transocean cruises are great because of the sea days. But not all travels can be done by sea. One of my favourite land trips was to Poland and Slovakia where my friend and I were exploring our roots. This was before 'smart' phones with translations to use and neither of us spoke Polish or Slovak. We also rented a standard transmission car, which we managed quite well considering neither of us had driven one in over 20 years. It was a lot of fun!
Most of my travel has been in Europe. Eastern Europe, in general, is friendlier and less expensive, at least it was a few years ago. Since I do not like the heat, (Thank goodness for A/C!) I am more inclined to travel in the fall, winter, and early spring.
Because of the pandemic, my trip to South Africa, scheduled for last April (their fall, not as hot), was moved to this October. That's not going to happen either, but new arrangements haven't been made yet. My sister and I had also planned a 4 night stay in Chicago for June, for the express purpose of seeing Wrigley Field, and specifically when the Mets were playing there. Well, we all know that didn't happen either! But being positive, I have booked a cruise for July, 2021. Hopefully, we will finally be done with this awful pandemic. I can't stand not having something to look forward to.
---
---
All pages on TheTravelzine.comęCopyright 1996-2020 Don & Linda Freedman