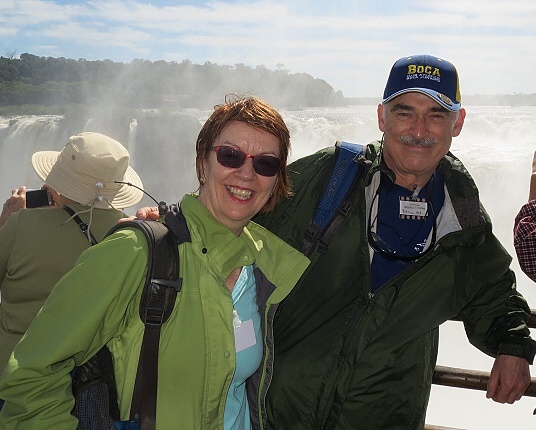 My serious travel started in 1972. I had just qualified as a Chartered Accountant in England and decided to see a bit of the world via a two year contract with Deloitte's in Lusaka, Zambia. It was the travel equivalent of jumping into the deep end of the swimming pool but after excursions to Kenya, Tanzania and Rhodesia, not to mention a rather hairy weekend in Zaire (formerly the Belgian Congo), I was ready for almost anything. When I left Zambia in 1974, I made my way back to England via South Africa, Egypt, Lebanon and finally Istanbul Turkey and a ride on the Orient Express all the way to London. No murders though!
Travel in those days was very different than today - no internet; no travel apps; no Lonely Planet or Rough Guide; no adventure travel tour operators; and no TripAdvisor. You were pretty much on your own but somehow I survived. Those early forays were full of excitement and incident and led to a life-long quest for new travel experiences. In 1976, I emigrated to Toronto, Canada and in 1990, I met my wife Maria. She shared my love of travel and we don't have any kids so the constant question became where are we going to go next?
We like seeing the sights, hiking in picturesque locations, wandering around cobbled streets in medieval towns, and enjoying meals in little boutique restaurants. Our European trips are usually independent but for Asia and South America, we normally travel with an organized group. This is partly for safety and security reasons but also because the transportation and the accommodation, which was often a considerable source of stress arranging until the internet arrived, are taken care of and in addition, there is a social component. The itineraries are always action packed but you still have time to go off and do your own thing so it's a nice mix. Occasionally, we resort to a self-guided tour if we can't find a group tour for the trip we had in mind. Currently, we do a big trip together each February. South Africa is next on the list.
I retired in 2011, and as part of my retirement plan, set myself a goal of one famous hike a year for six years. Kilimanjaro; Everest Base Camp; Lingshi Laya, Bhutan; Torres del Paine, Chile; and K2 Base Camp are now in the bag and Tour du Mont Blanc is scheduled for August. These multi day hikes are extremely rigorous and several friends can't understand why I would put up with so much discomfort. I can only say that I end up immersed in spectacular scenery that very few people will ever see, and I get an incredible sense of accomplishment afterwards. My parents were keen hikers so maybe it's a genetic factor that finally kicked in.
My good friend Eric Walker introduced me to TheTravelzine about four years ago. I enjoy doing my own research so I don't ask for advice that often but I do enjoy reading about other folks' travel experiences and they often give me new ideas on where to go. I'm especially interested in the application of technology to travel and so pay particular attention to articles on phone communication, travel apps and cheap air flights.
Maria and I both think that travel broadens the mind and leads to greater tolerance of other cultures and customs. These values are becoming increasingly important given recent events worldwide so I'd like to thank Don, Linda and Frances for creating a safe and civilized space for all of us to share our experiences and knowhow.