BUENOS AIRES
ARGENTINA
WINTER 2010
Part One | Part Two | Part Three
We were fortunate to have some very special visitors during our stay. Giorgio and Fabiana of the Hotel Della Muse in Rome were in town as part of an Argentine tour; they joined us on a free afternoon for a tour of the old Jewish District, Once (on-say, eleven). The name came from the neighborhood train station formerly called 11 de Septiembre, which today is Sarmiento.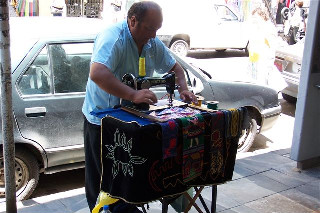 Once was the hub of Jewish life in Buenos Aires. It has maintained its presence as the wholesale district with a multitude of stores featuring fabrics, sewing notions, clothing and household goods. It is also still the center of the Jewish Orthodox community with a host of Synagogues scattered throughout.
Giorgio is fluent in Hebrew and was soon engaged in animated conversation with one of the shopkeepers who offered to take us to visit the Sephardic Orthodox Congregation Se Farad Yesop Hadat.
From there we went to another Sephardic Orthodox Synagogue, Sucath David. Both are thriving institutions with fully enrolled schools. The sad part is that the security is so tight that without these introductions from the locals, it would have not been possible for us to enter. Today the Jewish population has dispersed to the other barrios of the city, such as Belgrano, Recoleta and Palermo.
We took bus #61 on Av. Pueyrredon to Recoleta and lunch at Rodi Bar, at the corner of Vicente Lopez and Ayacucho. We have been coming to this neighborhood favorite since our arrival in 2008. It was and is in short walking distance of our various apartments and we can rely on Rodi Bar for quality preparation of traditional favorites at reasonable prices. The same affable staff is in place and working their same stations. The ladies had grilled salmon with fresh vegetables while the guys indulged in bife de lomo with fries and puree de calabaza (mashed squash).
It took little to convince our friends that full enjoyment of life in Buenos Aires requires helado at least once a day.
Our visit with our dear friends was much too short, but when folks are on a tour practically every second is accounted for and they had to be on their way.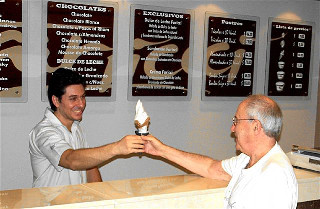 Getting back to helado, a new "Faricci" opened near us at Uriburu 1672. Sidewalk tables and a covered patio leads to a sparkling cozy interior where you will meet owner Victor Vuoto and his associate Leonardo and the rest of the personable staff. Faricci helado is awesome. The flavors are rich and full bodied, the texture velvety smooth. Linda is still raving about Frutilla a la Reina, a luscious cream with large fresh strawberries and my dreams are filled with chocolate con almendras (almonds) and the addictive vanilla - all incredibly reasonably priced.
[Back to Top]
Linda's sister Jill stayed with us for 10 days and became a big fan of Buenos Aires. Linda and I live by the rule that the best way to get to know a city is to follow the food. Jill added another dimension, well-designed leather footwear and belts. We patrolled the popular wide shopping street Avenida Santa Fe, the narrow streets of San Telmo, particularly Peru, and paraded north, south, east and west through Palermo Soho, while Jill shopped to her heart's content.
After one of our shopping and lunch expeditions to San Telmo we walked east to Puerto Madero, the revitalized docklands area. Development continues along the two promenades east and west of the quay. We started our walk on the eastern side where the high rise condos and commercial properties are growing like weeds, fetching very high prices. It was mid-afternoon and between the heat and mosquitoes we were forced to cut our trip short. We crossed over the elegant Puente de la Mujer (woman's bridge) back to the city center.
We found perfect gifts for our loved ones back home at the Recoleta Fair which is held Saturdays and Sundays on the gorgeous grounds of Plaza Francia. The artisans' booths wind around in an organized flow making the shopping as easy as possible in such a crowded environment. There is a huge selection of well designed handicrafts at reasonable prices. Do test your bargaining skills.
Last year we discovered the booth (opposite the main entrance to the Recoleta Cultural Center) of Collares Organicos & Joyeria del Bosco. Augustina works with natural products from trees, shrubs, etc. turning them into divine casual pieces. We know my Mom will enjoy the beautiful necklace we have sent her for Mothers Day.
A new find was the work of Roberto Gomez whose bracelets have now been gifted to several family members.
The adjacent Recoleta Design Center was not only a welcome cooling off stop but impressed us with its array of shops displaying state of the art home furnishings designs.
Of course every visitor to Buenos Aires must see the Recoleta Cemetery, so we and Jill were soon lost in its rows of splendid monuments and mausoleums. We found our way to the Duarte family tomb, where Eva Peron "Evita" is buried, and joined the throngs for a digital opportunity.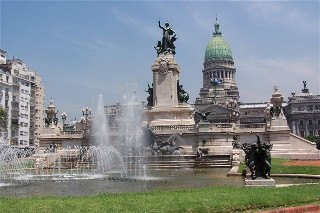 After taking Jill on the historic stroll from Plaza de Los Dos Congresos along the stunning, wide, plane tree lined Avenida de Mayo and Plaza de Mayo and absorbing the magnificent European architecture along the route, we backtracked to Florida, the major pedestrian shopping street in the city center. We wanted to be sure Jill's every shopping dream came true. As usual it was crowded to overflowing with locals and tourists jostling for walking space while being besieged by folks handing out fliers for various establishments along the way. The mimes, tango dancers and musicians add color and vibrance to the scene which in total makes Florida an integral part of the Buenos Aires experience.
[Back to Top]
Luckily, Jill shares our love of food so we were able to continue our eating routine unabated. Jill agreed with us, and most locals and tourists who get there (we sent friends from Toronto who ate there the two nights they were in Buenos Aires), that La Cabrera, Cabrera 5099, Palermo Viejo, is the best dining experience in the city.
Located at the corner of Cabrera and Thames, an attractive patio welcomes those who prefer the outdoor environment. We opt for the homey brick and dark wood within. There is rarely an empty table out or in, reservations are a must. Busy as it is, the personable staff will work with you to make selections and encourage you to take it slow and easy - just enjoy!
We have indulged in a good portion of the menu and have consistently found that La Cabrera offers superb preparations of the finest quality products.
Whichever wine (always a Malbec) we have ever chosen here has been first rate as was today's Ciclos from Bodega Esteco in Cafayate - Salta.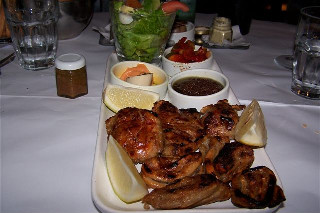 Bear in mind that the house will present you with endless goodies along with whatever you order. Breads, condiments, salsas, and numerous side dishes of hot and cold vegetable preparations. We usually start with chorizo Criollo de rueda (Argentine country sausage), If you like morcilla criolla (Argentine black sausage) you won't find better.
Two traditional follow-up delights which cannot be resisted are the mollejitas grilladas (grilled sweetbreads) and chinchulines de cordero (grilled small intestine of the lamb).
Choosing the steak is a challenge. You can't go wrong selecting either the 5 year dry aged rump steak, lomo al perfume de tomillo (thyme seasoned beef tenderloin) or kobe beef wagyu. You can be sure they will be expertly grilled to your desired degree of doneness. Of course if you're in the mood for pork, the bondiolita de cerdo mechada con panceta ahumada (roasted pork shoulder wrapped in bacon) is a winner.
No Argentine would consider not having a side of some sort of potato with the meat. We adore both the papas con cebolla confitada (potatoes with onion confit) and papas criollas con huevos revueltos (spanish cut french fries with scrambled eggs).
After these serious courses we invariably find ourselves in conversation with our neighbors comparing notes and sharing restaurant information. Today was no exception with the common theme being the excellence of La Cabrera.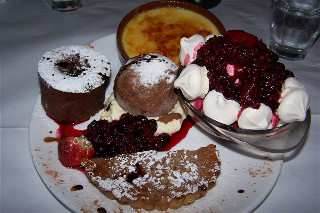 After a comfortable respite, our waiter suggested a few desserts; mascarpone helado, chocolate cake with hot sauce, crème brulée, apple pie with chocolate helado and fresh fruit for the diet conscious. We were having trouble making a decision and left it to our man to decide. Bless him, he brought us a platter with a portion of each!
The house offered luscious lemoncello and fabulous sweet Malbec after our cafes.
[Back to Top]
We had managed to find some new restaurants prior to Jill's arrival which we were pleased to share with her. La Choza, Gascon 1701 (just east of Av.Raul Scalabrini Ortiz) was recommended to us by Buddah of Teresita fame. He told us it was a neighborhood gem rarely found by tourists, correct. We love to go on Sunday afternoons, family dining time for the locals.
The restaurant is located at the juncture of Gascon and Julian Alvarez with a comfortable outdoor patio on Alvarez. The service can be spotty depending on the waiter.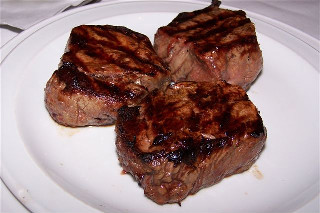 The bife de lomo on our initial visit was outstanding as was the radicheta La Choza, a salad of arugula, hard cooked eggs, black olives, palmitos (hearts of palm) and parmesano dressed at the table with olive oil & balsamic vinegar.
The salad was so outstanding we repeated it when we visited with Jill. We had three excellent chicken preparations - grilled chicken breast, and chicken brochette, both with fries, and ginger chicken with sweet potatoes. Bad waiter aside, we recommend La Choza.

Search TheTravelzine | TheTravelzine Group | Don's Gallery
Packing Hints | Planning Tips | Cities Links

---
All pages on TheTravelzine.com©Copyright 1996-2020 Don & Linda Freedman