Search TheTravelzine

TheTravelzine Group

Access Your Mail

Don's Gallery

Packing Hints

Planning Tips

Cities Links

Links
LINKS TO OUR TRAVELOGUES
Argentina, Buenos Aires - Jan-Mar 2010
Argentina, Buenos Aires - Jan-Mar 2009
Argentina, Buenos Aires - Jan-Mar 2008
Austria - Fall 2005
Belgium, Brussels - Fall 2000
Canada - Summer 2002
Canada - Summer 2001
Canada - Summer 2000
Czech Republic - Spring 2000
France - Fall 2002
France, Paris - Fall 2000
France, Paris - Spring 1999
France, Lyon - Spring 1999
Germany, Berlin - Fall 2009
Germany - Fall 2002
Germany - Spring 2000
Germany - Fall 1999
Greece - Fall 2012
Greece - Fall 1999
Greece - Fall 1997
Hungary - Spring 2000
Israel - Fall 1999
Italy - Winter 2007
Italy - Winter 2006
Italy - Winter 2005
Italy - Winter 2004
Italy - Winter 2003
Italy - Winter 2001
Italy - Fall 1998
Italy - Fall 1996
Netherlands - Spring 2000
Portugal, Azores - 2019
Portugal, Azores - 2018
Portugal, Sao Miguel & Lisbon - 2017
Portugal, Azores - 2017
Portugal, Azores - 2016
Portugal, Azores - 2015
Portugal, Azores - 2014
Portugal, Azores - 2013
Portugal, Azores - 2012
Portugal, Azores - 2011
Portugal, Lisbon - 2011
Portugal - Fall 2006
Portugal - Fall 2004
Portugal - Fall 2003
Portugal - Fall 2001
Portugal - Spring 1999
Portugal - Spring 1997
Slovakia - Spring 2000
Slovenia - Spring 1999
Slovenia - Fall 1996
Spain, Barcelona - Winter 2006
Switzerland - Fall 2002
Switzerland - Spring 2000
Switzerland - Spring 1999
Switzerland - Fall 1998
Switzerland - Fall 1997
Switzerland - Spring 1996
U.S. Florida, Key West - Fall 2006
U.S. Florida - Spring 2001
U.S. Maine - Summer 2002
U.S. Massachusetts - Summer 2003
U.S. Massachusetts - Summer 2002
U.S. Massachusetts - Summer 2001
U.S. New York State - Fall 2005
U.S. New York State - Summer 2004
U.S. New York State - Summer 2003
U.S. New York State - Summer 2001
U.S. Washington,DC - Spring 2000

GERMANY Fall 1999
Baden-Baden
We arrived at 06:15 and planned to get the 06:54 train from the Frankfurt airport to Baden-Baden.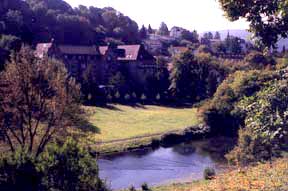 It's wonderful when there's a rail terminal at the airport and a brand new one had just opened in Frankfurt. It took a while to get through Passport Control, fortunately the signing to the trains is excellent and there are easy to spot Deutsche Bahn staff to guide you if you require assistance, which in this case we did. There are two rail terminals - one regional and one for long distance destinations. The train to Baden-Baden was at the long distance terminal. We arrived at 06:47 and quickly found the desk where our German Rail Passes could be validated. We scampered down the escalator right into a waiting first class car settling into the comfortable seats thankful that our rail passes had saved us the hassle of waiting in line to buy tickets, missing this train and forcing us into an hour-long wait for the next one.
Just a word here about the extremely knowledgeable service we received from Rail Europe in Toronto from whom we got our train passes. Whenever we called upon them seeking information, their help went beyond our expectations, a refreshing and unusual occurrence.
Not having had the time to buy Deutsche Marks at the airport, we were fortunate to be able to use our credit card to pay for the bus tickets we bought at the Baden-Baden train station. We bought a ticket good for the two of us for 24 hours for 8 DM and hopped on bus #201, waiting across the way from the station. Fifteen minutes later, we arrived at Leopold Platz in the center of town.
What should have been a five-minute walk to our hotel took us 20 minutes, so enraptured were we by the quaint beauty of the streets and alleys lined with splendid buildings, attractive shops and enticing eateries, cafes and bakeries. It was 09:00 and we meandered along watching the streets come alive in the pedestrian zone.
The Hotel Am Friedrichsbad (Mit Prager Stuben) at Gernsbacher Strasse 31 (Romerplatz), Tel: (072) 21-27-10-46, Fax: (072) 21-383-10, is ideally located across the way from Baden-Baden's two world famous thermal facilities. The proprietor of this comfortable inn is Prokop Pustina, who brought the warm hospitality and fabulous cuisine of his native Czechoslovakia to Baden-Baden many years ago.
The lobby is tiny and the adjoining dining rooms, which open onto the pretty Romerplatz, are cozy and comfortable. The guestrooms are good size, differently proportioned and individually furnished. The ample-sized bathrooms are well equipped. The housekeeping is excellent. This is good value, three star accommodation with a kitchen and staff that make half or full board stays a wonderful experience.
Frau Held greeted us at the front desk and since we were so early, she suggested that we relax in the dining room and have something to eat and drink from the breakfast buffet. Tempting though it was, we opted only for fresh orange juice and coffee while we met the friendly restaurant staff that helped make our stay so enjoyable: Bernard, the official host when Prokop is otherwise occupied, is supported by a seemingly around-the-clock staff including Ana, Jirka, Janko and Roman, the fabulous chef.
After getting settled in our room and freshening-up, we were ready for lunch. The ever-present buffet of herrings, smoked fishes, vegetables, salads, cheeses, breads, etc., is there to supplement or be a meal. The half or full board price includes any choices you make from the menu with extremely generous serving sizes of fresh, top-quality ingredients deftly handled by the truly caring, professional team in the kitchen.
Linda arranged a nice salad plate for herself and ordered liver dumpling soup with lots of vegetables. I had two treats that took me back to my childhood; sweet and sour Russian beet borscht with vegetables and chunks of beef followed by Matjes herring filets with boiled potatoes. Sated, we returned to our room and crashed for a couple of hours. Sometimes, fighting off sleep is just not possible.
Friedrichsbad, the original Roman Irish health spa, although available to all, specializes in medically supervised health treatments and therapy while the Caracalla Spa, a new state-of-the art facility, is designed for relaxation and the promotion of a sense of physical well being and just plain fun.
We chose the Caracalla Spa with its glass-enclosed indoor pool, two open air pools, cold and hot water grottos, saunas, whirlpools and fitness studio, all beautifully built into the idyllic surroundings.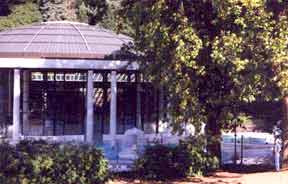 The warm, thermal waters quickly dissolved our fatigue and stress and a feeling of total relaxation replaced the tension. You can see in the faces around you that you are not the only one caught up in daydreaming. We moved from one venue to another, trying out the massaging water sprays, aquatic air jets, the "mushroom" water fountain, neck showers and the surge channel, periodically taking a break to relax in the lounging areas. We followed this routine throughout our stay, opting to arrive in the late afternoon, bathing for a couple of hours, followed by a walk around town and arriving for dinner with a keen appetite.
The spas have specially trained medical staff that evaluate each client that comes for treatment and prescribe a routine in one or both facilities that is appropriate for their specific ailments. Long recognized in Europe as a serious type of medical treatment, thermal spas attract clients from around the world. Baden-Baden's spa baths were used as long ago as in Roman times. In fact, the original Roman baths are located beneath the old market square. The source of the thermal waters is in the area above and behind the spa complexes. The thermal waters (800,000 liters every 24 hours at 68 C degrees) are pumped to the spas where they are cooled to 38 C degrees. The area around the thermal water source enjoys a microclimate which causes the trees, shrubs, flowers and plants to react more to their unique environment than to the changing seasons. The leaves on the trees stay green throughout the cold winter months and without a heating system, the temperature inside the church next to the old market square never cools to less than 25 C degrees.


We discovered that the hotel restaurant is very popular with the locals, as well as with the regular hotel guests. Making dinner reservations is a good idea especially if you have a favorite table. The ambiance is friendly and casual and chatting between folks at neighboring tables is not unusual. It wasn't long before we were sharing stimulating conversation, addresses, hugs and kisses and knowing that we had met friends we would meet again.
We both started with the thick goulash soup filled with pieces of tender beef and potato and seasoned with just the right amount of paprika. Linda's half of meaty, lean, roasted duck was sublime, as were the wine-marinated sauerkraut and the accompanying bread dumplings. I am a sucker for tafelspitz (boiled beef) and order it whenever it's on the menu. Tonight's version was of top quality beef, served with a perfect horseradish sauce with a side of pears and a berry preserve. Warm apple strudel with rich vanilla ice cream finished us off.
Aware that the breakfast buffets we would encounter with this Germany, Greece and Israel itinerary would challenge our willpower, we put our self-control to the test the next morning - and failed miserably. In fact, throughout our trip the dense breads, delicious rolls, flaky pastries, diverse cheeses, salads, fishes, meats and produce reduced our dogged determination to exercise restraint to wishful thinking. The bright side is that if you must fail at this game, here is where to play it.
Baden-Baden is a sparkling gem. It's no wonder that it has always been a destination for world travelers. It stretches from the plains of the Rhine and is bordered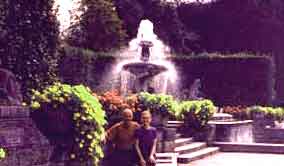 north and east by the Black Forest. As it is located in the Oos Valley, the climate is very mild. There are miles of wonderful hiking, walking and biking trails and paths and running through the center is the River Oos along which runs Lichtentaler Allee, an avenue of magnificent rare oak and other exotic trees, rhododendrons and azaleas. A walk along the avenue takes you to the breathtaking Rose Garden, which was a sight to behold though autumn was just a week away.
There is green all around and across from the commercial pedestrian area are a host of lovely public buildings. The Kurhaus is the social center of the city. The Casino, one of the most beautiful in the world, designed by Parisian architects after the style of the French royal palaces, is worth a visit even if (like us) gambling is not your thing. The spectacular Trinkhalle, originally built as the place to drink the mineral waters, is 295 ft. long and supported by 16 Corinthian columns; above the entire length are fourteen romantic frescoes depicting the legends of Baden-Baden. Nearby is the popular Theater, built in the style of the Opera House of Paris. There are accommodations for every taste and pocketbook: grand hotels to family-run inns, resorts to bed and breakfasts.
A walk uphill above the pedestrian streets brought us to the old town. The oldest buildings still standing date back 300 years, while there are cellars 600-700 years old. An interesting building is the Baldreit, which was the original public baths. Today it is a museum and a restaurant with a beautiful courtyard, a local favorite for an evening drink and meal to the accompaniment of live music.
As we descended from the old town, we were struck by the delicious aromas from the many restaurants whose sidewalk tables were filling with lunchtime diners. Not to be outdone, we headed straight to an outdoor table of our hotel restaurant in Romerplatz and proceeded to order the famous stuffed trout. The trout are plentiful and always fresh from the water and when a chef like Roman stuffs it with an ethereal mixture of bread, celery, onions and herbs and cooks it to the right texture, you are heaven bound. The trout was perfectly partnered by herbed, boiled potatoes.
We were once again very fortunate that Cornelia and Fabio, our dear Swiss friends and now members of TheTravelzine, our email travel discussion group, were able to arrange to meet us in Baden-Baden, even if just for a week-end, to share this special time with us. Faithful visitors of our web site have grown accustomed to reading about our meetings time and again with Cornelia and Fabio, whom we met on the Internet several years ago.


We were waiting for them at the train station when they arrived late in the afternoon on Friday and as soon as they were settled into their lovely corner room, we headed to the dining room to find it completely filled. Not to worry. Bernard showed us through a back corridor into a tavern-style room adorned with ancient musical instruments, a totally different environment. Over a delicious meal of venison in a natural mushroom sauce, pork chops in a mushroom cream sauce and grilled rabbit, all served with melt-in-your-mouth spaetzle, fresh spinach and green beans, we managed to catch-up on each other's lives.
On Sunday morning, we walked up to the old town and picked-up a trail through the green area and enjoyed a delightful walk through the hills and valleys this sunny, brisk day. After accompanying Cornelia and Fabio to the bus stop in Leopold Platz, we sadly said our good-byes and parted, not realizing that our next meeting would be just three months from then at a Ziners' get-together in Little Havana in Miami, Florida in early December. How lucky we are.
Linda and I crossed the square and headed to the spot where we could catch the bus #204 to Merkur. This mountain landmark of Baden-Baden was thus named following the discovery of a Roman sacrificial stone for the god Merkur. The bus ride is half an hour and from there you can either hike or take the cable car to the top, which we did (4 DM per person). The cable car ride up takes a mere 8 minutes, while walking directly down from the summit takes about 30 minutes at a comfortable pace. There is an observation tower at the top from which there are panoramic views of the city and its environs and numerous trails lead down from the summit, allowing various excursions around the mountain. The woods, with areas for picnicking and sunbathing, are a nature-lover's delight. We disembarked from the bus right across the road from the Caracalla, stopped into the hotel to grab our stuff and before long were enjoying the warm waters and the jet sprays - our favorite late afternoon pastime.
Linda's dinner started with a refreshing serving of super sweet melon and mine with a slice of heavenly zwiebelkuchen (onion and cheese pie). The schnitzel was, as Linda likes it, seasoned, breaded and lightly fried tender, lean pork. My first-ever grilled carp, seasoned with caraway seeds, was fabulous. Each night we drank either Czech beer or the local red wine with our dinners, both of which were excellent.


to Freiburg and Heidelberg, Greece and Israel



Search TheTravelzine | TheTravelzine Group | Don's Gallery
Packing Hints | Planning Tips | Cities Links

---
All pages on TheTravelzine.comęCopyright 1996-2020 Don & Linda Freedman