Search TheTravelzine

TheTravelzine Group

Access Your Mail

Don's Gallery

Packing Hints

Planning Tips

Cities Links

Links
LINKS TO OUR TRAVELOGUES
Argentina, Buenos Aires - Jan-Mar 2010
Argentina, Buenos Aires - Jan-Mar 2009
Argentina, Buenos Aires - Jan-Mar 2008
Austria - Fall 2005
Belgium, Brussels - Fall 2000
Canada - Summer 2002
Canada - Summer 2001
Canada - Summer 2000
Czech Republic - Spring 2000
France - Fall 2002
France, Paris - Fall 2000
France, Paris - Spring 1999
France, Lyon - Spring 1999
Germany, Berlin - Fall 2009
Germany - Fall 2002
Germany - Spring 2000
Germany - Fall 1999
Greece - Fall 2012
Greece - Fall 1999
Greece - Fall 1997
Hungary - Spring 2000
Israel - Fall 1999
Italy - Winter 2007
Italy - Winter 2006
Italy - Winter 2005
Italy - Winter 2004
Italy - Winter 2003
Italy - Winter 2001
Italy - Fall 1998
Italy - Fall 1996
Netherlands - Spring 2000
Portugal, Azores - 2019
Portugal, Azores - 2018
Portugal, Sao Miguel & Lisbon - 2017
Portugal, Azores - 2017
Portugal, Azores - 2016
Portugal, Azores - 2015
Portugal, Azores - 2014
Portugal, Azores - 2013
Portugal, Azores - 2012
Portugal, Azores - 2011
Portugal, Lisbon - 2011
Portugal - Fall 2006
Portugal - Fall 2004
Portugal - Fall 2003
Portugal - Fall 2001
Portugal - Spring 1999
Portugal - Spring 1997
Slovakia - Spring 2000
Slovenia - Spring 1999
Slovenia - Fall 1996
Spain, Barcelona - Winter 2006
Switzerland - Fall 2002
Switzerland - Spring 2000
Switzerland - Spring 1999
Switzerland - Fall 1998
Switzerland - Fall 1997
Switzerland - Spring 1996
U.S. Florida, Key West - Fall 2006
U.S. Florida - Spring 2001
U.S. Maine - Summer 2002
U.S. Massachusetts - Summer 2003
U.S. Massachusetts - Summer 2002
U.S. Massachusetts - Summer 2001
U.S. New York State - Fall 2005
U.S. New York State - Summer 2004
U.S. New York State - Summer 2003
U.S. New York State - Summer 2001
U.S. Washington,DC - Spring 2000

GREECE Fall 1999
Thessaloniki
Our Lufthansa flight from Frankfurt to Thessaloniki was 45 minutes late arriving at 02:40. I guess at that hour it really doesn't matter anymore. A cab from the airport to the Hotel Palace at Tsimiski 12 was 3000 GRD. Tsimiski is the main shopping street in Thessaloniki and a very busy traffic artery. The location is perfect for exploring the central city on foot and there's easy access to buses in all directions.
We had requested a quiet room at the rear, aware of the probability of noisy rooms facing the street. The hotel has been undergoing renovations for a few years and is slowly becoming a good value three-star choice. The top (fourth) floor has been completely redone and is the best available at this time. The renovations of the third floor corridors and rooms will soon be finished. We were on the third floor and our room was large with nice furnishings and bathroom. It's an old building and benefits from the high ceilings and spaciousness of the past.
The lobby is small but adequate. At 03:15, we were happy to see smiling faces there to greet us and in short order we gratefully retired. Above the lobby is the first floor lounge, a nice spot for relaxing after a busy day of touring. The breakfast room, accessible via an interior corridor from the lounge, is actually the upper floor of the corner cafe adjacent to the hotel. It's very enjoyable watching the city come alive while enjoying a bountiful breakfast buffet in this most attractive room with windows opening onto the street below.
We have been coming to this fascinating city for over twenty years, the last time being the fall of 1997, which trip is detailed in a previous travelogue. Old close friendships bring us back as well as the desire to walk the streets and feel the rhythm of this ever-changing city as it preserves and respects its historic past, while moving steadily into the modern day world.
As we headed north from our hotel to Ano Polis (the old city) to visit our friends, we were immediately struck by a major change since our last visit. Aristotelous, the wide main avenue that runs north from the square of the same name (which is the main square of the city), has been converted into a gorgeous pedestrian way. Winding our way upward, we found major restoration has been done to the wonderful Byzantine churches and archeological remains. In each neighborhood the sidewalks bustled with ouzeries, tavernas and food shops. This is a city that loves to eat and drink and where you will find the best quality of food and preparation in all of Greece.
Eleni, her younger son, Nikos, and her mother, Yaya Despina, were on hand to greet us. Soto was at work and Stavros was away doing his military service. We had met Eleni and Soto on a bus tour in Turkey many years ago and our friendship has endured (helped along by Eleni's fabulous cooking and by Soto providing the smoothest Tsipouro imaginable). We had a brief visit and made plans to return in the evening for dinner. Eleni accompanied us on our walk downtown and on our way, we noticed that the gate to St. Nicholas Orfanos, the tiny 14th century stone church nearby her house, was open. In all these years, this is the first time our timing was right and we managed to visit the little church with its beautiful, original, religious wall paintings that have survived the centuries.
The redevelopment of the port area continues with a new 5-star hotel, Mediterranean Palace, adjacent to the redeveloping Ladadika area of pedestrian streets filled with dining and entertainment establishments - a really fun place for lunch or dinner. Much of the outdoor market area, with the huge Modiano Market building at the center, has been transformed into pedestrian malls with hi-tech design, all-weather protection. New and renovated ouzeries (pubs) and tavernas abound. The short flower market street has been converted into a picturesque pedestrian way and gone are all the old shops, replaced by a new assortment of eateries.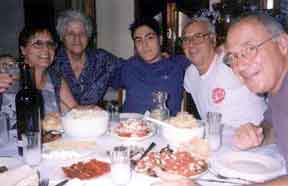 We managed to develop quite an appetite during our afternoon tour and we were anxiously looking forward to returning to our friends' home. The large, round dining room table was spread with an awesome display of delights like eggplant cooked with tomato, feta and garlic, roasted whole peppers, home-marinated fish filets, chicken roasted with potatoes and zucchini, bisteki (small Greek hamburgers), horiatiki, homemade cole slaw, dense bread and, of course, that special Tsipouro and retsina. With friends like this, can you blame us for returning over and over again?
Our friends are now living through the frustrations that beset so many parents here in Greece. Nikos is in the process of taking exams for college or university entrance and since there are so few institutions available, the bar is set very high. Even if one passes with high grades, there is no guarantee of entry.
As all young men in the country, Stavros is doing his mandatory service for which he receives no pay. Parents have to subsidize all the living expenses of their sons in the service (outside of uniforms, shelter and on-base meals). Add these costs to the high level of unemployment, and the reality is that parents have the burden of supporting their children well into adulthood. It is no wonder that the cafes are filled day and night with young people drinking coffee and smoking while they try to figure out how to get a quality education and a decent job.
Many years ago our long-time friend, Nick, who has since passed away, introduced us to the very best places to buy specialty products. One of these places, which we visit every trip and make sure that we leave enough room in our luggage to accommodate a purchase, is D. Menexopoulos Bros. Co., 49 Katouni Street, a 49 year old family business that specializes in nuts, both wholesale and retail. We love the roasted almonds, pistachios and roasted pumpkin varieties that are grown in Greece, which are so unique in flavor that they export them around the world. Don't miss visiting this place on your next visit to Thessaloniki.
Another favorite is Papageorgiou, 11 Ag. Mina Street. This 76 year old institution makes wonderful fruits in syrup (the cherries are addictive), jams and marmalades. They, too, sell around the world and have this one store only (the factory is outside the city) where they sell their products prepackaged or bulk. Yummy!


With all the new places to eat around the market area, we asked Panos Menexopoulos in the nut store for a recommendation. His suggestion was either of the two ouzeries we've been going to for years. Some things never change. They are located next to each other on the flower market street, Komninon.
Today we chose Pazar Xamami, which had been closed when we last visited Thessaloniki. It was a bright, sunny day and sitting on the wide sidewalk of this picturesque pedestrian way enjoying a variety of marketplace dishes, prepared with care, was a treat. We started with a not so typical dish that is unique to this place - a mixture of yogurt, pickled beets and walnuts, which is incredibly delicious. We enjoyed crispy, pan-fried koutsomoura (small, sweet, red fish), mussels and rice, gigantes (baked large lima beans) and tomato and cucumber salad. A perfect lunch.
Tsimiski is one of the great people watching and shopping streets. Despite multiple lanes of one-way traffic, the wide sidewalks absorb throngs of folks and the huge variety of shops with wonderful window displays brighten the street day and evening. Everyone, young and old loves to shop along Tsimiski and the inviting streets running off it in both directions. Shoes, fashion and food from Greece and around the world are all in abundance, in this very sophisticated society in the north of Greece. The narrow streets between Tsimiski and the waterfront are filled with designer boutiques of fashion and home furnishings. The nearby restaurants and cafes cater to upscale clientele. Nikis Street runs along the waterfront and the cafes and clubs along this strip are a favorite meeting place for the young in the evening. It's jam-packed and a fun place to walk.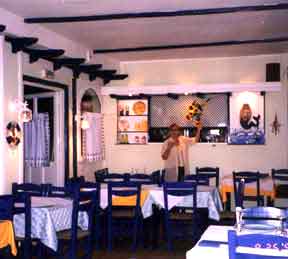 Another one of Nick's treasures is Stenaki Tis Susie (Susie's Alley), an ouzeri worth seeking-out even if finding it can be a bit tricky. It is located in an L-shape alleyway, off Svolou Street, two blocks east of the church, Agia Sofia. There is a sign (in Greek) hanging at the entrance to the alley. Walk in and follow the alley around to your right and you'll find this wonderful secret at the very end on your left. Have a seat, outside or in, and indulge in an array of homemade mezedes you won't soon forget. At this point in time, all the other diners are locals but that won't last long now that this secret spot is mentioned on the net. Susie, the personable, vivacious owner, will greet you with a big, warm smile and together with her helpful staff will guide you through a relaxed, informal and unpretentious typical Grecian dining experience.
Our delightful waitress, Katerina, consulted with Susie and soon the two happy young women in the kitchen produced a magnificent feast. The charred eggplant salad had the perfect aroma and flavor. A salad of cabbage, carrots, peppers and parsley with vinaigrette dressing was different and delicious. Plates of fresh, grilled calamari and lightly fried zucchini were served alongside tzatziki (thick, garlicky yogurt with minced cucumbers and dill). A first for us was sardine souvlaki (incredibly grilled little beauties) and the Florina red peppers, stuffed with feta, were wonderful. The meal was perfect with fresh, hearty bread and the local Tsipouro. Dessert of large, thin-skinned green grapes and sliced apples finished us off. Here mealtime is a deeply-rooted social affair and chatting with our fellow diners and enjoying the not-uncommon, impromptu singing of some of the guests is part of the ambiance you'll long to return to time and again.
Our dear friend, Joanna, who lives in Athens, was able to get away for the weekend and came to Thessaloniki to be with us. We are lucky indeed. She suggested a trip to Vergina to visit the archeological site, tombs and museum of Aegae, the ancient capital of the kingdom of lower Macedonia. We took a bus from Thessaloniki to Veria and from there another bus to Vergina. Once in Vergina, we walked and explored the site.
Excavations began just after the middle of the last century and have continued with only minor interruptions from the 1930's to the present day. So far this site has revealed a well-preserved Macedonian tomb, the theater and palace from the late 4th century BC, a sanctuary of the goddess Eukleia, which has two temples, an alter with inscribed bases dating from the reign of Philip II, foundations of public and private buildings dating from the 5th century BC to the 1st century AD, part of the citadel and Hellenistic foundations of the city and more. It's impressive, but even more so was the discovery north of the city which indicates that the area was inhabited continuously from 1100 BC to the Roman period and testifying to the prosperity and culture of the Macedonian capital. This, the tumulus cemetery, contains the burial vaults of prominent members of the clans, accompanied by rich grave offerings and a total of ten Macedonian tombs, the most outstanding of which is the tomb of Philip II's mother, Queen Eurydike, which has a brilliantly decorated marble throne. One of the unplundered royal tombs is that of Philip II himself, with a series of brilliant works of miniature art and unique original examples of ancient Greek painting of known artists. It sent shivers up our spines as we gazed awestruck at these finds from the 5th and 6th centuries BC, so well preserved and so striking. Built within this huge cemetery is a wonderful museum, the layout and signing of which is so excellently done to facilitate following the exhibits in chronological order, emphasizing the significance of what you are being shown. The exquisite presentation of these finds is a testimony to the ingenuity of the Greeks of today. It is a remarkable achievement.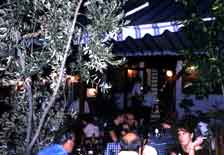 Joanna is a wealth of information and knowledge about her country and as part of our TheTravelzine email discussion group she has been an enormous resource for anyone asking questions about or planning a trip to Greece. After guiding us on this wonderful excursion, she followed up with a superb dinner recommendation. Just above the walls of the old town high above the city, there are a number of very good eating establishments. Leave it to Joanna to know the best: Taverna To Kactpo Thc Kypac (Tavern of Lady's Castle).
Eight years ago, brothers Stathis and Nikos turned the family home into a taverna. Inside is a cheerful Grecian design environment, perfect when the weather turns cold. But this evening was mild and clear and the large and lovely outdoor patio in the shadow of the ancient city walls beckoned. It had been a long day of traveling and walking and it was heavenly to relax in this garden of tranquility, sipping delicious Georgiadis retsina and letting Stathis decide our menu. He teased us with cheese croquettes, pieces of lean pork and sliced potato fried in olive oil with white wine, a spicy hot cole slaw creation, feta and hot peppers and dolmades. Frankly I think he was testing our limits. After a substantial rest and a history lesson of the old city, he arrived with a platter of succulent grilled meats and a traditional salad of tomato, cucumbers and onion, which is worth mentioning because the vegetables were the right-out-of-the-garden type we dream about. Before or after dinner, it's nice to wander around the area which is still somewhat off the beaten tourist track. Then walk or catch a bus or cab back downtown.
The next day we caught bus #22 and headed west on Egnatia to the brand new State Museum of Contemporary Art. It's a very modern building next to the School of Design. Unfortunately we got there too soon as the museum had yet to open to the public; perhaps you'll have better luck.
Busing back to the port area, we found our way to Gate 11, where there is extensive redevelopment underway. There's an entertainment complex called Mylos, where an old flour mill has been restored to house live entertainment, including an art gallery, an old railroad car restaurant, and lots of cafes with indoor and outdoor seating filled with patrons enjoying the good weather this lovely Sunday morning. Further down the street is a new, small shopping center with restaurants, cafes and a few shops. It's a bit more upscale than Mylos and a great place to relax and pass the time. We said our good-byes to Joanna, but only temporarily, as we would would soon be together again in Athens.


Eleni insisted on making us special moussaka for our last meal. And special it was as well as all the mezedes accompanying it. We finished the evening with coffee and ice cream at a waterfront cafe. This good-bye would have to last a while. Parting is always difficult but we'll be back.



to Athens and Israel


to Germany

Search TheTravelzine | TheTravelzine Group | Don's Gallery
Packing Hints | Planning Tips | Cities Links

---
All pages on TheTravelzine.comęCopyright 1996-2020 Don & Linda Freedman