Search TheTravelzine

TheTravelzine Group

Access Your Mail

Don's Gallery

Packing Hints

Planning Tips

Cities Links

Links
LINKS TO OUR TRAVELOGUES
Argentina, Buenos Aires - Jan-Mar 2010
Argentina, Buenos Aires - Jan-Mar 2009
Argentina, Buenos Aires - Jan-Mar 2008
Austria - Fall 2005
Belgium, Brussels - Fall 2000
Canada - Summer 2002
Canada - Summer 2001
Canada - Summer 2000
Czech Republic - Spring 2000
France - Fall 2002
France, Paris - Fall 2000
France, Paris - Spring 1999
France, Lyon - Spring 1999
Germany, Berlin - Fall 2009
Germany - Fall 2002
Germany - Spring 2000
Germany - Fall 1999
Greece - Fall 2012
Greece - Fall 1999
Greece - Fall 1997
Hungary - Spring 2000
Israel - Fall 1999
Italy - Winter 2007
Italy - Winter 2006
Italy - Winter 2005
Italy - Winter 2004
Italy - Winter 2003
Italy - Winter 2001
Italy - Fall 1998
Italy - Fall 1996
Netherlands - Spring 2000
Portugal, Azores - 2019
Portugal, Azores - 2018
Portugal, Sao Miguel & Lisbon - 2017
Portugal, Azores - 2017
Portugal, Azores - 2016
Portugal, Azores - 2015
Portugal, Azores - 2014
Portugal, Azores - 2013
Portugal, Azores - 2012
Portugal, Azores - 2011
Portugal, Lisbon - 2011
Portugal - Fall 2006
Portugal - Fall 2004
Portugal - Fall 2003
Portugal - Fall 2001
Portugal - Spring 1999
Portugal - Spring 1997
Slovakia - Spring 2000
Slovenia - Spring 1999
Slovenia - Fall 1996
Spain, Barcelona - Winter 2006
Switzerland - Fall 2002
Switzerland - Spring 2000
Switzerland - Spring 1999
Switzerland - Fall 1998
Switzerland - Fall 1997
Switzerland - Spring 1996
U.S. Florida, Key West - Fall 2006
U.S. Florida - Spring 2001
U.S. Maine - Summer 2002
U.S. Massachusetts - Summer 2003
U.S. Massachusetts - Summer 2002
U.S. Massachusetts - Summer 2001
U.S. New York State - Fall 2005
U.S. New York State - Summer 2004
U.S. New York State - Summer 2003
U.S. New York State - Summer 2001
U.S. Washington,DC - Spring 2000

GREECE Fall 1999
Athens
The flight from Thessaloniki to Athens is just forty minutes. We hustled out of the terminal into a hot, humid day and took bus #92 (250 GRD pp) to Syntagma Square, the center of the city. It is here, in front of the House of Parliament and the Tomb of the Unknown Soldier that the spectacular changing of the guard takes place every hour. Today it is a war zone due to the construction of the new Metro. Vehicular traffic is always chaotic, but somehow they have not paid attention to making foot traffic convenient amidst the construction barriers and the battle between pedestrian and driver is life and death. We were soon to discover that this situation exists throughout the city as the congestion has led to total impatience, selfishness and rage.

We dodged through the construction dirt, blaring horns and crazy drivers to the nearby Kolonaki district where we would be staying with our dear friend Pierrette. We met Pierrette nearly twenty years ago on a flight from Amsterdam to Paris. Originally from Paris, she works for the French government in their French Institute facilities around the world. It was our good fortune that she was on a tour of duty in Athens. From the large balcony of her lovely apartment we had a marvelous view of the Acropolis in the distance. This trendy neighborhood is our favorite in Athens, a rich blend of the culture of today's Athens with the remnants of Athens of old.
After getting settled, we headed down toward the Syntagma area in search of an Internet cafe, which we found at 5 Stadiou Street. Sofokleous.com Internet Cafe is a pleasant place with fast connections so Linda was in heaven. We got to chatting and Giorgos, the manager of this establishment, is now a member of our travel discussion group, TheTravelzine.
After work, Pierrette joined us for dinner at one of our long time favorite restaurants, Delphi at 13 Nikis Street. This institution of traditional Greek cuisine has been pleasing local regulars as well as tourists forever. From the pleasant, easy-going environment to the staff to the home style cooking, thankfully nothing changes. Pierrette had not yet found this place but is now addicted. We headed for the kitchen to see what was cooking and it was very difficult after looking and smelling to narrow it down to a sensible number of choices. We enjoyed lamb baked with okra and rice, stuffed tomato, fried calamari, gigantes (baked lima beans) and tomato and cucumber salad along with excellent bread and retsina. It is not possible to finish without either the creme caramel or the walnut honey cake. We shared both, of course.
Pierrette invited us to visit the French Institute, which is right around the corner from her apartment. The French Institute is dedicated to teaching the French language, culture and history around the world. The facility in Athens is the largest in the world and it is quite handsome outside and in. A recent restoration has created a magnificent library and theater. Aside from the large physical presence, the French have a long and close relationship with the Greeks.
Ermou is the main shopping street off Syntagma. Since our last visit it has been reconstructed into a pedestrian way. Some stores have remodeled but unfortunately not enough to shout that it is a significant marketing change. It is a pleasure to find an oasis away from the traffic. It would also be helpful if there wasn't litter all over the street. This was not exclusive to Ermou. Litter was everywhere. It has never been perfect but nothing like we encountered this trip. It seems as though nobody cares, from the people who create it to the ones who do not clean it up. You combine this with the drivers like the taxi driver who almost hit Linda as she was lawfully crossing the street and it's not a pretty picture.
There are so many wonderful delights like Confiserie Aristokratikon, 9 Karageorgi Servias Street, that it is easy to forgive what we hope is a temporary condition. For seven decades the Bitsopoulos family has been creating rich authentic handmade chocolates filled with mouthwatering treats of the finest Greek ingredients. We discovered this delightful shop on our last visit to Athens and just couldn't wait to return. And it's not just chocolates that they make. You'll just have to check it out and feast your eyes and your taste buds. With a box each of assorted delights for Pierrette and Joanna, we were happily on our way.
It was a brutally hot day in the city and we hurried to the apartment to refrigerate the goodies. Afterwards we strolled through the busy streets of Kolonaki window shopping, people watching and relaxing with the throngs of Athenians over coffee at one of the numerous sidewalk cafes listening to the non-stop conversation around us and watching the world go by.


After a Campari and soda cocktail hour, Pierrette made a delicious dinner of swordfish, broccoli and salad and of course an excellent French wine. Pierrette, true to her nationality, knows her way around the kitchen and the meal was excellent, finished off by selections from that box of Aristokratikon treasures.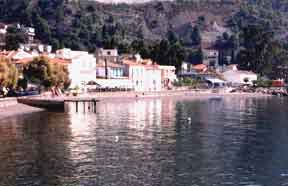 The island of Evia is the second largest in Greece, after Crete. It is long and narrow and stretches parallel to the shores of the mainland. There is road access and several ferry boat terminals that form links to the island. Mountain climbers and hikers can enjoy the wooded mountainsides with vistas into the large fertile valleys. There are excellent sandy beaches and lovely secluded coves. In the cute towns and villages, whether in the mountainous interiors or along the shores, modern life mixes well with preserved tradition.
The drive along the Athens-Lamia highway to the bridge across the narrow Euripos Straits was about an hour and a quarter. The island capital, Halkida, is at the end of the bridge and the starting point for further exploration. We had decided to explore the northern part of the island this day. Nea Artaki is a very busy little village packed with tempting fish tavernas. From there, the road begins to climb, twist and turn and you are surrounded by plane, pine, fir and olive trees. Beehives are everywhere; this must be the honey capital of the world. The roads are excellent and the driving easy. The small village of Prokopi sits amidst the trees and there is no shortage of tavernas and cafes for hungry and thirsty tourists.
The road down the mountain lead to the picturesque village of Limni. Legend has it that this was the site of ancient Elimnion where the wedding of Zeus to the goddess Hera took place. After driving through the narrow streets of lovely white homes, we stopped along the gorgeous waterfront and chose a table at the waters edge at a typical fish taverna, Aypa. With the green mountains rising behind the sparkling clean Aegean Sea in front and the sweet smell of the fresh air, it was a perfect setting for enjoying a midday seafood meal. We left the ordering to the owner, who unfortunately took advantage and brought an overabundance of dishes. To make matters worse, the preparations were second rate. On a day like this, in a setting such as this, food is not important. If you believe that, I'll tell you another one!
After a pretty drive along the coastline, we arrived at our main destination, Edipsos. This spa town has been known since ancient times for its medicinal springs and today it is a well-known holiday resort for Greeks. The remnants of the ancient city lie on a nearby hill. The ancient springs are known as Thermae Sylla, named after a Roman general.
A splendid new four-star hotel, Thermae Sylla Grand Hotel, with its state-of-the-art health and beauty center has recently opened on the seashore at the source of the mineral springs. The lobby and public rooms are open and airy to capture the adjacent sea views and scents and are beautifully designed with marble, leather and wood. The guestrooms and bathrooms are all very nice size with up-to-date conveniences. This is an excellent haven for relaxing and enjoying seaside activities or for taking full advantage of the health and beauty spa facilities. Next trip to Greece, we will consider it as a first stop after getting off the long flight.
It is 26 miles from Athens to Marathonas, where the marathon run originated. The famous Battle of Marathon in 490 BC earned Marathon worldwide fame. The important monument is the Tomb of the Athenians, the mound in which were interred the remains of the Athenians who perished in battle, and the Tomb of the Platheans, who fell in the same battle. Another day, driving down the east coastline of the mainland, we stopped in the busy port city of Rafina for lunch. The seafront harbor and port are quite pretty for such a commercial center. Needless to say, the harbor front is loaded with fish tavernas, but Linda had a craving for good gyros.
Quality gyros are hard to find. Most are either too fatty or made from glued together mystery meat. Today was her day. There was Fili (friends) Grill House, and turning round and round were two lean pyramids of pork and chicken. The affable owner, Panagiotis, works hard to deliver large quantities of quality fast-grilled food and salads at very fair prices. We enjoyed a grilled feast of chicken and pork gyros and souvlaki, souzoukakia and sausage. A specialty of the house is feta skaras, grilled feta with a spicy tomato sauce and olives. Excellent tzaziki and tomatoes, onion and cucumbers are a must with the meats and pita bread. It must have been the salt air, because we devoured it all.
On the way back to the city, we spotted a small winery. There are apparently many like this in the area. Alex Megapanos started about ten years ago and is steadily building the business. He makes limited quantities of quality wines from grapes of the famous wine producing areas of Greece. It's always a pleasure to meet an enthusiastic entrepreneur who loves what he is doing and you just know that he will succeed. We have visited wineries in the past and it is interesting to note that as a group vintners have a great passion about their product. When speaking with them their hands are always moving as if caressing a bunch of grapes or a wine bottle.
The huge amount of construction underway for the Olympics in 2004 is causing enormous amounts of congestion and the half-hour trip back to the city took us two and a half-hours.
From Pierrette's apartment at the base of Mt. Lycabettus, we maneuvered up through the streets to 44 Rue Aristippou (not far from the funicular station to the summit) and the Taverne Rodia. Located in the middle of a residential area, it is popular for its pleasant backyard garden dining and the fine preparation of traditional Greek specialties. The inside seating looked very comfortable, but we opted to sit outside. Classic eggplant salad, fried eggplant filled with cheese, dolmades and horiatiki are automatically served. The bisteki (grilled chopped meat stuffed with feta) was the ladies' choice and I had grilled chicken in tomato sauce. At 22:00 a lovely songstress appeared at the same time as our dessert of sliced apples and pears. It was a nice way to finish the evening meal. Thank goodness the walk home was downhill.
Today we slept late, did laundry and odds-and-ends shopping, hit the Internet cafe, napped and saved our appetites. Tonight we would be having dinner with Joanna and our dear, sweet friend Simona who was flying in from her home in Torino for the weekend to be with all of us. (Some of you may remember Simona from our get-together in Chiusi, Italy, and our subsequent meeting in Torino.) In the meantime, she and Joanna have become friends and together with Pierrette, we were one big happy family.


Joanna had selected Taverna Caldera near Glyfada, across from the sea not far from Simona's hotel. We elected to sit indoors, with its cheerful blue and white nautical decor, away from the noise of the traffic beside the outdoor front patio. The congenial waiters were very helpful and eager to please. With Joanna leading the way, the choices were quickly made and we were able to enjoy each other's company. Here we were from Greece, Italy, France and Canada brought together by keyboards, screens and modems, and tomorrow night Sharon and Evan from the U.S. would be joining us for a an official get-together of Ziners, our nickname for members of TheTravelzine (anyone can join - and it's free). Just marvelous!
There is nothing like good wine and food to nurture conviviality and good conversation. The white wine from Peloponnese was a fine beginning. It is amazing how much wines around the world have improved to give the dynasties a run for their money. It's great being the only guy with four women. You're not expected to contribute too much and you can just sit there and fill your face, which was not difficult to do with the bountiful offerings. By the way, these girls are no slouches, they have had a lot of experience at eating while talking and laughing. The mashed fava beans and onion, smoked eggplant salad, feta with hot peppers got us started and was followed by a deep fried mixture of yellow beans, cheese and parsley, tiropita and grilled octopus. We relaxed, talked, watched the tables filling up, watched the people and watched the people watching us. Joanna had taken no pity but she knew whom she was dealing with because the platter of steamed shellfish in tomato sauce and the one of pan fried squid, lobster, scampi and barbounia were steadily liquidated. It is a pleasure to dine with women who appreciate good food. Thank you, Joanna, for a wonderful evening.
Every Saturday morning there is a street market near Pierrette's home. She had a few things to buy and we love markets, so away we went. Amazing, there was a mile-long stretch of fresh stuff and the street was packed with people from one end to the other. Pierrette has her favorite vendors for fish and flowers. For produce, the vendors are so numerous that you shop around for who has the best offerings on any particular day. Not too far away she has found a fabulous wine shop, which sells the best Greek wines at very reasonable prices. As tourists, there is so much we don't get to discover. That's what makes this new technology so exciting. We're able to make friends all over the world who introduce us to the special places they've discovered over the years.
Pierrette had an appointment and we headed to another Athenian landmark for lunch. On our last visit to Athens Kentrikon was closed for renovations including the creation of a cozy cafe adjacent to the restaurant. Kentrikon is located in the arcade at 3 Kolonaki Street, around the corner from Stadiou. The warmth, hospitality and superb Greek cuisine have made it a favorite lunchtime meeting place for Athenians for forty years. The restaurant is open for lunch weekdays from around noon until six in the evening. We recognized our waiter as having been there on many of our previous visits. Very professional and extremely caring, Tasos is part of the delightful experience of eating at this place.
You would think that fresh beets with their greens would be easy to prepare but we can attest, after trying them everywhere, that Kentrikon's preparation is in a class by itself. The traditional lamb and orzo was a delight as was Lin's creme caramel and my succulent green grapes and watermelon for dessert. It had been our experience that well-prepared cappuccino was not to be had in Greece. Tasos insisted that his would not disappoint. No exaggeration, this was one of the best of all time.
Pierrette and Joanna found a sensational restaurant for our get-together Saturday evening. The Arxaion, 10 Epidauros in Pireas, is dedicated to ancient Greek cuisine and everything about this place is unique from the staff's uniforms and the cooking utensils to the elegant atmosphere. Again the front patio was exposed to the noisy, heavy street traffic so we opted for the back veranda, which was a fine idea. Evan and Sharon joined the ladies and me and were soon right at home with their new acquaintances. We were soon immersed in the totally ancient Greek ambiance enjoying the generously offered drink of white wine, honey and flour water, which not only stimulates conversation but also develops huge appetites. The staff was exceptionally friendly and helpful with the unique menu from the 4th and 5th centuries BC. Keeping with the theme, the only utensils used were a soupspoon and a knife; the fork was a weapon, not used for eating. The ancients did not have rice, potatoes, tomatoes, coffee or sugar and they had to cook with other grain ingredients such as thickly ground barley and other healthy alternatives.
Let the feast begin! And feast we did on oraea (salad of lettuce, cucumbers, pears and apples with plums, raisins and fragrant spearmint), prassaea (salad of cabbage, radish, celery, asparagus, eggs, pine seeds, nuts, raisins and pomegranate), smoked eel (with asparagus, coriander and oregano), chickpeas with beets and garlic, black creased olives with goat cheese, baked cheese with berry sauce, goat leg with puree of chickpeas and leeks, chicken in thickly ground barley, grilled beef steak with puree of chickpeas and leeks, dried fruits with yogurt and honey, local red and white wine and a homemade beer and wine combination. Each and every item was beautifully prepared and presented and was as delicious as it sounds. It was a long and lovely dining, cultural and social experience.
The next morning, we got city bus #224 to the Kaisariani Cemetery. From there we walked approximately 3 km through the woods and up the slopes of Mt. Hymettos to the Kaisariani Monastery,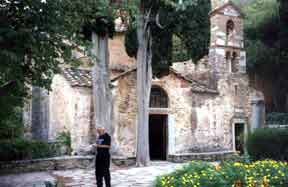 which was built in the 11th century over the ruins of a Roman temple, which in turn was built over an ancient Greek one. Four columns of the ancient temple have survived and support the dome of the monastery's church, which is built in the shape of a Greek cross. Decorating the interior walls are 16th century wall paintings. Surrounding the courtyard of the monastery are a mill, a bakery, a bathhouse and a refectory. This complex has been beautifully preserved and is currently undergoing restoration. It's graceful architectural design and stunning, colorful stonework are a sight to behold.
The monastery is a good starting point for mountain hikes as all paths lead to the forest from here. We walked around and down through the trees and wild flora, and noticed that there were designated areas for picnics with tables and benches. What a wonderful escape from the city center just 5 km away. The only negative was that once again we encountered litter everywhere in the mountain forests. From pizza boxes to soda cans, there was complete disdain for nature and total disregard for others. It's a shame because this is such a special place.
We enjoyed a quiet last night with Pierrette over a wonderful homemade dinner of baked salmon and potatoes with salad. Linda and Pierrette stayed up most of the night talking together, while I fell asleep right after completing our packing.
We will miss Pierrette, Joanna and Simona but there will be other meetings to look forward to - ciao for now.


We caught an early morning bus to the airport for our flight to Israel.




to Israel

to Thessaloniki and Germany

Search TheTravelzine | TheTravelzine Group | Don's Gallery
Packing Hints | Planning Tips | Cities Links

---
All pages on TheTravelzine.comęCopyright 1996-2020 Don & Linda Freedman