ISRAEL Fall 1999
Tel-Aviv (2)
We were warmly greeted back at the Melody Hotel and soon comfortable in the same room as before. It was another lovely, sunny day and we decided to go around the corner to 163 Ben Yehuda Street for a fish lunch at Barbunia. The shared tables were filled with diners and we got the last two seats available at that moment. The very clean, casual room is staffed by attentive young women who try hard to serve you well. Our waitress led us to the fresh fish display and explained which fish came from the sea and which from fresh water and the relative merits of each. Linda chose a fish from the sea and I selected a fresh water variety. As soon as we were back in our seats the salads began to arrive, about ten in all. We slowly worked our way through the delicious array with the help of the excellent pita and regular bread that was served. Our fish were deliciously fresh, perfectly cooked and served with a mixed salad. Carafes of carbonated water are offered without charge. It is easy to understand why this type of dining is popular in Israel.
After a long walk, we relaxed in the cozy hotel lobby with a newspaper. We took a taxi to Reuben and Batia's home for Sabbath dinner with the family. It was wonderful meeting Reuben and Batia's children and grandchildren: Arnon and his wife, Mary, Jacob and his wife, Rachel, and their sons Nati and Eli. Linda's late father and Batia and her sister Teila were first cousins. Their parents had left Russia for Israel and America and now it was our good fortune to reunite and form what we hope will be an enduring bond.
We took a long stroll along the beachfront promenade on Saturday morning. We had lots of company. People of all ages were either walking or enjoying the gorgeous beaches. It was a mosaic of the faces of the city and the country. Short of Jaffa, we turned back north to have lunch at Yotvata, across from the beach. This well-known dairy restaurant is quite large with inside as well as front patio seating. The place was humming. As we walked to our table, we saw the portions being served and decided that sharing was the order of the day. It's easy to see why this place was packed; the orders were not just huge, but beautifully prepared from the finest quality ingredients. We ordered cheese blintzes filled with soft cheese and raisins which was served with fresh fruit and nuts topped with mountains of real whipped cream. Of course a side order of ice cream was necessary, as this is one of the restaurant's trademarks. We enjoyed it to the last drop but were glad we had decided to share. No wonder this place bills itself as "the best dairy from the kibbutz"
In 1982, my mother was with us in Israel when we met her Uncle Abraham and his family along with his late sister's family. Since that visit, Abraham and Mom's cousin, Tvi, had passed away. A reunion with my family was on tap for today. My cousin, Varda, picked us up at the hotel and drove us to her home to join the other cousins. We had had the pleasure of a visit in Toronto from Tali, Varda's sister, and her husband, Oded, about sixteen years ago. Now we met their three young children, Omer, Yasmin and Yotam. And Varda's three little boys Giora, Boaz and Jonathan are grown men now. Varda and Tali's mother, Fina, and Abraham's son, Itzhak, and his wife, Hannah, were as kind, sweet and loving as we remembered. It was a joy being together with them all and we look forward to more happy reunions.
We joined Linda's family for a late dinner at Apropo, a large, lovely restaurant next to the Opera House. The kosher menu is enormous with offerings of dairy, fish, Thai food, salads and omelets to name just a few. We opted for bagel, cream cheese and smoked salmon, which was perfect. Although we would be with the men the following day, this was good-bye time for the dear, sweet ladies.
Sunday is a working day in Israel so Reuben and his sons invited us to visit the Israel Diamond Exchange in Ramat-Gan where they conduct their business. Unless one is an invited guest,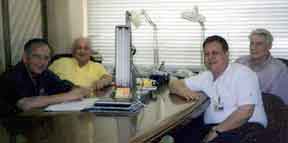 entrance to the Diamond Exchange is not possible. Despite that, the rigorous security in place upon entering and leaving the exchange building is most impressive. Within these walls is the world famous Diamond Bourse, where diamond trading is conducted. Dealers and buyers come to this bourse from all over the world. It's amazing to see the long tables covered with diamonds and the examination and negotiation unfolding.
We took the elevator to the offices of Korn Diamonds. Linda's cousins Reuben, Arnon and Jacob Korn with their partner, Max Steinlauf, are world renown for their precision cutting of intricate shapes of the highest quality diamonds. Their creativity in working with clients to perfect the designs and then in developing new techniques to execute the cutting according to the most precise specifications is the reason why the most famous jewelers and watchmakers in the world find their way to their offices. These gentlemen, despite their fame, are as fine and down-to-earth as people can be.
After a lesson in the basics of the business, we enjoyed a tour of their factory where skilled craftsmen of all ages were cutting and polishing away. Fascinating stuff but what impressed us even more was that a large number of the people working skillfully in the factory were family members, whose transition as emigrants from Russia had been financially and spiritually underwritten by the Korn family.
Arnon's daughter, Malli, joined us for lunch at the private exchange restaurant, exclusively for exchange members and their guests. The food was excellent from my boiled chicken and vegetables to Linda's roast duck breast in a sweet and sour sauce.
Reuben took us on a tour of the bourse and its offices, which were very impressive. He showed us the dignified boardroom with an enormous conference table and comfortable chairs where the bourse board meets regularly and where Rueben presided as Chairman for many years. The time had come to say good-bye but we hope it's just so long for now.
Linda's first cousin, Fred, originally from New York moved to Israel with his wife, Audrey, many years ago. That evening we had the pleasure of visiting them in their home in Rehovot with three of their six children. We enjoyed a lovely reunion as well as a delicious home-cooked meal.
We had originally planned to spend our last three days in Tel-Aviv. But Moshe, an Internet friend whom we had never met, tracked us down and insisted that we must visit his part of Israel in the north where he lives on a kibbutz.
When we finished our packing, we took a walk to investigate a few places for lunch in the area recommended by the desk people at the hotel. When we stopped to ask a young woman for directions to one of the restaurants, she suggested that if we wanted the very best hummus in the country, it was just down the street at 43 Yirmeyahu called Hummus Oshkara. It seems hummus restaurants are a famous fast food option, particularly in the late morning through lunch. This tiny place was a hub of activity with a few tables inside and about eight outside. We found a couple of empty chairs inside with a great view of the three guys in the kitchen who joyfully heaped ladles of hummus into bowls with or without a variety of toppings such as eggs and beans. We ordered ours straight-up. All portions are served with chunks of raw onion, sliced radish and pita. The customers and staff bantered back and forth and everyone in the room was included in the conversation. It was outstanding hummus; the lady was right!


to Haifa, Akko and the north


to Tel-Aviv (1) and Jerusalem


Search TheTravelzine | TheTravelzine Group | Don's Gallery
Packing Hints | Planning Tips | Cities Links

---
All pages on TheTravelzine.comęCopyright 1996-2020 Don & Linda Freedman