Valle d'Aosta
The 10:00 ferry got us to Varenna just in time to make the 10:27 train to Milan (the run uphill was a stimulating start to the day) to arrive there at 11:30. Airport buses run to and from Milano Centrale every twenty minutes and it is a twenty minute trip. Jill and Richie were due in at 14:55, but because of a work slowdown at the airport, they were delayed two hours and arrived instead at 17:00.
Linda had done extensive rental car research and had settled on the most competitive prepaid arrangement she could find which was through Hubertus Rank of Reise-Profi Service GmbH. Hubertus handled the transaction extremely efficiently and offered to provide any travel information we might need. Our brand new Opel Astra station wagon with air conditioning was waiting at 18:00 when Jill and Richie finally got through customs and immigration.
It was an easy two and half hour drive west to Aosta, the capital of the Valle d'Aosta region. As dusk turned to darkness, we could not appreciate the beauty of the region, as we would soon discover. As we exited highway A5, we saw signs for hotels and followed the series to our Hotel Milleluci, Loc. Porossan, Rappoz 15, at its lofty perch above Aosta.
Milleluci means a thousand lights and refers to the spectacle of the lights of the city of Aosta below. This is where we would headquarter for four nights. Here you are the guests of the Galassi family. Mom, Luciana, greeted us with a huge smile and a firm handshake; in the morning we would meet her lovely daughters Cristina and Erika. Charmed by Luciana's effusive welcome, the environment of the stone and wood ski lodge and the roaring fire in the lounge/bar area, we were enraptured.
Luciana insisted on showing us all the rooms she had available. All the rooms are lovely and large (some larger than others) with stucco walls and beamed ceilings. The substantial wooden furniture was custom built for each room. The bathrooms are generous, although we found the ones with the tub and shower combination more to our liking. There are extra pillows (no special request necessary) and more than ample seating and luggage space. Each room has a balcony with either town or mountain views. Beyond the reception/bar/lounge areas are additional chalet-style lounging areas and a large and beautiful breakfast room. The place is built like a rock with stone, timber, tile and stucco and charmingly decorated to accent the rustic ambiance with a nostalgic nod to the past while belying the state-of-the-art cooking equipment in the kitchen. Everything was glowing with its cleanliness and every surface was gleaming.
The hour was late and Luciana called around to places she knew to see who might be able to accommodate us for dinner. She found La Bagatelle Ristorante, Corso Ivrea 69, a charming place inside and out. Here we found more cozy, rustic ambiance and our second taste of the warm, Aosta hospitality as we were welcomed and led to an upstairs dining room where local couples and families were finishing their dinners.
[Back to Top]
Jill and Richie were looking forward to their first Italian meal of the trip and you must know that my brother-in-law, Richie, has a huge appetite and welcomes large portions (and the guy's physique is positively svelte!). La Bagatelle did not disappoint . While we enjoyed the local house red and the grissini (bread sticks originating in this area) we relaxed and perused the menu.
I breathed a sigh of relief when I saw the smile on Richie's face after he tasted the gnocchi from his bowl brimming with tender dumplings served in tomato, cream and oregano. We were all very happy with the ravioli filled with funghi and walnuts in cream sauce and tagliolini tossed with funghi and tomato cream. The pasta is homemade and, as is the rest of the meal, typical of the region. Valdostana, veal with prosciutto smothered in melted cheese was heavenly, as were roasted veal slices in a red wine sauce served with whipped polenta and Brasato, small pieces of potted veal in a tangy white and red wine sauce also accompanied by polenta. Beware when ordering that this is rich, hearty, satisfying mountain food. The house offers grappa mixed with lemon and sugar, which is an acquired taste.
It must have been the mountain air because despite our full stomachs, we all slept soundly and arrived for breakfast a little later than usual. Luciana was on hand to greet us and guide us through the offerings. The design of this breakfast room is that of a huge kitchen. In a corner is a flat-surface cook top where Luciana prepares eggs as you like them in individual heat-proof casseroles. Nearby, for self-service, is a vast array of local, artigianal products, including cheese, salamis, homemade breads, rolls, croissants, tortes and cakes along with fresh fruits and juices, yogurt and cereals all of the finest quality. The perimeter of the room is lined with windows offering beautiful views of the surrounding area. At the appropriate moment, Luciana offers your choice of coffee. We all chose cappuccino which was served with the perfect blend of excellent espresso, milk and foam in huge cups. It doesn't get any better.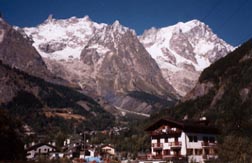 Mont Blanc, the highest peak in Europe, separates France and Italy and at its foot in Italy is the small alpine capital, Courmayeur, which is about 35km west of Aosta. The air grew cooler as we drove up to 1224m. The sun was shining brightly so our light sweaters and jackets were still sufficient. We gasped with joy at the sight of the towering, glaciered mountain above the colorful alpine town.
[Back to Top]
Most impressive on the drive and here in Courmeyeur are the sturdy and refined buildings of stone and timber with slate roofs and large balconies, built to weather the winter climate. It's easy to understand why this oldest alpine resort is also its most famous. Skiing dominates the agenda, but the natural beauty of this place lends itself also to hiking, camping and all sorts of outdoor activities. There are indoor and outdoor sports facilities and lodging and restaurants in all price ranges. One can drive through the tunnel to France or with the proper cold-weather gear, no acrophobia and a thick wallet, take the cable car adventure over the top of Mont Blanc.
Val Ferret runs north from Courmayeur, about 12km along the base of the mountain. If you can keep from being distracted by the beauty of Mont Blanc rising to your left, you discover that you are surrounded by all the wonders of nature. Crystal clear brooks and streams with their glacial hues draw you to their banks. We kept stopping the car to walk and enjoy the sights and sounds of this high mountain spectacle.
We stopped in Entreves, just outside of Courmayeur, at the highly recommended La Maison de Filippo, for an early dinner. This beautiful stone and wood structure is nestled into the foot of the mountain and adorned with flowers. A pleasant stone patio, surrounded by plants and more flowers leads to the front door and when we entered we were greeted by many baskets and trays overflowing with Fall produce and attractively displayed fruits. The design and decor is pure mountain lodge and the two floors are divided into separate dining areas, decorated with copper ware and kitchen utensils and fixtures.
We were cheerfully seated and much to our delight, with our ravenous mountain-air appetites, the onslaught began. The fixed-price menu includes five courses, but the appetizers are what made them famous, and justifiably so. Platters, bowls and plates of them arrived non-stop as we helped ourselves to heaping portions of a delicious variety of goodies too numerous to recount. Only the brave or foolhardy select from the pasta and main dishes while the experienced save what remains of their appetites for the marvelous cheese and dessert courses. This was a gluttonous experience and we got our just desserts all night.
[Back to Top]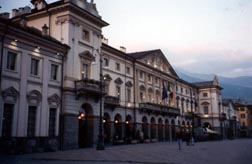 Aosta is a town to love and for lingering. It has preserved its edifices and its lifestyle. We didn't just want to explore and move on, we wanted to stay. Its geographic setting in the center of the valley is not only gorgeous but commercially important. It lies at the junction of the Dora Baltea River and the Buthier Stream. Mount Emilius (3559m) rises above the town and further surrounding it are Becca di Viou (2856m) and Becca di Nona (3142m). The Mont Blanc and St. Bernard Tunnels link the town to France and Switzerland respectively.
Aosta was founded in 25 BC and named Augustus Praetoria. The imposing Roman Arch of Augustus is the symbol of the town. The Roman ruins are unique and under restoration - the Praetorian Gate, the forum, crypt, baths, amphitheater and a section of the walls with the Pailleron Tower. The Aosta town walls still stand and the neoclassic, arcaded town hall sits in the Piazza Chanoux, the heart of the city. The aromas of salami and cheese dominate the shopping area and there is no shortage of pastry and coffee.
The Matterhorn and Monte Rosa mountains are easily reached 40-50km east of Aosta. For the Matterhorn, turn north at Chattillon and for Monte Rosa there are two alternatives either the Lys Valley, north from Pont-St. Martin or the Valley of Ayas, north of Verres. Having been blown away by the sight of the Matterhorn from Zermatt, our hope was that the sky would be clear enough for a good view of the back side of the mountain. This was not our day; we caught one brief glimpse of the mountain on our way up to Breuil-Cervinia, a famous ski resort, at the end of the road at the foot of the mountain. Clouds hovered overhead and despite our patience and forbearance, they refused to cooperate. The town itself was shut down for the season and our footsteps echoed in the silence.
Just below Breuil-Cervinia is Valtournenche, the picture-perfect chalet town where we found signs of year-round life. Were I a skier, this is the place where I would stay.
[Back to Top]
Back on the road, we headed into St. Vincent and found a delightful, prosperous town and even though it was Sunday, most shops were open and lots of folks were out and about enjoying the splendid weather. We particularly enjoyed the Caffe/Paticceria Benedetto, a small shop with a perfectly displayed selection of pastries, cookies, coffees, candies, dolls and beautiful bottles of grappa in every size and shape. Driving along the east/west valley roadway, one is astounded by the number of medieval castles, towers and fortresses that sit on high just waiting to be explored.
The Ristorante Vecchia Aosta built into the Praetorian Gateway at Piazza Porte Pretoriane 4, could not have had a more dramatic exterior. The second floor where we were seated is divided into separate rooms with white stucco ceilings and walls and wooden floors. The service was awful in every regard but the food was excellent. The pastas were special; gnocchi with gorgonzola and walnuts, crespelle Valdostana, and pappardelle with ragu selvaggna. The four, good-size grilled lamb chops were served on a bed of reduced natural juices kissed by wine and herbs and the roasted duck breast with calvados had a light, natural gravy.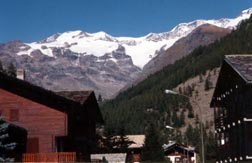 Both were fine quality and tender and served with small, roasted potatoes, spinach and zucchini. The house red wine was poor. Were they to improve their rude, brusque service, I'd be back in a flash.
Happy birthday, Linda! And to celebrate, we're off to Monte Rosa. First the gorgeous Lys Valley route with spectacular views of the peaks and glaciers of the Monte Rosa range as you ascend to Gressoney-La-Trinite at the base.
Lovely villages emerge around the curves in the road: Perloz, Lillianes, Fountainmore, with a remarkable medieval bridge and parish church, Issimi's rustic houses and forested surroundings, the charming Gaby, Gressoney-St. Jean, an elegant summer/winter resort and the final destination, Gressoney-La-Trinite, an alpine resort ideal for winter sports and climbing the Monte Rosa massif. [Back to Top]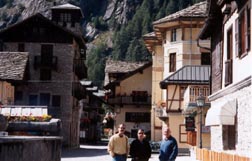 Obviously it's the mountain air that stirs the appetite and as we returned to Pont-St. Martin, we stopped at the Pont Romano Restaurant for the most delicious toasted ham, cheese and tomato sandwiches. Jill's efforts during the rest of the trip to find their equal, met with no success.
On to the Ayas Valley covered with woods and fields. It's a glorious drive although the views of Monte Rosa are not as good as from the previous route. The scenery and towns are lovely and interesting: Challand Saint-Victor, famous for butter and fontina cheese, Challant Saint-Anselme's parish church, Brusson's medieval houses and parish church, Antagnod's cattle and ski slopes, the summer and winter resort Champoluc and, finally, the picturesque little villages of Frachey and Saint-Jacques. On the way back, we took an alternate twisting and turning route through thick forests with spectacular mountain and valley views, while screams of "slow down" resounded from the rear seat.
Cristina highly recommended the Hostellerie de la Pomme Couronnee, located at 3 Hameau de Resselin, Gressan, a twenty minute drive south from Aosta. As Jill and Richie's guests for our birthdays (mine is the day after Linda's) and thanks to Cristina's great suggestion, we had a memorable evening. It was dark when we arrived, but it was impossible to miss the place. Beautifully lit pink buildings with scenic murals greeted us at this charming complex, a two-story agritourism hotel and restaurant. We walked through the lovely courtyard and entered the restaurant on the lower level where we found a spectacular cave with stone walls curving up to a jagged, small stone ceiling with a floor of assorted tiles. The impact was stunning. We were greeted by the tuxedoed maitre d' and shown to the creatively-designed, comfortable dining room, a masterpiece of brick and stucco decorated with unique furnishings from antique to contemporary. In contrast to the tuxedo, our cheerful waitress wore a T-shirt and jeans.
As soon as we were seated, we were served the house salmon trout pate with pieces of toast, incredible grissini with walnuts and some apple cider - a delicious diversion while studying the menu. We all opted for the menu of the day. After a few minutes during which we enjoyed the house rosso, the local Grosjean-Fumin 1996, we were served slices of veal tongue in a cream sauce with pickled onions, spicy apple and julienne of beets, an exquisite blend of flavors. A pasta dish of tagliatelle in a delicious mushroom sauce followed. The main course, rabbit stewed with fresh-grown zucchini, carrots, red and yellow pepper, onions, celery and herbs was sublime. What is a double birthday without dessert? Almond semi-freddo with a fresh raspberry coulis and a frozen terrine of rich, dark chocolate triangles in a delicate mint sauce. Both were decorated with birthday candles thanks to Jill and Richie. It was a marvelous meal for our last night in Aosta.
[Back to Top]
In the morning, we kissed Luciana good-bye and assured her we would return to enjoy those incredible breakfasts. We were off for our last stop in the Valle d'Aosta, south to Gran Paradiso. Four valleys and the Gran Paradiso National Park are in the area . About 30km from Aosta is Cogne, a popular base for excursions into the park, our overnight destination. It was a scenic drive through mountains to the pretty town sitting on the edge of the park. The two star Hotel Barme sits right at the entrance opposite the main parking lot. It's a converted ancient stone, slate roofed farmhouse.
The low-budget restoration is adequate and the housekeeping is excellent. After getting settled, we opted for a two hour stroll in the park. This is a place for serious hiking with 450km of trails through mountains and valleys, with waterfalls, streams and wild life. Then we drove up to nearby Lillaz to see the famous waterfalls, to find them reduced to a trickle this time of year.
La Brasserie de Bon Bel, Rue Grand Paradis 22, was recommended by our hotel. We shared two of their specialties, La Fondue Chinoise, thin slices of raw beef which we wrapped around skewers and cooked in the boiling broth for a minute, before dipping in various sauces. Then rice and an egg is added and the broth is served as a soup; the meat was good, but the soup too bland. La Braserade, a table-top charcoal grill with an oven is presented for grilling sausage, melting fontina cheese and for keeping boiled potatoes warm. There were side dishes of sauteed onions and ham steak - delicous, but deadly - digestion was tough.
The breakfast room is bright and airy and the breakfast was quite good featuring homemade chunky apple sauce and jams. This is a good value, two star accommodation but were we to do the trip again, we'd stay at the Milleluci and commute to the park for a day or two. Luciana spoiled us big time.
[Back to Top]

to Torino or choose a city below
(1) Rome
(2) Chiusi
(3) Firenze
(4) Camogli
(5) Genova
(6) Bellagio
(7) Valle d'Aosta
(8) Torino
(9) Piemonte
(10) Pavia & Stresa

Search TheTravelzine | TheTravelzine Group | Don's Gallery
Packing Hints | Planning Tips | Cities Links

---
All pages on TheTravelzine.comęCopyright 1996-2020 Don & Linda Freedman