Piemonte
The Langhe, Monferrato and Roero cover a dominant area of southern Piemonte. Together they are well-known for their geographic beauty, food, wine and truffles. With the vineyards and truffles ripe for harvest, we were privileged to enjoy the sights, sounds and flavors of the season. The major towns are Bra in Roero, Alba in Langhe and Asti in Monferrato. Our hotel for five nights was located in Isola d'Asti on the Alba/Asti road, closer to Asti. We decided to go to Bra, about 47km from Torino, before checking-into our hotel.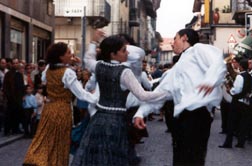 When we luck into a good situation, I like to say "It's all in the planning!", well this was well-planned. Bra was having a food festival; hundreds of people were walking through town with plastic wine glasses hanging from chains around their necks and clutching sheets of perforated coupons. Each coupon was good for a sampling of local foods at various pretty courtyard locations throughout the town. The wine glasses speak for themselves.
We did not join the formal festival as we wanted to explore the town at our own pace. We popped into a tourist stand and while trying to communicate with the eager young woman, help arrived. Her name is Franca and she is a very sweet lady who happens to be a language teacher.
One of the places we specifically wanted to find was the Osteria Boccondivino, a famous eating establishment and founding member of the Slow Food Movement, created to counter the trend to fast food. Franca walked us to the front door, in a courtyard off Via della Mendicita, only to find that they were closed. She insisted on taking the responsibility of making reservations for us for the following evening.
[Back to Top]
She recommended that we start our visit up the street in Piazza Caduti d'Liberta (the town center) and not to miss the white church, Chiese della S.S. Trinita. She was right about the church, it is a treasure, with its amazing sculptures high in an alcove, decorated from top to bottom with fabulous carvings and painting. The square was filled with food and wine vendors and fortunately they all insisted on giving us samples: salami, cheeses, hazelnut cookies (hazelnuts are a specialty in this part of Piemonte), chocolate, red and white wine; we enjoyed them all and the price was right!
Returning to Vittorio Emanuelle we were stopped in our tracks at Caffe Pasticceria Converso at #199. The aroma and displays of coffee and pastries was extraordinary. We were anxious for coffee and had perfectly made espresso macchiato (espresso with just a touch of steamed milk). Chatting with the young man who prepared them, we learned that this family-run business bakes all their own pastries. Frederico Boglione, the son, just loves the business and eagerly explained many of the treats to us. He's a great salesman and we have no will power, thank goodness. We found heaven on earth. According to Frederico, this is the only place where you will find caramellati, a pastry shell filled with cream with a light layer of caramel on the outside, a melt-in-the-mouth delight. Linda was the first to bite into alkekenge and her eyes glazed over in ecstasy. This is a tangy, local fruit (available only this time of year) which is dipped in thick, dark chocolate. We were to find out that many places have this but here at Converso it is the best, by far. Another seasonal delicacy is marrone, a sweet made from chestnuts, obviously; and people come from far and wide this time of year to buy a special cake for Christmas, the secret of which is the grape muscato inside. What a way to go!
The restaurants in this region are famous; most are family establishments built on generations of family recipes. I had lists of recommendations but was looking for confirmation on a few from the locals. Frederico was only too happy to oblige and we settled on Locanda Nel Borgo Antico in Barolo for dinner. Frederico kindly offered to call to make the reservation for us since reservations are a must in high season.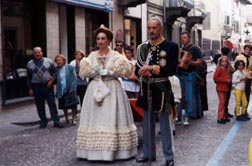 Back on the street, we were greeted by the beating of drums, the twirling of batons, accordion players, costumed dancers - all young people parading in celebration of the festival, complete with a costumed king and queen with pages bringing up the rear. What a great, fun day in a lively town full of happy, friendly people!
The Ferretto family has run the Albergo / Ristorante Il Cascinale Nuovo in Isola d'Asti since 1968. Mom, Dad, sons and daughter-in-law are dedicated to their guests comfort and enjoyment. The design is clean-cut contemporary, from the guest rooms to the famous dining room. The guest rooms are large and very comfortable. The property sits back from the road, surrounded by trees and flowers, with a lovely swimming pool off to the side. Since this is the busiest restaurant season, showcasing the wines and truffles, a condition of our five night reservation was the requirement that we take two dinners in the restaurant. We had mixed emotions about this proposition, normally preferring to be free to make our own choices, but having heard good things about the dining room decided to agree to the terms.
[Back to Top]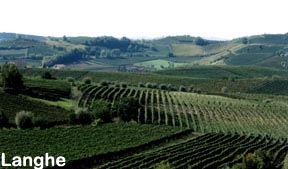 The drive to Barolo bypasses Alba and from that point we began to experience the glory of Langhe. The variety of panoramas and perspectives as we twisted and turned between the hills and valleys is like no other we'd ever encountered. The endless vineyards and groves and the smell of their produce with the sights of medieval villages atop each hill and one is overcome by a joyful serenity. We would drive through this countryside for four more days and continue to be enthralled by its exquisite beauty.
Barolo, home of the famous wine of the same name, is one of those charming hill towns, with its picturesque castle surrounded by vineyards as far as the eye can see. Our destination, the Locanda Nel Borgo Antico, Piazza del Municipio 2, is in the center of the tiny town. We entered at ground level and ascended the stairway to a lovely, beautifully furnished dining room to be greeted by a bright, smiling woman who led us to our table. The owners are Luciana and Massimo. Luciana deftly handles the dining room, with the able assistance of the woman who had greeted us, while Massimo is the master of his kitchen.
Luciana started us off with the marvelous house tuna pate with a tomato and basil sauce. I had read that the area's gastronomy had evolved from modest economic conditions to gradually becoming more elaborate while preserving all the natural, local ingredients and components. Tonight we were to bear witness to this evolution. Le entrate of rolled slices of tender, juicy rabbit in a light, brown sauce of natural juice reduction accompanied by grilled eggplant and flowers of ripe zucchini filled with Piemontese ricotta with a green zucchini sauce were masterpieces. Le paste was melt-in-your-mouth meat and vegetable stuffed raviolini and an awesome preparation of lasagna noodles over porcini mushrooms and sliced potato with a pesto/mushroom sauce, topped with a thin layer of cheese. By now, we were in love with Massimo and Piemonte. Le pietanze further supported our feelings; veal with porcini mushrooms and strips of zucchini and roasted duck breast with caramelized onions. The ruby red Prunotto Occhetti-Nebbiolo d'Alba was delicious. Desserts of homemade strawberry sorbet, assorted pastries and kekenge sent us on our way with smiles that lasted all the way home.
The homemade jams and big, green sweet grapes were the breakfast highlights. The salami, ham and cheese were appealing, but we didn't indulge after the previous day's eating orgy.
The drive from Isola d'Asti to Acqui Terme (famous for its thermal waters and wine) was another spellbinding journey though woodland hills and planted fields. There are two thermal centers in Acqui; the new one is in the center of town and the old one is just outside. We had come hoping for some thermal bathing but discovered that they were open at only certain hours and then, their purpose was purely therapeutic and rehabilitative, whereas our interest in this activity is strictly recreational. No regrets; the drive, the adorable town center and the huge bowl of tagliatelle al ragu in the Hotel Regina made it worthwhile (undoubtedly the least costly meal of our trip!).
The journey to Bra added the finishing touches. Rolling through the hill towns of Bistagno, Bubbio and Vesime the vistas were constantly changing. Areas of tall, thin trees, thick evergreens, the ever-present vineyards surrounding stone homes, the castles and churches were a feast for the eye. From Vesime toward Alba the terrain becomes mountainous and with it the oos and ahs from the back seat turned to mild hysteria. Thank goodness Richie has mastered the deaf-ear-concept over the years.
[Back to Top]
We pulled into Bra in time for a caramellati (they are addictive) and coffee, a leisurely stroll around town and a visit to the Slow Food office before dinner at Osteria del Boccondivino. The rustic dining room is one flight up and the atmosphere is entirely casual with a neighborhood feeling. We had been looking forward to this evening - what better way to experience the Slow Food concept than in the very place where the movement was born. The menu was a pretty basic offering of regional specialties. The first course of strips of chicken on a bed of lettuce in olive oil and balsamic was simple and delicious. The red Freisa from Conterno, Monforte d'Alba was full-bodied.
We no sooner finished the appetizer, when the second course was presented (so much for slow food), consisting of mediocre preparations of risotto ai funghi porcini, tavarin di salsicca (thin noodles with ground sausage), tavarin al burro e salvia (same noodles with butter and sage) and zuppa di lenticchie (lentil soup) - all of which could have been served hotter. As the second course plates were being removed the mains arrived, the rabbit and duck no warmer nor more inspired than the previous offerings. Perhaps we hit an off-night.
Today's breakfast bonanza was stewed, whole, ripe pears (sweet and juicy), peeled preserved plums (large and luscious), sliced, fresh pink grapefruit and those delicious grapes again.
Alba is the capital of the Langhe and this time of year it is the capital of Dolchetto, Nebbiolo and truffles. We stopped at the tourist office in Piazza Medford as we drove into town. The helpful staff gave us an orientation and suggested a visit to Sebaste, the oldest nougat producer in Italy. We eagerly proceeded to walk up Via Cavour into the historic center, with interesting shops lining both sides of the street. At #17, we were instantly captivated by Stanga Renata, a special gift ware store. There's no shortage of this type of store in just about any town, but this one has such a beautifully-selected collection of glass and dinner ware, silver and gifts that it's nearly impossible not to find something to buy - and buy we did.
The wonderful shopping opportunities continued, more important was the impact of the striking towers and tower houses, the Roman and medieval remains and the important Gothic and baroque monuments - truly a beautiful town. Our only regret is that we were too early for the annual donkey race and national truffle fair. If you want to learn about the wine, tartufo (truffles) and porcini, visit Faudi-Piacer del Gusto on Via Vittorio Emanuelle, a combination wine cellar, gourmet book and preserved, jarred goodies (with an emphasis on funghi) emporium.
Gallo, the home of Sebaste, was a short drive away. We were met by Egle, whose great, great grandfather started the business in 1885. The manufacturing process was fascinating in this sterile facility. The secret recipe contains all natural products. It cooks for 8-10 hours in double boilers and is guaranteed to contain 50% nuts. Traditional nougat is made with almonds, but since this is hazelnut country, that's how they make it here. (On special order for certain customers, they do also make it with almonds.) There are many coatings and variations and those which we sampled were divine. Gallo means turkey and this is the symbol of Sebaste; when you buy nougat, look for the turkey.
[Back to Top]
We mentioned to Egle that we would like to visit a winery, which is not easy to do this time of year because they are busy with the work attendant to the harvest. She was kind enough to call her friend Enrico Cordero of the Cordero di Montezemolo winery and arrange a visit. The day was clear and perfect and standing at the winery surrounded by vineyards was a sensuous experience. Enrico gave us a lesson on the wines of the region. Barolo and Barbaresco on the high end are made from the Nebbiolo grape, which has also given its name to a wine. Barbera and Dolcetto are made from their own grapes, respectively. We came to like the Nebbiolo and Barbera equally. Barolo and Barbaresco are the best - but very expensive. Dolcetto is the least expensive and not our favorite (please bear in mind that we don't pretend to be wine connoisseurs).
Tonight was our first scheduled dinner at our hotel, Il Cascinale Nuovo. Roberto seated us at a large table for four, set with very nice china, glassware and silver. The mineral water was served in a graceful carafe along with a basket of homemade walnut and black olive breads and good quality bread sticks. We had met Roberto's brother, Walter, the famous and charming chef, earlier in our stay. The Ferretto brothers are a team to be reckoned with. Roberto handles the front with class and efficiency and Walter, we came to discover, is a culinary genius. Each dish is creatively designed, prepared and presented. It was love at first sight; we were positively enraptured by the delightful, gastronomic triumphs which were placed before us. Roberto suggested a Barb era Pietro-La Vignassa, full-bodied and spicy which we enjoyed immensely.
A slice of outrageous duck pate topped with shaved truffles was a tease, but a generous portion of carpaccio of veal combined with olive oil and funghi porcini began to get serious. It just kept getting better with a dish of sliced, boiled potato and stock fish with an anchovy and olive oil dressing. Variety is the spice of life and Walter just kept it coming. A light, fluffy cheese tart with luscious wild mushrooms from the Alps. No meal is complete without pasta and we were served small ravioli bursting with the flavor of the vegetable and ricotta filling. The main course was chops of roasted lamb with a touch of rosemary and red wine glaze. We welcomed the wait before the desserts were served, each on a large plate surrounded by fresh fruits: boiled cream with toasted hazelnuts served with creamy, vanilla ice cream; ricotta cheese cake with dried fruits; creme brule', which Jill flipped over; and spumoni with hazelnut nougat and chocolate sauce - along with another plateful of goodies containing kekenge, candied fruits and hazelnut meringue. We all agreed that this was one of our best dining experiences ever.
The next morning we canceled the reservations we had made elsewhere for dinner that evening, and prevailed upon Roberto to squeeze us in. It would be three nights in a row, but we were looking forward to it with relish.
[Back to Top]
Our luck ran out and the rains came. With raincoats and umbrellas, we headed for Asti. We splashed our way around the large, outdoor market which was incredibly busy despite the heavy rain. We would not do justice to this town of imposing towers, buildings and pedestrian streets this visit.
Since the rain was not letting up and we no longer felt like dealing with it, we drove northeast to Vercelli, the rice capital of Italy, to the Hotel/Ristorante Giardinetto, Via Luigi Sereno 3, for a risotto lunch. The lovely dining room is built around a garden and is an ideal lunch spot; and the day was perfect for comfort food. We shared two preparations: one was cooked in wine with cheese sauce and fresh ground pepper on top, and the other was cooked with beans, sausage, onion, red wine, lard and olive oil. The unaccustomed handling of the familiar grain was a welcome treat and with the helpful and friendly service, we allowed the son of the owner, Daniele Siviero, to talk us into trying a taste of the house specialty, fried tiny frogs, which we were told to eat with our fingers, whole. The batter was tasty, but we found it difficult to get by the sight of the little critters. For future reference, we asked to see some of the hotel rooms, and took note of the fact that this could be a good choice for the future, especially on a night before a flight from Milano.
After a leisurely sightseeing drive back, we rested and relaxed in preparation for the evening meal. The Barbera d'Asti was spicy in flavor but was lighter than the wine we had the night before. The first course was so imaginative and so incredibly delicious, to describe it as orgasmic would not be far from the truth. The delectable pheasant pate was accompanied by a roasted whole onion, whose center had been replaced with a mixture of whipped onion and cheese. This masterpiece was garnished with pomegranate seeds and sliced funghi.
A salad of field greens and funghi porcini was topped with slices of rare duck breast and dressed with balsamic vinegar and olive oil then topped with a quail egg fried sunny-side-up and garnished with pomegranate seeds. Need I say more? Tagliolini tossed with fresh wild mushrooms and pieces of liver cooked simply in olive oil highlighted the distinctive natural flavors of the ingredients. A traditional regional favorite of veal roasted in a Barberesco red wine and served with polenta and a few vegetables was outstanding.
For the desserts, Jill wasted no time ordering the creme brule' she had savored the previous evening, and there was a fresh peach and chocolate tart with juniper berries, warm chocolate mousse with fresh fruit, and fresh fruit and cream layered between flaky crusts, all of which went so well with the crisp Muscati d'Asti.
Driving south of Alba the next day brought us to Monforte d'Alba. Already higher than 500m, we ambled up the cobblestone streets to the church at the summit where we were rewarded with marvelous views of the town below and the surrounding vineyards. This is a gem of a town with colorful old homes, clay roofs and stone walls. There are several quality restaurants to be investigated next time.
[Back to Top]
Off to La Morra, another hilltop beauty. The Ristorante Belvedere is perched at the top of the town and is well-known for the view, a huge wine cellar and good food. The dining rooms are lovely and the view from the main one is splendid. We were seated in the room without a view because we were told that the main one was filled and we decided not to wait for a table to become available, since we were planning to have only a dish of pasta. Our waitress spoke with a squeal and was rude. The pasta was poor. Some locals had told us not to expect great food - they were half right.
I've run out of words to describe the beauty of Piemonte but this area, south of Alba to Monforte d'Alba including Albaretto, Serralunga, La Morra, Grinzane and Barolo is the best of all.
Walter came by our table to say hello. I think we convinced him that he's a genius and that he had set a new standard by which all others would be measured. Please take a copy of our comments with you to show to Walter and Roberto when you go as they have yet to discover the joys of cyberspace.
Dinner started with a tasty, small portion of rich and smooth cream of bean soup, garnished with brain morsels. The next offering, one of his signature preparations, epitomized Walter's culinary dexterity and gastronomic creativity. Layers of thinly sliced tongue alternated with puree of foie gras over and over to the thickness of an inch then were garnished with small slices of red onion, gelatin, and juniper berries. It was a sight to behold and a dish to savor.
Funghi porcini with melted fontina preceded handmade agnolotti, generously stuffed with veal and rabbit, with a touch of olive oil. Biting into these plump treasures was indeed a special treat. Speaking of plump, the breasts and thighs of the roasted squab that followed were exactly that. The girls special-ordered vanilla gelato with hot chocolate sauce and fresh berries and Richie and I opted for a repeat of the wonderful spumoni. Thank you again, Walter and Roberto, for three truly memorable evenings.
[Back to Top]

to Pavia & Stresa or choose a city below
(1) Rome
(2) Chiusi
(3) Firenze
(4) Camogli
(5) Genova
(6) Bellagio
(7) Valle d'Aosta
(8) Torino
(9) Piemonte
(10) Pavia & Stresa

Search TheTravelzine | TheTravelzine Group | Don's Gallery
Packing Hints | Planning Tips | Cities Links

---
All pages on TheTravelzine.comęCopyright 1996-2020 Don & Linda Freedman