Chiusi
It was an easy two hour drive on the autostrada to Chiusi (easy, because Peter was driving). The get-together venue was La Querce, a neat and cozy, wayside inn, located at the Chiusi exit from the autostrada. Linda had been searching for a centrally-located venue for the get-together when she met Paolo Bartolozzi in an Internet travel newsgroup. Paolo assured Linda that his hotel would be ideal as its easily accessible location and gourmet restaurant would provide the perfect environment for a group of friends to get to know one another while enjoying a very reasonably priced yet outstanding gastronomic experience. Paolo did not let us down. He deftly managed and coordinated the reservations and the meal.
After checking-in and depositing our bags in our comfortably-designed, good-size room we headed back downstairs. We admired the lovely Tuscan-style dining room where we would gather in the evening to share internet and travel experiences. The four of us drove into old town (centro storico) Chiusi where we eventually linked-up with Andrea and Antonella from Poggibonsi and Leonardo and Gigliola from Pisa. In the sudden downpour, we huddled together in the archway of the duomo exchanging idle chatter while hoping the bad weather would pass - which it did.
Andrea mentioned that he and Antonella had visited a new terme in nearby San Casciano dei Bagni and since Linda and I love the thermal experience (as if you didn't already know that!), we welcomed his suggestion that he would invite Leonardo and Gigliola to join him and Antonella in their car and he'd lead the way. On the way, we enjoyed the beautiful vistas of the rolling farmland at every turn.
It's called Centro Termale Fonteverde and is a total health, fitness and beauty center with the most modern equipment and treatments and a large, outdoor thermal pool. It's a more clinical facility than we would choose but if pure treatment is your goal, it probably is quite good.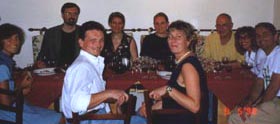 Returning to La Querce to get ready for the evening, we found Simona and Giorgio were just arriving from Torino. We were now all assembled and ready to wine and dine. And did we ever! Paolo was the perfect host as he led us through a memorable wine tasting including a '96 Sangiovese, a '96 Chianti, a '93 Brunello di Montalcino, and '94 and '95 Nobile Montepulciano all from local vintners. The winner and dinner companion was the '94 Nobile Montepulciano Riserva from Cantine del Redi.
[Back to Top]
We left the lounge and when comfortably seated around the table, Paolo began to serve the dinner describing each course as it arrived: oca marinata con mostarda di pomodoro e crostino di milza (marinated goose with sweet and sour tomato sauce and toast with spleen pate), gnocchetti verdi al pomodoro fresco and tagliatelle casalinghe ai funghi porcini (green potato dumplings with fresh tomatoes and homemade egg noodles with porcini mushrooms), filezzo di manzo Chianino al vino Nobile (beef filet in Nobile wine sauce) and a mixed green salad. Over assorted coffees and Cantucci (almond biscotti) we expressed our admiration and thanks to Paolo whose graciousness and conviviality added to our enjoyment of the evening. (Update: La Querce no longer welcomes overnight guests.)
After a light breakfast, Andrea led the way to Pienza, a not-to-be-missed medieval town spectacularly perched high on a hill above the Tuscan countryside. We were amazed at the traffic, the packed parking lot and the throngs of people but shortly understood our good fortune to have arrived during Pienza's annual cheese festival. Beautifully restored and maintained, the town is loaded with wonderful food shops and with the sidewalk displays of local cheeses, hams, sausages, produce, herbs, wines and pastas, our appetites were uncontrollable. Who could resist the thick sandwiches of carved-to-order roast pig on pannini. We did, after all, have a small breakfast!
We said fond good-byes to everyone as they headed home and the four of us continued on our way to Montepulciano, where we parked in the lower town and walked up to the centro storico. In contrast to Pienza, Montepulciano was enjoying a peaceful day of rest this sunny Sunday. With the shops closed there was little to do but wonder when we'd return for a more in-depth look at this beautiful Tuscan stone beauty, sitting high above the rolling fields.
We headed back towards the Chiusi train station where we would go our separate ways. As we approached the station area our way was blocked by a parade and, odd though it may sound, we saw a North American Indian teepee high in the air in front of us. The main route to the station was closed to vehicular traffic! With mere minutes to spare, Peter zoomed around an alternate route, stopped just as close as he could get to the station, and we hugged, kissed and ran, rolling our suitcases along behind us toward the approaching train. Thank goodness we had our Europasses because there were long line-ups at the ticket windows! The train began pulling out of the station the second we boarded and we fell into our king sized, first class seats and sighed with relief while we regained our composure. Had we missed the train, we'd have had a two hour wait for the next one.
[Back to Top]

to Firenze or choose a city below
(1) Rome
(2) Chiusi
(3) Firenze
(4) Camogli
(5) Genova
(6) Bellagio
(7) Valle d'Aosta
(8) Torino
(9) Piemonte
(10) Pavia & Stresa

Search TheTravelzine | TheTravelzine Group | Don's Gallery
Packing Hints | Planning Tips | Cities Links

---
All pages on TheTravelzine.comęCopyright 1996-2020 Don & Linda Freedman